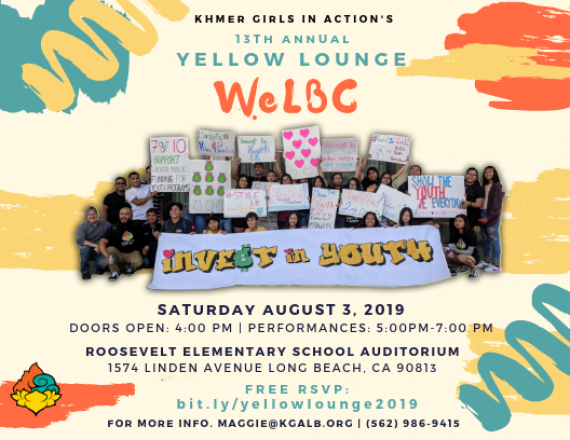 Learn about local Southeast Asian youths' experiences, perspectives during annual Yellow Lounge celebration
Local youth advocacy organization Khmer Girls in Action will be hosting its 13th annual Yellow Lounge event in Central Long Beach this Saturday, which will spotlight local Southeast Asian youth through theater, writing, dance and art.
The free event, themed "We Love, Believe & Care," will also educate the community on issues affecting their neighbors, including resources for those impacted by deportations, and provide them with opportunities to register or pre-register to vote.
KGA leaders hope to teach the public the importance of civic engagement and the ways in which they can support a more equitable city, based on the notion that a person's potential for a successful life is not based on race, income, gender or zip code.
"With the current administration's rampant threats and suppression of women, LGBTQ, immigrants, refugees and low-income people of color, the Cambodian and Southeast Asian communities that resettled in historically under-resourced and over-policed districts are additionally burdened with grievances of deportation, family separation, intergenerational trauma, and poverty rates higher than the national average," KGA stated in a release.
Attendees will get to learn about the Invest in Youth campaign, which KGA revealed over a year ago and aims to secure continuous funding for local youth in the city's budget.
Last September, the Long Beach City Council approved $200,000  in one-time funds in the general budget for the Long Beach Children and Youth Fund to support programming.
However, campaign members have been calling to make the funding permanent since August and in April they revealed plans to potentially pursue a measure to secure long-term funding.
The event will take place at 5 p.m. on Saturday, Aug. 3 at Roosevelt Elementary School's auditorium.
The school is located at 1574  Linden Ave.
Support our journalism.
Hyperlocal news is an essential force in our democracy, but it costs money to keep an organization like this one alive, and we can't rely on advertiser support alone. That's why we're asking readers like you to support our independent, fact-based journalism. We know you like it—that's why you're here. Help us keep hyperlocal news alive in Long Beach.