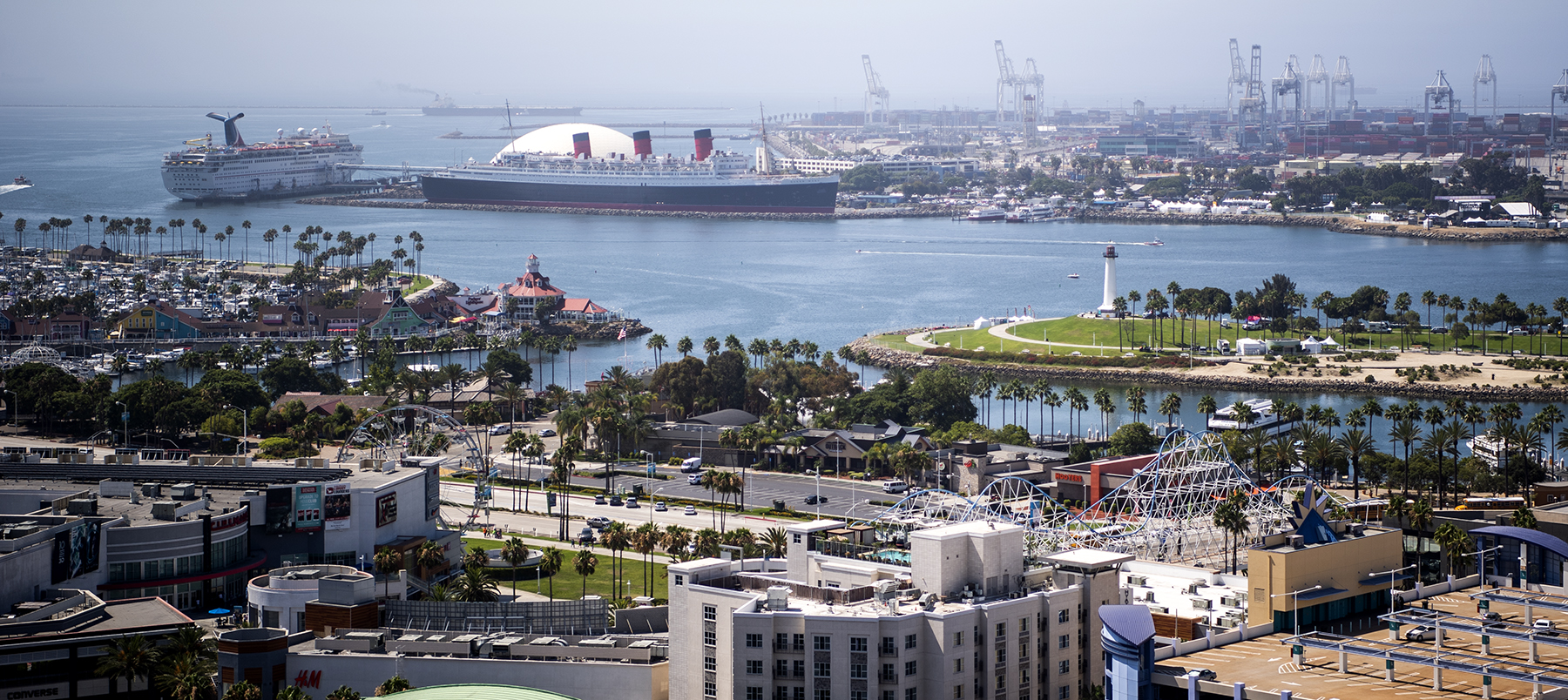 Memories of the 'old' City Hall: It was fun while it lasted
From peregrine falcons soaring high above to working on the following week's City Council agenda in the building's ground floor lobby, people who have been in the business of running Long Beach from City Hall have packed away plenty of memories of working in the structure that opened on Independence Day of the nation's bicentennial year and closed this weekend while city employees moved into the new City Hall next door.
"I'm one of the people who liked the building," said Olivia Maiser, who recently retired as a deputy city auditor, working in City Auditor Laura Doud's office on the eighth floor. "Toward the end it sure leaked a lot, but the views were spectacular. What I'll miss the most is not being able to see the peregrine falcons. We'd watch them from the eighth floor and sometimes see them strike a pigeon."
The falcons are an interesting part of the City Hall building's history. Once facing extinction due to the widespread use of such chemicals as DDT, the species was down to just two known mating pairs in 1970. A pair was introduced in the upper reaches of the building in 1988 when ornithologists from UC Santa Cruz made a habitable nesting site for falcons, which nest in cliffs. Since then, about three dozen falcons have been born in the nest. Today, there are about 300 pairs of mating peregrine falcons in the U.S.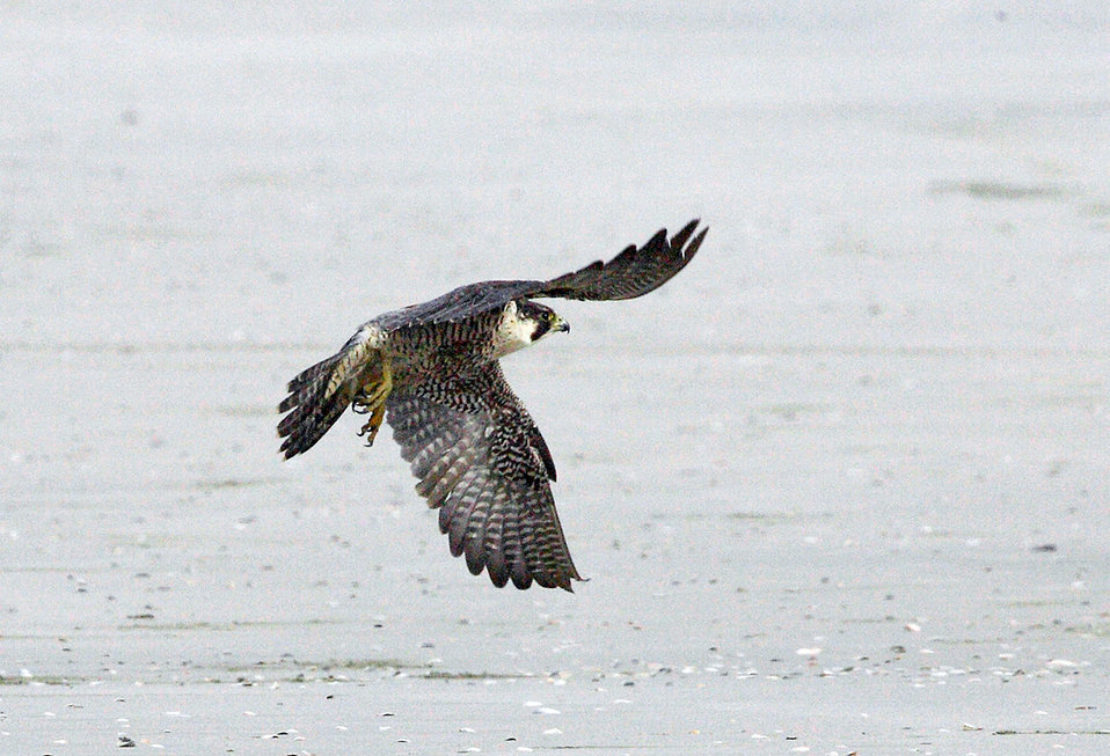 "You could go up to the roof and see them on their nest," said Maiser. "There's a ledge between the roof and top floor so you have to sort of lean over to see them." Getting a glance at the parent birds or their hatchlings was a perilous undertaking, however, as a vigilant parent would dive-bomb the human spies in an effort to protect their babies. And they're rapid dive-bombers, the fastest creatures on earth, reaching speeds of up to 240 mph in a dive.
Another recent retiree is Anitra Dempsey, who worked for more than 20 years in the city manager's office, initially with James Hankla, as well as serving as executive director of the Citizen Police Complaint Commission.
She retired just before the building itself did. She said she retired in order to give the incoming acting executive director of the CPCC, Patrick Weithers, a clean start.
"I have fond memories, especially being with the city manager on the 13th floor," she said. "There was an area in the middle of our office where people from the 14th floor could look down and talk to us. It was later glassed over, but at the time my cubicle was right under the opening and we took advantage of communicating with the legislative workers on the 14th floor without using the phone."
While work was supposed to be serious business (your tax dollar, etc.), Dempsey recalled the odd rubber band or paper plate falling onto her desk.
"And it's odd, but one of my favorite memories is of riding on the elevator. It was on the elevator that you got caught up with people from other departments."
Of course, there was the view. The old building offered miles-long vistas from every side in the higher floors. "We had a spectacular view from my office facing north," said Dempsey. "There were the snow-capped mountains, then at night with the city all lit up, it was beautiful."
City Manager Pat West also appreciated the view from his office on the 13th floor. "It's like a cocktail lounge," he said. "It's a view that's on Channel 5 every morning. I spent 25 years in Paramount with parks and later as city manager and part of our city hall was two stories and to come from there to Long Beach—I remember applying for a job in Community Development with (then-City Manager) Jerry Miller and I was just blown away. I almost got vertigo. It was one of the most amazing feelings of my life. I had never experienced a city hall like this one."
West spent two years with Community Development on the third floor before becoming city manager and moving up 10 stories.
"When I call city managers in other cities I ask if they have a window and they say 'yes' and I ask them what they see right now. They say, 'a tree,' 'some grass.' I tell them I'm looking at the Queen Mary. 'Oh, look, there's a pod of dolphins, there's a gray whale breaching!' Of course I was kidding, I never saw any whales, but then they tell me what they think of me in language that I can't repeat."
City Clerk Monique De La Garza's view from the plaza level hasn't been as sweeping as West's, but, she says working at the ground floor "we saw a lot of 'interesting' people because of the "shenanigans at Lincoln Park."
Without mentioning anything specific, De La Garza said, merely, that "Humanity is an interesting thing."
The windows in the old city hall were of the sort where during daylight hours people couldn't see in, but the workers inside could see out, and, again skipping the details, De La Garza, who worked in the city clerk's office for 18 years before being promoted to the top job, said that people on the outside often did things that they wouldn't necessarily want others to see. Shenanigans, and the like.
De La Garza says she will miss the old City Council chambers, or at least the philosophy behind its architecture.
"The design was very unique," she said. "When the curtains were open, it was literally transparent to the public outside. They could walk by on the plaza and look down and see the meeting. I liked the Romanesque seating where the public in the chambers could look down on their representatives like in the Roman senate. The new chambers is the inverse of that. It's more level and the council members are up on a raised dais."
West, the boss of the building, has looked forward to the move, and he'll still have a view worth teasing less fortunate city managers about, though he's fairly wistful about the old place.
"I've still got a great view in the new building," he said. "I have two windows on the 10th floor. One looks out over the Police Department building and L.A., and the other looks east. In the old building, everyone had view envy: Are you looking at Signal Hill, L.A., Downtown? It's been a fun place to be. I'm totally gonna miss it."
Support our journalism.
Hyperlocal news is an essential force in our democracy, but it costs money to keep an organization like this one alive, and we can't rely on advertiser support alone. That's why we're asking readers like you to support our independent, fact-based journalism. We know you like it—that's why you're here. Help us keep hyperlocal news alive in Long Beach.