Virtually Pets
Mayor Robert Garcia's office recently shared the 2019 stats from Long Beach Animal Care Services. They indicate that except for a couple of road bumps, the shelter has been on the right trajectory for the past 10 years.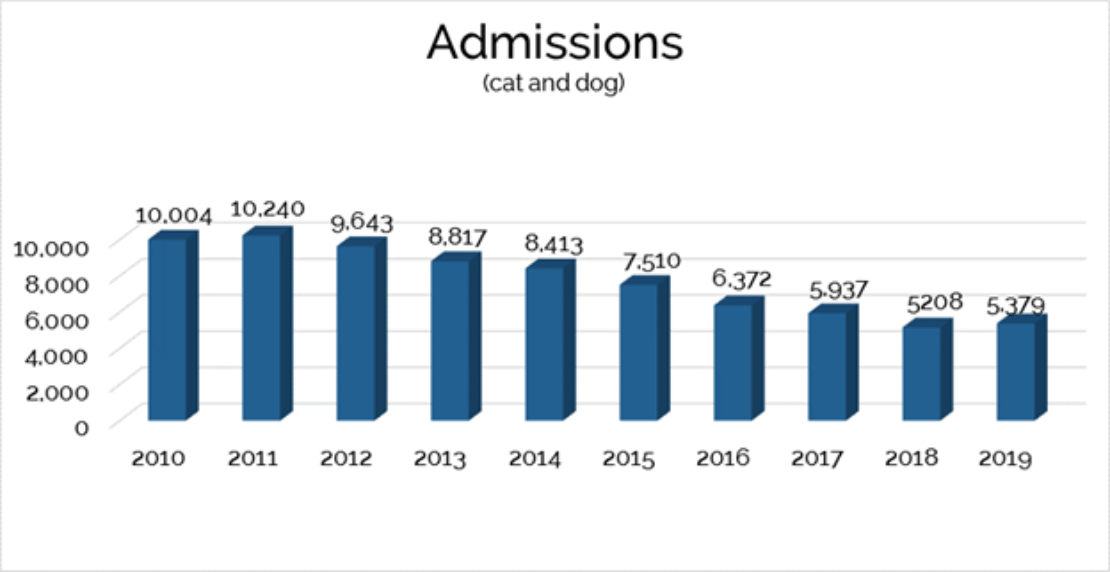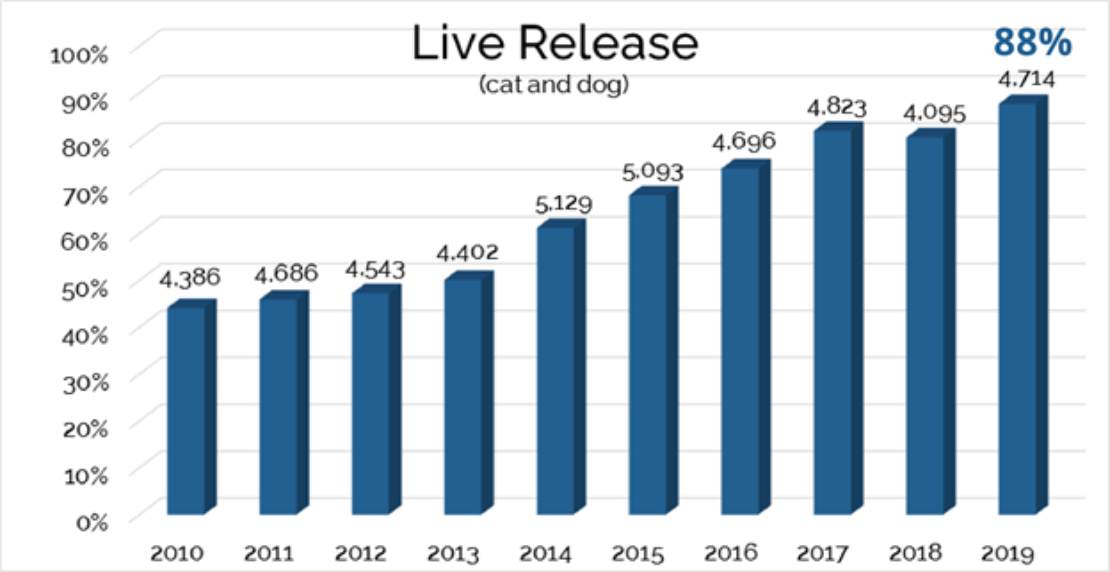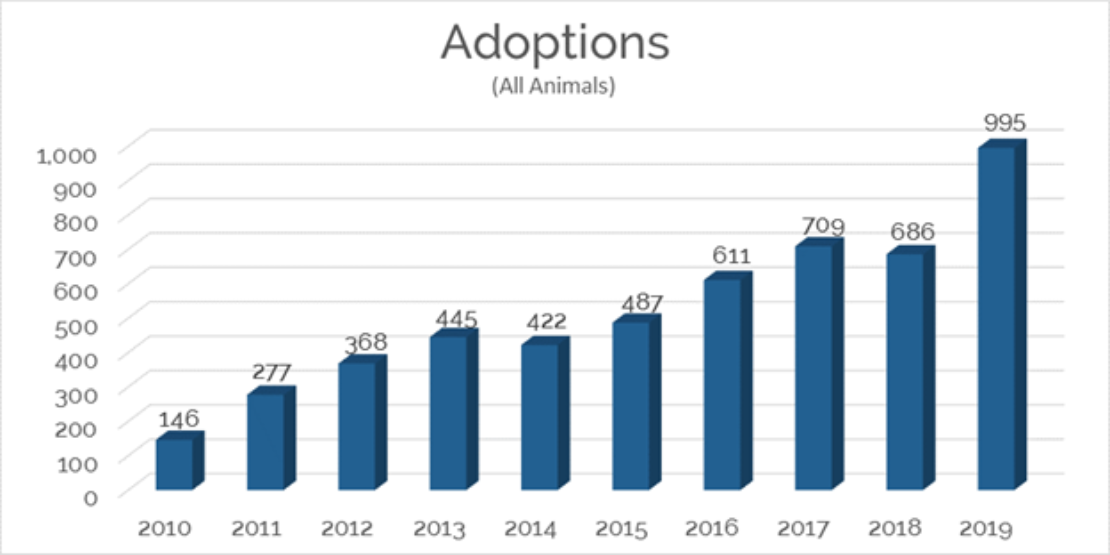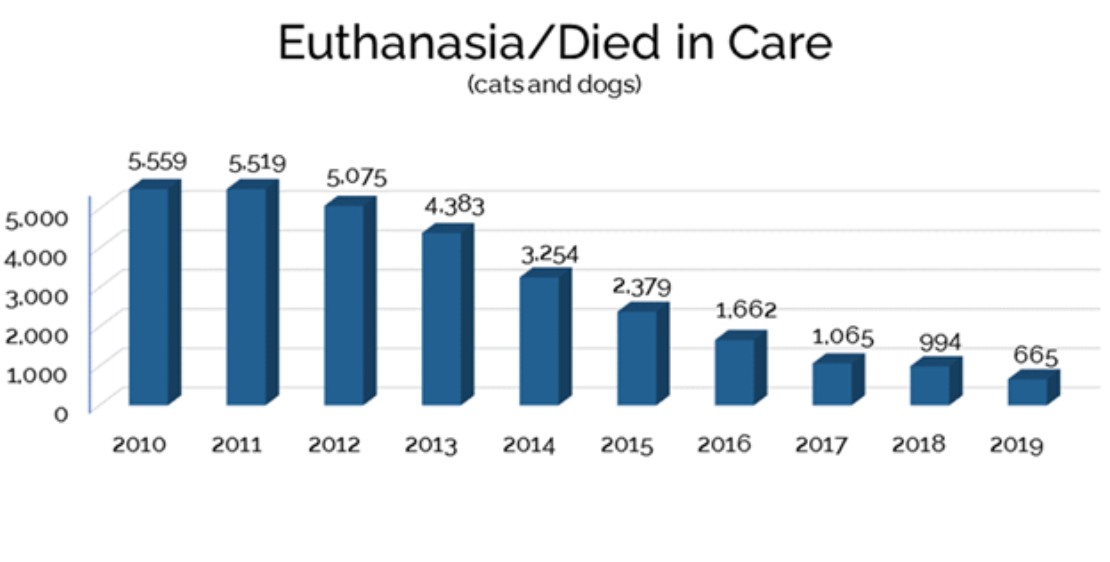 "I want to thank our LBACS Director, Staycee Dains, for her strong leadership, all of our hard-working staff at the ACS shelter, and the many volunteers who donate their time and energy to taking care of animals in our city," the mayor stated in the memo. "It's their commitment and love for animals that enables us to save so many lives and help so many animals find a forever home."
The community outside the shelter, both in rescue and concerned residents, are also responsible for the growth. Last year, 5,379 pets were admitted to the shelter, nearly half the amount that came in nine years ago. Contributing factors to the smaller number likely includes education offered pet owners to help them keep their pets and bring in fewer newborn kittens, TNR (trap-neuter-release), and the spay/neuter free and low-cost clinics, coupled with the vouchers distributed by the shelter and Friends of Long Beach Animals. Live release—rescue pulls, transports, release to owners—while about the same, comprises a larger percentage mainly because of this year's lower intake. There were more adoptions than they've ever reported—995 last year, compared with 146 in 2010—so if one of those was you, thank you for adding to this outcome, and hug your fur babies for all of us.
Here's something else to purr, howl, and do whatever rabbits do about: In 2010, over 5,500 pets were put to sleep—I don't know how many of them were mortally ill and suffering, but that's a lot of animals that died. Nine years later, we're at 665—do the math for the percentage drop. I'm too lazy to bring up the calculator. Not that you need it to see the difference.
The advocates who demonstrate at City Hall and other public places and who condemn any euthanasia of a healthy animal on social media would say that it's 665 too many if they're all healthy. They're right. The shelter volunteers and staff think so, too. So do the people who trap feral cats, spay or neuter them, and either release them or adopt them out; the members of the Mayor's Animal Care Visioning Task Force; the independent rescues who rely on donations and often spend their own money to pull pets from streets and shelters for adoption; the spay/neuter advocates who volunteer time and funds to offer free and low-cost procedures; and people who adopt from shelters and rescues instead of hitting Craigslist.
Shelter director Staycee Dains most definitely thinks so. She knows it's not something you can just roll into like a dog bed. Last February, a few weeks before she was due to officially begin as the new shelter director, she literally flew down here from San Jose—maybe she took a train, I don't know—to deal with a nightmare of a kitten season—kittens are cute, but when they're coming in faster than you can heat a bottle of formula to feed them all, it can be a horror story for shelter staff and volunteers. Dains got creative with a foster program (I babysat two and turned them in when it was time for the spay/neuter, and Long Beach Post editor Melissa Evans and reporter Valerie Osier also did and refused to give theirs back), took kittens to her own house to bottle-feed, filled her office with more kittens in kennels when space ran out, upped the number of positive outcomes for dogs with heavy support of Foster the 4th, dealt with disease epidemics (it wasn't pretty but it ultimately worked), and developed Compassion Saves, a model for saving as many healthy lives as possible. Compassion Saves may not go as far as some advocates would like, but it's a good model to follow and can surely be amended as needed. Like Animal Care's former director, Dains and the staff are doing whatever they can with less-than-generous funding, but constructive comments are always valuable, and Dains will hear them.
Years ago, the shelter came up with the motto "One too many,"—one too many unwanted litters, abused pets, euthanasia procedures. Hope that in reaching for the moon we grab as much stardust as possible before we hit the first crater.
Speaking of adoption, Friday is usually an adoption column. Speaking of Foster the Fourth, doggie rescue Live Love and its founder, Emily Ann Peters, started the effort a couple of years ago, and this year's was outstanding (again, reporter Stephanie Rivera fostered one and was hard-pressed to give him up for adoption, but she did). Speaking of Live Love, here are some of their shelter pulls, up for adoption.
Live Love is funded by donations and presently needs money for surgery for one of the dogs. If you can't adopt, can you donate? If you want one of the doggies, can you donate, too? Here's the link.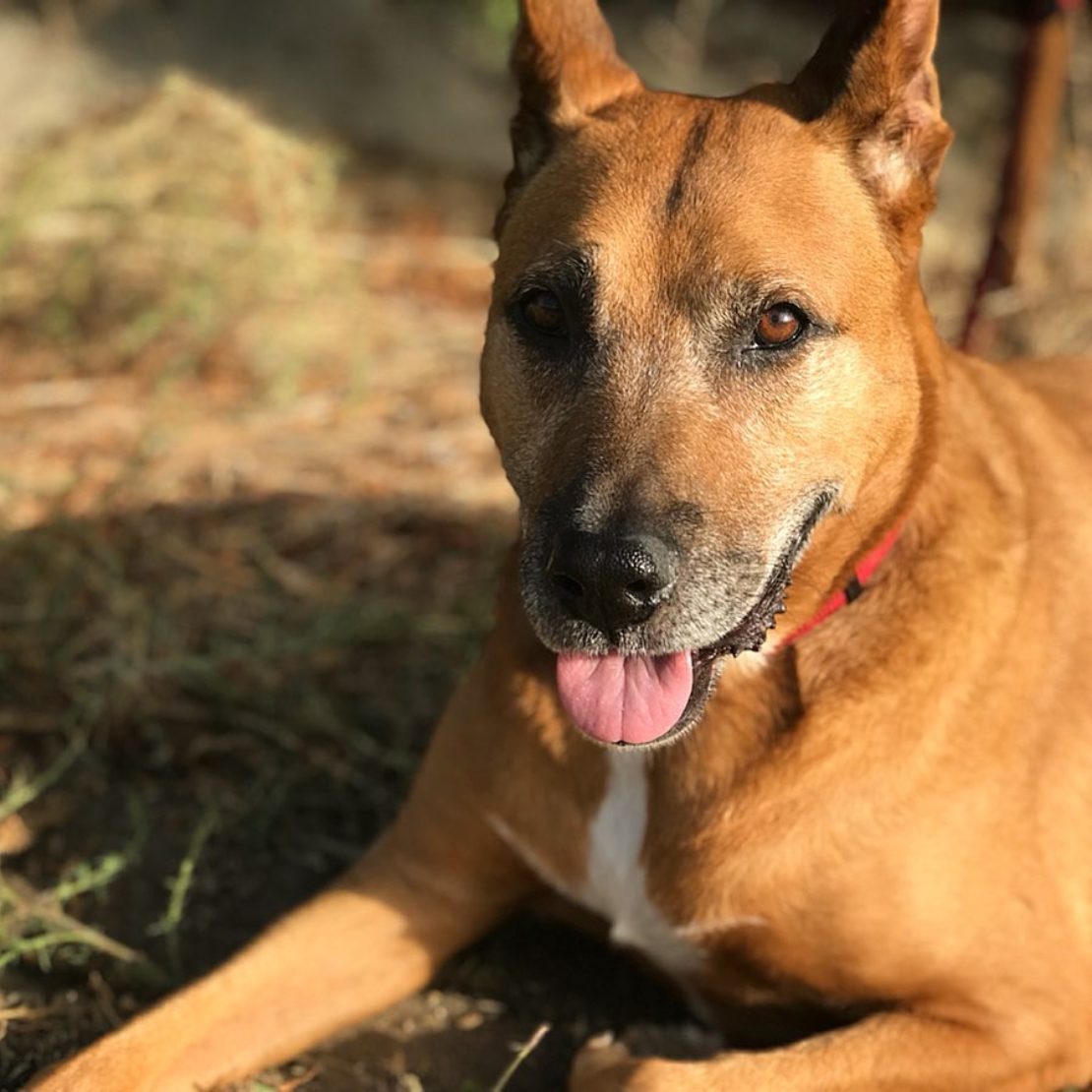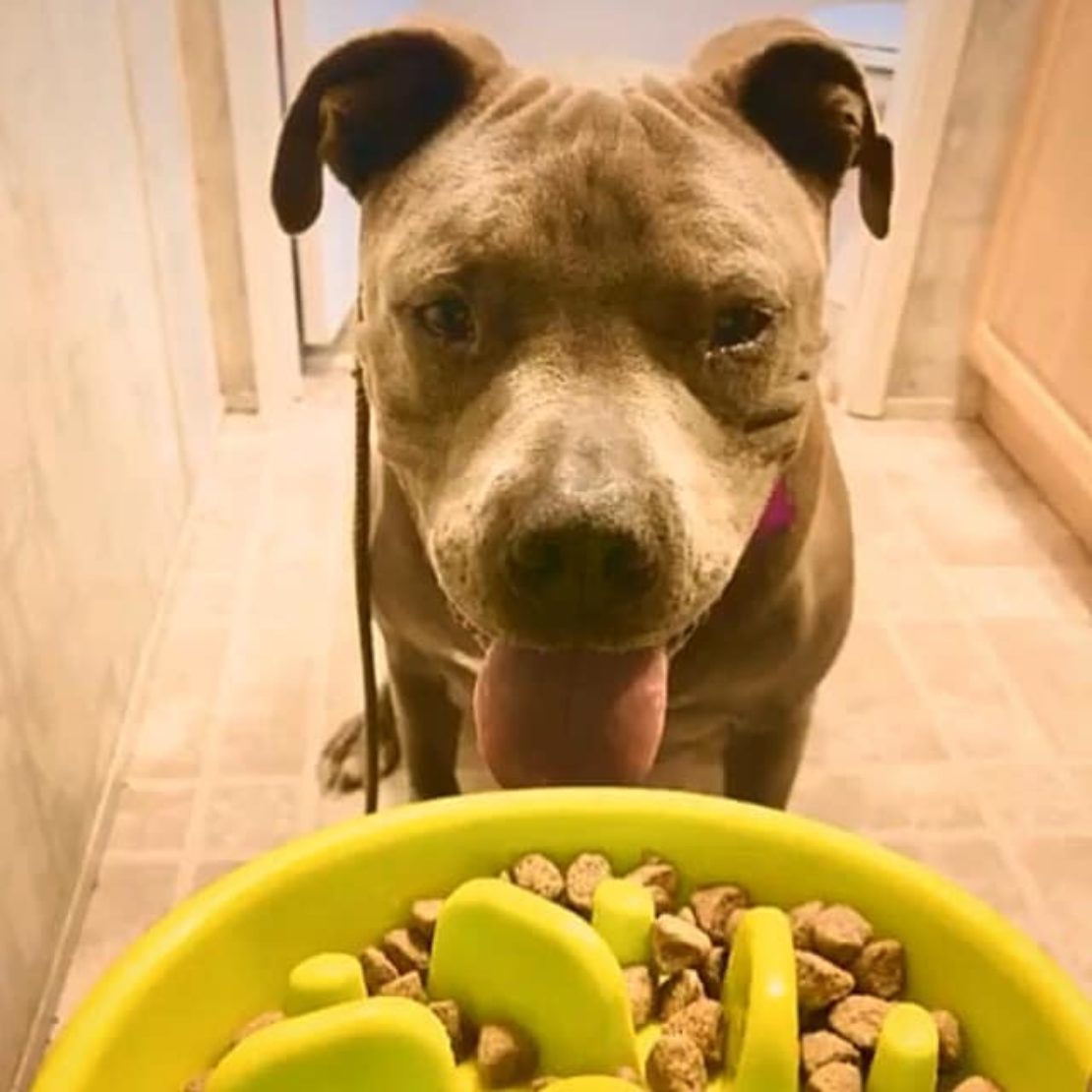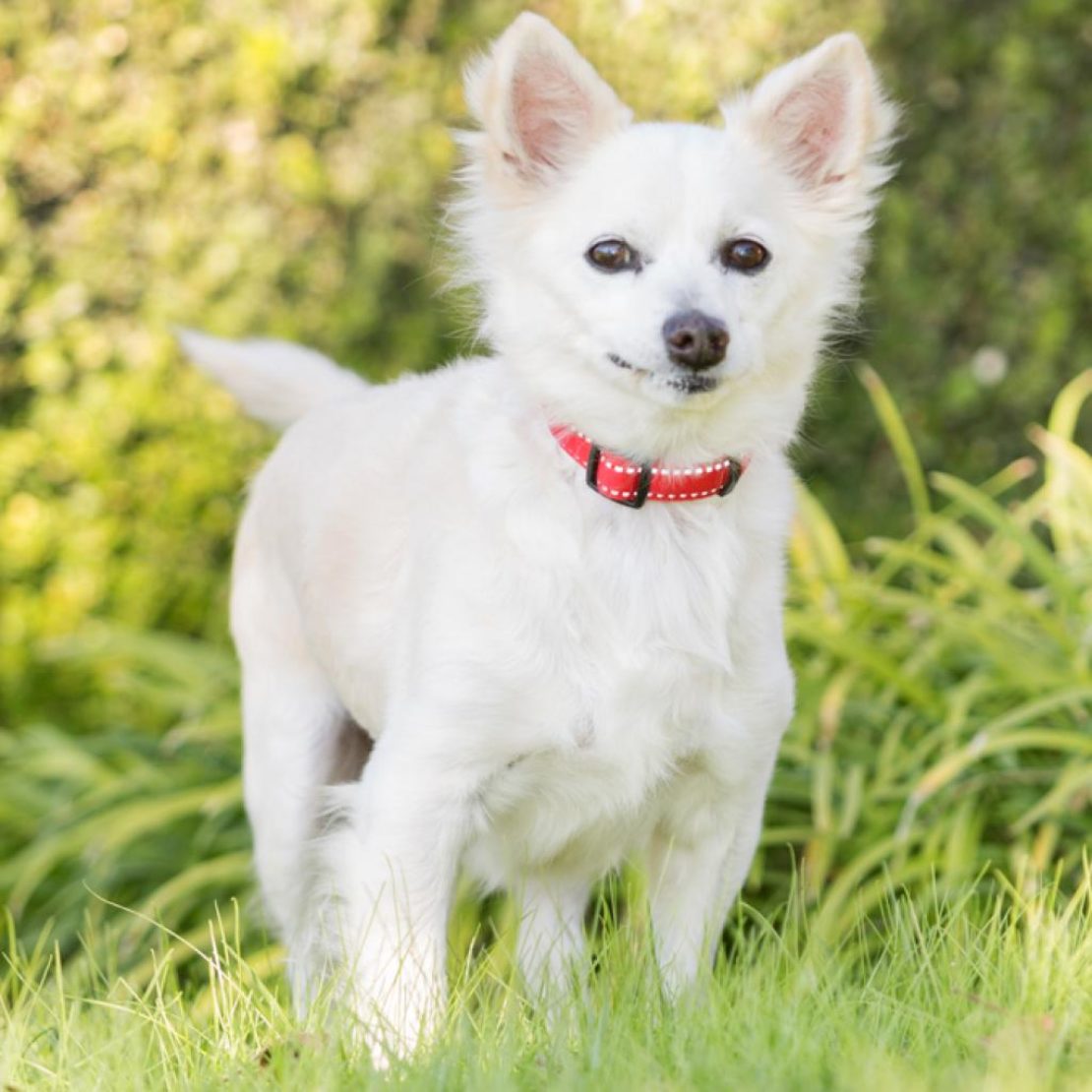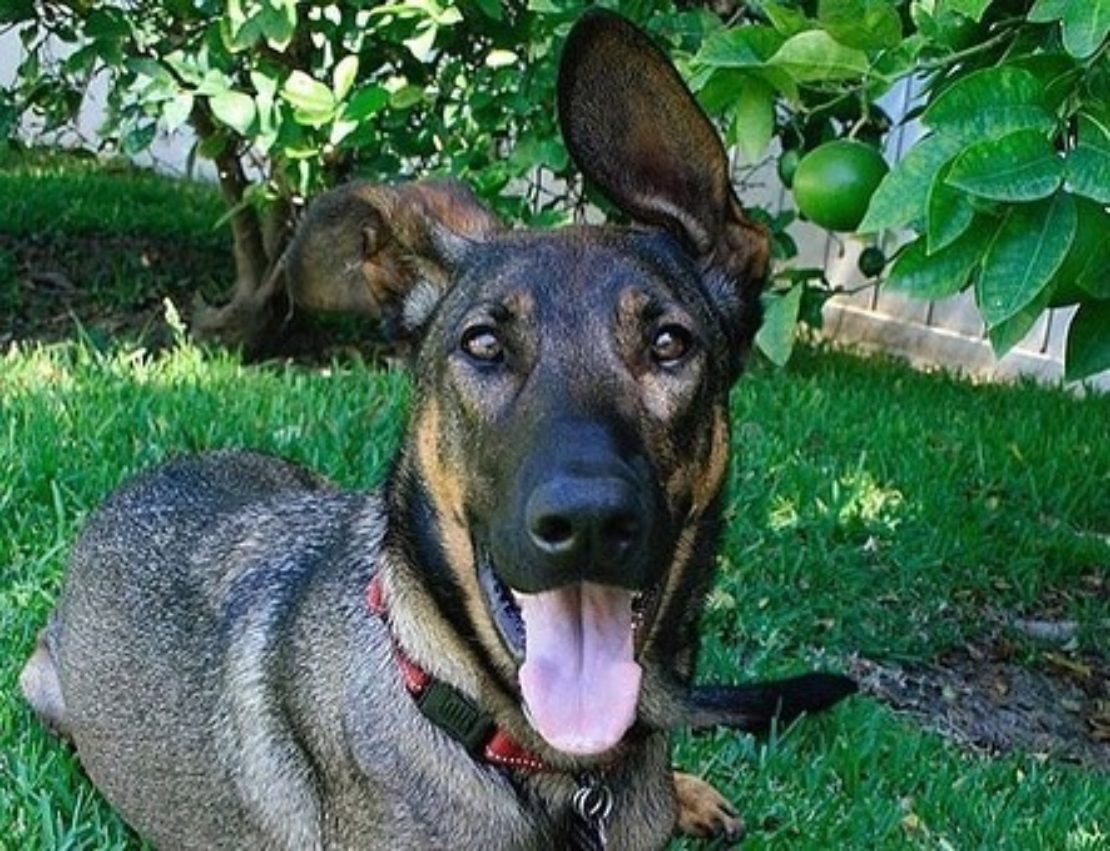 Things to do, pets to support
Please send any Long Beach or Seal Beach pet-related events or projects to [email protected]. Posting subject to approval.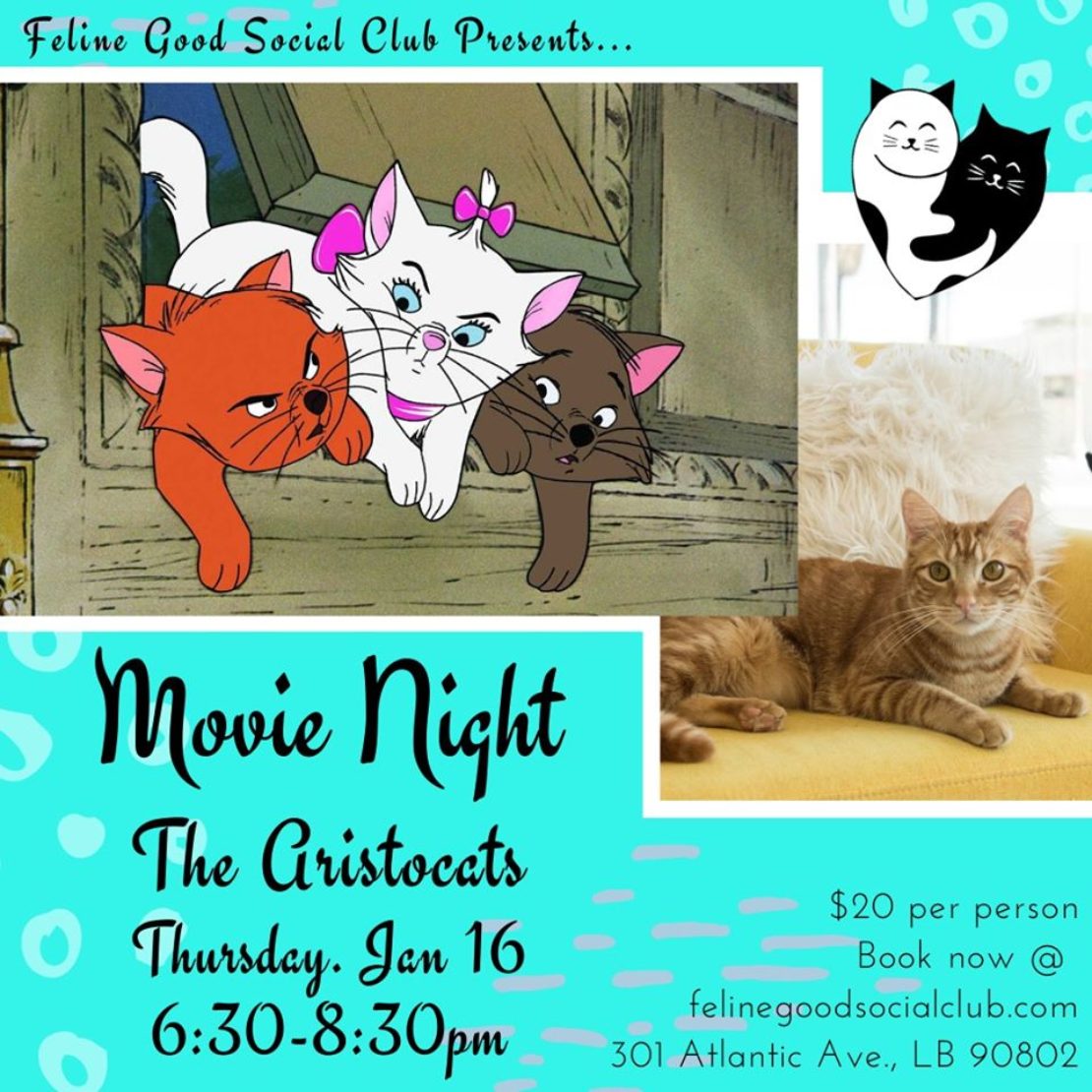 Events
Movie Night, featuring 'The Aristocats': Thursday, Jan. 16, 6:30–8:30 p.m., Feline Good Social Club, 301 Atlantic Ave., Long Beach, tickets $20 online
The Feline Good Social Club has become a regular activity center! The cats in residence have chosen the film "The Aristocats" and are looking forward to sharing popcorn with friends and batting it across the room. Feel free to bring your own human treats as well.
Sound Healing Workshop: Sunday, Jan. 19, 5-6 p.m., Feline Good Social Club, 301 Atlantic Ave., Long Beach, $25 online reservation
It's not as if purring weren't enough to heal the frayed psyche, but sometimes, it needs some help. This unique workshop presented by Illuminate Life, a partner with Sound Healing, uses bowls, chimes, drums and a didgeridoo (fits right in and fun as heck to spell) to get your blood pressure down, your thoughts squared away, and your memory bank accessed. The cats do the rest. More information available here.
Fix Long Beach Free Spay/Neuter Clinic: Saturday, Dec. 14, 7:30 a.m.–3 p.m., Somerset Park, 1500 E. Carson St., Long Beach, free spay/neuter appointments for qualifying people; free microchips, shots, flea-med doses, dewormers and nail trimmings $10 each.
The best way to mitigate shelter euthanasia is to tamp the source, and that's why we're here. Our shelter and rescues are packed with cats and dogs, and everyone doing rescue is chasing their tail trying to get them all adopted. The best way for our community to help out is to turn off the taps at the other end so that more won't be born. Remember: It's the law to fix your pet in Long Beach, and Fix is here to help you do just that. Appointments are available for future clinics—make one at [email protected], or PM us on Facebook. More information is available here.
Shelter Shenanigans
The shelter needs volunteers, like, yesterday. Animals need socializing for adoption, doggies need baths and walkies, events need attendance and gaps need to be filled where there are more needs than humans to fill them. If you want to make a real difference, fill out an application here and attend a volunteer orientation meeting.
Have an overnight with a kitty with Foster Fridays! The shelter has kittens coming out of the walls—literally. The shelter manager constantly has a few in her office! The shelter is at capacity, especially where cats are concerned, so fosters are sorely needed. Every Friday from 2-5 p.m., shelter staff is inviting residents who have the necessary accommodations—a safe space, time to feed them and play with them, and a propensity to say "Awwww!" every 15 minutes—to take a healthy, weaned kitten home for a while. Shelter will provide food, litter and a carrier and will cover any offsite medical. Time commitment is two weeks, with an option to adopt—of course! Foster fail! Have questions? Contact the shelter director at [email protected].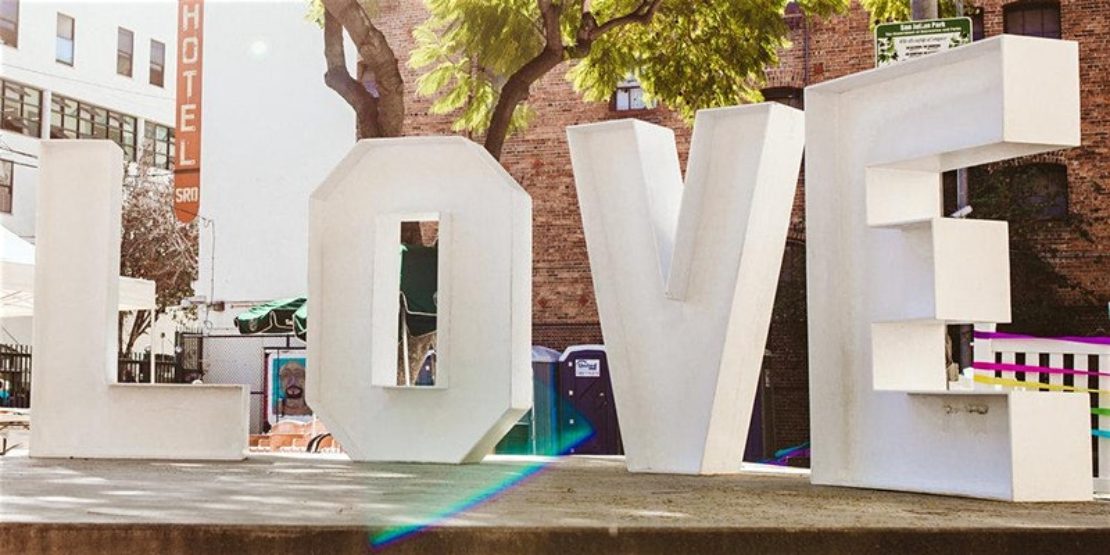 Other/ongoing
Pet donations requested for Skid Row Carnival of Love 2020
A Long Beach resident in collaboration with Los Angeles-based Karma Rescue, is collecting new or gently used items for the companion animals of people experiencing homelessness, to be distributed at the Skid Row Carnival of Love on Jan. 25 in Los Angeles. Suggestions include dog and cat food and treats; blankets; warm doggie coats; toys; dog and cat collars, leashes and harnesses; grooming supplies such as brushes, combs and nail trimmers; and collapsible food bowls, which take up less space than the usual metal or ceramic ones. The volunteer will pick them up from you, or you can drop the items off at their house or work. Text 510-708-9152.
Cats and Mats Yoga: Feline Good Social Club, 301 Atlantic Ave., Long Beach, every Saturday, 11 a.m.–noon and 5:30–6:30 p.m., $20 per person
Can you side-plank on a mat? Can you do it with a cat? That's the idea at Long Beach's Feline Good Social Club, where you can have their resident kitties join you in asanas, which is really the best way! Bring a mat and wear comfy clothes that you don't mind getting fur on. For ages 10 and up. Schedule available here. Reservations are recommended and may be made on the events page.
Instructional Pack Walk: First Saturday of the month, 10–11 a.m., Bixby Park, 130 Cherry Ave., Long Beach, free, donations accepted.
The public is invited to take part in a walk sponsored by Trot's Dog Walking and Training that will help you and your best buddy learn proper leash manners and focus on each other instead of the distractions of the "real world." Trot's experienced pack leaders are there to guide you through the process. Meet at the park at the corner of Ocean Boulevard and Junipero Avenue at 10 a.m.
Donations accepted for Pets of the Homeless
Pets of the Homeless' home page gives a self-description as the only organization focusing only on providing food and care for pets belonging to homeless people. Businesses and other organizations across the country receive in-kind donations of food and other needs that the dogs and cats' human families can pick up at outreach locations. The following Long Beach businesses will accept your donations:
Trendi Pawz, 3726 E. Seventh St., Long Beach.
Belmont Heights Animal Hospital, 255 Redondo Ave., Long Beach.
Paw Shoppe Pet Center, Inc., 6416 E. Spring St., Long Beach.
Food and supplies are available at Beacon for Him Ministries, 1535 Gundry Ave. Long Beach, Mondays from 9 a.m. to noon and Saturdays from noon to 3 p.m.; and at Christian Outreach in Action, 515 E. Third St., Long Beach, Thursday from 9  to 11 a.m. Donations will be gratefully accepted at these locations as well.
Adopt, adopt, adopt
The following pet-related businesses regularly feature cat, dog and rabbit adoptions. If you're a Long Beach-area rescue and don't see your adoption event listed here, please email [email protected]. Click on the links for each rescue in case of updates or changes.
Chase Bank, 5200 E. 2nd St., Long Beach
The Farmer's Marketplace of Long Beach, 5000 E. Spring St. (Spring and Clark), Long Beach
Gelson's Market, 6255 E. 2nd St.
Kahoots Pet Store, 18681 Main St. #102, Huntington Beach
Pet Food Express, 4220 Long Beach Blvd., Long Beach:
PetSmart Cerritos, 12741 Towne Center Dr, Cerritos
PetSmart Compton, 1775 South Alameda St., Compton
PetSmart Garden Grove, 9835 Chapman Ave, Garden Grove
PetSmart, Long Beach Exchange, 3871 Lakewood Blvd., Long Beach
PetSmart Seal Beach, 12341 Seal Beach Blvd., Seal Beach.
PetSmart Signal Hill, 2550 Cherry Ave., Signal Hill
PetSmart Towne Center, 7631 Carson Blvd., Long Beach
Unleashed by Petco, 600 Redondo Ave.