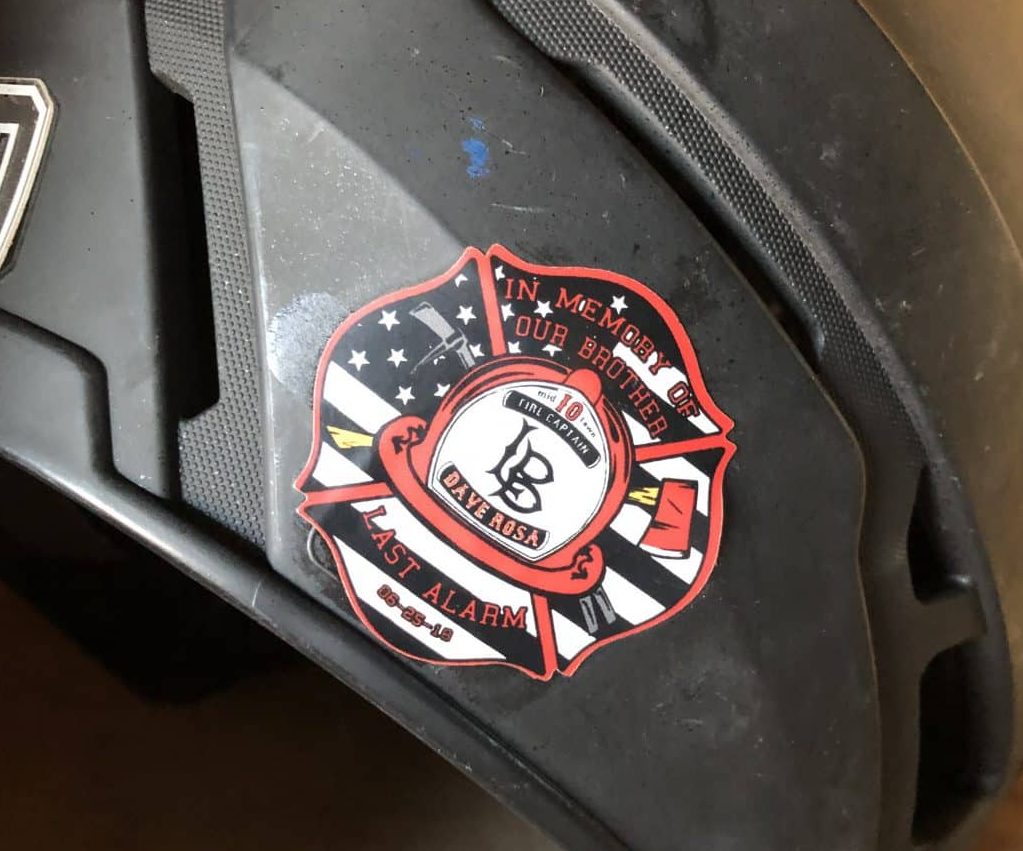 Long Beach's eclectic culture is created by many different small communities that come together to make up one big city. Last Sunday, Bohl Diamond at Blair Field was the place where several of those communities came together for mutual support and solace.
Capt. David Rosa, who served with Long Beach Fire Department for 17 years—six of those at Station 10 in Central Long Beach—was killed by a gunman while responding to an emergency call in June. There have been multiple ceremonies for Rosa across the city and state over the last eight months, and the Long Beach State Dirtbags took their turn on Sunday.
Rosa's 16 year-old son Samuel threw out the first pitch, and then the fire department played the police department in a softball game on the field after the Dirtbags played No. 23 TCU. The fire department won in extra innings 6-5.
"The whole day was a good celebration of Capt. Rosa's life, and he would've had a blast out there with us," said Long Beach firefighter James Dolas, who served as softball team manager.
"It was great to have our brothers in blue to support us to kind of relax, enjoy each other, enjoy Blair Field and kind of take our mind off of things that we deal with on a day to day basis," Dolas said. "Obviously we see a lot of bad things, and to be able to kind of forget that stuff and have some fun and play some softball is a good day."
LBSU's Assistant Athletics Director of Marketing Kelli Gill, Manager of Ticket Sales & Service Benny Garcia and Hospitality and Events Coordinator Gennifer Billish, who is married to a local firefighter, were instrumental in organizing the events. The Long Beach fire and police departments have recently played halftime basketball scrimmages at Walter Pyramid as part of the Battle Of The Badges athletic rivalry that includes softball and water polo games.
"They're the people who protect us," LBSU Athletics Director Andy Fee said. "They're active in our community in very positive ways. As a small acknowledgment for what they do for us, we love having them here."
Garcia has been working with both fire and police departments since arriving at LBSU in 2016, and said the university offers the city employees free ticket to these special events.
"Personally, it means more than anything we were doing on the field," Garcia said. "It's about the community and recognizing someone who lost their life on duty who meant a lot to a lot of people. It was bigger than anything we do on an everyday basis."
More than 300 city employees came to Blair Field on Sunday, thanks in part to efforts of Ana Jimenez and Jake Heflin from the fire department communications offices.
"Rosa was a huge baseball fan and umpire, so what better way to pay him tribute?" Heflin said.
Heflin and Jimenez also provided a video dedicated to Rosa that LBSU played on the big scoreboard screen in right field before the game. Gill had watched the video when the department sent it over last month, but it was a little different on Sunday.
"To be standing next to the family that is still obviously grieving immensely, and the community of the fire and police that were standing there, I mean, I felt like the stadium was just kind of at a standstill while that was going on," Gill said. "That moment was really quite emotional."
(The Rosa family respectfully declined to be interviewed.)
Gill was also one of the first people to welcome Rosa's family including his son, Samuel, and wife Lynley to Blair Field on Sunday before the ceremonial first pitch.
"What a sweetheart," Gill said of Samuel. "I was introduced to him and went to shake his hand, but he just grabbed me and gave me a big hug. He knew he was throwing the first pitch, but he didn't know that I had spoken to the team about engaging with him and including him."
Dirtbags Director of Baseball Operations Ryan Day took Samuel down to the field where he introduced him to the team.
"You could tell there was a whole lot of emotions with his father's friends and fellow firefighters around," Day said. "All I wanted to do was make him feel comfortable. I wanted this day to be something that he enjoyed. Within about five minutes or so of him being around the guys he immediately became comfortable."
Dirtbags freshman shortstop Kaden Hogan was standing at the edge of the dugout when Day asked him to catch the first pitch, something Hogan had never done before.
"I didn't really know who was throwing it or what was going on so I said 'yeah', and then our trainer (Jessica Jewell) actually told me the background on the situation," Hogan said. "It definitely made more more excited to be involved. First pitches are always meaningful, but this one was more than that."
Day brought Samuel a Dirtbags hat and shirt, and then he and Hogan played catch to warm up. Samuel had already thrown out a first pitch at Dodger Stadium last year, but said he was more nervous to do it in Long Beach.
"What I admire most about (Samuel) was just how much strength he has for someone who has been through what he has been through," Day said. "He lost his father less than a year ago and you just wouldn't be able to tell. He doesn't have any of that 'feel bad for me' feeling— he's a really strong kid. It's very admirable."
Samuel, a sophomore who plays baseball at Saddleback Valley Christian High School, threw the first pitch from the mound to the delight of the crowd full of his father's friends and coworkers.
"I've never been a part of something like that where so many people in the community come out and support what's going on," Hogan said. "I don't think (fire and police) get enough respect for what they do. They're out there helping people every day."
Gill said that Lynley Rosa told her after that game that her son had never mentioned going to college before Sunday, but said he'd like to apply after spending time with the Dirtbags.
"We wanted the day to be about him and his family," Day said. "But to make an impact like that in just a short time with him is really a testament to the type of platform we have as players and coaches at the collegiate level. I'm glad our guys took advantage of that."
Dolas said he and his fellow fire and police sports teams look forward to more events exhibitions in the future.
"A lot of us live or grew up in the city and we consider ourselves to be part of the community," Dolas said. "It's good for the citizens to see us out there not only supporting our local college, but our community as well. We're all just normal people who want to be part of a community that supports each other.""I think this is what brings it all back and really makes us realize that as big as Long Beach is, we're really a small, tight-knit community," Gill said.
Support our journalism.
It's been one year since the Long Beach Post began asking you, our readers, to contribute to keeping local journalism alive in the city.
Thousands have contributed over the past year giving an average contribution of $12.39 a month.
Please consider what the news and information you get every day from the Post means to you, and start a recurring monthly contribution now. READ MORE.