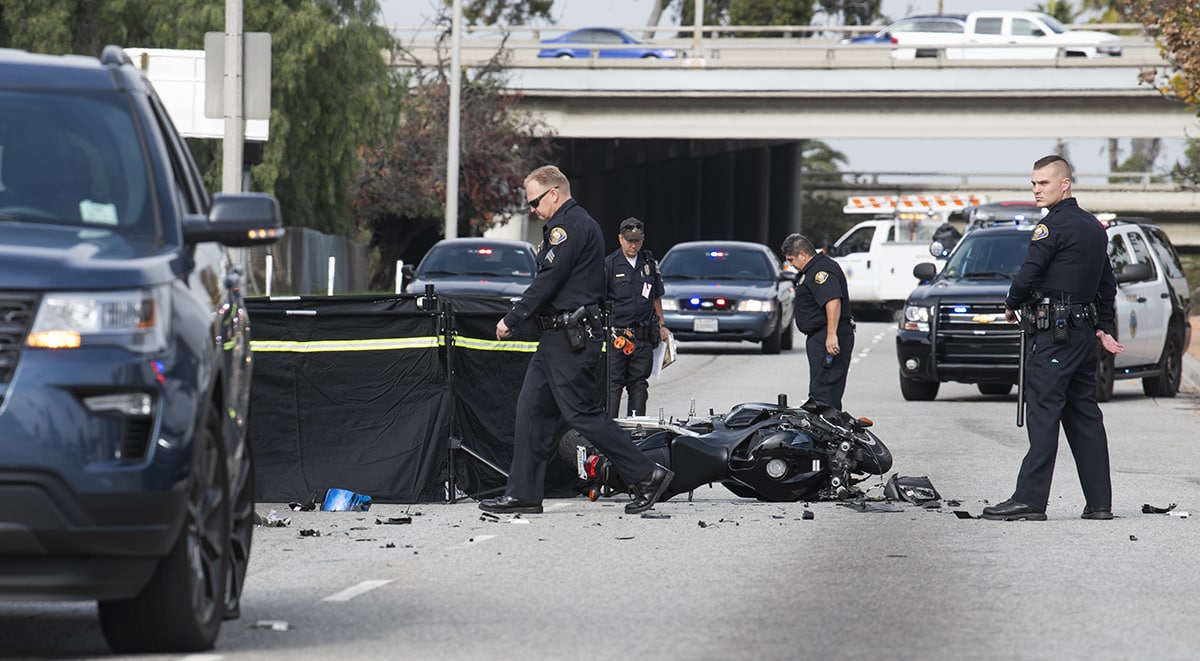 A 25-year-old motorcyclist was killed Monday afternoon in a high-speed crash with an SUV near Long Beach Airport, according to authorities.
The motorcyclist was headed south on Lakewood Boulevard at high speeds around 12:08 p.m. when he hit the SUV just north of Willow Street, police said.
The SUV's driver had just exited the 405 Freeway off-ramp that empties onto southbound Lakewood and was changing lanes to make a left on Willow when the two collided, police said.
The driver, a 49-year-old woman from Torrance, immediately stopped and tried to help, police said.
When officers arrived, they found the motorcyclist lying in the middle of the roadway near his 2012 Honda CBR 600 and the SUV, a 2018 Ford Explorer, stopped about 80 feet ahead, according to police.
Medics responded and determined the motorcyclist was dead, police said.
Authorities identified him as Corey Haggerty, a Lakewood resident.
Police said the SUV's driver had a valid license and isn't suspected of being under the influence of any drugs or alcohol at the time of the crash.
"The motorcyclist had an expired driver's license, which did not have a motorcycle endorsement," police said in a news release.
The SUV's driver and a passenger in it weren't injured in the crash, police said.
Authorities asked that anyone with more information contact Det. Steve Fox at 562-570-7110.
Editor's note: This story has been updated with more information from police.
Jeremiah Dobruck is the breaking news editor of the Long Beach Post. Reach him at [email protected] or @jeremiahdobruck on Twitter.
Free news isn't cheap.
We believe that everyone should have access to important local news, for free.
However, it costs money to keep a local news organization like this one—independently owned and operated here in Long Beach, without the backing of any national corporation—alive.
If independent local news is important to you, please consider supporting us with a monthly or one-time contribution. Read more.