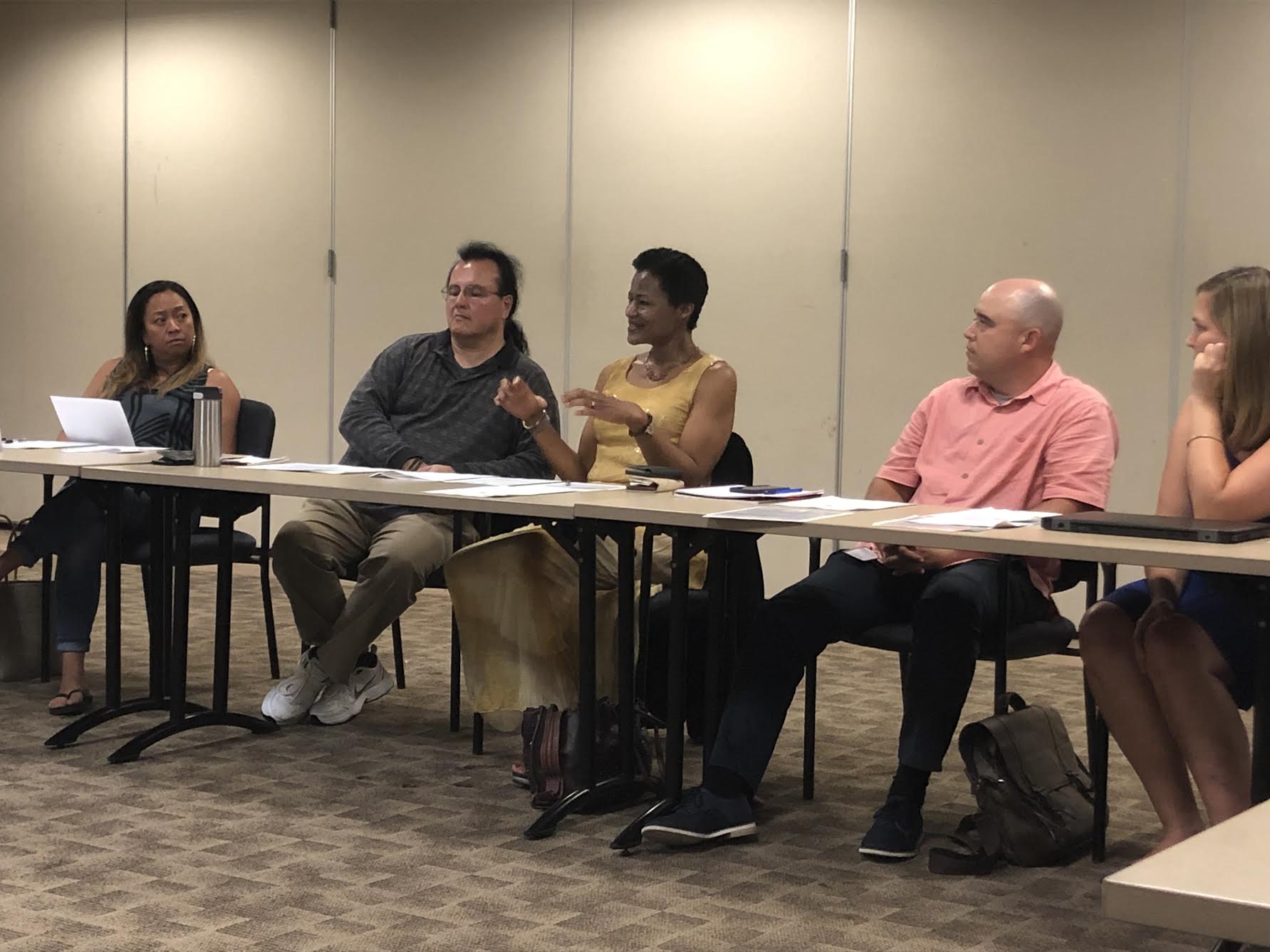 'People need to see this': Bixby Knolls woman receives hateful letter attacking her family
A Long Beach woman is speaking up after receiving a hateful letter in the mail last month that targeted not only her elderly parents, husband and dog but her appearance as well. She alerted police but was told it was not considered a hate crime.
Michelle Dobard, 58, discussed the content of the letter and the incidents surrounding it during the city's Human Relations Commission Wednesday evening at the Miller Family Health Education Center.
She said she was shocked at what she saw as a disgraceful and grotesque letter.
"It needs to be put out there that this is not OK," Dobard, who is black, told the commission. "People need to see this. People need to feel uncomfortable."
The anonymous letter, which  was dated June 10 but postmarked July 11, started off with a complaint about her dog's barking but it quickly spiraled out of control when it attacked her and her family.
It stated things like:
"…this is not a senior citizen caregiver community and it is annoying and depressing to see your crippled parents and crippled husband who visits you all the time…"
"It looks nappy and matted and your clothing doesn't look clean, almost like a homeless person."
"…we can't wait until your parents, husband and dog start naturally dropping like flies…"
"…go live where you PEOPLE are supposed to live…"
Dobard is an engineer and has lived at her Bixby Knolls home for 14 years. She said this is the first hateful experience she has encountered in the city.
She said both her parents are in their 80s and suffering some form of dementia and her husband, who suffered a massive stroke eight years ago, is paralyzed on half his body and cannot speak.
"This is my family, or what's left of my family," Dobard said.
Dobard said she was more bothered by the fact that someone would attack people incapable of defending themselves. In the past, her father would be the first to defend against such attacks. Now, she can't even share the incident with her family.
"It's extremely painful, it's more painful than that letter," Dobard said. "I can't have someone think that's okay."
She currently lives with two housemates—a paralegal and a nurse—and her Weimaraner dog, which no other neighbor complains about.
Dobard believes she knows which neighbor sent the letter, but declined to elaborate for fear of escalating the incident.
She posted the letter on NextDoor, which quickly blew up with hundreds of comments, mostly supportive. When her friend mentioned the suspected author of the letter by first name, Dobard's account was deactivated—and the post removed—without any reason.
A NextDoor spokesperson said accounts may be restricted or deactivated if a user violates its platform guidelines, which include public shaming, discrimination and hate speech.
The spokesperson could not speak to Dobard's specific case.
Councilman Al Austin also reached out via email, denouncing the letter and offering any help.
While police were sympathetic toward Dobard, no report was taken because the letter did not qualify as a hate crime.
The California Penal Code defines a hate crime as a "criminal act committed, in whole or in part, because of one or more of the following actual or perceived characteristics of the victim: disability, gender, nationality, race or ethnicity, religion, sexual orientation, association with a person or group with one or more of these actual or perceived characteristics."
Long Beach police spokeswoman Shaunna Dandoy said such incidents must have a prosecutorial crime attached to it in order to be considered a hate crime.
"Police look for not just what is being said but how it's being done," Dandoy said.
Dandoy said hate incidents are still documented and kept on file by police in case such actions continue or escalate. Both hate incidents and hate crimes are under the purview of the Violent Crimes Detail.
At the Human Relations meeting, Commission Chair Amy Eriksen asked the rest of the commission to consider organizing an anti-hate forum or similar event to address the issue.
"We can't just say it's not a hate crime because no one got hurt," she said. "We have to deal with it before it gets there."
Earlier in the evening, the commission heard the latest on a countywide anti-hate campaign meant to protect vulnerable communities.
As part of the initiative, Los Angeles County residents will be able to call the 2-1-1 hotline number to report hate incidents beginning Sept. 1. The hotline is currently used to help provide housing and homeless services as well as resources for children and families.
"Bullying is a public health crisis in my view," said Terri Villa-McDowell, who is a consultant to the county commission on human relations. "Bullying is hate violence."
However, Villa-McDowell cautioned against relying solely on the hotline number. Lack of robust funding and resources have caused multiple delays in rolling out the pilot program.
Villa-McDowell suggested instead the commission focus on involvement from local law enforcement and community groups.
The Human Relations Commission meets at the Miller Family Health Education Center, located at 3820 Cherry Ave., on the first Wednesday of the month.
Support our journalism.
Hyperlocal news is an essential force in our democracy, but it costs money to keep an organization like this one alive, and we can't rely on advertiser support alone. That's why we're asking readers like you to support our independent, fact-based journalism. We know you like it—that's why you're here. Help us keep hyperlocal news alive in Long Beach.