Come to Chloe's Christmas/birthday party—she's expecting you!
Chloe, the little dog who could but almost didn't, is ready to celebrate her first year of rescue, recovery and being rottenly spoiled by her adoptive family. You're all invited.
If you followed Chloe's story in the Long Beach Post, you'll know that she went from a near-dead ball of matted fur found by her first hero in a dumpster to her forever home with two of the most loving people you could ever meet. In between, she had a long period of recovery from what one employee of a veterinary hospital described as "the worst case [of abuse] I've seen in years."
Chloe made national and international news after the Post broke her story. Fix Long Beach, a free spay/neuter organization [Disclaimer: I volunteer with them], collected financial donations for her recovery at Primary Care Animal Hospital and Long Beach Animal Emergency. The $25,000 reward that Fix Long Beach and Just Food for Pets offered for the identification and arrest of her abuser sadly remains uncollected and is still the first thing you see on the Saving Chloe Facebook page.
But no matter—Chloe's thinking to the future and wants to throw a big bash for herself and Fix Long Beach. Actually, if Chloe's thinking anything, it's where her Kong toy disappeared to and when's it dinner. The two ardent animal advocates who took her in, though, aren't just grateful that Chloe's in their life—they're delighted that she has one. The party they're throwing is a fundraiser for Fix Long Beach to help it continue doing what it does to keep unwanted pets from filling the shelters. There'll be chin-scratching opportunities with Chloe, food, music, and prizes from Luna, Salon Pop, The Dog Bakery and other cool places. Check Adopt, adopt, adopt for details.
If funding and organizing clinics weren't enough, Fix volunteers also wear themselves out fostering dogs. Here are a few details on de tails. To adopt any of them, email [email protected]. All dogs are spayed or neutered, vetted, microchipped and vaccinated.
Chloe was lucky. There are so many abused pets, though, who weren't and aren't. Please think of them. Animal abuse is now a federal crime—let's hope it's the gift they need. That's Chloe in the feature photo, BTW.
Things to do, pets to support
Please send any Long Beach or Seal Beach pet-related events or projects to [email protected]. Posting subject to approval.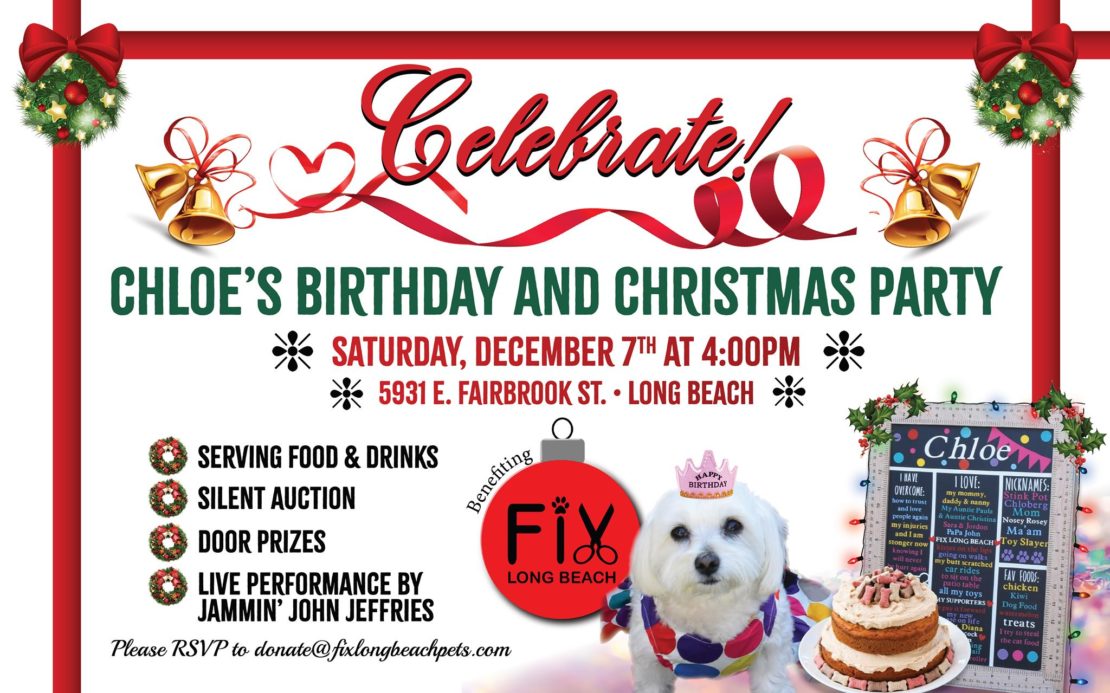 Events
Holiday Paint & Purr event: Friday, Dec. 6, 7–9 p.m., Feline Good Social Club, 301 Atlantic Ave., Long Beach, $45
Break out the tem-purr-a! Paint a festive snowcat while hanging out with the FGSC cats and mostly having fun in the best environment possible. All materials will be supplied and instructions provided. You'll leave the session with a piece of festive cat art you can proudly hang on the wall, and maybe even with an adoptive buddy! Purrchase tickets here.
Chloe's Birthday and Christmas Party Fundraiser: : Saturday, Dec. 7, 4 p.m., 5931 E. Fairbrook St., Long Beach, donations accepted
It stinks that you have to have a sad story to lead to a happy ending, but it's nice when you get one, anyway, because they're so few. Readers may remember the story of Chloe, who was found nearly dead in a dumpster, covered in food waste and human urine. Chloe recovered and was adopted by a wonderful local couple, who have been saying thanks and passing all the good stuff forward ever since Chloe went home. They're throwing a party for what they figure is her birthday, and in the holiday spirit are asking for donations to Fix Long Beach, the organization responsible for the little dog's recovery. The celebration will include food, drinks, a silent auction, door prizes and live music. As for Chloe, she's going to be wagging her tail and enjoying her happy ending, which will likely be forever after.
Fix Long Beach Free Spay/Neuter Clinic: Saturday, Dec. 14, 7:30 a.m.–3 p.m., Somerset Park, 1500 E Carson St., Long Beach, free spay/neuter appointments for qualifying people; free microchips, shots, flea-med doses, dewormers and nail trimmings $10 each.
The best way to mitigate shelter euthanasia is to tamp the source, and that's why we're here. Our shelter and rescues are packed with cats and dogs, and everyone doing rescue is chasing their tail trying to get them all adopted. The best way for our community to help out is to turn off the taps at the other end so that more won't be born. Remember: it's the law to fix your pet in Long Beach, and Fix is here to help you do just that. Appointments are available for future clinics—make one at [email protected], or PM us on Facebook. More information is available here.
Inaugural Home for the Pawlidays Pet Adoption Fair: Saturday, Dec. 14, 2p.m.–5 p.m., Long Beach Civic Center, 411 Ocean Blvd., Long Beach, adoption fees vary
Be the best Santy Claws at the mall at this great event! The best gift in the world is a forever home for a cat, a dog or a rabbit, and there are good little critters from our shelter and local rescues who are deserving. About 100 of them will be present Receive free microchips for your pets, learn how to bottle-feed fragile newborn kittens, and take home items from a raffle that will benefit our shelter pets. This inaugural event is sponsored by Mayor Robert Garcia with support from Second District Councilmember Jeannine Pearce. It's held in collaboration with the Little Lion Foundation, Helen Sanders CatPAWS and Long Beach Animal Care Services, with support from Stray Cat Alliance, The Cat Cove, Live Love Animal Rescue and others.
Mercury Wine Club's Sip and Support fundraiser for Live Love Rescue: Saturday, Dec. 21, kollin altomare architects 4265 E. Conant St, Suite 101, Long Beach, $15 tasting fee online or $20 at door.
Drink a little merlot for the mutts. Mercury Wine Club is offering 20% of purchases and tasting tickets to Live Love Pet Rescue. All pours are from wineries that give back to rescues and animal welfare. Bottles are available for purchase. Further details are available here.

Calendars
The 2020 pet calendars are ready to wag in the new year, with favorite pinups on each month.
Helen Sanders CatPAWS Show Us Your Kitties calendar: $10 each, available here.
Southern California Bulldog Rescue Ador-a-bull Calendar: $25 each, available here.
Seal Beach Animal Care Center 2020 Calendar: available here in mid-November.
Has your dog been waiting for that walk down the runway? Has your cat been waiting to be discovered as the star they know they are?  It is now their time to shine! The 13 cats and 13 dogs with the most votes will become a monthly model, with the top cat and top dog as cover pets. Whether you're a winner or a beloved entrant, the pets at Seal Beach Animal Care Center will profit from your entry—all funds will go to their care. Details available here.
Shelter Shenanigans
Have an overnight with a kitty with Foster Fridays! The shelter has kittens coming out of the walls—literally. The shelter manager constantly has a few in her office! The shelter is at capacity, especially where cats are concerned, so fosters are sorely needed. Every Friday from 2-5 p.m., shelter staff is inviting residents who have the necessary accommodations—a safe space, time to feed them and play with them, and a propensity to say "Awwww!" every 15 minutes—to take a healthy, weaned kitten home for a while. Shelter will provide food, litter and a carrier and will cover any offsite medical. Time commitment is two weeks, with an option to adopt—of course! Foster fail! Have questions? Contact the shelter director at [email protected].
The shelter needs volunteers, like, yesterday.
Animals need socializing for adoption, doggies need baths and walkies, events need attendance and gaps need to be filled where there are more needs than humans to fill them. If you want to make a real difference, fill out an application here and attend a volunteer orientation meeting.
 Ongoing
Operation Santa Paws: P.D. Pitchford Companion Animal Village, 7700 E. Spring St., Long Beach, to Dec. 21
It's the most wonderful time of the year if you're a cat, a dog or a bunny spending the holidays in a kennel in a shelter. Long Beach's most unstoppable community organizer, Justin Rudd, knows everyone, including Santa Claus' more furry brother, Santa Paws. Mr. Paws will be stopping at four shelters, beginning with Long Beach Animal Care Services and continuing to spcaLA, Seal Beach Animal Care Services and the new Orange County Animal Care Services in Tustin. Santy needs help filling the sleigh, so you get to be an elf. You can either set up a collection box in a local business—doesn't have to be in Long Beach—or you can purchase toys and shelter needs—the pets' version of underwear and socks—and drop them into boxes that have been set up (check the link here for the wish list, the destinations and other information). The best part is following Santa to the shelters and watching the pets enjoy their gifts. Maybe you'll be the one to give one of them the ultimate present—a forever home—but, of course, no pressure.
Cats and Mats Yoga: Feline Good Social Club, 301 Atlantic Ave., Long Beach, every Saturday, 11 a.m.–noon and 5:30–6:30 p.m., $20 per person
Can you side-plank on a mat? Can you do it with a cat? That's the idea at Long Beach's Feline Good Social Club, where you can have their resident kitties join you in asanas, which is really the best way! Bring a mat and wear comfy clothes that you don't mind getting fur on. For ages 10 and up. Schedule available here. Reservations are recommended and may be made on the events page.
Instructional Pack Walk: First Saturday of the month, 10–11 a.m., Bixby Park, 130 Cherry Ave., Long Beach, free, donations accepted
The public is invited to take part in a walk sponsored by Trot's Dog Walking and Training that will help you and your best buddy learn proper leash manners and focus on each other instead of the distractions of the "real world." Trot's experienced pack leaders are there to guide you through the process. Meet at the park at the corner of Ocean and Junipero at 10am.
Donations accepted for Pets of the Homeless
Pets of the Homeless' home page gives a self-description as the only organization focusing only on providing food and care for pets belonging to homeless people. Businesses and other organizations across the country receive in-kind donations of food and other needs that the dogs and cats' human families can pick up at outreach locations. The following Long Beach businesses will accept your donations:
Trendi Pawz, 3726 E. 7th St., Long Beach
Belmont Heights Animal Hospital, 255 Redondo Ave., Long Beach
Paw Shoppe Pet Center, Inc., 6416 E. Spring St., Long Beach
Food and supplies are available at Beacon for Him Ministries, 1535 Gundry Ave. Long Beach, Mondays from 9 a.m. to noon and Saturdays from noon to 3:00 p.m.; and at Christian Outreach in Action, 515 E. Third St., Long Beach, Thursday from 9 to 11 a.m. Donations will be gratefully accepted at these locations as well.
Adopt, adopt, adopt
The following pet-related businesses regularly feature cat, dog and rabbit adoptions. If you're a Long Beach-area rescue and don't see your adoption event listed here, please email [email protected]. Click on the links for each rescue in case of updates or changes.
Chase Bank, 5200 E. Second St., Long Beach
The Farmer's Marketplace of Long Beach, 5000 E. Spring St. (Spring and Clark), Long Beach
Gelson's Market, 6255 E. Second St.
Kahoots Pet Store, 18681 Main St. #102, Huntington Beach
Pet Food Express, 4220 Long Beach Blvd., Long Beach:
PetSmart Cerritos, 12741 Towne Center Drive, Cerritos
PetSmart Compton, 1775 South Alameda St., Compton
PetSmart Garden Grove, 9835 Chapman Ave, Garden Grove
PetSmart, Long Beach Exchange, 3871 N. Lakewood Blvd., Long Beach
PetSmart Seal Beach, 12341 Seal Beach Blvd., Seal Beach.
PetSmart Signal Hill, 2550 Cherry Ave., Signal Hill
PetSmart Towne Center, 7631 Carson Blvd., Long Beach
Unleashed by Petco, 600 Redondo Ave.
Support our journalism.
Hyperlocal news is an essential force in our democracy, but it costs money to keep an organization like this one alive, and we can't rely on advertiser support alone. That's why we're asking readers like you to support our independent, fact-based journalism. We know you like it—that's why you're here. Help us keep hyperlocal news alive in Long Beach.