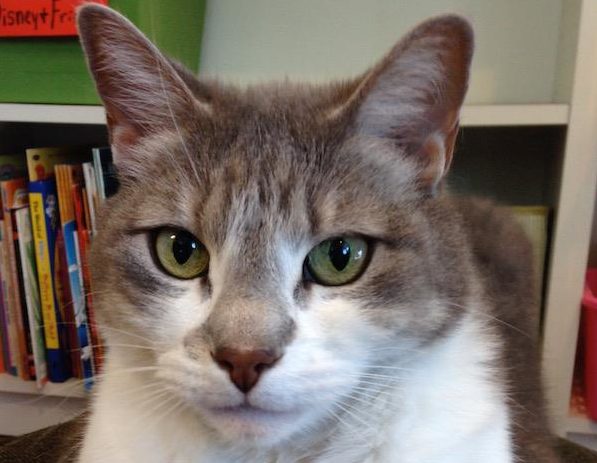 'How Cats Get Their Colors:' Local first-time author introduces her fanciful feline fable
A couple of weeks ago, I opened an email from Gatsby Books announcing a surprise book launch for a whimsical kids book, "How Cats Get Their Colors" by Karla Pallwitz. The event was a couple of hours away, and the bookstore is a 15-minute drive. Cats? Of course, I went.
Gatsby's might not be the last gasp for Long Beach-independent-bookstore survival, but it's likely the most audible. Gatsby's carries crowded store shelves of  mostly used books and some new ones, and they can order whatever you want. They maintain their uniqueness with poetry readings, author appearances and book discussions. Oh—there's a store cat, Ruby.
Ruby was characteristically asleep, secluding herself on a bed in the front of the store, when a flabbergasted Pallwitz walked up to deliver her speech. She seemed to wish she were curled up with Ruby.
"I want to go home right now," she said.
Pallwitz isn't really a shrinking violet—she's used to facing challenging audiences as a high school math teacher at St. Joseph High in Lakewood, where she has the befitting nickname of Miss Witz. After listening to her droll little book talk, it was clear to me that algebra would have been a lot more fun if she'd been my teacher.
Pallwitz had just celebrated her 50th birthday and had received a set of fancy pencils from her bestie, Nicole Rossi-Standley, who was in the audience along with a couple of former students. Rossi-Standley had also sternly given her friend a deadline to finish a book she'd started a while ago.
"She was talking about, I have this really good idea for a book about how cats get their colors," Rossi-Standley said. "So I found a publishing company and I sent it to them. Gatsby Books has been wonderful about letting us sell them here."
Pallwitz, after her initial shock, said that she'd had no intention of writing a book, although Rossi-Standley had insisted that it was on her bucket list. She then launched into her account of writing "How Cats Get Their Colors."
"I wrote it 100 years ago," she said. "It was a one-page storyboard that never went beyond one page. So [Rossi-Standley] brought a bunch of photographs and pencils and made me write the book."
Pallwitz's inspiration lay in her "obnoxious cats," which even ardent ailurophiles will agree is a redundancy.
"Sterling had every color on the planet—she had two orange toes, gray and brown and everything in between," she said of one of her past companions. "Boston had a white mark on his nose, and I figured it was because he was painted with brushes and couldn't hold still, so he bumped the brush."
The processes by which Sterling, Boston and everyone else acquired their unique patterns reads like stories your favorite aunt would tell you to explain the world. The text is playfully illustrated with cartoonish drawings doodled with Pallwitz's birthday gifts. In "How Cats Get Their Colors," we discover that kitties start out in a magical place where they learn to cat. They're all white at first, and then they're dipped, dabbed, dunked, or decorated. Their toes are done last; some impatient cats don't want to wait around, so they take off before their digits can be dyed. They wind up with white toes.
Cats jump into inkwells and become black; white cats are too shy or ticklish to endure a paint job. Calicos and torties run through mazelilke structures and get intermittently splattered.
"Some cats, like Valencia [Pallwitz's most annoying], like the ginger-striped look. So they soak in a teacup in a special ginger tea. Valencia, however, let her tail hang on the outside, so it didn't get any color.
Pallwitz's book sold out that day, but Rossi-Standley, to Pallwitz's delighted chagrin, is planning a second printing. The term self-published may deter some people from buying books, but one of the two best things about  "How Cats Get Their Colors" is its whimsy and imagination. The other best thing is that it's not yet available on Amazon. That means that you'll have to enter a bookstore to buy it, opening yourself to more discoveries and the absolute wonderfulness of handling books.
Gatsby Books is located at 5535 E. Spring St., Long Beach. Hours, events and contact information are available here.
Support our journalism.
Hyperlocal news is an essential force in our democracy, but it costs money to keep an organization like this one alive, and we can't rely on advertiser support alone. That's why we're asking readers like you to support our independent, fact-based journalism. We know you like it—that's why you're here. Help us keep hyperlocal news alive in Long Beach.