Long Beach's Return to Field program—and a few hopefuls who want to be your Valentine
A few months ago, I was invited by JeriLynn Burks, the philanthropy and engagement officer for Stray Cat Alliance, to visit the new annex building that they share with three other animal-adoption and -welfare organizations: The national pet advocacy group Best Friends Animal Society; Spay/Neuter Project of Los Angeles, which offers free and low-cost sterilization and medical care; and the Angel City Pit Bulls rescue. The building used to house the old South L.A. Animal Shelter, and the new tenants have no doubt either exorcised the little furry ghosts from days past or, more likely, have set them a-purr and a-tail wag.
Burks said that the organization's headquarters has space for 30 cats, and the annex can fill up its runs with 40 more. The shared space is in the process of adding an exam table, an oxygen nebulizer and a dental area. There are two registered vet techs on staff, full time. Best of all is the support that the project got from the city, in particular Los Angeles fifth-district councilman Paul Koretz. He cobbled together donations and handed over the keys rent free to the organization.
I was amazed but not surprised. I've become familiar with the dedication of volunteers and organizations to somehow provide a good life to every animal they can. Stray Cat Alliance is certainly what the name implies. The organization was incorporated as a nonprofit 20 years ago under the direction of Christi Metropole and since then has grown to address every need and issue regarding unowned cats. These cats have commonly been called ferals, but the term doesn't include the little guys dumped by owners onto the street and who might be as social and needy as the one presently curled up in the clean-laundry basket. Most organizations involved with unowned felines refer to them as community cats.
Stray Cat Alliance's programs include adoption, spay and neuter, tending to community cats, and involving the public in learning how to do TNR: trap, spay or neuter, and either return the cat to its home ground with the tip taken off its left ear (under surgery, of course) to distinguish it from cats who haven't yet been fixed or adopt out any social cats and kittens. I did that a couple of weeks ago and will likely do it again when my friend returns my new trap. She wants to help, too.
One Stray Cat Alliance program directly helps Long Beach's community cats. It's called Return to Field, or RTF. Community cats and those that are "loosely owned" (do you love that descriptor?) who've been trapped and brought to Long Beach Animal Care Services are spayed or neutered, vaccinated, microchipped to keep track of them, and ear-tipped through Stray Cat Alliance funding and then returned.
The program started in 2014 when Metropole approached then shelter director Ted Stevens about trying out something new. Stevens was open to the idea of further reducing the number of unborn cats and shelter overpopulation. An MOU was developed to form a partnership, and before you could say Bobcat's your uncle, cats were being fixed, vaxxed, and released unless they had been found declawed, were friendly, or were kittens and could be adopted out, depending on their health.
"This has reduced impounds and brought the kitten and adult population down for both shelter and outside," said Anna Wong, the shelter's Return to Field director.
Present shelter director Staycee Dains is actively continuing the program and said that she hopes to educate and involve residents in participating in trap/spay/neuter.
If you have unsocial strays in your yard or are concerned about the safety of any in your area, live in any of the five cities served by Long Beach (Long Beach, Signal Hill, Seal Beach, Los Alamitos and Cerritos), and want to be part of the solution, contact [email protected]. If you live outside the area, visit this page for information.
So—as for those friendly adults and kitties that can be adopted out…
Valentine's Day falls on a Friday this year, and there's some unwritten law about extending any Friday or Monday holiday throughout the weekend. Friday's likely underway at this posting, but you can still find your fuzzy Valentine Saturday, Feb. 15 during Stray Cat Alliance's Lonely Hearts Cat Adoption event at the Signal Hill PetSmart (see Things to do, pets to support). Here are a few dating profiles to peruse. Swipe right, but don't rub the fur the wrong way.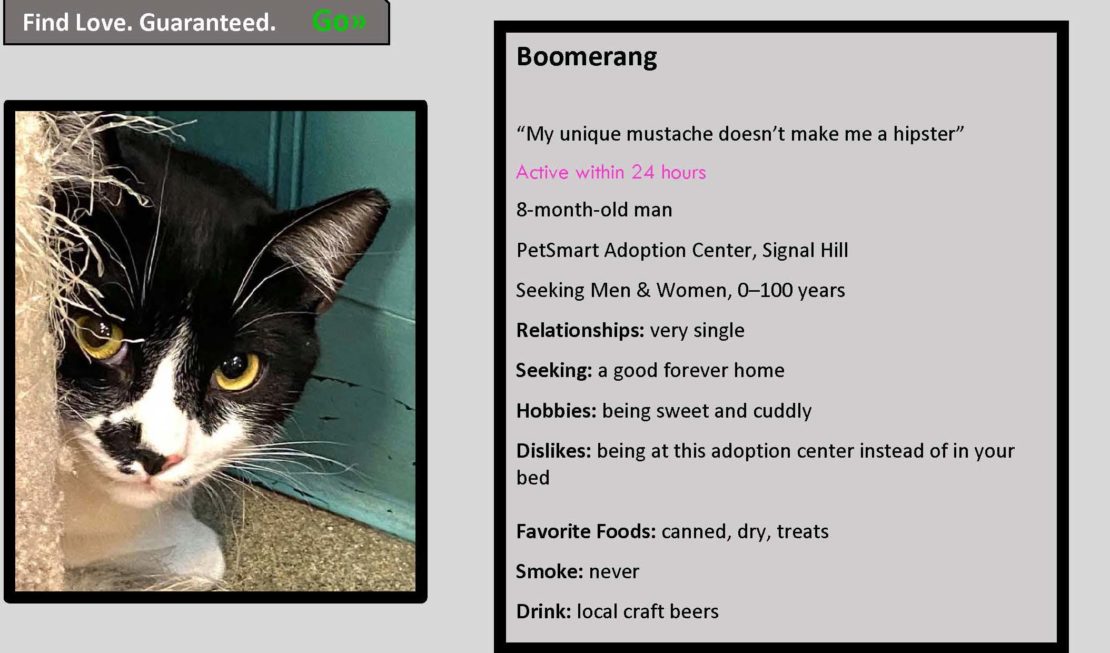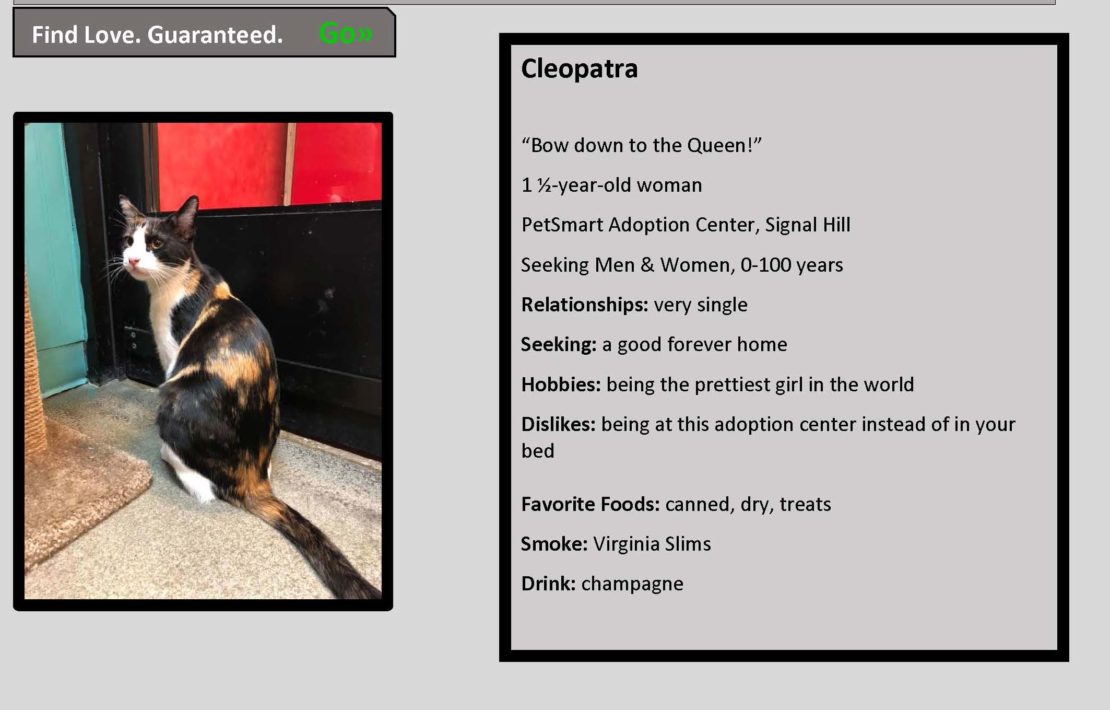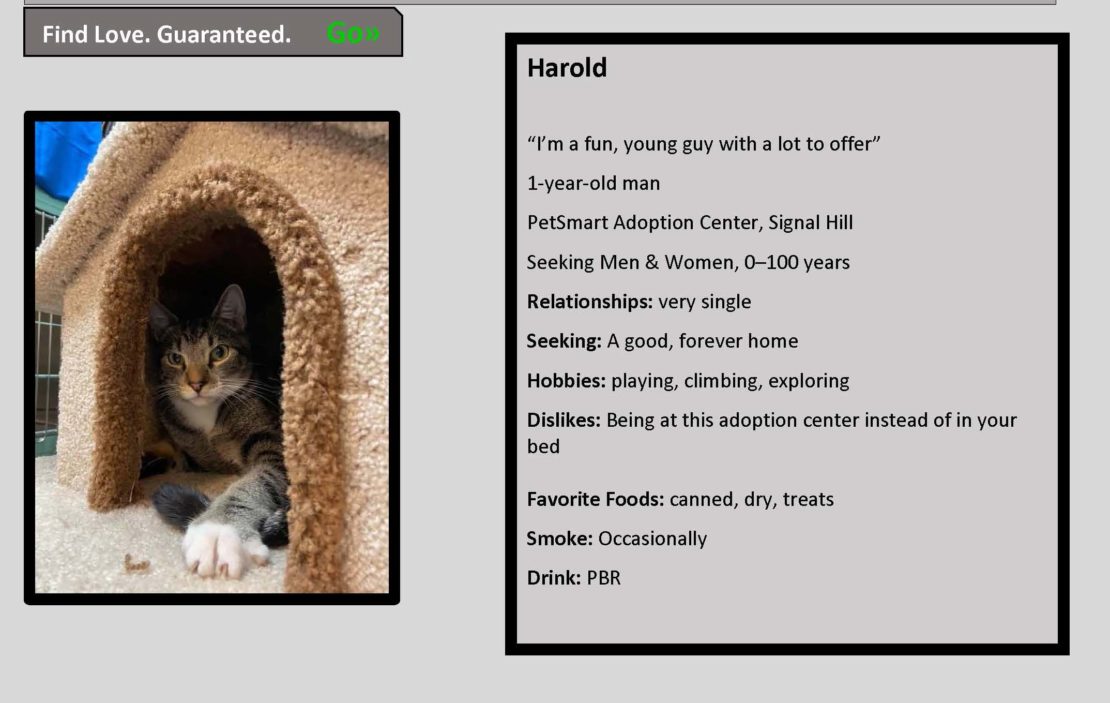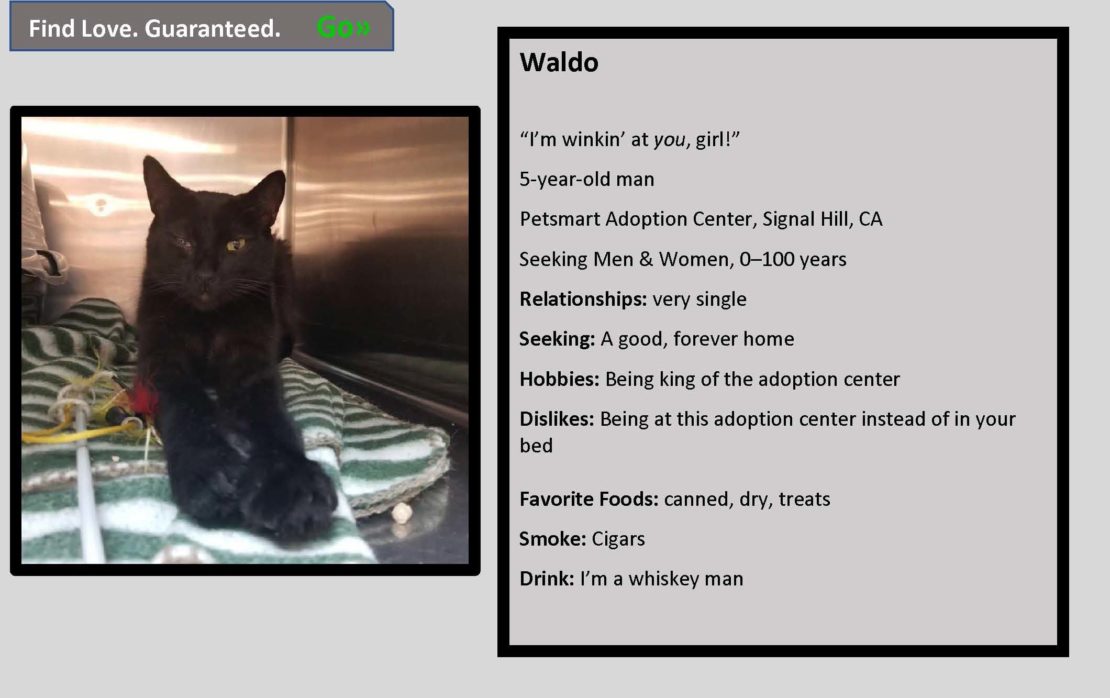 Things to do, pets to support
Please send any Long Beach or Seal Beach pet-related events or projects to [email protected]. Posting subject to approval.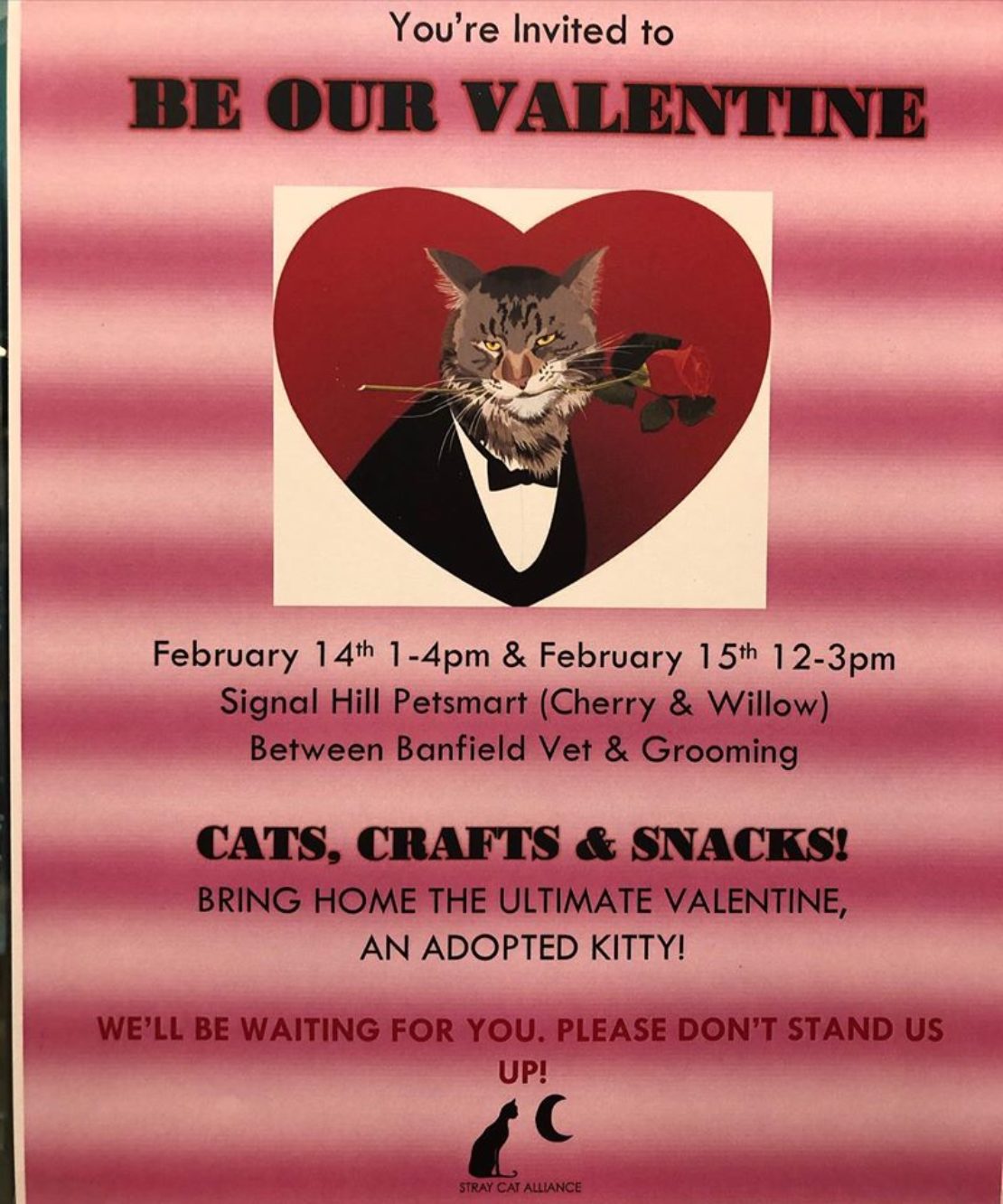 Events
Stray Cat Alliance Lonely Hearts Cat Adoption Event: Friday, Feb. 14, 1–4 p.m., and Saturday, Feb. 15, noon–3 p.m., PetSmart, 2550 Cherry Ave., Signal Hill, adoption fees apply
Stray Cat Alliance does every good thing possible with every cat they come across in L.A. County, including Long Beach. From trapping, spaying or neutering, vaccinating and then releasing community cats to the field to adopting out any healthy socialized kittens or friendly adult cats. On Valentine's Day weekend, you're invited to find your sweethearts from the bunch who are looking to live happily ever after. Speed dating has never been such fun!
CatVideo Fest: Saturday, Feb. 22, 3 p.m. and 5 p.m., and Sunday, Feb. 23, 5 p.m., Art Theatre of Long Beach, 2025 E. Fourth St., Long Beach, ticket prices here
What can't we get enough of? That's right—cat videos! The Art Theatre is presenting three showings of a compilation reel of animations, music videos and, of course, classic internet memeows. "But," you may say, "I can get all that on the internet and make my own popcorn." But CatVideoFest is only available as a special theater production and raises money for cats in need through partnerships with local cat charities, animal welfare organizations and shelters. The Art will donate 10% of this showing to the cats at the Feline Good Social Club kitty lounge. Some of Feline Good's adoptables will be in attendance in the hopes of achieving stardom in your home. If you've done their Mats with Cats yoga events, you'll agree that they're videos in themselves.
Fix Long Beach Free Spay/Neuter Clinic: Saturday, Feb. 22, 7:30 a.m.–2 p.m., Somerset Park, 1500 E. Carson St., Long Beach, free spay/neuter appointments for qualifying people; free microchips, shots, flea-med doses, dewormers and nail trimmings $10 each.
The best way to mitigate shelter euthanasia is to tamp the source, and that's why we're here. Our shelter and rescues are packed with cats and dogs, and everyone doing rescue is chasing their tail trying to get them all adopted. The best way for our community to help out is to turn off the taps at the other end so that more won't be born. Remember: it's the law to fix your pet in Long Beach, and Fix is here to help you do just that. Appointments are available for future clinics—make one at [email protected], or PM us on Facebook. More information is available here.
Meatball Fundraiser: Saturday, Feb. 22, 11 a.m.–5 p.m., Seal Beach Animal Care Center, 1700 Adolfo Lopez Drive, Seal Beach, choose your donation amount
If you could help pay for a cat's surgery by eating a meatball sandwich, would you do it? Sure—best conflation ever. A dear little tuxedo named Hazel was brought in to the center gasping for breath and partially paralyzed, likely the result of having been hit with a car. The Center paid for her costly surgery and she's doing fine. If you come for lunch or an early dinner—meatball sandwiches either carnivore or vegan, salad, dessert, beverage—and choose a donation of any amount for reimbursement of Hazel's medical bills, they'll hear the cheering in Philadelphia.
Free vaccines at Hogs and Dogs event: Saturday, March 7, 10 a.m.–2 p.m., 1517 Pacific Coast Highway, Harbor City, free to first 100 pets
Pedro Pet Pals will sponsor free vaccines to first 100 attendees: rabies and distemper/parvo for dogs and FVRCP vaccine for cats.
Adopt, adopt, adopt
The following pet-related businesses regularly feature cat, dog and rabbit adoptions. If you're a Long Beach-area rescue and don't see your adoption event listed here, please email [email protected]. Click on the links for each rescue in case of updates or changes.
Chase Bank, 5200 E. Second St., Long Beach
The Farmer's Marketplace of Long Beach, 5000 E. Spring St. (Spring and Clark), Long Beach
Gelson's Market, 6255 E. Second St.
Kahoots Pet Store, 18681 Main St. #102, Huntington Beach
Pet Food Express, 4220 Long Beach Blvd., Long Beach:
PetSmart Cerritos, 12741 Towne Center Drive, Cerritos
PetSmart Compton, 1775 South Alameda St., Compton
PetSmart Garden Grove, 9835 Chapman Ave., Garden Grove
PetSmart, Long Beach Exchange, 3871 N. Lakewood Blvd., Long Beach
PetSmart Seal Beach, 12341 Seal Beach Blvd., Seal Beach.
PetSmart Signal Hill, 2550 Cherry Ave., Signal Hill
PetSmart Towne Center, 7631 Carson Blvd., Long Beach
Unleashed by Petco, 600 Redondo Ave.
Support our journalism.
Hyperlocal news is an essential force in our democracy, but it costs money to keep an organization like this one alive, and we can't rely on advertiser support alone. That's why we're asking readers like you to support our independent, fact-based journalism. We know you like it—that's why you're here. Help us keep hyperlocal news alive in Long Beach.