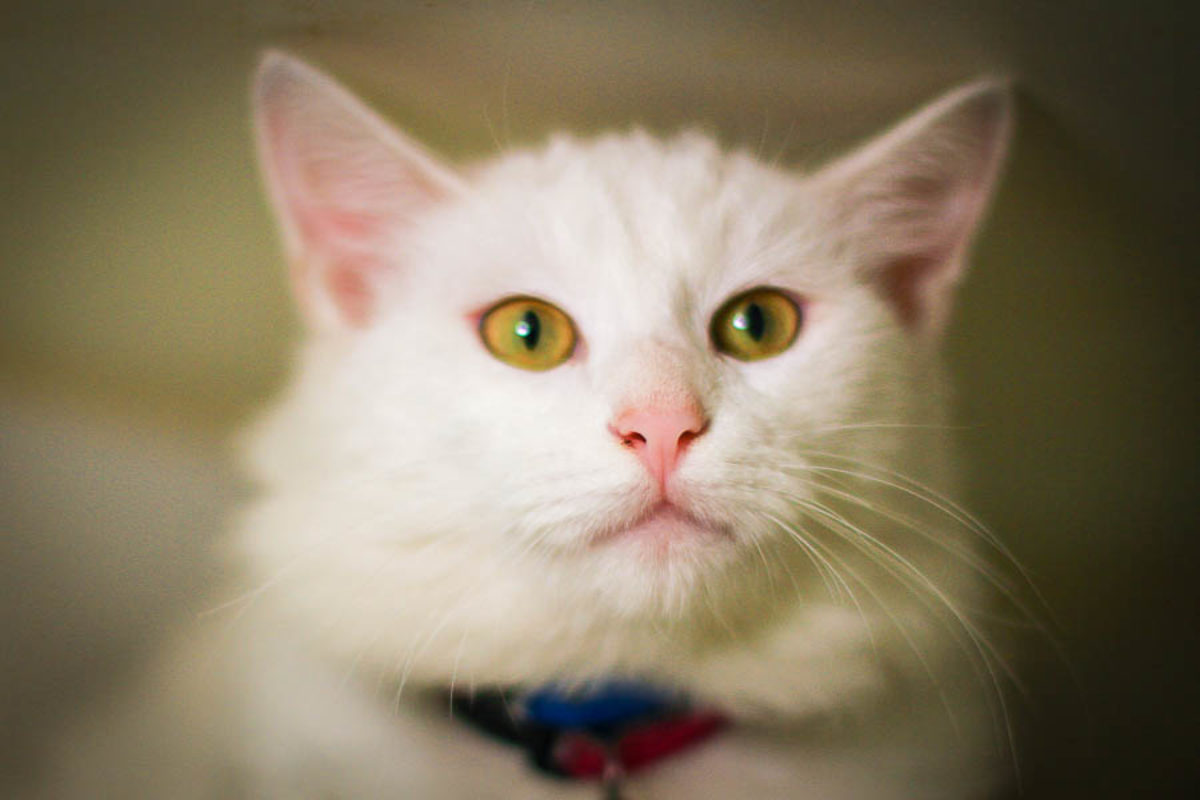 Talking turkey and tinsel: Tips for pet safety during holidays
The Holiday Festivities Tour Bus is making its second stop. The bus left the depot in late August when the dollar stores hauled out the Halloween and Christmas decorations and reached Thanksgiving about three weeks before Halloween began.
Pets, of course, figure as family members during the holidays, and there's nothing wrong with that even though the pet has no idea that one day's different from another, save for increased human traffic and interesting stuff to chew on and ruin. Stockings filled with toys and treats for cats, dogs—rabbits and hamsters, too, in some stores; elf and Santy Claws outfits; and miniature yarmulkes (don't try them on the cat unless they're real mensches) fill department store shelves and large sections of pet-supply stores. You can even buy a Thanksgiving Day dinner for your dog at Second Street's new The Dog Bakery, which might seem overly indulgent until you hold them up against the free dinners that the owners bake and deliver to selected shelters for the doggies to enjoy. The best holiday tear-jerker video of the year can be seen on their website during a Thanksgiving at one of these shelters.
The most important detail of the fall/winter holidays isn't making your already spoiled pet (and good for you if they are) even more so, but keeping them safe and healthy. Thanksgiving, Christmas and New Year's Eve ring in the continually opening front doors, an increased number of feet that can step on tails, dangling tinsel and electric wires, and puddings that, if not figgy, are chocolaty, raisiny or boozy. Here are the tips—even with the advancements of technology, some things remain the same from year to year. It's just good to have a reminder before you hit the egg nog.
O, Christmas tree, o, Christmas tree, o, I've got a plan to topple thee. If you can, keep your pet and the tree in separate rooms. If that isn't possible, especially in a one-bedroom or a studio, be sure the tree is anchored firmly to the floor or ceiling. Best Friends Magazine recommends fishing line to secure it to the ceiling, and there are specialized stands and creative ways to stabilize them. Keep the water container at the bottom covered—if a pet will drink from the toilet, they'll drink from anything, and pine-tree sap can be toxic to them.
While we're up the tree, be careful what you put on it. You've probably seen the cartoon of a shiny ornament with a cat's face reflected on it bearing the caption "The last thing an ornament sees before it dies." Truth in humor—breakable ornaments can hurt a kitty's paws, tinsel and ribbon can get caught in a pet's intestines and require surgery or result in death, and electric wires have to be place up high and rendered unchewable. Wires and breakables can be put out of reach of dogs, but we won't even put cats and out of reach in the same sentence. Wait, we just did—you get it, though. Limit or omit breakable items and tinsel, and watch out for those sharp metal ornament hooks. If you do light up the tree, cover the wires with thick, thick tape.
Poinsettias and mistletoe can be deadly if ingested by an animal, so keep both out of the way. It's fine, though, to kiss the dog under the mistletoe.
We've all fed the cat or dog from the table, haven't we. Keep their little pink mouths away from the dining table and the food in general. A bite of turkey's fine, but not the fruit bowl. Don't pawn Aunt Gin's fruitcake off on them, either. Raisins, grapes, and all that sugar—very bad for them.
Watch the door to the outside when you have company coming and going, and be sure that your pets are microchipped and have ID collars and tags. Famous last words: "My pet never gets out." Next thing you know, they're out ordering pizza and beer at the 4th Horseman—and that's the best scenario.
When company's around and furry nerves are frazzled, give pets a safe space with their favorite toys and soft music playing. Provide something that has your scent on it to lie near or on top of. Pajamas are a good bet, especially if your pets sleep with you. What's a little more cat fur?
If, heaven forbid, there's an emergency and your regular vet is closed, call an emergency vet or one that stays open late. Long Beach Animal Emergency is open 24 hours, seven days a week; Long Beach Animal Hospital stays open until midnight seven days a week; and Primary Care is open until 10 p.m., also seven days a week. Call your vet first to see if there's an emergency clinic mentioned on the recorded message. Go listen now, in fact.
The true spirit of the holiday for a pet is the gift of a home. Our shelter is bursting at the seams with pets—cats especially. Getting as many as possible adopted or in foster homes would elicit immense gratitude from shelter staff and volunteers. Rescues are inundated with not only pets but medical bills, and they have to scramble for funding. Donations to their efforts would be a wonderful way to express your gratitude for what they do. See Adopt, adopt, adopt for suggestions.
Here are four from Long Beach Animal Care Services who want to be home for the holidays, and thereafter.
Please send any Long Beach or Seal Beach pet-related events or projects to [email protected]. Posting subject to approval.
Things to do, pets to support
Events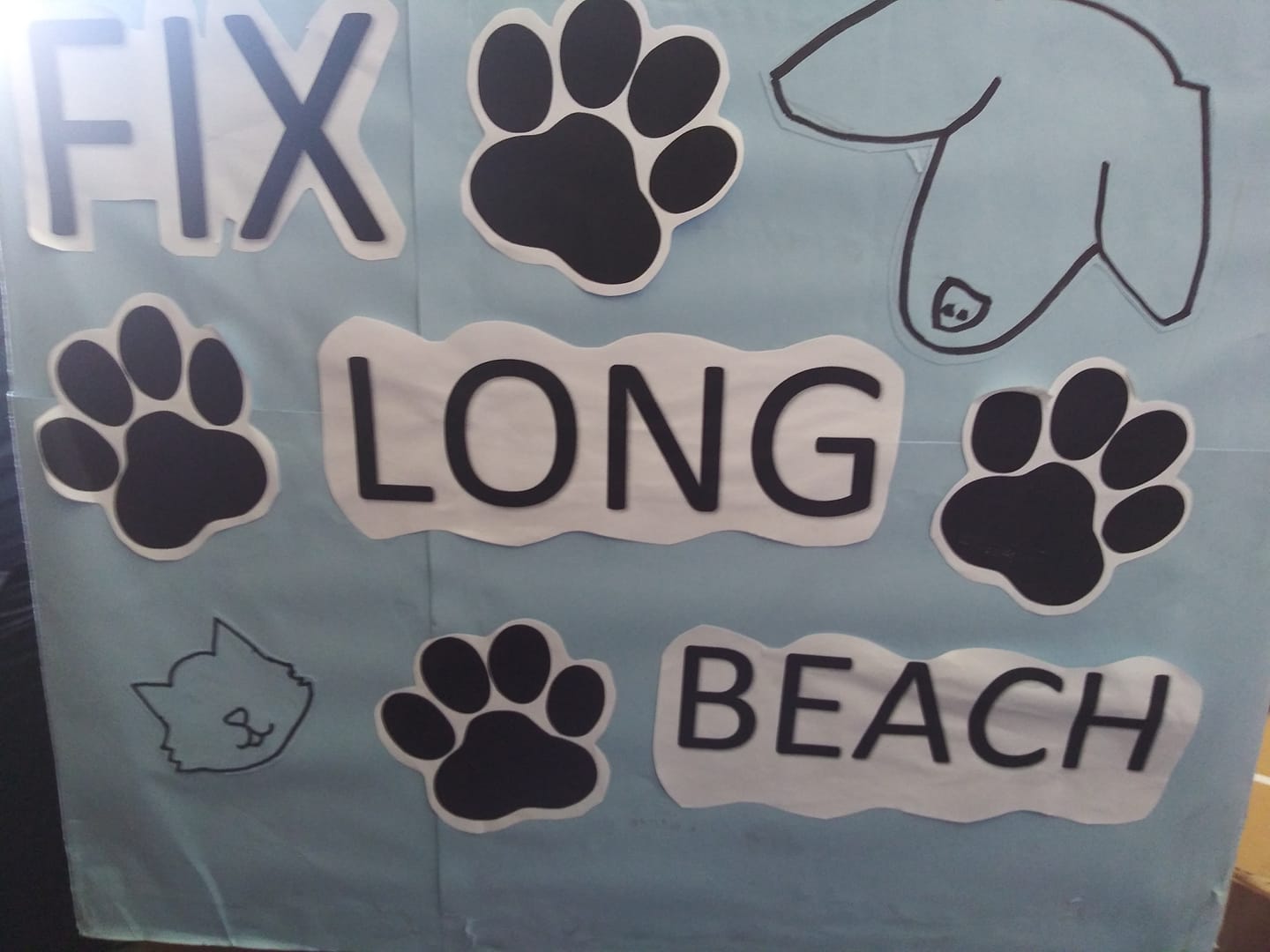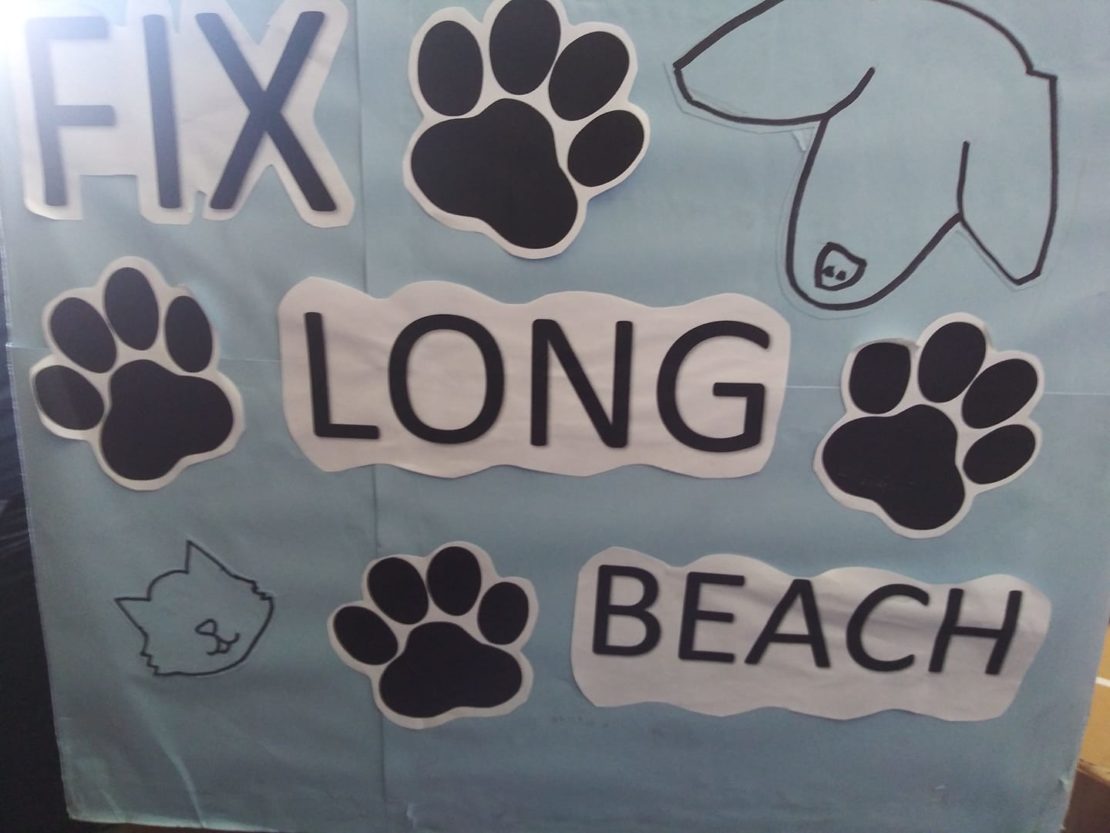 Fall bake sale benefitting Jellicle Cats :  Saturday, Nov. 23, 9 a.m.–5 p.m., Long Beach Coffee and Tea, 480 Pine Ave., Long Beach, goodie prices vary
If you like peanut butter and jelly on freshly baked loaves, adding Jellicle to it guarantees wonderfulness for you and for the cats at Jellicle Cats Rescue! Support all the cats needing homes, including Phoenix, the little cat rescued by Long Beach firefighters during the Oct. 30 brushfire in North Long Beach.
Live Love Animal Rescue Adoption Event:  Saturday, Nov. 23, 11 a.m.–3 p.m. The Circle, 1755 Ximeno Ave., Long Beach, adoption fees apply
See Live Love's wonderful little adoptables, and get a discount on CBD veterinary products.
Fix Long Beach Free Spay/Neuter Clinic—CATS!—sponsored by TransMark: Sunday, Nov. 24, 7:30 a.m.–3 p.m., 1500 E. Carson St., Long Beach, free spay/neuter appointments for qualifying people; free microchips, shots, flea-med doses, dewormers and nail trimmings $10 each.
The kitties on the bus go snore, snore, snore, and when they awake, they'll make kittens no more! Deborah Felin, CFO of Transit Marketing Group and cofounder of Helen Sanders CatPAWS, is sponsoring our cat clinic through her business. TransMark. The company doesn't put the wheels on the bus for Long Beach Transit, but they do get a lot of other stuff on it, and Deborah wants to put as many Long Beach cats as pussible on Fix's bus. The best way to mitigate shelter euthanasia is to tamp the source, and that's why we're here. Our shelter and rescues are packed with cats and dogs, and everyone doing rescue is chasing their tail trying to get them all adopted. The best way for our community to help out is to turn off the taps at the other end so that more won't be born. Remember: it's the law to fix your pet in Long Beach, and Fix is here to help you do just that. Female cat  appointments are booked, but you can arrive early around 7 to be on the waiting list. Spaces may still available for males, and they're complicit in kitten making! Appointments are available for future clinics—make one at [email protected], or PM us on Facebook. More information is available here.
Holiday Paint & Purr event: Friday, Dec. 6, 7–9 p.m., Feline Good Social Club, 301 Atlantic Ave., Long Beach, $45
Break out the tempura! Paint a festive snowcat while hanging out with the FGSC cats and mostly having fun in the best environment possible. All materials will be supplied and instructions provided. You'll leave the session with a piece of festive cat art you can proudly hang on the wall, and maybe even with an adoptive buddy! Purrchase tickets here.
Chloe's Birthday and Christmas Party Fundraiser: : Saturday, Dec. 7, 4 p.m., 5931 E. Fairbrook St., Long Beach, donations accepted
It stinks that you have to have a sad story to lead to a happy ending, but it's nice when you get one, anyway, because they're so few. Readers may remember the story of Chloe, who was found nearly dead in a dumpster, covered in food waste and human urine. Chloe recovered and was adopted by a wonderful local couple, who have been saying thanks and passing all the good stuff forward ever since Chloe went home. They're throwing a party for what they figure is her birthday, and in the holiday spirit are asking for donations to Fix Long Beach, the organization responsible for the little dog's recovery. The celebration will include food, drinks, a silent auction, door prizes and live music. As for Chloe, she's going to be wagging her tail and enjoying her happy ending, which will likely be forever after.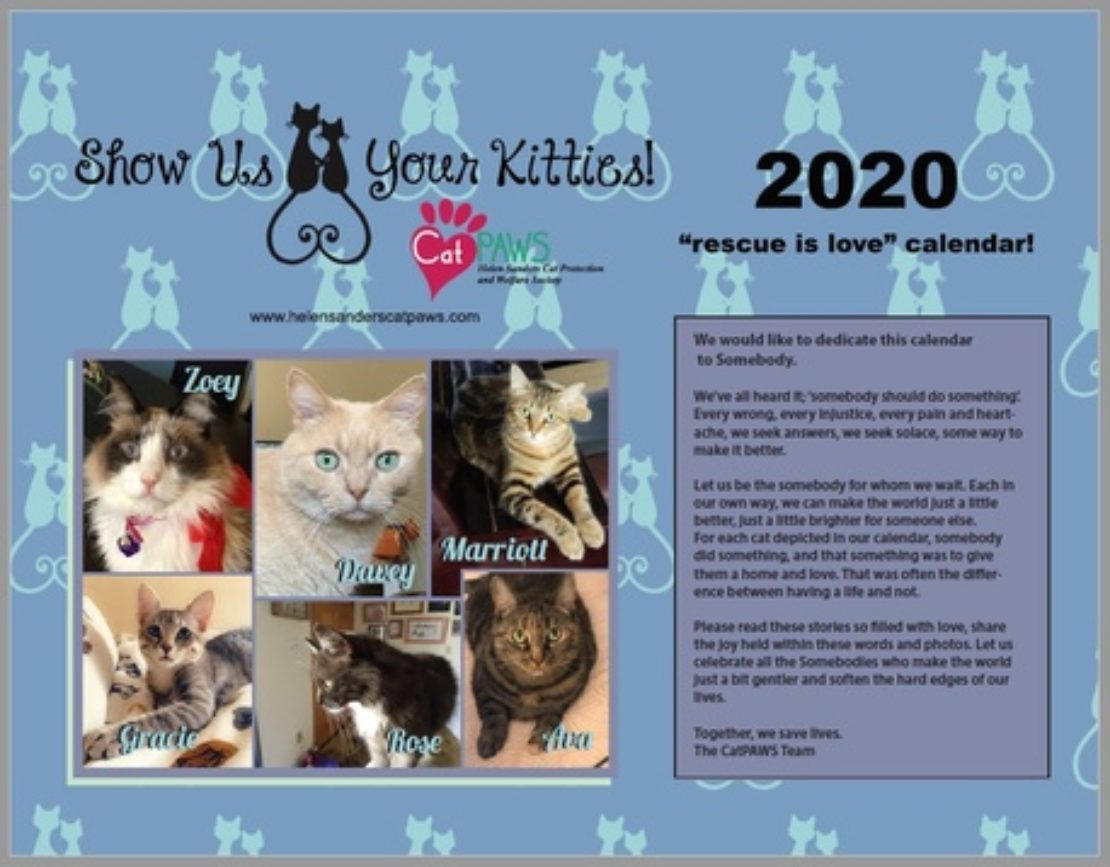 Calendars
The 2020 pet calendars are ready to wag in the new year, with favorite pinups on each month.
Helen Sanders CatPAWS Show Us Your Kitties calendar: $10 each, available here.
Southern California Bulldog Rescue Ador-a-bull Calendar: $25 each, available here.
Seal Beach Animal Care Center 2020 Calendar: available here in mid-November.
Has your dog been waiting for that walk down the runway? Has your cat been waiting to be discovered as the star they know they are?  It is now their time to shine! The 13 cats and 13 dogs with the most votes will become a monthly model, with the top cat and top dog as cover pets. Whether you're a winner or a beloved entrant, the pets at Seal Beach Animal Care Center will profit from your entry—all funds will go to their care. Details available here.
Shelter Shenanigans
Pick Your Price Adoption Promo at the shelter continues through Oct. 31, where you can bring home a new best buddy and cuddle during the cooling days of autumn. Cats, dogs, rabbits—and if your kid has been pestering you for a horse, don't worry. We haven't any.
Have an overnight with a kitty with Foster Fridays! The shelter has kittens coming out of the walls—literally. The shelter manager constantly has a few in her office! The shelter is at capacity, especially where cats are concerned, so fosters are sorely needed. Every Friday from 2-5 p.m., shelter staff is inviting residents who have the necessary accommodations—a safe space, time to feed them and play with them, and a propensity to say "Awwww!" every 15 minutes—to take a healthy, weaned kitten home for a while. Shelter will provide food, litter and a carrier and will cover any offsite medical. Time commitment is two weeks, with an option to adopt—of course! Foster fail! Have questions? Contact the shelter director at [email protected].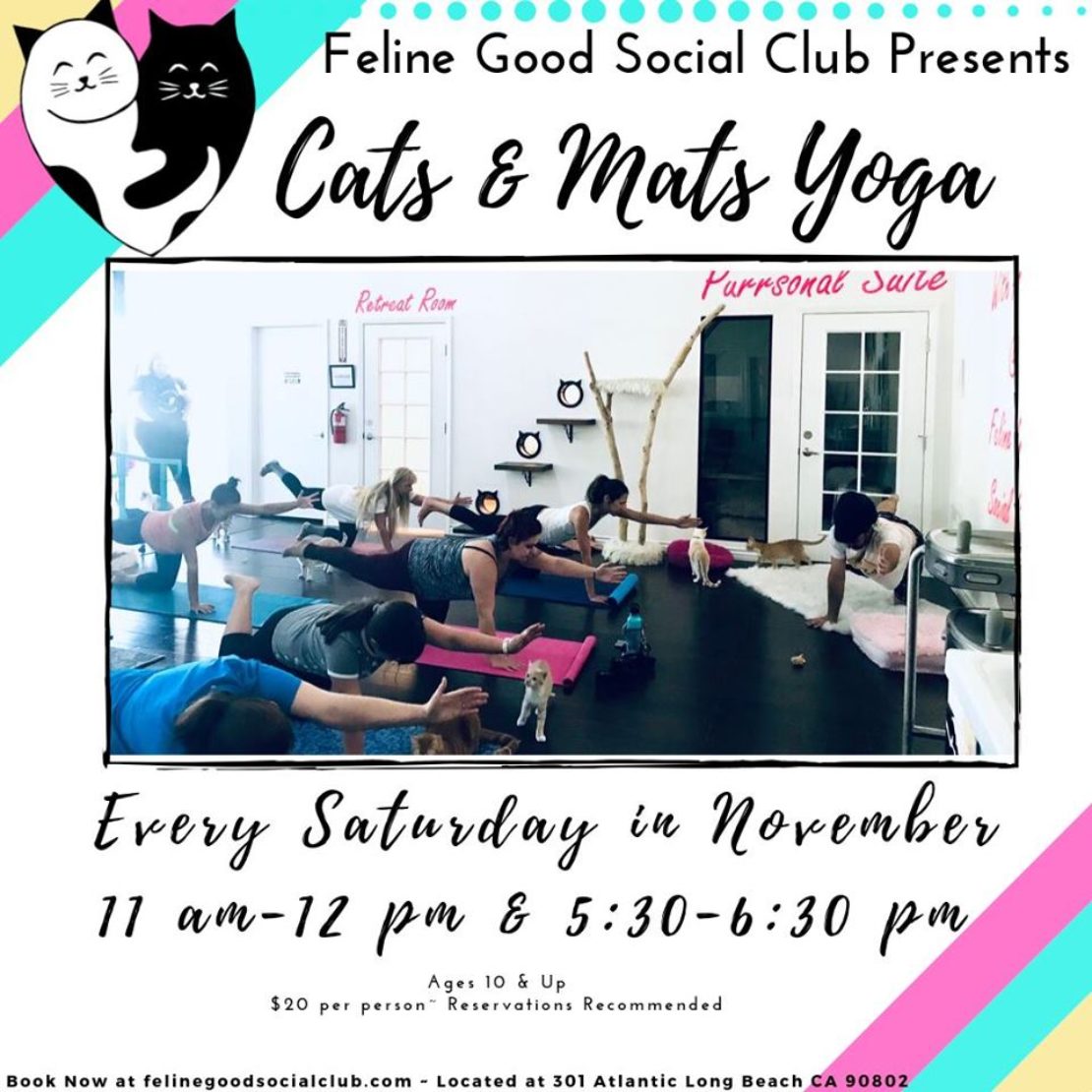 Other/ongoing
Cats and Mats Yoga: Feline Good Social Club, 301 Atlantic Ave., Long Beach, every Saturday in November, 11 a.m.–noon and 5:30–6:30 p.m., $20 per person
Can you side-plank on a mat? Can you do it with a cat? That's the idea at Long Beach's Feline Good Social Club, where you can have their resident kitties join you in asanas, which is really the best way! Bring a mat and wear comfy clothes that you don't mind getting fur on. For ages 10 and up. Reservations are recommended and may be made on the events page.
Instructional Pack Walk: First Saturday of the month, 10–11 a.m., Bixby Park, 130 Cherry Ave., Long Beach, free, donations accepted
The public is invited to take part in a walk sponsored by Trot's Dog Walking and Training that will help you and your best buddy learn proper leash manners and focus on each other instead of the distractions of the "real world." Trot's experienced pack leaders are there to guide you through the process. Meet at the park at the corner of Ocean and Junipero at 10am.
Donations accepted for Pets of the Homeless
Pets of the Homeless' home page gives a self-description as the only organization focusing only on providing food and care for pets belonging to homeless people. Businesses and other organizations across the country receive in-kind donations of food and other needs that the dogs and cats' human families can pick up at outreach locations. The following Long Beach businesses will accept your donations:
Trendi Pawz, 3726 E. 7th St., Long Beach
Belmont Heights Animal Hospital, 255 Redondo Ave., Long Beach
Paw Shoppe Pet Center, Inc., 6416 E. Spring St., Long Beach
Food and supplies are available at Beacon for Him Ministries, 1535 Gundry Ave. Long Beach, Mondays from 9 a.m. to noon and Saturdays from noon to 3 p.m.; and at Christian Outreach in Action, 515 E. Third St., Long Beach, Thursday from 9 to 11 a.m. Donations will be gratefully accepted at these locations as well.
Adopt, adopt, adopt
The following pet-related businesses regularly feature cat, dog and rabbit adoptions. If you're a Long Beach-area rescue and don't see your adoption event listed here, please email [email protected]. Click on the links for each rescue in case of updates or changes.
Chase Bank, 5200 E. Second St., Long Beach
The Farmer's Marketplace of Long Beach, 5000 E. Spring St. (Spring and Clark), Long Beach
Gelson's Market, 6255 E. Second St.
Kahoots Pet Store, 18681 Main St. #102, Huntington Beach
Pet Food Express, 4220 Long Beach Blvd., Long Beach:
PetSmart Cerritos, 12741 Towne Center Drive, Cerritos
PetSmart Compton, 1775 South Alameda St., Compton
PetSmart Garden Grove, 9835 Chapman Ave., Garden Grove
PetSmart, Long Beach Exchange, 3871 N. Lakewood Blvd., Long Beach
PetSmart Seal Beach, 12341 Seal Beach Blvd., Seal Beach.
PetSmart Signal Hill, 2550 Cherry Ave., Signal Hill
PetSmart Towne Center, 7631 Carson Blvd., Long Beach
Unleashed by Petco, 600 Redondo Ave.
Support our journalism.
Hyperlocal news is an essential force in our democracy, but it costs money to keep an organization like this one alive, and we can't rely on advertiser support alone. That's why we're asking readers like you to support our independent, fact-based journalism. We know you like it—that's why you're here. Help us keep hyperlocal news alive in Long Beach.