Since opening in September 2019, Feline Good Social Club has delivered an antidote for the cat-deprived: those whose busy traveling or work schedules, intolerant roommates or Scrooge-like landlords won't allow them to bring in a kitty. (Those pining for a dog will have to walk their neighbor's pooch.)
For $15 ($8 for a half-hour "quickie" session), you can take your lunch, your work or just your cat jones and get giddy with a kitty, as per the Club's slogan. If you are able to have a cat or you brought your tetchy roomie along with you, and they relent after experiencing the charm of a free-range cat, you can adopt any of them, too. Feline Good Social Club is a nonprofit; no one takes a salary, and the funds are used for both cat and facility upkeep. Cat litter costs money.
Feline Good Social Club finally open for business—and pleasure
Pam Leslie, Feline Good's CFO (chief feline officer), carries out the "social club" idea by planning events with fuzzy titles, all of which involve the cats: Cats and Mats yoga, where you're likely to have a kitty both under you and on your back during tabletop pose; Paint and Purrs, where you bring your own wine and cheese and create feline-inspired artwork (using tails as paintbrushes is strictly forbidden); a craft session where you can make toys for your own cats to replace the ones that disappeared under the refrigerator; and movie nights with cat themes. This Sunday, Jan. 19, from 4:30 to 5:30 p.m., Sound Healing with Illuminate Life will allow cats and people to share the benefits of a unique meditation session.
Lara Arguijo is one of the creators of Illuminate Life, a community wellness clinic located downtown and will be one of the healers at the session. Arguijo had adopted cats from the CatCafé Lounge in Los Angeles and found the atmosphere uplifting.
"I was so grateful that [cat cafes] existed because the cats were able to show their personalities without being in a kennel," she said.
Arguijo is a longtime Long Beach resident, and so when Feline Good opened, she decided to present a sound-healing fundraiser at the club. She and her business partner, massage therapist and musician Santiago Rodriguez, brought along their crystal Tibetan singing bowls, chimes and Moyo Drums and raised money to help Leslie put her dream of running a cat lounge into reality.
"We knew their struggles from the beginning when they opened," Arguijo said. "We gave them all the proceeds. And the event was wonderful to do. I kept seeing people in these weird positions, and it was because cats were on their mat or under their legs and they didn't want to move!"
Participants enjoyed Sound Healing with Cats so much that Leslie and Arguijo have been conducting monthly sessions.
In selecting which instruments to bring to each session, Arguijo and Rodriguez are as picky as cats at a food bowl.
"Our goal is to heal the cats as well as the people," Arguijo said. "The cats need calming, too—they may have experienced being unwanted or ill. Cats don't like high-pitched sounds—the didgeridoo makes them nervous—so we test each instrument out at the Club. We have a drum that sounds like the ocean. We had a meeting at the Club and brought it along, and the cats loved it!"
Sound Healing with Cats will begin with a brief guided meditation followed by tones from the instruments and then silence. And cat cuddling. Arguijo said that sound healing can lead to improved sleep and focus and lowering cholesterol and blood pressure. In fact, stroking cats has many of the same claims, and that includes the cholesterol thing—use both hands to cuddle a kitty and you won't reach for another french fry.
"I think that cuddling and snuggling with the animals helps both people and animals," Arguijo said. "And to be able to do healing with an animal is a unique experience. Animals are healers, and people know it."
Here are a few of the Feline Good Social Club cats who'll cuddle with you. They'd love to continue their healing experience in a forever home.
Indie, about a year old, tabby with tortie highlights
https://youtu.be/SHxlq__DECk
6-month-old Freckles, with a video bomb by 3-year-old Big Eddie
https://youtu.be/9XJ7QSjfLjg
5-year-old Magnolia and her little 5-month-old daughter, Frieda
https://youtu.be/Gg0ORS1dHyU
Heather, 2-year-old Balinese mix
https://youtu.be/VCaCVuAUekg
Gatita Bonita, a year-old brown tabby, is one of the adoptable kitties at Feline Good Social Club. Gatita's wobbly walk is one of the results of a condition at birth called cerebellar hypoplasia. It wouldn't be accurate to say that she "suffers from" the condition; Gatita Bonita, like other cats with cerebellar hypoplasia, has no idea that she has it but has every idea that she's a healthy, playful cat. Learn more about the condition here.
https://youtu.be/ZKlIBoBIZls
Feline Good Social Club is located at 301 Atlantic Ave., Long Beach. Hours are 11 a.m. to 6 p.m. The Club is closed Tuesdays and Wednesdays.
Illuminate Life is located in Kevala Wellness, 115 Pine Ave., Ste. 330, Long Beach. Sorry, no dogs, cats or anything non-human animal allowed, but Arguijo and Rodriguez can arrange healing sessions.
Things to do, pets to support
Please send any Long Beach or Seal Beach pet-related events or projects to [email protected]. Posting subject to approval.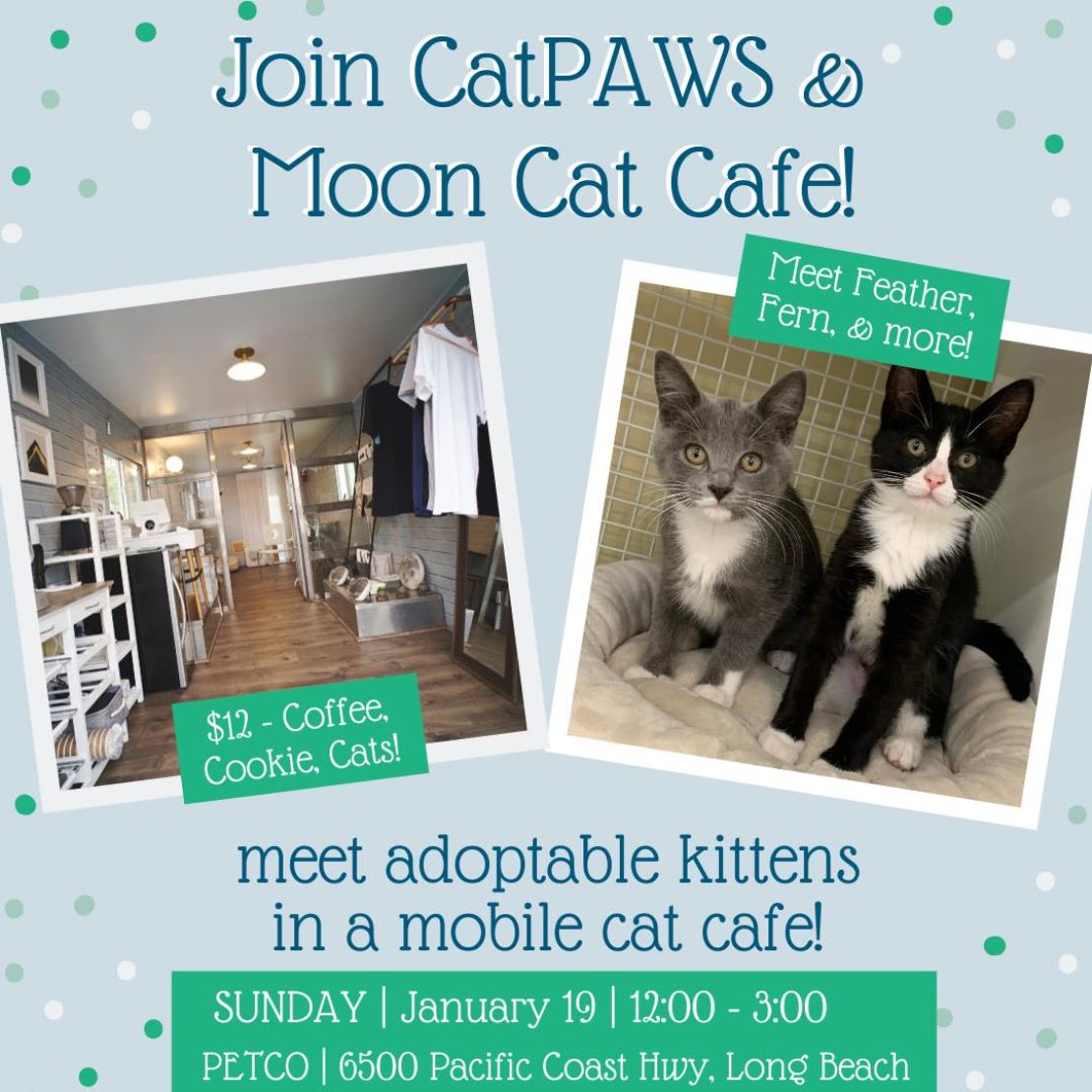 Events
Movie Night, featuring 'The Aristocats': Thursday, Jan. 16, 6:30–8:30 p.m., Feline Good Social Club, 301 Atlantic Ave., Long Beach, tickets $20 online
The Feline Good Social Club has become a regular activity center! The cats in residence have chosen the film "The Aristocats" and are looking forward to sharing popcorn with friends and batting it across the room. Feel free to bring your own human treats as well.
Moon Cat Café, featuring adoptable kitties from Helen Sanders CatPAWS: Sunday, Jan. 19, noon–3 p.m., Petco, 6500 Pacific Coast Highway, Long Beach, $12 entrance, adoption fees apply
Munch a pastry, sip a beverage and play with kitties at this unique mobile café! Helen Sanders CatPAWS will receive 10% off the proceeds for their wonderful adoptable cats.
Sound Healing Workshop: Sunday, Jan. 19, 4:30–5:30 p.m., Feline Good Social Club, 301 Atlantic Ave., Long Beach, $25 online reservation
It's not as if purring weren't enough to heal the frayed psyche, but sometimes, it needs some help. This unique workshop presented by Illuminate Life, a partner with Sound Healing, uses bowls, chimes and drums to get your blood pressure down, your thoughts squared away, and your memory bank accessed, just like cats do! More information available here.
Fix Long Beach Free Spay/Neuter Clinic: Saturday, Dec. 14, 7:30 a.m.–3 p.m., Somerset Park, 1500 E. Carson St., Long Beach, free spay/neuter appointments for qualifying people; free microchips, shots, flea-med doses, dewormers and nail trimmings $10 each.
The best way to mitigate shelter euthanasia is to tamp the source, and that's why we're here. Our shelter and rescues are packed with cats and dogs, and everyone doing rescue is chasing their tail trying to get them all adopted. The best way for our community to help out is to turn off the taps at the other end so that more won't be born. Remember: it's the law to fix your pet in Long Beach, and Fix is here to help you do just that. Appointments are available for future clinics—make one at [email protected], or PM us on Facebook. More information is available here.
Shelter Shenanigans
The shelter needs volunteers, like, yesterday. Animals need socializing for adoption, doggies need baths and walks, events need attendance and gaps need to be filled where there are more needs than humans to fill them. If you want to make a real difference, fill out an application here and attend a volunteer orientation meeting.
Have an overnight with a kitty with Foster Fridays! The shelter has kittens coming out of the walls—literally. The shelter manager constantly has a few in her office! The shelter is at capacity, especially where cats are concerned, so fosters are sorely needed. Every Friday from 2-5 p.m., shelter staff is inviting residents who have the necessary accommodations—a safe space, time to feed them and play with them, and a propensity to say "Awwww!" every 15 minutes—to take a healthy, weaned kitten home for a while. Shelter will provide food, litter and a carrier and will cover any offsite medical. Time commitment is two weeks, with an option to adopt—of course! Foster fail! Have questions? Contact the shelter director at [email protected].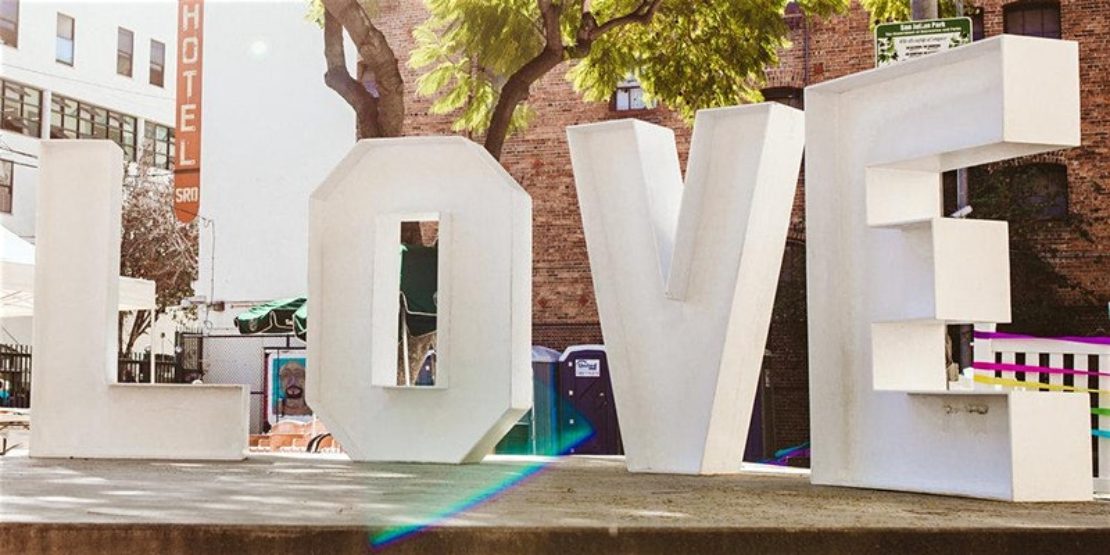 Other/ongoing
Pet donations requested for Skid Row Carnival of Love 2020
A Long Beach resident in collaboration with Los Angeles-based Karma Rescue, is collecting new or gently used items for the companion animals of people experiencing homelessness, to be distributed at the Skid Row Carnival of Love on January 25 in Los Angeles. Suggestions include dog and cat food and treats; blankets; warm doggie coats; toys; dog and cat collars, leashes and harnesses; grooming supplies such as brushes, combs and nail trimmers; and collapsible food bowls, which take up less space than the usual metal or ceramic ones. The volunteer will pick them up from you, or you can drop the items off at their house or work. Text 510-708-9152.
Cats and Mats Yoga: Feline Good Social Club, 301 Atlantic Ave., Long Beach, every Saturday, 11 a.m.–noon and 5:30–6:30 p.m., $20 per person
Can you side-plank on a mat? Can you do it with a cat? That's the idea at Long Beach's Feline Good Social Club, where you can have their resident kitties join you in asanas, which is really the best way! Bring a mat and wear comfy clothes that you don't mind getting fur on. For ages 10 and up. Schedule available here. Reservations are recommended and may be made on the events page.
Instructional Pack Walk: First Saturday of the month, 10–11 a.m., Bixby Park, 130 Cherry Ave., Long Beach, free, donations accepted
The public is invited to take part in a walk sponsored by Trot's Dog Walking and Training that will help you and your best buddy learn proper leash manners and focus on each other instead of the distractions of the "real world." Trot's experienced pack leaders are there to guide you through the process. Meet at the park at the corner of Ocean and Junipero at 10am.
Donations accepted for Pets of the Homeless
Pets of the Homeless' home page gives a self-description as the only organization focusing only on providing food and care for pets belonging to homeless people. Businesses and other organizations across the country receive in-kind donations of food and other needs that the dogs and cats' human families can pick up at outreach locations. The following Long Beach businesses will accept your donations:
Trendi Pawz, 3726 E. Seventh St., Long Beach
Belmont Heights Animal Hospital, 255 Redondo Ave., Long Beach
Paw Shoppe Pet Center, Inc., 6416 E. Spring St., Long Beach
Food and supplies are available at Beacon for Him Ministries, 1535 Gundry Ave. Long Beach, Mondays from 9 a.m. to noon and Saturdays from noon to 3 p.m.; and at Christian Outreach in Action, 515 E. Third St., Long Beach, Thursday from 9 to 11 a.m. Donations will be gratefully accepted at these locations as well.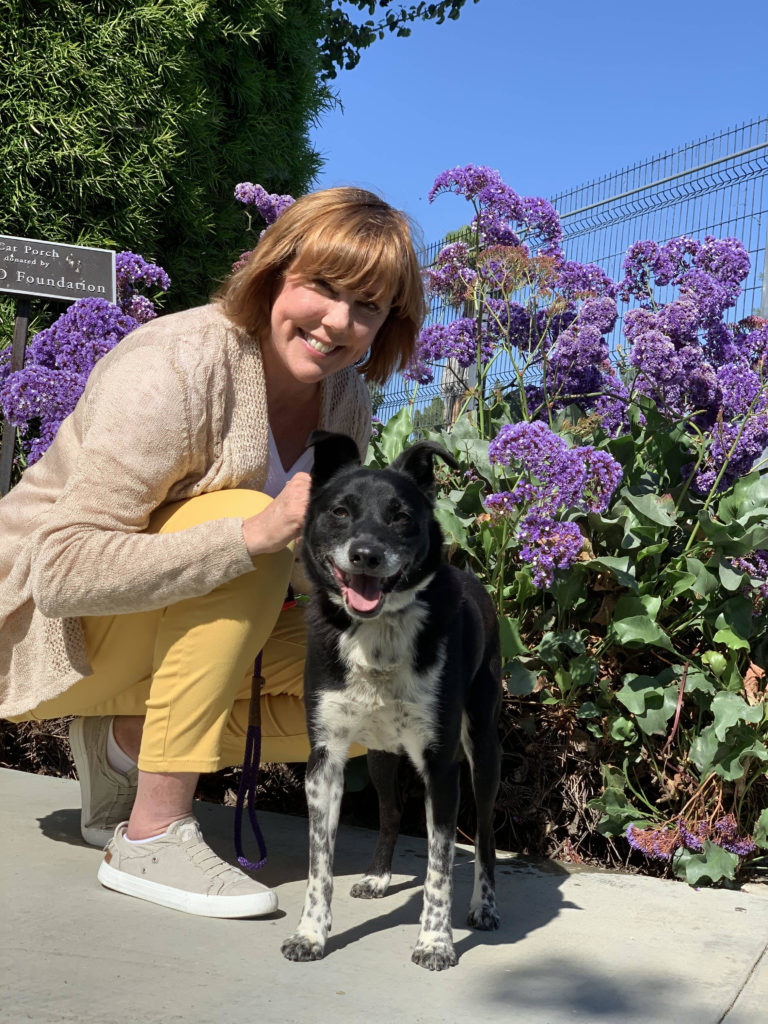 Adopt, adopt, adopt
The following pet-related businesses regularly feature cat, dog and rabbit adoptions. If you're a Long Beach-area rescue and don't see your adoption event listed here, please email [email protected]. Click on the links for each rescue in case of updates or changes.
Chase Bank, 5200 E. Second St., Long Beach
The Farmer's Marketplace of Long Beach, 5000 E. Spring St. (Spring and Clark), Long Beach
Gelson's Market, 6255 E. Second St.
Kahoots Pet Store, 18681 Main St. #102, Huntington Beach
Pet Food Express, 4220 Long Beach Blvd., Long Beach:
PetSmart Cerritos, 12741 Towne Center Drive, Cerritos
PetSmart Compton, 1775 S. Alameda St., Compton
PetSmart Garden Grove, 9835 Chapman Ave., Garden Grove
PetSmart, Long Beach Exchange, 3871 N. Lakewood Blvd., Long Beach
PetSmart Seal Beach, 12341 Seal Beach Blvd., Seal Beach.
PetSmart Signal Hill, 2550 Cherry Ave., Signal Hill
PetSmart Towne Center, 7631 Carson Blvd., Long Beach
Unleashed by Petco, 600 Redondo Ave.