This month it's all about your furry valentine
Punxsutawney Phil reportedly didn't see his shadow this past Sunday, which, according to some ancient Germanic lore, signals an early spring—at least in Punxsutawney. Every year on Feb. 2, several "tame" woodchucks across the northern continent are roused from hibernation and made to perform a silly task for human entertainment. At least one incident elicited sympathetic vindictive chuckles from animal lovers.
February, for a relatively short month, has an inordinate number of commemorative days and holidays, even with the extra day they tacked on this year. Besides Groundhog Day, there are two celebrations of democracy, freedom and the gift of two three-day weekends for school kids and government workers—one for Abraham Lincoln, observed in about nine states including California, and one for a grab bag of presidents who are more or less worthy of honor. February is also designated as Black History Month, which Long Beach kicked off with "Remembering Our Roots." The exhibit is a monthlong installation at City Center Plaza, with other events and activities throughout February.
The holiday that gets the most attention, though, is Valentine's Day. Even before the shopworn Christmas decorations have been swept from the shelves, the internet, dollar and department stores, and whatever small businesses and restaurants are left open in Long Beach have been bright red with cards, chocolates, conversation hearts (despite Necco's bankruptcy, you can still get them), and opportunities to wine and dine your sweetie. Ka-ching.
It's the love aspect of Valentine's that The Scratching Post wants to focus on. Yes, you should shower your pet with love every day, and if you don't have one, there's no time like whatever day it is to get one. But why not take retail marketing's example and mine the holiday for all it is worth? In this week's Things to do, pets to support, you'll find events related to Valentine's Day and one that makes sure that love won't lead to paw-ternity suits and more unwanted cats. The new Dog Bakery will hold a Yappy Hour, there are a couple of adoption events, and the unstoppable Justin Rudd has produced two, one featuring a diverse bunch of dogs and an adoption fair, and the other highlighting shelter animals, whom love has either failed or has never existed for them.
That's where love comes in. You can change that by visiting the shelter, adopting a pet, and giving them a life they never would have had. Here are a few of them now.
Things to do, pets to support
Please send any Long Beach or Seal Beach pet-related events or projects to [email protected]. Posting subject to approval.
Events
Fix Long Beach Free Spay/Neuter CAT!!! Clinic: Saturday, Feb. 8, 7:30 a.m.–2 p.m., Somerset Park, 1500 E Carson St., Long Beach, free spay/neuter appointments for qualifying people; free microchips, shots, flea-med doses, dewormers and nail trimmings $10 each.
Cats are prolific creatures, and that doesn't mean that they crank out romance novels by the bushel. It's the romance part of it that's important. The best way to mitigate shelter euthanasia is to tamp the source, and that's why we're here. Our shelter and rescues are packed with cats and dogs, and everyone doing rescue is chasing their tail trying to get them all adopted. The best way for our community to help out is to turn off the taps at the other end so that more won't be born. Remember: it's the law to fix your pet in Long Beach, and Fix is here to help you do just that. Appointments are available for future clinics—make one at [email protected], or PM us on Facebook. More information is available here.
Valentine Card Contest and Yappy Hour: Saturday, Feb. 8, 11 a.m.–noon, Long Beach Animal Care Services, 7700 E. Spring St., Long Beach, free event
The eighth-annual cardmaking kennel display, sponsored by Justin Rudd and Haute Dogs, will show the love to the over 120 dogs, 50 cats and the bunnies housed there. The student with the most creative card will win a pizza party for the class! This is a great field trip for any animal-loving kid to see the cards decorating the cage and enjoy cookies at the Yappy Hour. Maybe they'll be inspired to make one next year. Maybe you'll find your furry Valentine, too!
Trots Dogs Behavior Management Class Series: Saturdays, Feb. 8–March 14, 1–2 p.m., Trots Headquarters, location shared with participants, $395 per student
Summer's just around the corner—likely, the weather will be here before the actual season—and you're going to want to step out with your BFF on their leash. Teacher and pack leader Jojo is providing a series of classes that comprise walking, safe personal space (for the dog, of course), behavior with guests, socialization and creating food boundaries (yours, of course). The final session is a pooch party that will let your buddy practice all the things they've learned. There's a maximum of eight spaces and a minimum of three paid participants is necessary to get the class going. To sign up or for more information, email [email protected].
16th annual Bulldog Beauty Contest: Sunday, Feb 9, 10 a.m.–2:30 p.m., Marine Stadium, 5255 Paoli Way, Long Beach, $10 advance registration, $20 on-site. Free to spectate, or reserve seat for $5, cash only
Welcome to the most diverse doggie contest in the world! It may say "bulldogs," but oh, how it's grown—contests for all ages, sizes, breeds, mixes and levels of cuteness; dogs with disabilities—even for kids, in the Junior Handler category! The event is sponsored by Haute Dogs, Councilwoman Suzie Price's office and the Port of Long Beach. There's more info than a mere blurb can handle—visit the page for all the info!
Valentine's Yappy Hour: Wednesday, Feb. 12, The Dog Bakery, 5–7 p.m., 4818 Broadway, Long Beach, free event
It's a date with your darling doggie! Take your waggy Valentine to a sweet soiree and watch them enjoy free samples from vendors and snacks. The event will feature raffles and free goodie bags, and best of all, all the canine cakes and cookies will be 10% off, so you can buy more of what your pal likes. Imagine going to a bakery and everything there is good for you! And for the dog.
Stray Cat Alliance Lonely Hearts Cat Adoption Event: Friday, Feb. 14, 1–4 p.m., and Saturday, Feb. 15, noon–3 p.m., PetSmart, 2550 Cherry Ave., Signal Hill, adoption fees apply
Stray Cat Alliance does every good thing possible with every cat they come across in L.A. County, including Long Beach. From trapping, spaying or neutering, vaccinating and then releasing community cats to the field to adopting out any healthy socialized kittens or friendly adult cats. On Valentine's Day weekend, you're invited to find your sweethearts from the bunch who are looking to live happily ever after. Speed dating has never been such fun!
Meatball Fundraiser: Saturday, Feb. 22, 11 a.m.–5 p.m., Seal Beach Animal Care Center, 1700 Adolfo Lopez Drive, Seal Beach, choose your donation amount
If you could help pay for a cat's surgery by eating a meatball sandwich, would you do it? Sure—best conflation ever. A dear little tuxedo named Hazel was brought in to the center gasping for breath and partially paralyzed, likely the result of having been hit with a car. The Center paid for her costly surgery and she's doing fine. If you come for lunch or an early dinner—meatball sandwiches either carnivore or vegan, salad, dessert, beverage—and choose a donation of any amount for reimbursement of Hazel's medical bills, they'll hear the cheering in Philadelphia.
Shelter Shenanigans
The shelter needs volunteers, like, yesterday. Animals need socializing for adoption, doggies need baths and walkies, events need attendance and gaps need to be filled where there are more needs than humans to fill them. If you want to make a real difference, fill out an application here and attend a volunteer orientation meeting.
Have an overnight with a kitty with Foster Fridays! The shelter has kittens coming out of the walls—literally. The shelter manager constantly has a few in her office! The shelter is at capacity, especially where cats are concerned, so fosters are sorely needed. Every Friday from 2-5 p.m., shelter staff is inviting residents who have the necessary accommodations—a safe space, time to feed them and play with them, and a propensity to say "Awwww!" every 15 minutes—to take a healthy, weaned kitten home for a while. Shelter will provide food, litter and a carrier and will cover any offsite medical. Time commitment is two weeks, with an option to adopt—of course! Foster fail! Have questions? Contact the shelter director at [email protected].
Other/ongoing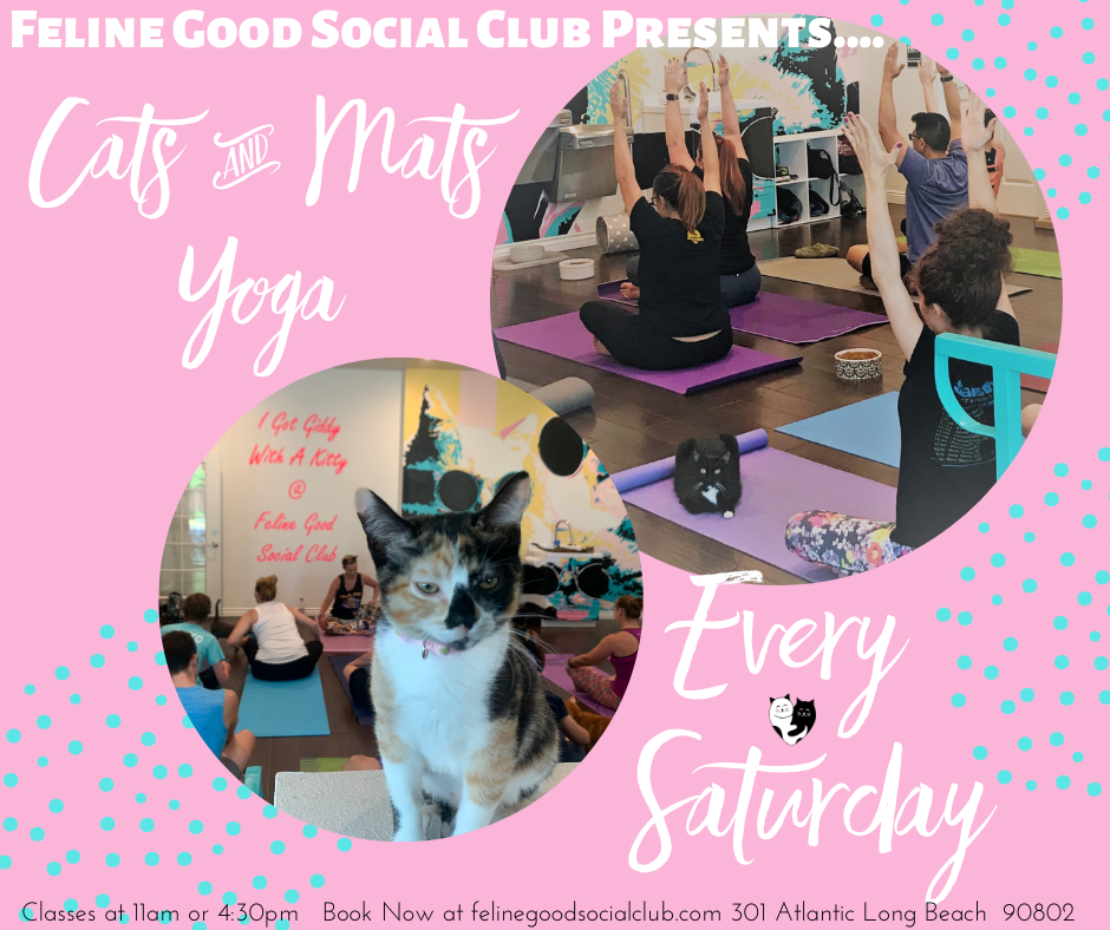 Cats and Mats Yoga: Feline Good Social Club, 301 Atlantic Ave., Long Beach, every Saturday, 11 a.m.–noon and 5:30–6:30 p.m., $20 per person
Can you side-plank on a mat? Can you do it with a cat? That's the idea at Long Beach's Feline Good Social Club, where you can have their resident kitties join you in asanas, which is really the best way! Bring a mat and wear comfy clothes that you don't mind getting fur on. For ages 10 and up. Schedule available here. Reservations are recommended and may be made on the events page.
Instructional Pack Walk: First Saturday of the month, 10–11 a.m., Bixby Park, 130 Cherry Ave., Long Beach, free, donations accepted
The public is invited to take part in a walk sponsored by Trot's Dog Walking and Training that will help you and your best buddy learn proper leash manners and focus on each other instead of the distractions of the "real world." Trot's experienced pack leaders are there to guide you through the process. Meet at the park at the corner of Ocean and Junipero at 10 a.m.
Donations accepted for Pets of the Homeless
Pets of the Homeless' home page gives a self-description as the only organization focusing only on providing food and care for pets belonging to homeless people. Businesses and other organizations across the country receive in-kind donations of food and other needs that the dogs and cats' human families can pick up at outreach locations. The following Long Beach businesses will accept your donations:
Trendi Pawz, 3726 E. Seventh St., Long Beach
Belmont Heights Animal Hospital, 255 Redondo Ave., Long Beach
Paw Shoppe Pet Center, Inc., 6416 E. Spring St., Long Beach
Food and supplies are available at Beacon for Him Ministries, 1535 Gundry Ave. Long Beach, Mondays from 9 a.m. to noon and Saturdays from noon to 3 p.m.; and at Christian Outreach in Action, 515 E. 3rd St., Long Beach, Thursday from 9 to 11 a.m. Donations will be gratefully accepted at these locations as well.
Adopt, adopt, adopt
The following pet-related businesses regularly feature cat, dog and rabbit adoptions. If you're a Long Beach-area rescue and don't see your adoption event listed here, please email [email protected]. Click on the links for each rescue in case of updates or changes.
Chase Bank, 5200 E. Second St., Long Beach
The Farmer's Marketplace of Long Beach, 5000 E. Spring St. (Spring and Clark), Long Beach
Gelson's Market, 6255 E. Second St.
Kahoots Pet Store, 18681 Main St. #102, Huntington Beach
Pet Food Express, 4220 Long Beach Blvd., Long Beach:
PetSmart Cerritos, 12741 Towne Center Drive, Cerritos
PetSmart Compton, 1775 South Alameda St., Compton
PetSmart Garden Grove, 9835 Chapman Ave., Garden Grove
PetSmart, Long Beach Exchange, 3871 N Lakewood Blvd., Long Beach
PetSmart Seal Beach, 12341 Seal Beach Blvd., Seal Beach.
PetSmart Signal Hill, 2550 Cherry Ave., Signal Hill
PetSmart Towne Center, 7631 Carson Blvd., Long Beach
Unleashed by Petco, 600 Redondo Ave.
Support our journalism.
Hyperlocal news is an essential force in our democracy, but it costs money to keep an organization like this one alive, and we can't rely on advertiser support alone. That's why we're asking readers like you to support our independent, fact-based journalism. We know you like it—that's why you're here. Help us keep hyperlocal news alive in Long Beach.