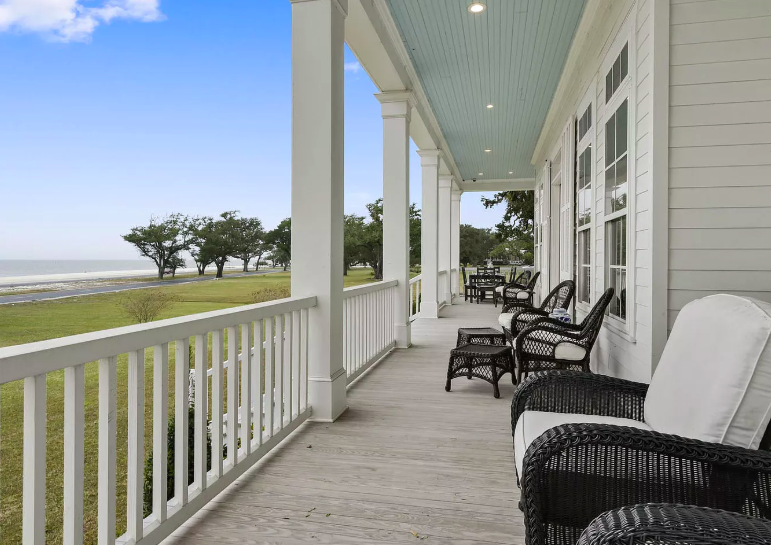 For homebuyers, a million dollars will go a long way, if you move a long way
Now, if you'll all look under your seats you'll each find an envelope containing a million dollars in cash. The catch?  You can only use the money to buy a house.
I could also make this story less of a fantasy and more of a parable, in which an old man gives each of his children a million bucks to go out and buy a house and whichever offspring makes the wisest decision is rewarded with some sort of bauble of the sort of which we haven't determined yet.
The point of all of this is if you have a million dollars to spend on a house, where should you buy one? In Long Beach? Not a lotta bang for your buck. A million will get you a 1,300 square-foot three-bed, one-bath south of Second Street.
Not to say you're not welcome here, but if you want to live like a millionaire with your million-dollar purchase, you probably are aware that you'll have to leave glorious Southern California and move to a part of the country where a buck is still worth a buck. I recently went on a computer-aided whirlwind tour of the country with a carpetbag stuffed with cash and found there are many places in the U.S. where you can live like a lord for a million, or a little bit less, as long as you also have a steady stream of income for upkeep and food and clothing and incidentals. The incidentals will kill you.
There are nearly 12 million millionaires in this country now. That's more than the population of Sweden. We visited the five states with the fewest, figuring we'd have less competition when it comes to buying a mansion.
Come on, hop in the car. Let's go to Mississippi!
I found this nice little place in a town called Pass Christian, Mississippi. Because I'm naturally drawn to the water, this home, with 99 feet of beachfront on the Gulf of Mexico, hits the spot. It's got vistas of pretty much the entire gulf, viewable from a nice, companionable wrap-around porch. The three-bedroom, four-bath Southern-style home is offered at $985,000.
Its neo-antebellum look may be deceiving. The 3,797-square-foot home was built in Space-Age 2016. For maximum views, the house has a second-floor living area flanked by en-suite bedrooms.
Want land, lotsa land? For $995,000 you can buy about half of West Virginia, or at least a sizable chunk of it. Your near-$1 million gets you a Kennedyesque (except West Virginia) compound on nearly 90 acres in the Mountain State. You get the main house, plus a guest house and a rustic log cabin. The spread is described as a hunter's paradise (or, conversely, a hell for wild game), with four-wheeler trails allowing you to chase prey and otherwise patrol your property, telling kids to get off your lawn—all of it.
The main house is almost beside the point, if you should choose to live in it rather than lease it out while living in the log cabin. The Big House is a ranch-style three-bedroom, three bath spread out over more than 2,000 square feet, with a fireplace and an outdoor swimming pool.
Am I the only one who's noticed that I'm saving all you millionaires a few dollars on these properties? Here's another one for $995,000. Buy yourself a nice dirt bike with the change. Or oats and hay and carrots for your horses. You put this Vandervoot, Arkansas home in any neighborhood in Long Beach—yes any neighborhood—and you've gotta be looking at $2.5 million, minimum. Here, though you get the house, a four-bed, four-bath mansion spread generously over 4,312 square feet.
The timber frame house has towering ceilings, a massive fireplace and a basement, but enough about the house. The property is an equestrian farm with a modern horse barn with stalls and it sits on 40 acres, bordered on two sides by a national forest.
More house than you need? "Need" is a funny word. Just buy it and quit second-guessing yourself. I'm sure there are some good people in Arkansas.
For a million bucks, you want a place with a name. "Whispering Pines," might not be the most original horse-ranch name, but it's what you're saddled with when you purchase this $999,000 four-bedroom, five-bath monster in Catlettsburg, Kentucky. Much like the Arkansas property above, it comes with everything a good horseperson needs, including a modern barn with tack room, six pastures, a manure shed and a covered riding arena, tossed casually on 40 acres of prime bluegrass real estate.
The house, incidentally, is a sturdy brick colonial pad with heated concrete floors. The second story features the your private suite with sun-room/study and newly updated bathroom with custom tiled shower, double vanity and walk in closet.
Outside, you'll enjoy a custom pool with stone waterfalls, an outdoor kitchen/cabana with wood fireplace, multiple televisions, sound system and grilling station with gas fire pits surrounding the back yard grounds.
This, my little home-shopping friend, is what a million dollars should buy.
For us more introspective people who have no inclination toward raising horses (I've never been on a horse, and I'm not going to start now), $999,000 in Ketchum, Idaho will buy a fine meditative spot by, what I can only term as a "babbling brook." The home itself, built in 1988, is fairly modest by million-dollar standards: a cozy 1,900-square-foot cabin with three bedrooms and two baths. But your front porch is just steps away from Warm Springs Creek. In fact, you get 400 feet of creek footage on your 1.57 acres.
I don't know why anyone would venture more than a couple of feet from the home's riverfront back porch, but should you decide to get away from it all, the property also comes with an 800 square-foot cottage built in the 1940s.
Support our journalism.
Hyperlocal news is an essential force in our democracy, but it costs money to keep an organization like this one alive, and we can't rely on advertiser support alone. That's why we're asking readers like you to support our independent, fact-based journalism. We know you like it—that's why you're here. Help us keep hyperlocal news alive in Long Beach.