A letter alleging Long Beach Councilman Al Austin has repeatedly exhibited sexist and bullying behavior was posted on social media Saturday with about 50 people signing onto it, including Councilwoman Jeannine Pearce and a number of other community activists.
The group says Austin has shown a "profound disrespect for women," and cites five different examples, three of which are related to Austin's September 2017 vote against Claudia's Law, an ordinance that would have set maximum daily workloads for hotel cleaning staff and required hotels to give them panic buttons for protection against harassment and sexual assault.
The letter calls on Austin to publicly apologize as ballots are being cast in the March 3rd primary, where he is up for reelection.
"In 2020, the most qualified, and most successful, politicians should not stoop to sexism and bullying when they run for office," it says.
On Friday, Austin called the letter an orchestrated political attack designed to sway the election where he's facing two challengers.
The letter was originally submitted to the Long Beach Post as an op-ed on Thursday, but because it accused Austin of specific instances of inappropriate behavior, the Post chose to treat the allegations as a news story and sought to confirm events with people who witnessed them.
Potentially the most damning accusation in the letter was that Austin told a woman at a Los Angeles County Democratic Party endorsement meeting that "she didn't know what rape was because she hadn't experienced 'prison rape.'" As the Post tried to confirm that exchange, a revised version of the letter was sent to the Post and later posted online.
Eboney Pearson, an alternate delegate for the county Democratic Party and a co-signer of the letter, said Austin made the rape comment to her in response to a question she asked at an endorsing meeting in December. Pearson said Friday morning that when she asked Austin about his position on Claudia's Law, he got defensive and hostile while answering.
However, Pearson said the wording in the original letter was not accurate. She said Austin told her she "couldn't imagine the type of rape cases that I've had to deal with."
A few hours later, the revised version of the letter was sent to the Post, this time saying only that Austin "defended his stance by telling the questioner that she couldn't imagine the type of rape that happens in prison."
The revised version of the letter also removed some names of supporters that were included in the original, notably state Sen. Lena Gonzalez, a former Long Beach City Councilwoman who previously served on the council with Austin.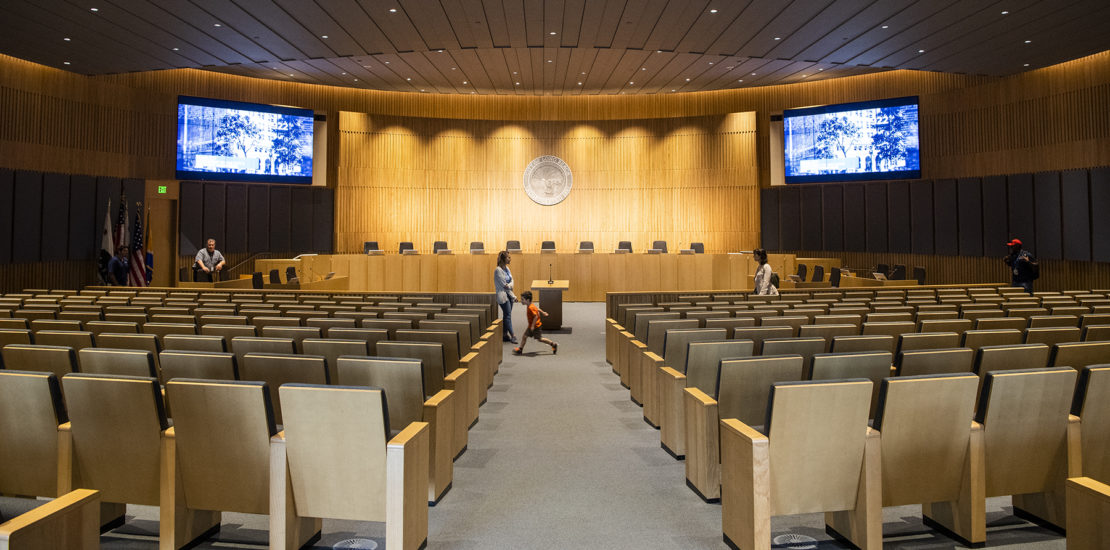 In addition to the rape comment, the letter takes aim at Austin's recent hire of Julio Perez, a former Orange County labor organizer who was fired in January 2018 after an investigation found "credible testimony from multiple women" that Perez had participated in sexual harassment and retaliation.
According to news reports, Perez was fired by the Orange County Federation of Labor organization after an investigation found there were credible claims he sent pornographic material to female coworkers and threatened retaliation against a woman if she didn't continue a sexual relationship with him.
According to reporting from the Orange County Register and The Voice Of OC, Perez interfered with the probe into his conduct by resetting a work issued tablet and laptop to factory settings before handing them over to investigators.
After other accusations of groping women and sexual misconduct came to light, delegates for the labor board voted unanimously to terminate Perez in January 2018.
"Employing such a person demonstrates Austin's insensitivity (at best) or complicity (at worst) in such unacceptable behavior," the letter states.
Austin said he hired Perez last month as a consultant for his reelection campaign.
Despite the news coverage, Austin said he was unaware of the accusations against Perez or that he'd been fired. He said he knew Perez was "transitioning away from his old job" but didn't know the details.
Austin said he's known Perez since 2010.
"I've never witnessed anything that would make me question his character," the councilman said.
Claudia's Law
Austin's voting record on women's issues has come under attack before.
Many of the signatories to Saturday's letter were representatives from labor organizations, nonprofits and community activists who'd pushed for the passage of Claudia's Law, which included a union opt-out that allowed hotels that were already unionized to choose to participate in the workload limits portion of the law.
Austin was the decisive vote in a 5-4 City Council split that tabled the panic-button ordinance in 2017. Following his vote, Austin faced a deluge of critical mailers.
Claudia's Law eventually passed in November 2018 as a voter-approved ballot initiative known as Measure WW.
Austin said Friday that the letter was disheartening and frustrating considering some of the people who signed onto it.
"This is the worst because of who it's coming from," Austin said. "This is Democratic Party, activists, people in labor, people I've spent my entire adult life working with."
He called it one of the "worst political attacks" he's witnessed. Most of the people who signed the letter are women Austin has never interacted with, he said.
Austin alleged that Rusty Hicks, now the head of the California Democratic Party, is behind the effort to unseat him in the March 3 election. Hicks was head of the Los Angeles County Federation of Labor before being elected to lead the party in June 2019. The federation financed many of the mailers that attacked Austin in 2017 for voting against Claudia's Law.
Hicks publicly supported Claudia's Law prior to the City Council blocking it in 2017. In an email that year regarding the mailers, Hicks said that Austin had "consistently failed to put the public interest ahead of his own."
Austin says Hicks threatened he would be taken out of office if he didn't fall in line.
Neither Hicks or representatives from the California Democratic Party responded to requests for comment for this story.
The panic buttons
Saturday's letter says Austin added insult to injury after voting against Claudia's Law by giving panic buttons as gag gifts to his female colleagues on the City Council.
"But some things aren't funny—racist jokes aren't funny, anti-Semitic tropes aren't funny, and jokes about rape and rape prevention aren't funny," it says. "It's also telling that he didn't give the same gift to the men on Council who supported Claudia's Law."
The two councilwomen who voted against Claudia's Law, Stacy Mungo and Suzie Price, both came to Austin's defense this week.
On Friday, Mungo characterized Austin as one of the most respectful members she works with on the City Council.
Price went further and said that she was present with Austin at a Veteran's Day Parade where she saw a vendor selling the panic buttons and pointed them out to Austin. Price said he bought her one and told her he was going to buy several others.
"I honestly don't think it was a bad intent at all," Price said in a text message Friday afternoon. "I still have mine on a keychain."
Price said Austin had bought her a previous gift, one that she still hangs on the wall of her Orange County District Attorney's office: a calendar that celebrated women in leadership.
"He has supported me as a woman and a friend," Price said.
When asked about the gifts, Austin said he gave the men on council cigars and small bottles of alcohol while the panic buttons were for all the women on council.
He said gag gifts have been a tradition for previous councils. And he hoped that—after a tumultuous year where the council had many hard-fought battles and late nights—the gifts could break the strain that often hung inside City Hall in 2017.
"In retrospect, I wouldn't do anything differently," Austin said.