The fault in our stars
The Backroom is a column by the staff of the Long Beach Post with notes and analysis, along with bloops and blunders, from the city's political scene. It runs every Thursday. To contact us, email [email protected]. For questions or concerns, please contact Managing Editor Melissa Evans: [email protected] or 562-437-5814. 
It was a star-studded show on Tuesday night at the mayor's State of the City address—a few stars too many, by our count.
The image of the American flag that blazed behind Robert Garcia for much of his 40-minute speech contained 54 stars rather than the prescribed 50 to represent each state in the union. It was all the more glaring as Garcia moved through a history of the Spanish Empire, the Articles of Confederation and the arrival of Junipero Serra … our eyes blurred as we counted nine rows … six stars in each. That can't be right. We counted again.
Others were doing the same.
To make matters worse, Team Garcia tweeted out the errant hyper-patriotic image—one of about six dozen missives from the mayor's branded account during the speech. (It was deleted Wednesday, but the Backroom always keeps receipts.)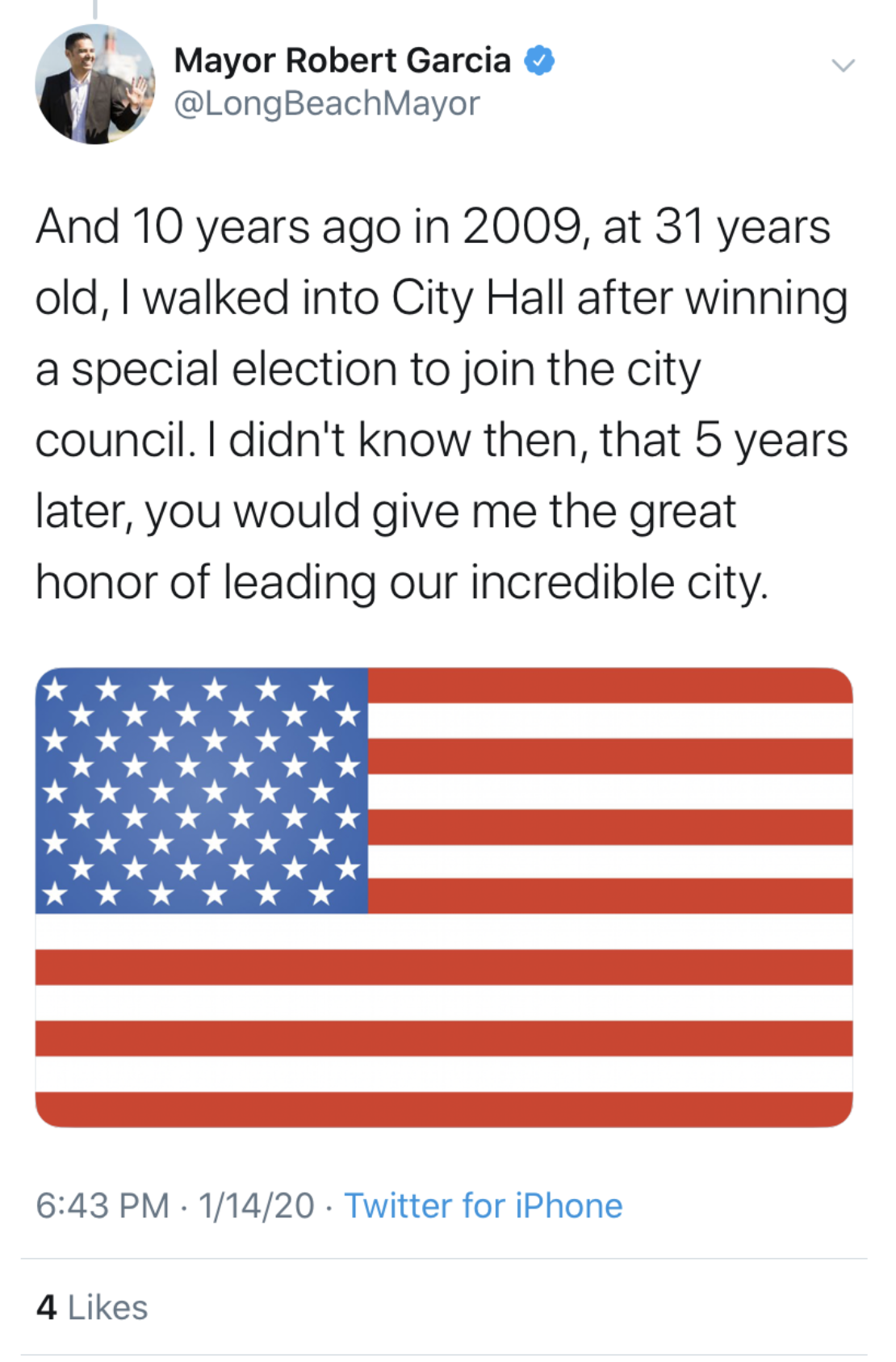 The flag image shown on the giant screen was purchased and licensed from Adobe Images, the mayor's chief of staff Diana Tang said in a text message. "We are going to send Adobe a note that they have a flag with some extra stars on the site," she said.
---
Be the first to know.
Get the Backroom delivered to your inbox every Thursday.

---
We realize that the State of the City is more show than a method of communicating information, but all the more reason to get details right—especially in a speech that contains fully four pages of history.
Speaking of details: We don't care how long you've lived in the city; if you're standing before thousands of spectators on the mayor's big night, practice pronouncing names beforehand. It's the first rule of Toastmasters.
Watching Vice Mayor Dee Andrews read names of elected officials in attendance was like watching a nervous gymnast perform a balance beam routine at the Olympics:
He nailed the mount, getting through easy ones like Laura Doud and Doug Haubert. Things got shaky with the "Jasmine" [Gerald] Desmond Bridge; wobbly with "Jenny" [Jeannine] Pearce; fully teetering with Megan "Craig" [Kerr] and Reagan "Romana" [Romali]; and a disqualifying face-plant at Vivian "Mal … Mau … Mala-olaaaaaaaaa" [Malauulu].
He did make fun of himself, which we appreciate. Still, Long Beach, we can do better.
Stealing signs?
Is Robert Fox the Houston Astros of Long Beach's candidates for the 2nd District council seat? One of his opponents in the race, Jeanette Barrera, has accused Fox of stealing her signs, while Fox has declared his innocence.
Barrera fired off a message to Fox, stating in part, "You're showing me that you're just like Jeannine Pearce, willing to do anything to advance your personal gain. It's sad and it's pathetic. And this crap stops now!"
Fox told us that Barrera's signs had been placed in one resident's yard without the approval of the homeowner (a Fox backer), who had been out of town and, when Fox asked him why he was switching his allegiance to Barrera, the man replied he hadn't given her permission and allowed Fox to replace hers with one of his own signs instead.
In another instance, a Barrera sign had been placed in front of the home of Clara and Chuck Cardona on Mariquita Street and Orizaba Avenue. And that was cool. Sort of. Turns out that Clara is behind Barrera, while Chuck, who was away in Texas for three weeks, was backing Fox and, without knowing that his wife had let Barrera put a sign in the yard, had given Fox permission to put up one of his signs, which he did, while setting Barrera's sign by the couple's garage.
Since then, the Cardonas have agreed to disagree and have taken the Solomonic step of removing both signs.
Say It Ain't Joe 
The Backroom caught wind that a presidential hopeful would be in town last week, so we deployed a team to the tarmac. We kept our eyes out for the hunched shoulders of Bernie Sanders, the wire-rimmed glasses of Elizabeth Warren and even the forearms of everyone's favorite mayor, Pete. No dice.
It was Joe Biden who was in town … to see a bridge. But before Biden could grab his carry-on from the overhead storage container, Mayor Robert Garcia had some big news: He had officially moved on from Kamala Harris.
It took shorter than expected (five weeks) for Garcia to put himself out there and risk having his heart broken again. This time he's certain he's picked a winner. We think?
The mayor hasn't had the best track record in helping put people in the White House. In 2016 he endorsed Hillary Clinton and then backed Harris earlier this year. Nonetheless, we've started a GoFundMe to buy the mayor a Joe Biden action figure.
Garcia did back the incumbent President Barack Obama in 2012 (though you don't earn a lot of stars by backing a popular incumbent). He also helped elect President George W. Bush in 2000 as a state youth coalition coordinator as a young Republican.
We know the game of politics—for godsakes Ted Cruz phone-banked for a guy who accused his father of helping assassinate JFK—yet Garcia's past statements about Biden have not aged well.  Not-so-distant tweets by Garcia note Biden's characterization of Vice President Mike Pence as a "decent guy" because of his support for "conversation [sic] therapy," and Biden's support of the Hyde Amendment, which prohibits federal funding to pay for abortions except in an effort to save the mother's life.
Actually Mr. Biden, a person that supports conversation therapy on young gay kids is not a decent guy. https://t.co/bLirgq360F

— Robert Garcia (@RobertGarciaLB) February 28, 2019
I stand with @NARAL, @PPact, and women across the country – we must repeal the Hyde Amendment. Vice President Biden is wrong on this issue and it's critical he reconsider his position. https://t.co/DuaPHBZMEq

— Robert Garcia (@RobertGarciaLB) June 5, 2019
And in June Garcia simply tweeted out "Kamala Harris > Joe Biden." It's been a while since we checked how the alligator mouths are supposed to work, but we're almost certain our second grade teacher told us the gator wanted to eat the better option.
Biden either doesn't care about Garcia's past comments or simply doesn't have a platoon of Rhesus monkeys carrying out Twitter history searches like the Backroom has.
Either way, Biden seemed happy to be in Long Beach, even if he may have mistakenly driven to Laguna Beach first; he was an hour and a half late.
Biden and Garcia strode up the Jasmine, uh, Gerald Desmond replacement project bridge, both equally confused about how they would make contact with each other. We typically walk a full arm's length apart from anyone to avoid this very issue.
Garcia was eventually locked in Uncle Joe's trademark shoulder grip, and the mayor looked the happiest since embracing his first "best person for the job" back in October.
'He's got a good heart'
Two immediate past representatives for Long Beach's 8th District have lent their endorsements for this year's election to challenger Juan Ovalle. It's not a surprise that Rae Gabelich hopped on the Reform Party's candidate, because her politics are fairly aligned with Ovalle's and his party's. Jeff Kellogg's decision to endorse Ovalle is a bit more surprising, as he's leaned more conservative over his long career as an elected official.
For Kellogg, it was more of a process of elimination. "Look at the three candidates," he told us. To refresh your memory, they are incumbent Al Austin, seeking a third term, Tunua Thrash-Ntuk, and Ovalle.
Kellogg is no fan of the Ntuk family after he was unseated as a Long Beach City College Board of Trustees member by Tunua's husband, Uduak-Joe Ntuk in 2018, largely by Ntuk waging a campaign that perhaps overly tied a relationship between Kellogg and President Donald Trump. Kellogg's older brother Lt. Gen. Keith Kellogg has held several positions in the Trump administration.
Similarly, Kellogg harbors no warm feelings regarding Austin.
"I was very disappointed when he ran for Senate last year," said Kellogg. Austin dropped out of the race about three weeks before the election in March 2019. "If he gets elected, there'll be four years of lame-duck, I-don't-care leadership."
So that leaves Ovalle. "I think he's got a good heart," said Kellogg. "He's the most sincere and he really does want to do something positive. I've always said, 'Do you want to be somebody or do something?' I think Juan wants to do something."
Council team, assemble!
Recently-elected City Councilwoman Mary Zendejas, who was sworn in Dec. 4, has already been thrust into the middle of what is shaping up to be another chaotic year at City Hall.
Colleagues' names are mysteriously disappearing off of agenda items, the American flag has grown four more unexplained stars and clearly this is not a job for one person. On Tuesday, Zendejas announced the formation of her staff.
The team includes a long-time resident and a holdover from the placeholder administration that guided the district after former Councilwoman Lena Gonzalez left for the state Senate. But news that her chief of staff would be her former opponent, Ray Morquecho, raised more than a few un-tattooed eyebrows across the city.
Morquecho ran as an independent candidate in the Nov. 5 special election but was largely seen as the Republican in the field that included seven other more progressive candidates. He started his political career as a young Republican, which led some to question the direction of the office after Zendejas, the newest addition to the progressive wing of the council.
She said she chose Morquecho for his "intelligence, integrity, and love for Long Beach." Morquecho finished a distant fourth in November's election, gaining only 209 votes to Zendejas' 858.
Her choice to tap the fourth-place finisher as her top aide is a curious one. If her goal is to consolidate the district, Mariela Salgado, who won over a quarter of the district's votes, could have been a solid choice. So could Misi Tagaloa, who aside from finishing in third, is an expert fundraiser.
In a text Wednesday night, Zendejas praised Morquecho for his clean campaign and his enthusiasm for the district, adding that her decision in part was made because of his experience and complimentary ideas.
"I chose Ray Morquecho because he shares my commitment to the residents of the 1st District and understands we need to work together to create and implement policies that improve the quality of life of all our 1st District residents and the City of Long Beach as a whole," Zendejas said. "I am confident that together we can continue making our city a great place to live and work."
Support our journalism.
Hyperlocal news is an essential force in our democracy, but it costs money to keep an organization like this one alive, and we can't rely on advertiser support alone. That's why we're asking readers like you to support our independent, fact-based journalism. We know you like it—that's why you're here. Help us keep hyperlocal news alive in Long Beach.