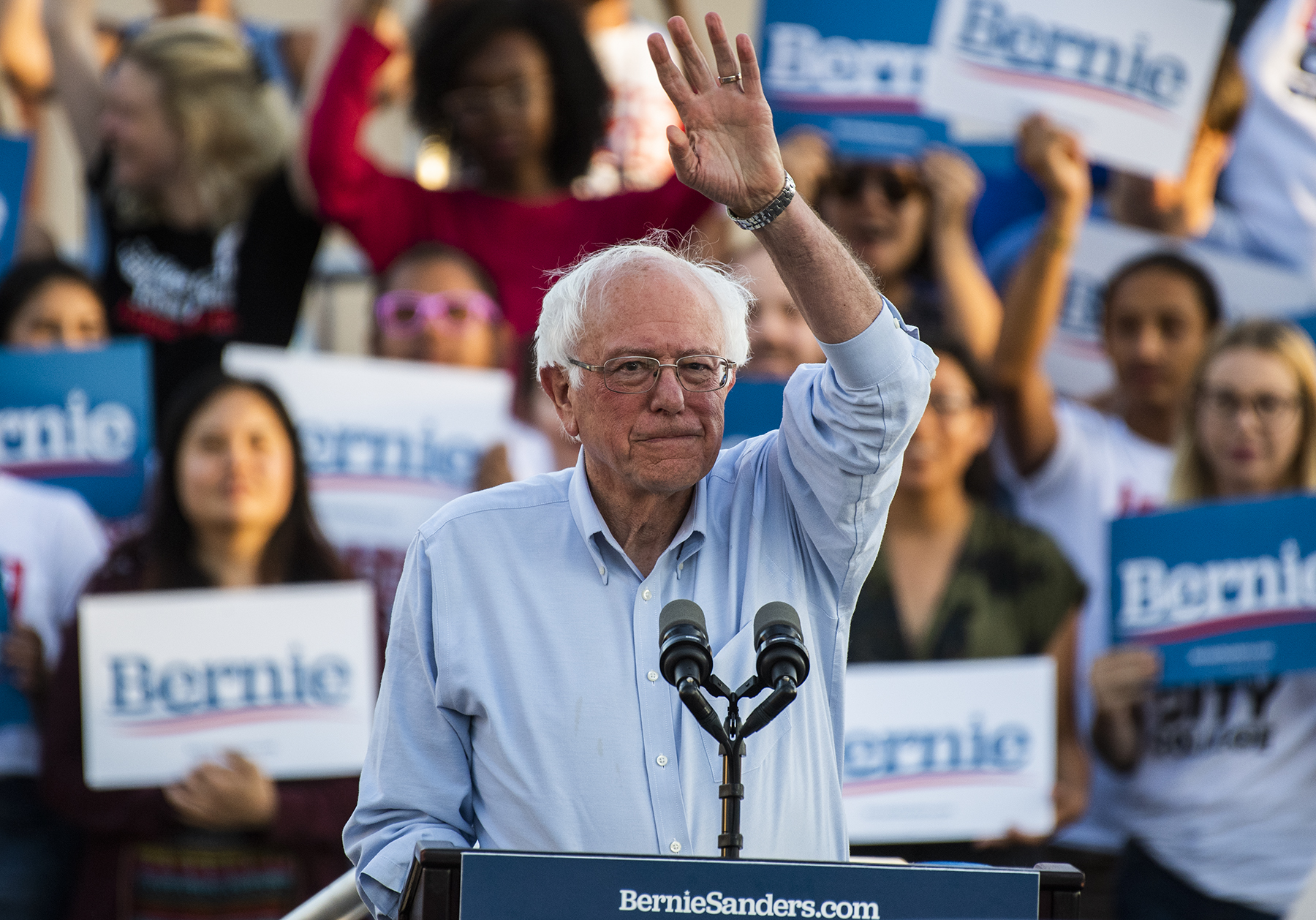 Presidential candidate Bernie Sanders focuses on working families during Long Beach rally
A crowd estimated at over 5,000 people gathered on a Long Beach City College lawn Tuesday evening to hear presidential candidate Bernie Sanders speak about his plan to not only defeat President Donald Trump but to create a government and an economy that works for "the 99%."
The rally began with a performance in Spanish by Omar Ruiz and his band singing traditional Mexican corridos. Carlos Marroquin, founder of Latinos for Bernie, called Sanders a good candidate who "represents us and not the 1%."
Sanders himself was introduced by Long Beach City College's newly elected board president Vivian Malauulu, who spoke about her immigrant journey to America, her work as a longshorewoman and fight for union jobs and living wages.
"Bernie Sanders is the real deal," Malauulu said.
The Vermont senator, whose stop in Long Beach was part of a multiple-day trip throughout Southern California, discussed wealth inequality prominently throughout his nearly hour-long speech.
He called for a fair distribution of income and a decent standard of living for Americans living paycheck to paycheck.
"We have a corporate elite whose religion is greed," Sanders told the energetic crowd.
Sanders criticized the Supreme Court's ruling on Citizens United, which cleared the way for limitless political spending by corporations and other groups through Super PACs.
Acknowledging the wave of recent mass shootings in California, Texas and Ohio, which he called demoralizing and painful, Sanders called for stricter gun control.
"Assault weapons are weapons of war designed to kill as many people as possible," Sanders said. "We must ban the sale and distribution of assault-style rifles."
Sanders spoke about the need for living wages and called on his Senate colleagues to pass legislation raising the federal minimum wage to $15 an hour after the House of Representatives passed the measure last month.
Congress should also make it easier for workers to join unions and end the wage gap among genders, he added.
On the topic of public education, Sanders called for tuition-free colleges and universities, noting how people have had to hold off on buying homes, cars, having kids or getting married in order to pay off student debt.
"We have to focus on the needs of working families and canceling student debt is one of them," he said.
With millions of uninsured or underinsured Americans, Sanders insisted on guaranteed universal health care. He shared a story of a trip to Ontario, Canada he made with a group of diabetics in need of insulin. In Canada, the vials cost them one-tenth of the price it was stateside, he said.
Sanders called the climate change debate "over" with some scientists warning that the planet has under 12 years to transition from fossil fuel energy to sustainable, renewable energy or there will be "irreparable damage to the planet."
The Long Beach Post this past spring published a series on the effects of climate change locally. 
Under his "utopian" hope, Sanders said he would reach out to Russia, China, India, Brazil and other countries in an attempt to convince them to stop investing in weapons of mass destruction "to kill each other" and instead use their resources to come together and combat their common enemy: climate change.
The senator called affordable housing a human right and called for the "flexibility to do rent control if that's what they want," referring to local communities.
He also suggested that if developers want to build expensive housing in a city then they must also build affordable housing.
Long Beach failed to bring a rent control ballot initiative before voters last year.
Sanders called for comprehensive immigration reform that includes a pathway to citizenship for the estimated 11 million people living in the country illegally.
He promised that on his first day in office he would return legal status to the 1.1 million recipients of DACA, an Obama-era policy that protected undocumented residents from being deported if they arrived in the country as children.
"I am the proud son of an immigrant," Sanders said before blasting President Trump for demonizing the immigrant community.
"I and all the other immigrants, we helped build America," Sanders said. "We have done the dirty work, the dangerous work."
Sanders wrapped up his speech by promising to end the war on drugs and expunging the records of those arrested for marijuana-related charges. He called for an end to cash bail.
He said those who believe in small government should also believe women have the right to control their own bodies.
Lastly, he called on people to stand together amid divisive rhetoric. "If we come together we can transform this country."
Student reaction
LBCC environmental science major Jenna Jimenez, 23, said she was at the presidential candidate's rally to hear him speak about climate change, which she believes President Trump has set the country back on.
Elaine Meyers of Long Beach says she's here to support Bernie and two issues in particular: health care and Native American rights. pic.twitter.com/0KUN9yutBN

— Stephanie Rivera (@StephRivera88) August 7, 2019
Paolo Canteraz, a Long Beach resident and former student body president for LBCC, said he is most interested in Sanders' immigration policies and solutions.
Canteraz said recent news of people with U.S. citizenship getting detained and deported has made him afraid of going to the Philippines.
"I'm scared of not getting back in," said the 24-year-old who is a permanent resident of the country. "It made me nervous."
Jordan Doering, a member of the steering committee of the Long Beach chapter of the Democratic Socialists of America, said he supports a lot of Sanders' policy plans but hopes the presidential candidate supports the full decriminalization of sex work and retract his support for FOSTA-SESTA, which criminalizes it.
After the Occupy movement, which put attention on economic inequality in the country, Doering said Sanders "was the first person to invigorate a vision a lot of people could get behind."
An estimated 5,390 people attended the rally, according to Long Beach City College Vice President of Business Services Marlene Drinkwine. During the rally, at least one Trump supporter was removed from the event.
Sanders is not the first presidential candidate to visit LBCC. 2016 Democratic nominee Hillary Clinton spoke before a crowd of about 2,000. Her event also attracted the presence of protestors, including multiple Sanders supporters.
Watch the full video of the Sanders rally below:
Support our journalism.
Hyperlocal news is an essential force in our democracy, but it costs money to keep an organization like this one alive, and we can't rely on advertiser support alone. That's why we're asking readers like you to support our independent, fact-based journalism. We know you like it—that's why you're here. Help us keep hyperlocal news alive in Long Beach.