Gonzalez wins most votes in Senate race, but will face runoff against Cudahy Republican
Long Beach Councilwoman Lena Gonzalez won the most votes in Tuesday's special election to serve the remainder of a state Senate term in the 33rd district—but she was far from the threshold needed to avoid a runoff in June.
With all ballots counted, unofficial results showed Gonzalez received roughly 30 percent of votes. In second place was Jack M. Guerrero, a Republican city councilman from Cudahy, who received 15 percent of the vote.
The top two vote-getters will face each other in a runoff June 4.
"We are going to push so very hard," Gonzalez said at a celebration party Tuesday at the Hotel Maya. "We need progress. … We need a woman, a prominent progressive woman, someone who's going to speak for all of our interests."
Here's a clip of @lenagonzalez33 addressing the crowd at her election night party. Latest numbers still show her holding a significant lead but likely headed to a runoff with Cudahy Councilman Jack Guerrero. pic.twitter.com/gLWOytRo3l

— Jason Ruiz (@JasonRuiz_LB) March 27, 2019
In a phone interview Tuesday night, Guerrero said he would continue campaigning on a platform of government reform, fiscal responsibility, lower taxes and education.
"The reason I keep getting elected consistently is the issues that matter to voters," he said.
Turnout was extremely low. With all ballots counted, just 29,163 people voted out of 426,703 registered voters in the district (about 6.8 percent).
The crowded race included nine Democrats, two Republicans and one Green Party candidate.
Councilman Al Austin, who dropped from the race in early February but whose name still appeared on the ballot, managed to secure 4 percent of the vote.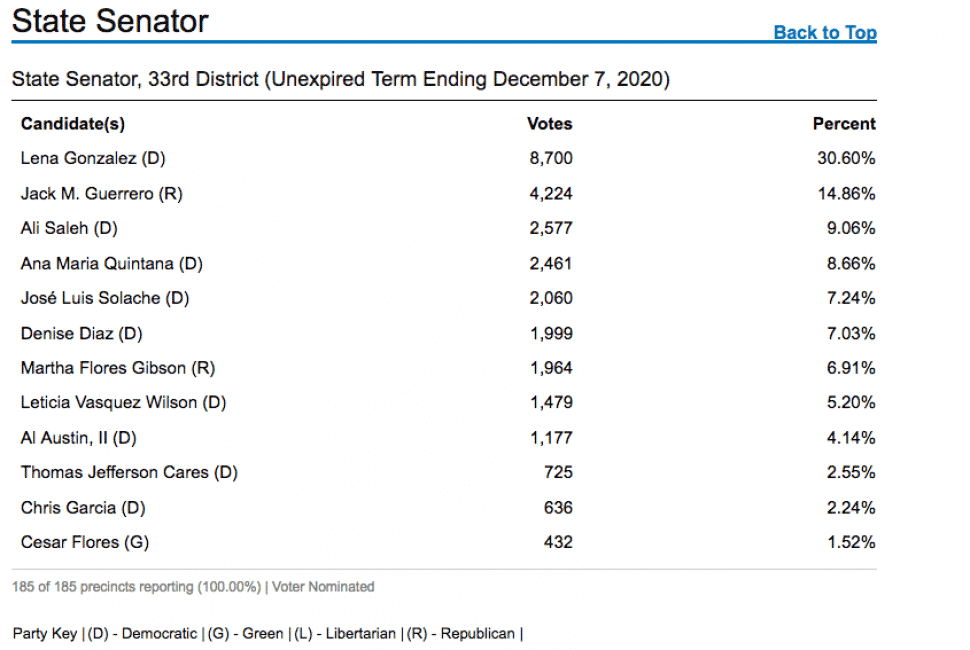 Contentious campaign 
Gonzalez had been the favorite to win, partly because she is the only candidate from Long Beach, which has the largest share of voters in the district.  She secured numerous endorsements, including a nod from the man who previously held the seat, Ricardo Lara, who won election in November as state insurance commissioner.
Gonzalez was also buoyed by an oil coalition that spent over $1 million to support her campaign, including paying for television and newspaper advertisements.
In February, however, information was circulated on social media that shed light on the councilwoman's 2012 DUI arrest—when she was then-Vice Mayor Robert Garcia's field deputy—that had never been publicly revealed.
Around the same time, Gonzalez and four other Long Beach councilmembers and the mayor received letters warning of legal action by fellow Senate candidate Leticia Vasquez Wilson. At a public forum, fellow candidate Lynwood Mayor Jose Luis Solache revealed he too received a warning letter. At that event, Vasquez Wilson said she was defending herself against "fake news."
Guerrero has stayed largely out of the fray.
"I will continue to work hard to earn the trust of voters," he said.
Mayor Garcia said at Gonzalez's celebration party that this will be a race between "hope and [President] Donald Trump's values," painting Gonzalez's potential runoff candidate as a far-right politician.
33rd Senate District
The district includes the cities and communities of Cudahy, Bell, Bell Gardens, Lynwood, Maywood, Signal Hill, Paramount, South Gate, Vernon, Walnut Park, Huntington Park and nearly 80 percent of Long Beach, roughly one-third of Lakewood and portions of Los Angeles. The district includes about 927,000 residents, according to 2010 Census data.
A majority of the residents (over 648,000) identify as Hispanic, according to the Census, with many being first-generation immigrants. They also tend to be low-income and with lower high school graduation rates compared to other parts of the county.
Many of these communities are situated along the 710 Freeway and are negatively impacted by air pollution and associated risks.
The district is also majority Democratic with over 55 percent of voters registered as Democrats and only slightly over 11 percent identifying as Republican.
The county reported that 20,829 mail-in ballots were cast in Tuesday's election—roughly 9 percent of the total mail-in ballots sent to voters. With 185 precincts reporting, 8,334 ballots had been cast at the polls.
Next steps
The runoff is scheduled to take place June 4.
If Gonzalez wins, a special election for her 1st Council District seat will take place in November.
The state has 30 days to certify the results of the special election.
Staff writer Jason Ruiz contributed to this report.
Support our journalism.
Hyperlocal news is an essential force in our democracy, but it costs money to keep an organization like this one alive, and we can't rely on advertiser support alone. That's why we're asking readers like you to support our independent, fact-based journalism. We know you like it—that's why you're here. Help us keep hyperlocal news alive in Long Beach.