The terrifying tale of the vote that still haunts this councilman
The Backroom is a column by the staff of the Long Beach Post with notes and analysis, along with bloops and blunders, from the city's political scene. It runs every Thursday. To contact us, email [email protected]. For questions or concerns, please contact Managing Editor Melissa Evans: [email protected] or 562-437-5814. 
It was just before midnight on a Tuesday in a Brutalist building Downtown. We're gonna say it was a dark and stormy night—metaphorically at least:
While lightning flashed outside, the secret society of the City Council had weathered a four-hour hearing on a law intended to protect hotel workers: Four were in favor; four said they wanted to talk more about the fine print.
---
Be the first to know.
Get the Backroom delivered to your inbox every Thursday.

---
The vote hinged on the mysterious Al Austin in the 8th District, a lifelong labor negotiator and union official who had been lobbied hard by Unite Here Local 11.
The decision came: Austin was a nay. It was his John McCain-thumbs-down moment; a Justice Kennedy-esque thud of a gavel. And the die was cast.
Boos and shouts of "shame on you" erupted. A scream tore the night apart, and one union official reportedly stalked up to Austin after the vote and hissed in a voice dripping with foreboding and menace, "you're done."
Jump ahead to a normal day in Long Beach more than two years later. Despite the fact that it's no longer dark and stormy, Austin's "you're done" decision is still haunting him, like a heartbeat that grows louder from inside a wall.
Austin is now facing a tough reelection bid in March 2020. One of his opponents, Tunua Thrash-Ntuk, executive director of a nonprofit group that invests in housing and other initiatives, has won the backing of some well-known labor groups—though Austin has received support from an umbrella labor organization representing about 60 groups, the AFSCME, among other locals.
This week it was no surprise that Unite Here Local 11, a powerful union that represents hotel workers, announced its support for Thrash-Ntuk in spite of Austin's background.
"Al Austin did not support us at all," Nereyda Soto, shop steward for hotel workers at the Hyatt Regency Long Beach, told us this week. "We were asking for simple protections, and he voted against us."
Soto praised Thrash-Ntuk, who said she wasn't recruited by labor to run against Austin: "It was a family decision, and my personal interest and commitment to public service." The support from labor, Thrash-Ntuk said, is a testament to her qualifications as a candidate.
Soon after the vote two years ago, fliers appeared in the district depicting Austin, who is African American, as a black demon with red eyes and white teeth (Soto said the fliers were paid for by another union).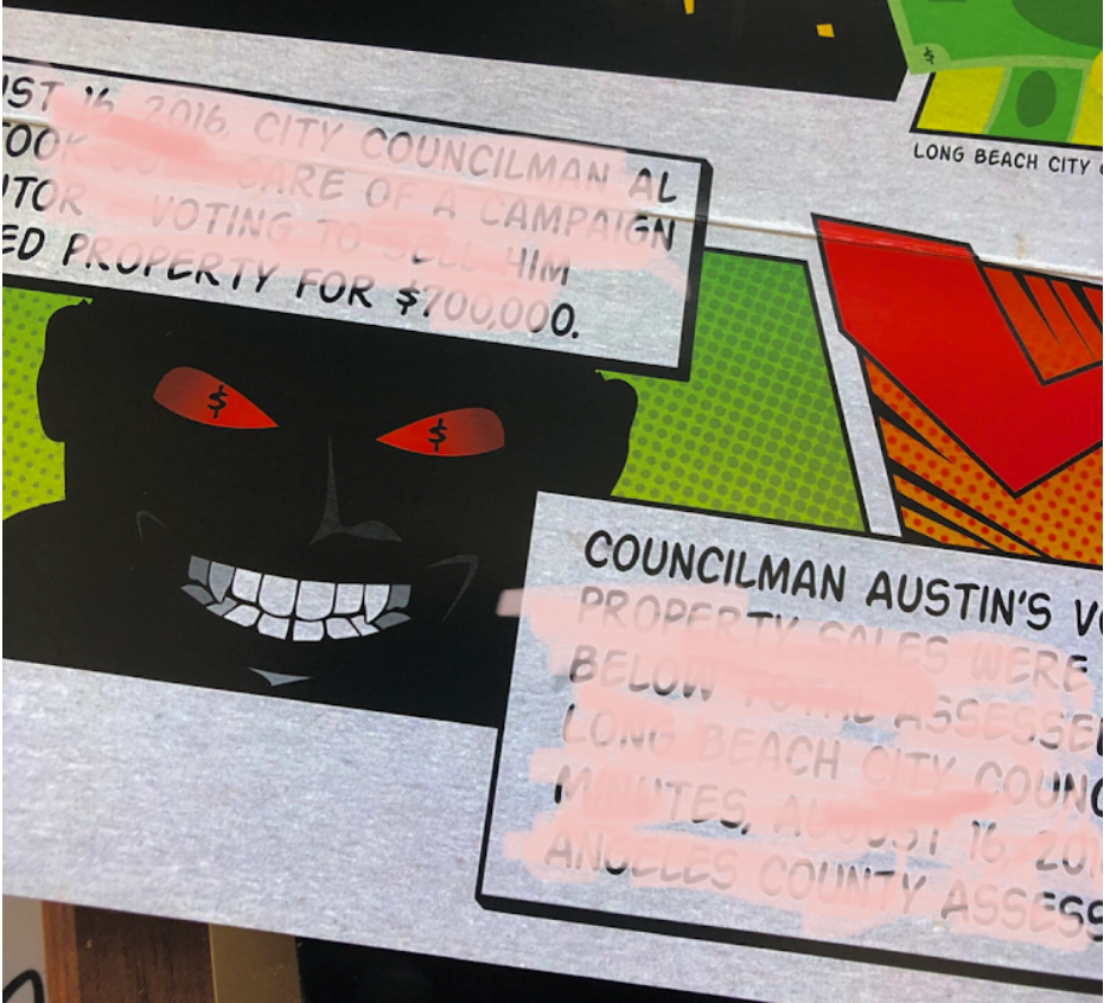 He told us he in part dropped out of the race for Sen. Ricardo Lara's former Senate seat because copious amounts of money and backing was flowing to Lena Gonzalez, who brought forward the hotel protections in 2017.
"No other elected official in city history has gone through more consternation over one vote," Austin said this week.
He's expecting more of the same over the next five months.
"It's going to be a nasty campaign," Austin said.
Be afraid!
We all know how certain ultra-superlative terms have been crippled by overuse: Can I get you a glass of water? "Yes, that would be awesome." Have you tried the celery with cream cheese? "It's amazing."
To the list of tamed and beaten-down terms add the word "emergency."
Emergencies make you blind with fear, unable to make logical decisions, curl up in a fetal position under a dining room table. And by "you," we mean "us."
Anyway, there's a noticeable amount of calm and serenity in our community despite the fact that there's a fiscal EMERGENCY going on. Even the normally flinchy staff of The Backroom remains at ease rather than diving headfirst down stairwells in a panic. DON'T USE THE ELEVATORS!
Your city's politicos, in order to help get Measure A passed in 2016, had to sound the alarm bells about funding for cops and firefighters. And, having weathered that frightening scare, the City Council, to get a permanent extension of Measure A on the 2020 ballot, has sounded the clarion by declaring an official fiscal emergency.
Now, another one is on the horizon: The City Council on Nov. 12 will be asked to declare another fiscal emergency to get a second tax increase on the ballot: a 1% increase in the tax paid by visitors when they stay in local hotels and short-term rentals.
The sirens make our dogs howl, but otherwise we're remaining calm. We haven't even stockpiled emergency water.
Children of the corn belt
If we can agree that Long Beach is indeed "Iowa by the Sea," as it's historically been known, then it would follow that Iowa is the "Long Beach of the Corn Belt." And the Hawkeye version of Long Beach was where Mayor Robert Garcia spent his time over the weekend, knocking on startled Iowans' front doors ("Harold! There's a mayor on our porch! And he's eating a Kit Kat like a corn cob!") to stump for one of his favorite politicians, Sen. Kamala Harris, whose campaign might best be described as "undead."
It's 100 days until the Iowa Caucus and I'm knocking on doors for @KamalaHarris. I'm sharing with Iowans that Kamala is ready on day one to stand #ForThePeople. Let's go! pic.twitter.com/ItxY59T7yr

— Robert Garcia (@RobertGarciaLB) October 26, 2019
To clear up his weekend schedule, Garcia canceled two "Meet the Mayor" engagements: "I work 24 hours a day, seven days a week," he told us, "so if I can take a break every once in a while to do what I think is best for the nation, I'll try to do it, and that's what I was doing in Iowa."
Okay. Okay!
Garcia is perhaps overly smitten with the farmland version of Long Beach. "I've been to small towns like Denison to big cities like Des Moines, and everyone thinks Long Beach is really big. And they're very engaged; they take their politics seriously and realize how large of a role they play in presidential politics."
Meanwhile, back at home, you can meet the mayor at one of the rescheduled engagements on Nov. 9. He'll be meetable at a pair of events, from 11:30 a.m. to 1 p.m. at the Los Altos Neighborhood Library, 5614 E. Britton Drive; and from 2 to 3:30 p.m. at the Bay Shore Neighborhood Library, 195 Bay Shore Ave.
Click here for reservations.
Editor's note: This has been updated to reflect that Al Austin has received support from the labor sector as well as his challenger.
Support our journalism.
Hyperlocal news is an essential force in our democracy, but it costs money to keep an organization like this one alive, and we can't rely on advertiser support alone. That's why we're asking readers like you to support our independent, fact-based journalism. We know you like it—that's why you're here. Help us keep hyperlocal news alive in Long Beach.