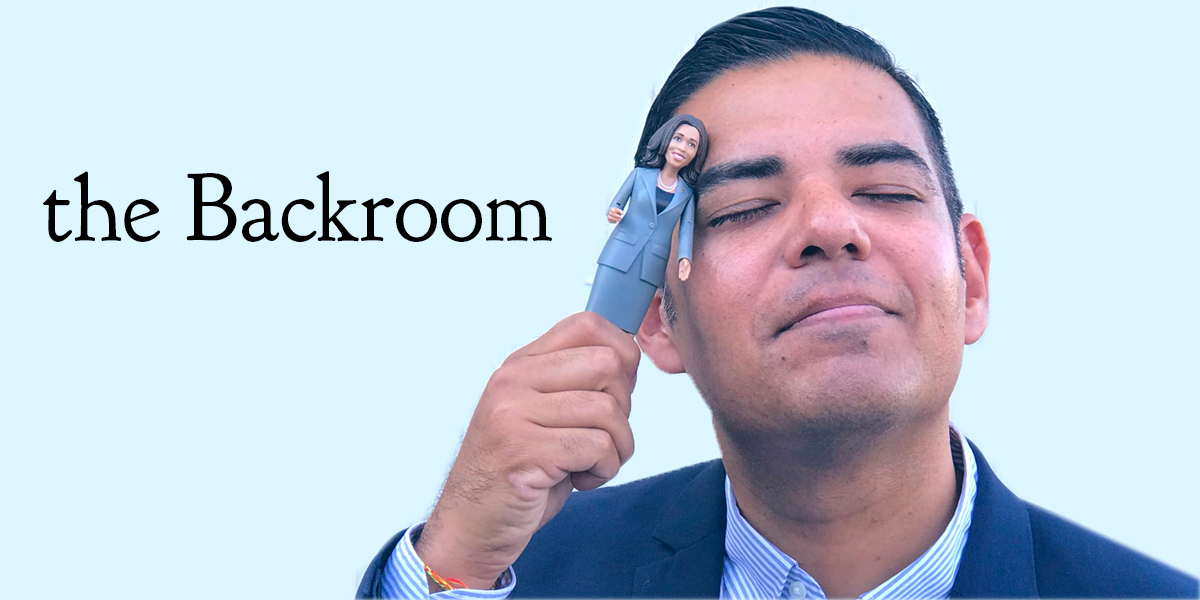 The Backroom: Does Kamala Harris need a restraining order?
The Backroom is a column by the staff of the Long Beach Post with notes and analysis, along with bloops and blunders, from the city's political scene. It runs every Thursday. To contact us, email [email protected]. For questions or concerns, please contact Managing Editor Melissa Evans: [email protected] or 562-437-5814. 
Our mayor, Robert Garcia, likes eggs. He has strong opinions on casting and plotlines in the DC Universe. And he luuuves Kamala Harris—he stans for her, memes for her, throws shade in her honor and sips tea for her. He's an honorary member of the #KHive. And if you didn't understand any of that, congratulations, you're not part of the trash-fire that is Twitter.
Sending my Senator Kamala Harris good vibes and lots of love tonight – we got this! #KHive #DemDebate pic.twitter.com/DE8rPtdLVT

— Robert Garcia (@RobertGarciaLB) June 27, 2019
We realize taking tweets out of context is an easy way to make someone look silly, like watching people dance at an EDM concert with the sound muted. But if you're the mayor of a major metropolitan city, you should probably play with your Kamala doll in private and cease with the sultry Vulcan mind meld selfies. It's getting weird.
---
Get the Backroom delivered to your inbox every Thursday.

---
The cranks and cynics in The Backroom, of course, have postulated on the politics of Garcia's rabid enthusiasm for the California senator and presidential candidate. Is he gunning for a cabinet position? Harris' Senate seat? The man who would appoint the latter position, Gov. Gavin Newsom, has earned a few longing gazes from Garcia as well.
Proud of @GavinNewsom today and his #CaliforniaForAll plan. Had a chance to say hello after the speech. He's all in to support Long Beach. pic.twitter.com/CmczzvdnHT

— Robert Garcia (@RobertGarciaLB) February 12, 2019
'The new death row'
Speaking of social media, Robert Fox, who is challenging Jeannine Pearce in the 2nd District, might want to heed the advice of one of his Facebook followers: "Great ideas, but they get lost in over rhetoric and tombstone text."
Fox promises he will try to scale it back, but we have little hope. The man loves superlatives more than anything. And words. Lots of them. He tosses out stats with such specificity that you almost think they're true, until you string each word together and realize, nope, probably not true.
The issue of the 2nd District race will be the Broadway Corridor boondoggle, which some say has created safety issues—or, in Foxian speak, is "the new death row." Fox claims there have been 63 accidents along the stretch in the 44 days since the work was completed, which by our admittedly shaky math, is more than one a day.
We don't have concrete data yet to dispute this—a request is pending with the police department—but we did throw down some mad HTML skills in compiling a Google map of the location of every fatal traffic crash the police department has publicly reported since Jan. 1.
Of the 17, one has occurred on Broadway—and it was in January, before the current phase of the corridor work was completed. By far the most deaths have occurred in Wrigley-Downtown-West Long Beach region, particularly along Pacific Avenue.
Pot conflict? 
Councilwoman Jeannine Pearce recused herself Tuesday night from a vote on an ordinance that would lower taxes for non-dispensary marijuana businesses. The Post reported in May that Pearce is doing consulting work for an El Segundo-based pot business—a gig she got thanks to her connections with Dan Zarahoni, a principal at the Queen Mary who also works in the marijuana business. Is this a conflict of interest? The city attorney has yet to relay to us any official direction on what Pearce can and can't vote on—though the possibility of not being able to weigh in on the Queen Mary, a major asset in her district, is bad enough.
We wonder: Should Councilman Roberto Uranga have recused himself from the pot vote as well? His wife and school board candidate, Tonia Reyes Uranga, is the founder of Long Beach-based TRU Consult, which she says on her LinkedIn page handles cannabis-related community municipal issues for cities and businesses.
Uranga's wife's work is also not listed on his Form 700 from 2018, which government employees are supposed to fill out to let the public know what conflicts they might have. The California Fair Political Practices Commission also requires spousal income to be reported (with the exception of government salary).
Uranga told The Backroom on Thursday that his wife, a former two-term councilwoman for the 7th District, hasn't done any work with cannabis businesses in three years, and, as far as he knows, she hasn't done any business in Long Beach at all. Reyes Uranga herself called a few minutes later and said she has always been careful about conflicts of interest.
Businesses "kept wanting to ask me about Long Beach (policies) but I would say I'm not doing Long Beach because my husband is on the City Council," she said, adding that she most recently did consulting work for Orange County on development issues but that contract ended last year.
As for the omission on his Form 700, Uranga said he would review them. "I haven't looked at them in a while," the councilman said.
Election updates
We're a bit curious about endorsements, specifically the mayor's, in the regular council election on March 3. All even-numbered district seats are open; Garcia has so far endorsed Al Austin in the 8th and Dee Andrews in the 6th. Daryl Supernaw in the 4th is running unopposed.
That leaves Pearce in the 2nd. Will the mayor endorse her? In addition to Fox, two others—Jeanette Barrera and Richard Harrison—are vying for the seat. Pearce survived a recall effort over conduct involving her former chief of staff; there is also surely more to come in the recent revelations about her consulting work.
However, she has sided with the mayor on most of his issues.
All we could get from the mayor's office was this lousy statement: "The Mayor will likely endorse in all city council races occurring in 2020."
We know he can do better than that.
Let's go Kamala Harris! #ForThePeople pic.twitter.com/LJSBxNusMg

— Robert Garcia (@RobertGarciaLB) June 28, 2019
Support our journalism.
Hyperlocal news is an essential force in our democracy, but it costs money to keep an organization like this one alive, and we can't rely on advertiser support alone. That's why we're asking readers like you to support our independent, fact-based journalism. We know you like it—that's why you're here. Help us keep hyperlocal news alive in Long Beach.