There's a lot to be said for the Elephant Lot.
That's the 13 acres on Shoreline Drive that has been proposed as the beachhead for the Angels' new home, should the franchise take Long Beach up on an offer to relocate it from its current Anaheim digs. While we're waiting for things to happen, or not, imagine what a new Big A in the LBC could look like; Paul Goldberger has.
The Pulitzer Prize-winning architecture critic with the New York Times, and now The New Yorker, Goldberger has some archetypal guidelines for any major league-seeking city to aspire to and believes Long Beach is well-situated to achieve them.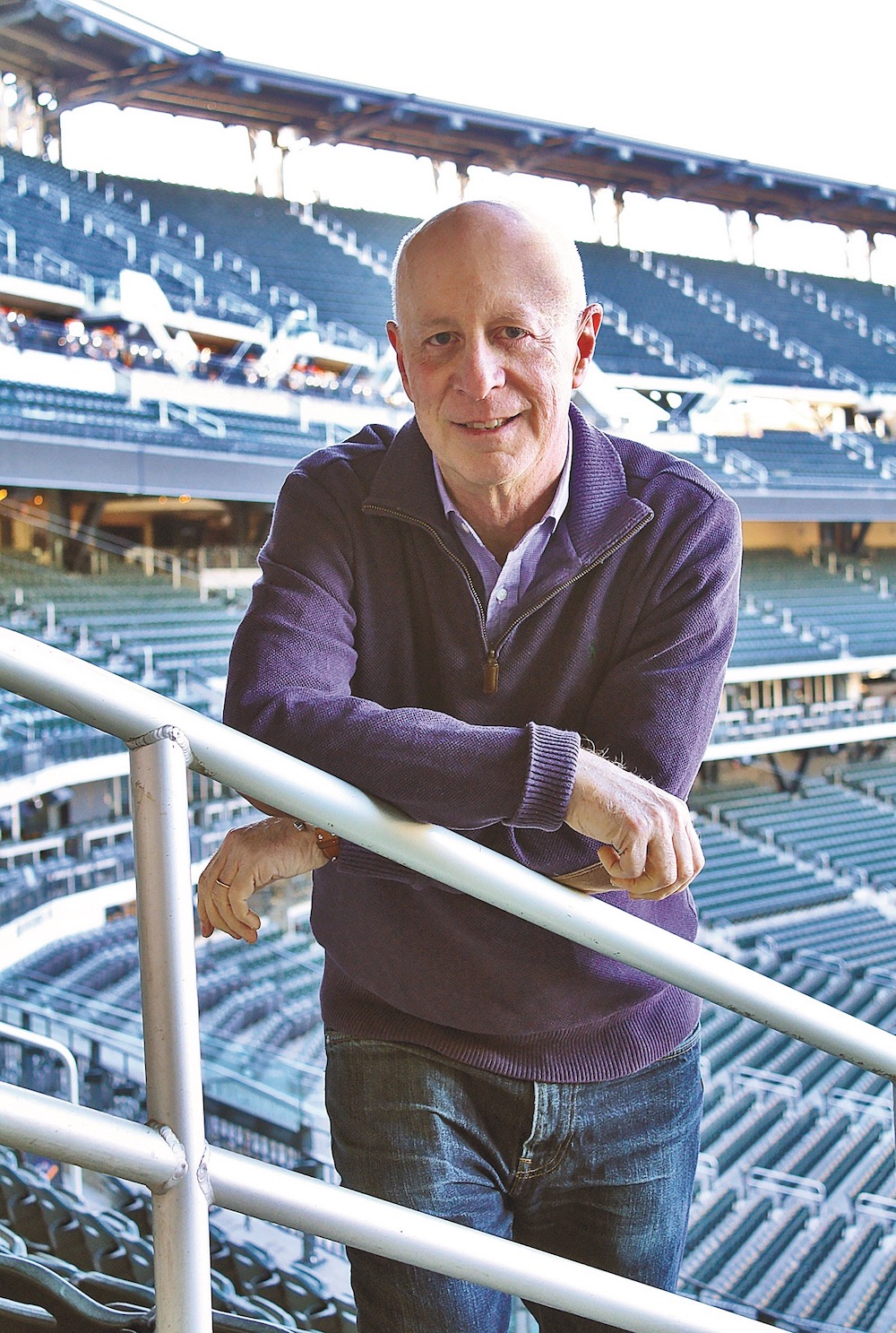 The author of the new best-selling book, "Ballpark: Baseball in the American City," Goldberger may come from a New York state of mind, but he's familiar with the proposed stadium's site, not far from the Long Beach Arena, and believes it serves as an optimal choice; clearly, in his mind, better than Anaheim.
As you'll soon see, on that, he was perfectly clear.
What strikes you as the best reasons for the Angels to move to Long Beach?
I'm hesitant to say anything absolute and definitive, without having personally looked at sites and areas, but I think the most important thing to say, overall, yes, Long Beach would be a lot better than Anaheim. Let's just cut through everything and say that.
More important than anything about this site or that site or how a stadium looks, Long Beach is a real city and it just feels inherently like a more natural setting for baseball. Anaheim is kind of the epitome of suburban sprawl, and the current Angel Stadium—even though they've done a few things to spiff it up over the years—basically has never escaped being a concrete thing in a huge parking lot which doesn't really have a connection to anything around it except roads and parking.
Long Beach is a wonderful, varied, interesting urban environment that is not as dense as Los Angeles but has undergone change and evolution and gentrification to a certain degree, and a baseball park would be a wonderful thing to reinforce so much of what's going on.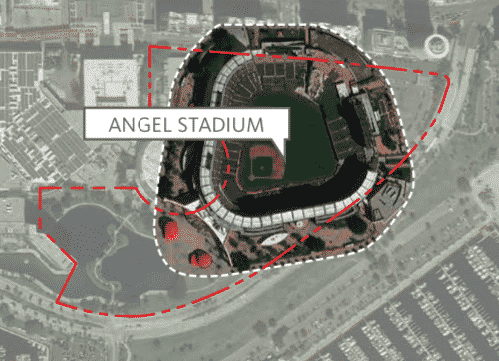 If you overlay some current MLB stadiums on the Elephant Lot, it appears to be accommodating. Is that something you can size up from photos?
Without knowing its relationship to other Downtown sites, I again hesitate to say too much, but what I will say even if the fit is a little bit tight, in some ways that makes it better, not worse. Baseball parks have not profited from having unlimited space. When they get too big, they're usually less good. When they're a little more confined, and they have some constraints to respond to, they're actually better. And the ones people love today are ones actually built on somewhat constrained sites.
You're talking about the Giants' ballpark in San Francisco next to the China Basin and the Padres' ballpark in San Diego, wedged into a Downtown site next to the Embarcadero Marina with a view of the Coronado Bridge.
Yes, both of which are among the most admired, recent parks we have. San Francisco and San Diego are both triumphs of the last generation of ballparks. If you don't learn from them you're crazy because they're right there on your coast, right on the water. And both in cities that had very bad, much more suburban ballparks prior to that but managed to learn from the mistakes and build something really good.
Aside from that, we have a long and wonderful tradition of ballparks being inventive responses to site constraints. Where does the Green Monster come from at Fenway Park in Boston? There's the constraint of a street running behind it. Now, a site can't be ridiculously constrained or it won't work. But mildly constrained is often better than a site without limits.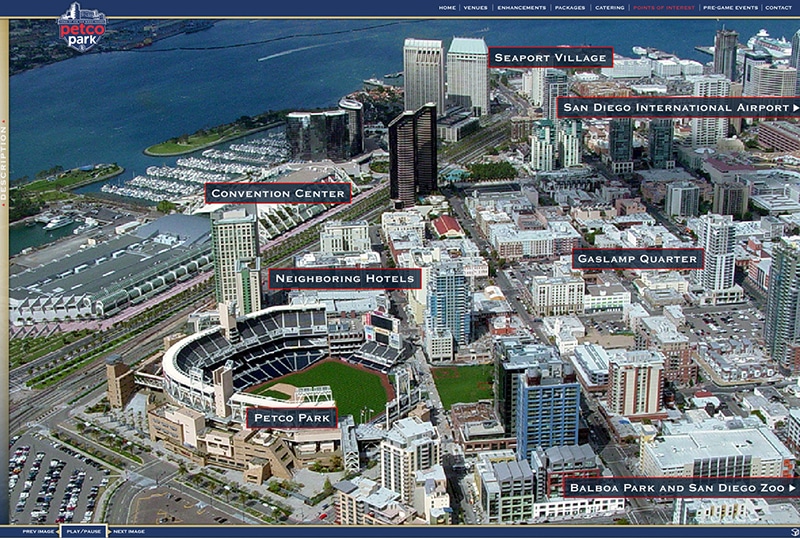 So the Elephant Lot, when you size it up, and where it would open up to the water, has the best shot?
My view is if they don't want it on that particular site, they'd better come up with a better reason than simply the number of seats or the size that can be offered.
How much, too, do ballparks invigorate a local economy in an area that may be just ripe to prosper?
Absolutely it can happen, but I would also say it's dangerous to put too much faith in that. A ballpark can't shoulder the weight of that kind of plan.
San Francisco's new park is really good for two different but related reasons. One, it's well designed and well sited, but there was also a tremendous amount of things happening south of Market Street anyway. The city's whole center of gravity was shifting and you had the movement of culture and business and residences. You also had the development of the Mission Bay area on the other side of it, the second campus for UCSF Medical School, a lot really going on. The ballpark reinforced that and rode the wave of that so to speak. If it were expected to shoulder the entire work of urban regeneration itself, I don't think the ballpark would have done it. But it can be an incredible reinforcement agent.
The same in San Diego, with all things in play, they were strategic in where they placed the park, not just in terms of the best views, but how it would relate to the Gaslamp District and the Convention Center and other public things bringing people to the city. It got energy from them and gave energy to them as well. It's a great success on all fronts.
I don't see any reason why maybe on a slightly smaller scale why Long Beach couldn't do something similar.
One last thing about Long Beach and sports facilities as long as we've got your expertise: Its Cal State campus has a pyramid as a basketball arena. It's has become quite a campus landmark. Any thoughts about how that can give the city more character as a sports entry point, or does it stick out amid everything else as something that's just kind of odd?
It could be both of the above (laughing). Sometimes, odd things give a place character. It's a little weird, no question, but things like that over time you can develop an affection for it. I remember the hockey rink at Yale where I went to school as a voluptuous, curving form and people would refer to it as the "Yale whale" and made jokes about it. But over the years, it became kind of beloved and now it's a landmark and they just put a huge amount of money into restoring it so it can work for another 50 years. Things like that can happen and this is that kind of category. Maybe a little eccentric, and I'm not sure if I was asked by the university what to do there I would have suggested this. It's not necessarily terrible either. I'm not sure what it says about the challenge of baseball there, but …
It just kind of shows an ability to think outside the form-fit arena and be a little creative.
That's true. It's definitely outside the box.