For the past 13 years, Merry's on Broadway has sold exotic trinkets from around the globe: Hand-crafted scarabs from Egypt, prayer flags made by a Tibetan refugee living in Nepal and silk saris from India line her small shop that is punctuated by a camel statue named Humphrey.
July may be the last month that Merry's is in business as the small shop and others continue to struggle with the recent reconfiguration of the Broadway Corridor. The changes, part of a "road diet" and a series of changes to parking and cyclist access, has confused residents and stymied business, according to some shop owners.
Merry Colvin, owner of Merry's located on Broadway near Temple Avenue, pulls no punches when placing blame for her shop's recent downturn—a drop in sales of nearly 70%.
"I know for me what it is," Colvin said. "My customers told me this street is dangerous, there's no parking and they don't want to drive on Broadway anymore."
Broadway Corridor retailers fear major construction project will decimate holiday sales
Colvin's shop served as the space for a general meeting of the Broadway Corridor Association Monday evening where attendees discussed next steps in their fight against the project and it's impacts, and also donated money to help pay Colvin's rent for the month.
The complaints about the street improvements are many:
The reconfiguration has limited parking. Emergency responders have had trouble accessing the road when accidents happen. Bars and other businesses are having issues receiving orders because delivery trucks have limited spaces to park.
On trash days, those unlucky enough to get stuck behind trash trucks could have their commutes dramatically extended if they can't safely pass them.
Buses are too wide to safely travel down the street, residents say. The configuration of bike lanes nearest the curb and then parked cars has created a recipe for disaster for motorists trying to pull out onto Broadway.
Robert Fox, a resident who lives along the corridor and who recently announced his run for the district's City Council seat, alleges that the changes have resulted in about 70 accidents to date. (Those numbers have not been verified; the Long Beach Post is awaiting a Public Record Act request for the number of accidents this year on this stretch of road.)
Fox walked out into the new bike lane on Broadway to demonstrate how unsafe the corridor has become. A bus headed west on the corridor, its tires thumping over the reflectors that separate the street's two narrowed lanes.
He then pointed to trash can pick up points he said are unnecessary as many of the businesses have their trash picked up in the alley behind them.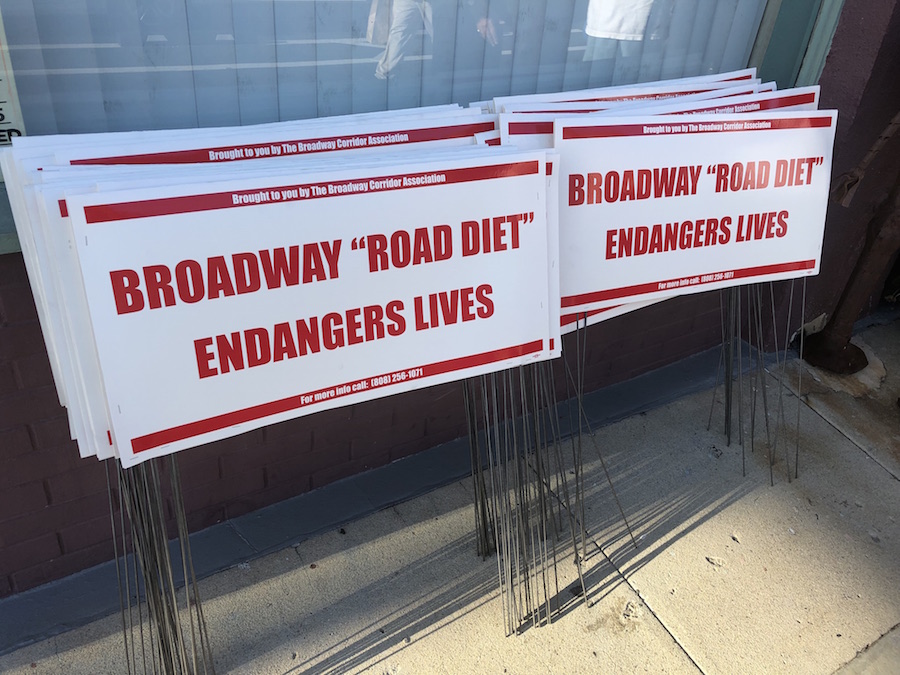 Fox said this is a safety issue but it could soon become a legal one. He noted that he has sought legal representation that will likely serve the city with a lawsuit seeking injunctive relief over the Broadway Corridor.
He's hopeful to score a similar outcome that residents in Playa Del Rey secured in 2017; their lawsuit pressured the City of Los Angeles to relent and do away with a road diet that shop owners there claimed had negatively impacted business.
In the meantime, Fox and other business owners and residents are planning a July 15 demonstration to bring attention to the issue. It will involve marching with signs at the major intersections along Broadway between Redondo and Alamitos avenues, the stretch that has been impacted by the changes.
"Our issue is not to violate the law; we just want something that makes common sense," Fox said during a speech inside Colvin's shop. "Tweaking is not going to work. We need to come up with a new draft."
The tweaks Fox referred to are the changes that have been promised by Councilwoman Jeannine Pearce, who represents the district and the portion of the Broadway Corridor that has upset residents and business owners.
Pearce has already tweaked the street sweeping along the impacted part of the corridor by pushing for smaller sweepers to be utilized in the protected bike lanes to prevent residents from having to move cars on street sweeping days.
Complaints over Broadway Corridor changes may spur changes to street sweeping
Pearce said Tuesday that while the Broadway project did result in a loss of 30 parking spots, city crews are in the process of adding back 20 spaces. That's in addition to other large-scale additions she's directed in the neighborhood including 131 spots created on First and Second streets and 70 new spaces added to Appleton by changing the degree of the painted lines for head-in parking.
"In two years we've added 190 new parking spots to Alamitos Beach alone," Pearce said. "We've been working on this. It takes a long time. It takes creative solutions but we're parking-positive 191 spots."
Changes that are still on the horizon for the corridor include a beautification process that will add trees and more crosswalks, but Pearce said everything else could remain a work in progress. A team was created to handle calls specifically about the Broadway Corridor and she said issues need to be reported for the city to address them.
Pearce said city workers are in the process of matching up curb paint to the new parking sections out on the street to minimize confusion of where people can and cannot park. Unnecessary red curbs are being eliminated to create more parking.
Responding to allegations that no neighborhood outreach was conducted, Pearce said that a number of meetings were held before her election in 2016. When she got into office there were already approved plans but she said she still held two community meetings, one of which she said was standing room only.
"What was presented is what is on the street now," Pearce said.
She disputes claims that nearly 70 accidents have occurred on the corridor since the changes took place and said that the plans were designed with Vision Zero (a national initiative to reduce road fatalities and injuries) in mind, something that was projected to reduce collisions by 40%.
"Obviously the first month there is a lot of confusion, but it was designed with Vision Zero in mind," Pearce said. "If we can reduce traffic incidents it's our responsibility to implement that design if we know it's going to keep people safe."
Colvin is not hopeful that things will change in time for her shop to survive. While this is not the first time that she's sought help from the community, this is likely the end of her shop that she said was her dream to run since she was child. Colvin said it's not a matter of if the shop will close so much as it is when the shop will close.
Her landlord has been gracious in allowing her to pay weekly installments, but she's now facing a $1,500 July rent payment and still hasn't settled her debt from June. Colvin says she just wishes her shop could survive long enough to see the changes that this group wants to enact.
As the meeting breaks up Colvin stood next to a small jar that holds monetary contributions to help keep her shop afloat.
"I lost my base customers and any new customers," Colvin said. "You can't cut it both ways and survive."