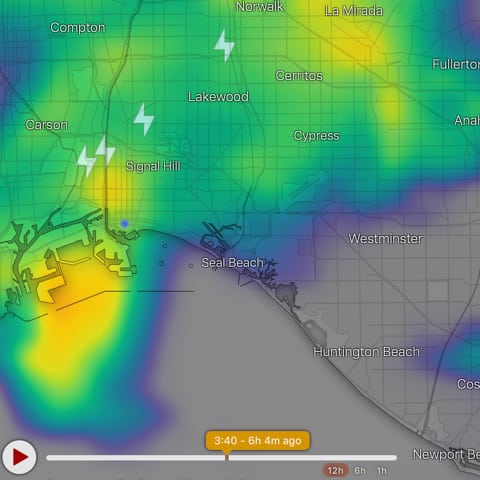 Social media lit up in the early morning hours today as a passing thunderstorm rolled through Long Beach.
Thunder and lightning overnight, reported on Facebook, Twitter and NextDoor from residents across the city, turned out to not be a single strike, but multiple lightning strikes occurring nearly simultaneously in different parts of Long Beach and Lakewood.
THAT was the loudest thunder clap I've ever heard here in Long Beach. Sounded more like an exlosion. Woke every one in house. Followed by a nutso downpour.

— Patrick Goddard (@patrickfgoddard) February 14, 2019
On NextDoor, residents from various Long Beach neighborhoods reported the thunder setting of car alarms or waking up entire households.
Data from lightning tracking websites showed at least four strikes occurring around 3:40 a.m. in Bixby Knolls, Wrigley, the Westside and at the interchange of the 605 and 91 freeways, near the border of Lakewood and Bellflower.
Rain showers remain in the Long Beach forecast through Thursday afternoon.
Free news isn't cheap.
We believe that everyone should have access to important local news, for free.
However, it costs money to keep a local news organization like this one—independently owned and operated here in Long Beach, without the backing of any national corporation—alive.
If independent local news is important to you, please consider supporting us with a monthly or one-time contribution. Read more.