You hear the one about the talking dog?
No, not that one. This one's not roll-over-and-play-dead funny, but it's pretty darn cute. Radar McInerney lives in Lakewood with his dogmama, Darlene McInerney. Radar will be one of the participants in the American Rescue Dog Show on the Hallmark Channel, in the Talking category.
The show will air 8 p.m. on Sunday, Feb. 16 and Monday, Feb. 17, with actor Rebecca Romijn and former NFL quarterback Rodney Peete acting as hosts.
Dogs express unconditional love for their humans in many ways, but few are known to do it verbally. Here's Radar saying those three little words, with motherly nudges from McInerney.
"When a dog tells me he loves me, I'm all in," said Jill Goularte, one of the American Dog Show's producers. "Radar is 7 pounds of pure joy, and he has human eyes. You can feel his soul when he looks at you."
The American Rescue Dog Show distinguishes itself from other canine competitions. Here, the champions win their titles not by breeding or teeth or poise or prancing stance but by doing actual stuff and being adorable.
The dogs, whether mixed breed or purebred, are all rescues. The team created the show because they believe that rescues deserve their own day in the sun, and they certainly do; literally and figuratively.
Goularte, along with co-organizers Michael Levitt and Jennifer Schulz, are heavily involved in dog rescue and have special feelings for the ones left behind, particularly seniors, disabled dogs and those who have suffered mistreatment and abuse. The annual production is a passion project for all of them—during an interview, Goularte expressed gratitude to Hallmark for partnering with them in the show's production. The team hopes to encourage viewers to save more lives through adoption, no matter the breeding or lack thereof.
The competition showcases their furry contestants "in all the categories that matter," as the show's website states. Talents include snoring, couch potatoing, accepting belly rubs and, of course, talking. There's a category for special needs and another for seniors.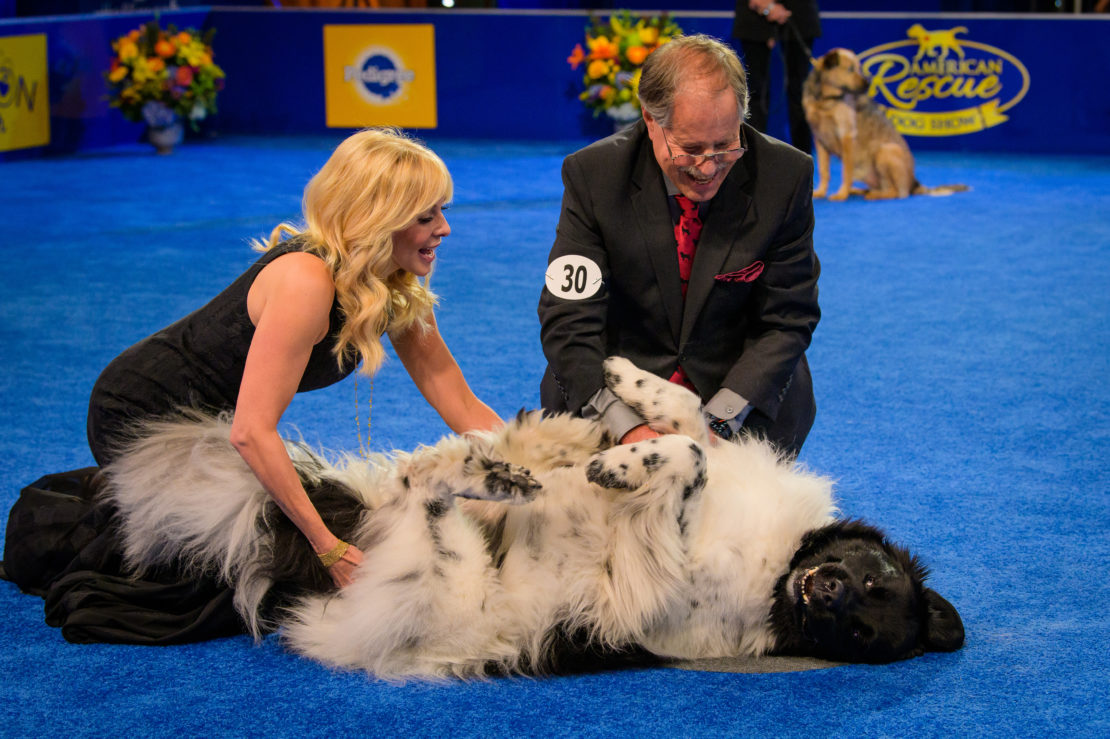 "We celebrate the perfectly imperfect," Goularte said.
That's Radar to a T-bone. He captured McInerney's heart nine years ago when she was a volunteer at Long Beach Animal Care Services. She was taken by his little wombat face but had no idea that he could talk until a week after she brought him home.
"One day, my daughter called me from work and said to come home quick—Radar was mimicking what she was saying," McInerney said.
Luckily, Radar hasn't parroted anything else—yet. McInerney said that if he does, it will hopefully stay at home.
As wonderful as all the dogs are, a competition is a competition and there will be big winners. Radar will appear on Sunday's segment of the American Rescue Dog show and could bring home the Bacon Beggin' Strips in the form of a prize with a value of either $5,000 or $25,000, which McInerney will donate to an animal charity if Radar wins. Radar also has a feature spot along with a few other contestants on The Kelly Clarkson Show at 2 p.m., Feb. 13, on KNBC. Be sure to tune in.
McInerney is proud of her boy and is breathlessly anticipating his debut performance on Sunday. And Radar? Well…
https://youtu.be/jKW6yyNoaiA