Think your street is bad? Here's Long Beach's 10 worst streets for pavement condition
In East Long Beach, a half-mile stretch of pavement on Conant Street just before Veterans Memorial Stadium is littered with cracks and potholes. Tree roots jut through cement, warping the curb.
"The street's bad and the sidewalk is terrible, too," said resident Daniella Delea, who regularly strolls the neighborhood. "You really have to watch where you're going."
On the city's north side, cars rattle down a bumpy side road off Atlantic Avenue and 45th Street. On a one-block stretch of Winslow Avenue just east of Colorado Lagoon, a large pothole takes center stage.
Long Beach has many streets left in poor condition as the city grapples with rising construction costs and an aging infrastructure. But these three areas have one thing in common—they've all earned a spot on the list of "10 Worst Streets" according to the Pavement Condition Index (PCI).
The city doesn't normally keep a "top 10" ranking of its worst streets, but a list was generated this year at the request of 5th District Councilwoman Stacy Mungo, who said she wanted a snapshot of streets that needed the most repairs.
"This gives us a better idea of where we can designate future revenue streams," said Mungo, who chairs the council's budget oversight committee.
Long Beach uses a Pavement Condition Index to determine the quality of its 786 miles of streets. Each street is given a PCI score from 0 to 100, with 100 being the best. The streets are then grouped in categories from "poor" to "excellent."
Click here to see where your street lands on the PCI.
The following list shows the 10 streets with the worst PCI scores:

But just because a street is in poor condition, doesn't mean it's top on the list for repairs, said Craig Beck, director of public works, noting that these 10 streets aren't the only ones in critical need.
When prioritizing its streets, the city considers a number of factors including daily traffic flow and available budget, he said.
Long Beach since 2017 has used funds from Measure A, the voter-based sales tax, for a slurry sealing process to preserve its good quality streets. Beck said this plan is more cost effective because it prevents good streets from deteriorating into fair or poor condition, which can cost more in the long run.
However, it's not easy to explain to residents why they might have to wait longer for the city to fix their poor quality street, he added.
"It's certainly a tough conversation, but the way I see it is that I'm able to get those (good quality) streets done for a minimum investment compared to what I would need to start addressing the other streets," he said. "If we let our good streets fall into disrepair, we would never catch up."
Beck said the city is nearly finished with its planned 35 miles of slurry seal and can now begin to address lower quality roads.
Next year, he plans to provide an updated Pavement Management Plan to address street repairs based off the latest pavement score.
Overall, Long Beach in 2017 had a "fair" PCI score of 62, ranking it lower than the state's PCI score of 65 and tying it with the city of Los Angeles. Los Angeles County had a score of 67 while Orange County scored 79.
Beck said the city would need to invest about $500 million over the next decade to raise its average PCI to 80. The city has so far budgeted about $30 million a year in street repairs through Measure A and other funding, he said.
"We've been doing a lot of work so we expect a higher (PCI) score next year," he said.
Beck noted that under the "Complete Streets" improvement plan, the city doesn't just lay down cement when addressing a street, its does a complete overall with any other needs including repairs for piping, street lamps, curbs, gutters and more. The process takes longer, but it has more of an impact, he said.
"The goal is when we're done with that street segment, we shouldn't have to come back for the next 25 years," he said.
The streets listed on the "top 10" are currently not in the city's repair plan because of their high cost, but that could change with additional revenue, said Mungo, whose 5th council district includes Conant Street.
Mungo said Conant Street, with its $3.3 million repair cost, has long been sore spot in her district.
"The condition is just terrible," she said. "And residents think it's never gonna get fixed."
Mungo said the list of worst streets can hopefully sway voters to approve a Measure A sales tax extension in March. Measure A, passed by voters in 2016, raised the city's sales tax by one cent. It's expected to generate nearly half a billion dollars over 10 years.
The measure was meant to sunset in 2022, but on the March ballot next year the city will ask voters to permanently extend the sales tax to continue funding critical needs like public safety and infrastructure.
Mungo said she plans to make the worst streets her priority if the extension passes.
"I would like the 10 worst streets to be the first thing funded by the Measure A extension," she said.
While some residents may balk at the idea of a permanent tax increase to fix their streets, Mungo noted that even without the tax extension, the city's sales tax would likely remain at the state cap of 10.25% due to other proposed county ballot measures that could raise sales tax and funnel the money outside of the city.
Mungo said the sales tax revenue should stay in Long Beach so it can be used to fix streets.
"I'm not a council person who likes to increase taxes, but before I was elected all of these things were left in shambles," she said. "Without the available funding, these streets will not get paved in my lifetime and that's just not acceptable. These are basic things that the city should provide."
The city also plans to begin investing in alley improvements with Measure A funds this year. Here's a list of the council districts with alleys that need the most improvement: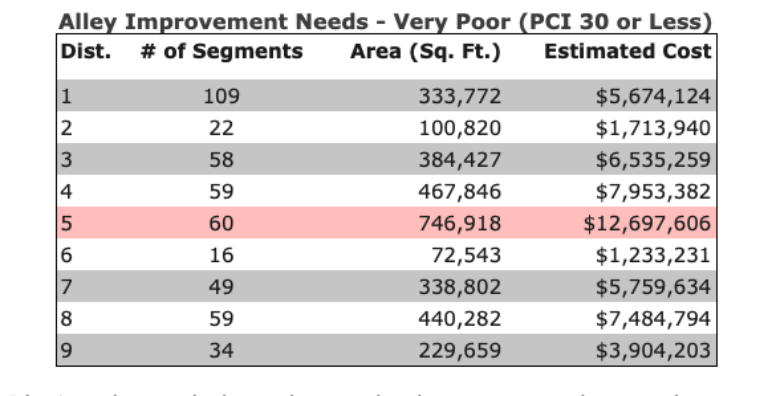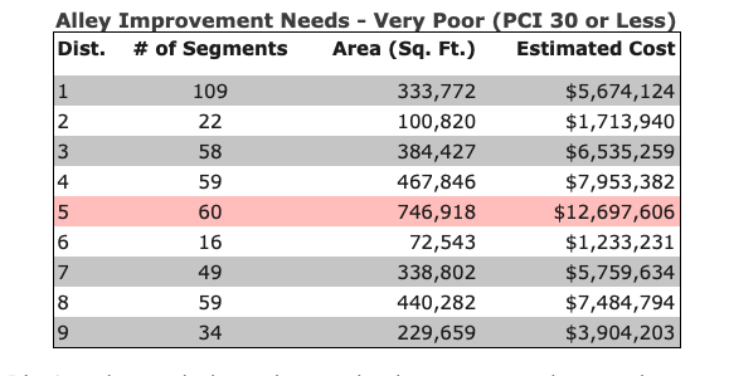 Support our journalism.
Hyperlocal news is an essential force in our democracy, but it costs money to keep an organization like this one alive, and we can't rely on advertiser support alone. That's why we're asking readers like you to support our independent, fact-based journalism. We know you like it—that's why you're here. Help us keep hyperlocal news alive in Long Beach.