The Scratching Post is a weekly newsletter from pets columnist Kate Karp, bringing you all the latest news on pet adoptions, animal welfare and ways to get involved.
---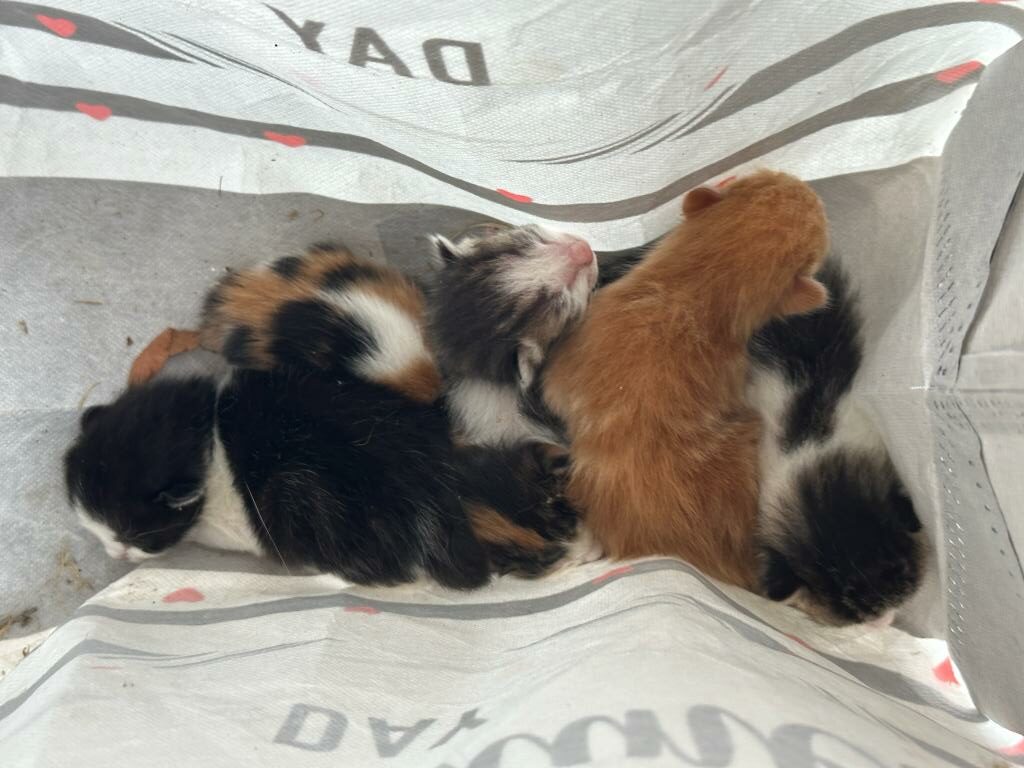 Last Friday's Scratching Post newsletter talked about dog fostering, specifically Long Beach Animal Care Services' Foster the 4th. Diana Bell, the shelter's dog foster coordinator, said that 22 dogs went to homes after Foster the 4th kicked off, with 32 in foster altogether.
"We currently have open kennels, so it really was a success!" Bell said.
Giving an adult pet or a weaned young one a shelter break and a taste of home requires an adjustment period and following firm guidelines, but compared with bottle-feeding a litter of newborn kittens, it's a walk in the park—literally, of course, since you might be otherwise fostering a dog. This week, we'll talk about fostering newborn kittens, which has its own set of rules, guidelines, needs and constraints.
Newborn kittens are delicate and frail. They must always be kept warm and be continuously monitored for signs of illness in their eyes, pee and poop. They need to be fed every few hours for the first three weeks of their life, meaning that you need to set an alarm and drag yourself out of the sack, mix formula, warm it up, lay the little tyke belly down and comfy on your lap, give them their bottle, and stimulate them to go to the bathroom. Then, repeat for however many kittens are in the litter.
"Sometimes, people sign up to take a litter, and then don't," said Tabare Depaep, the shelter's adoption coordinator. "I walk them through, and I get, 'Oh my God, I've always wanted to help, but I can't!' They don't realize that they have to do so much so often. It's not in everyone's wheelhouse."
But many do take litters, and Depaep's doula persona and supportive nature give them the confidence to stick it out and start up life for creatures who'd otherwise die without them.
"They find it super-rewarding," Depaep said. "I find that people who sign up to do it recognize the gravity of the situation and that they are now responsible. They do not take on the responsibility lightly—they ask a lot of questions."
Depaep answers all the questions and provides everything a foster needs to grow healthy cats: food in bulk, toys, medical supplies, vet appointments. She emails each foster a manual that gives an overview of necessities, common ailments and their warning signs, and weekly growth benchmarks, and demonstrates bottle feeding with a real, life kitty. (If you want a preview of bottle feeding, the Kitten Lady website has excellent videos.)
Depaep is also there to ease heartbreak. Kittens born outdoors can have any number of ailments, from ringworm, which is treatable, to diseases resulting from an infected mother or a weak immune system, which can kill them despite every effort. Getting fosters to understand that they're not at fault is one of Depaep's gifts.
The foster may want to keep the kittens longer than the required six weeks to try to find adopters themselves and they might, not surprisingly, adopt one or two.
And during those six weeks, it suddenly hits the fosters that the tiny fluffballs with flat ears have become playful kittens with personalities of their own. That cements it for them—they think, "I did this!" As soon as the kittens go to adoption, they realize they know what to do and ask for another litter.
"There's nothing like taking a scared, cold, flea-ridden kitten, putting them in an incubator, feeding them, and then the next time you pick them up, they purr," Depaep said. "You think, I fixed you, and you're going to make a great pet!"
During our interview, one such kitten was sorting through papers on Depaep's desk.
"She came in completely dehydrated and nearly dead," Depaep said. "Our team rehydrated her and completely healed her."
On cue, the kitten cheerfully passed water.
Donate to the shelter's wish list here. Depaep said that the kitten program needs Calmeroos beating-heart simulators for the cuddle toys and Snuggle-Safe microwave heaters to keep the kittens warm. Again, sign up here if you want to foster a newborn litter or any pet.
Pets to adopt or foster
When we hear the name Uma (ID##698139), we think of Uma Thurman, who starred in some thrilling, kicky movies like "Kill Bill". But this adorable Uma is star in herself. She's a petite domestic shorthair, black with white markings and paws and solid-gold eyes. She's 1 year old and 6 pounds, and poses just right for the camera. She's a little spicy but should do well with patient humans.

Beautiful Pharaoh (ID#A699241) has just enjoyed a snack. He's solid black with green eyes, is 3 years old, weighs 10 pounds, and is tall and slender. He came to the Long Beach shelter from the Carson one, so he has a mysterious background (sounds ancient Egyptian, right?). Pharaoh has a cute, flipped-down left ear and is sweet as can be. This darling boy needed some teeth pulled, so he can only eat wet food. Also, he has a possible allergy/atopy problem and stomatitis, which can be managed with proper care. LBACS is willing to foster or adopt Pharaoh to a loving home. To adopt or foster either cat, please call 562-570-7387.
Sherby lives with a Cat Cove foster. She's an adorable, sweet, 8-month-old sherbet-color little girl! She's playful, active and does well with other cats—she hasn't been around dogs, though. To adopt Sherby or any of her foster mates, complete this application.
Anya is in a Little Lion foster home. She's a petite, one-eyed kitty who'll provide you with endless entertainment and cuddles and forever favor you with a wink. You can find her playing with her favorite soy-sauce-container-shaped toy or napping on top of the cat tree. Her purr is so loud that you can hear her coming to give you love! Is Anya your next cuddle buddy? If so, fill out the application on this page. Check out her foster buddies as well.
Pet events
2nd annual Long Beach Summer Adoption and Craft Fair: Saturday, July 8, 10 a.m.—4 p.m., Marina Green Park, 386 E. Shoreline Drive, Long Beach. Free to attend, adoption fees apply
Practically every rescue within the reach of Long Beach will be at this great event! There will be fun and frolicking—The Blockhead Brigade will lead processions of pit bulls, Helen Sanders CatPAWS will present its new spay/neuter trailer, and your own doggie is invited to walk the catwalk in a swimsuit! More info here.
Wiener Nationals: Saturday, July 15, gates open 4:30 p.m.; races begin 6:30 p.m., Los Alamitos Race Course, 4961 Katella Ave., $3 admission, free to people 17 years and younger
Before you get your fur up, this isn't about tiny robot jockeys yelling "Git along, little long doggies." Instead, it's a zany event where humans living with these adorable, comical little critters see if the doggies can pass mustard—er, muster, and relish a race that, to be frank, isn't always a race. But winners emerge, great prizes are given, fun's always had, and the biggest prize-wiener of all is the Seal Beach Animal Care Center, where all the funds raised will go to help the pets there.
Cat Lady Drag Bingo: Saturday July 22, 6 p.m.–9 p.m., Ficklewood Ciderworks, 720 E. Broadway, Long Beach, $20 admission
What could be more deliciously outrageous than combining cat ladies (and gents) with drag queens? Join The Little Lion Foundation for an evening of screaming out letters and numbers and screaming in general during bingo. Fabulous drag host Meow—er, Mia Anastasia Farrow will call out the numbers and will keep the energy high all night long. All money from ticket sales will support local cat rescue and animal welfare.
To see a list of local animal rescue groups, click here.