After 44 years of blue skies, the early forecast for Sunday's 45th annual Acura Grand Prix of Long Beach threatened rain. By the time the weekend arrived, however, any fears about weather had burned away with the marine layer and once again the sun smiled on the city's biggest event.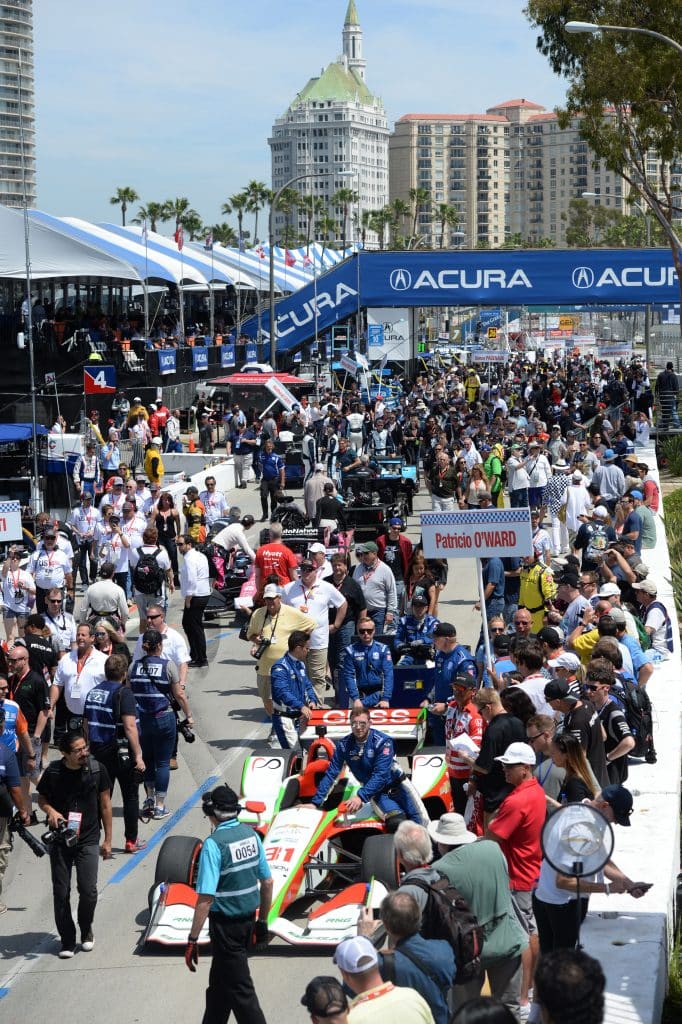 That sunshine fell favorably on California native Alexander Rossi, who had  a perfect weekend and became the first repeat champion at the Grand Prix since since Sébastien Bourdais won the final three Champ Car races here from 2005 to 2007.  Rossi's margin of victory, 20.23 seconds, was the largest margin of victory in Long Beach since Al Unser Jr.'s 23-second win in 1995. Rossi was the fastest qualifier Saturday and was happy to have pole position going into Sunday.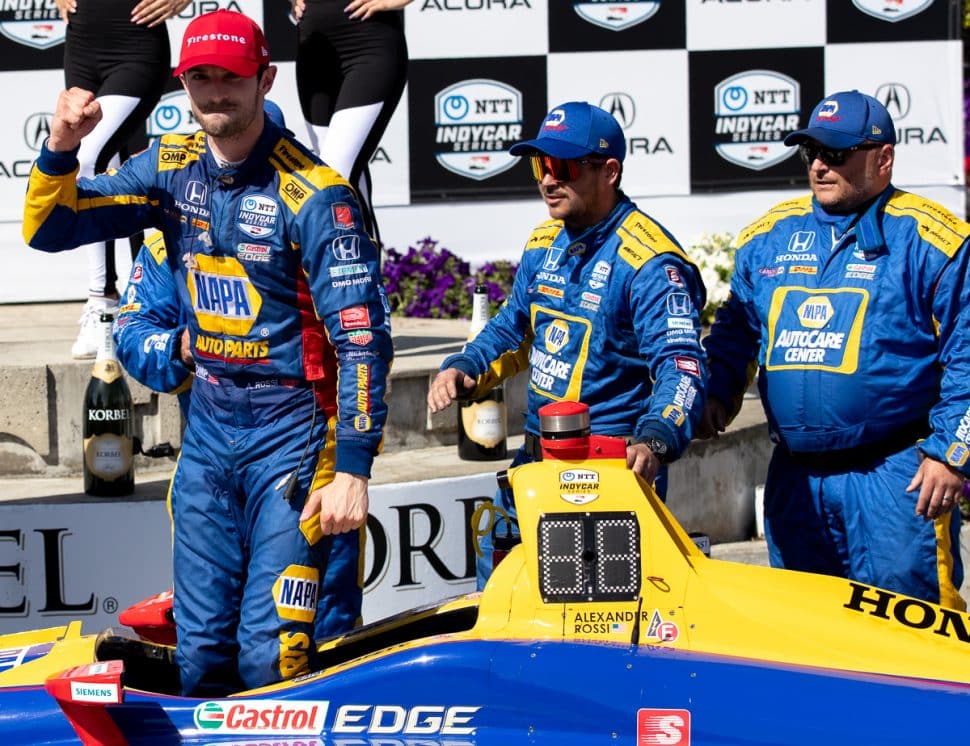 "It allows you to be in front, hopefully leaving Turn 1 and run your own race," he said of his wire-to-wire win. "You just have to stay in the zone and stay focused. It's rare, but you cherish these days where you can go out there and have a lapping session. They're hard to come by. I loved today but I definitely won't get used to it."
Rossi may be getting used to Winner's Circle in Long Beach, where he made history on Sunday, becoming the eighth multiple champion in Long Beach history, and just the sixth to win consecutive races.
Behind him was Josef Newgarden, who ran a near perfect race himself but was never a serious threat to Rossi.
"We didn't have anything for him today," said Newgarden.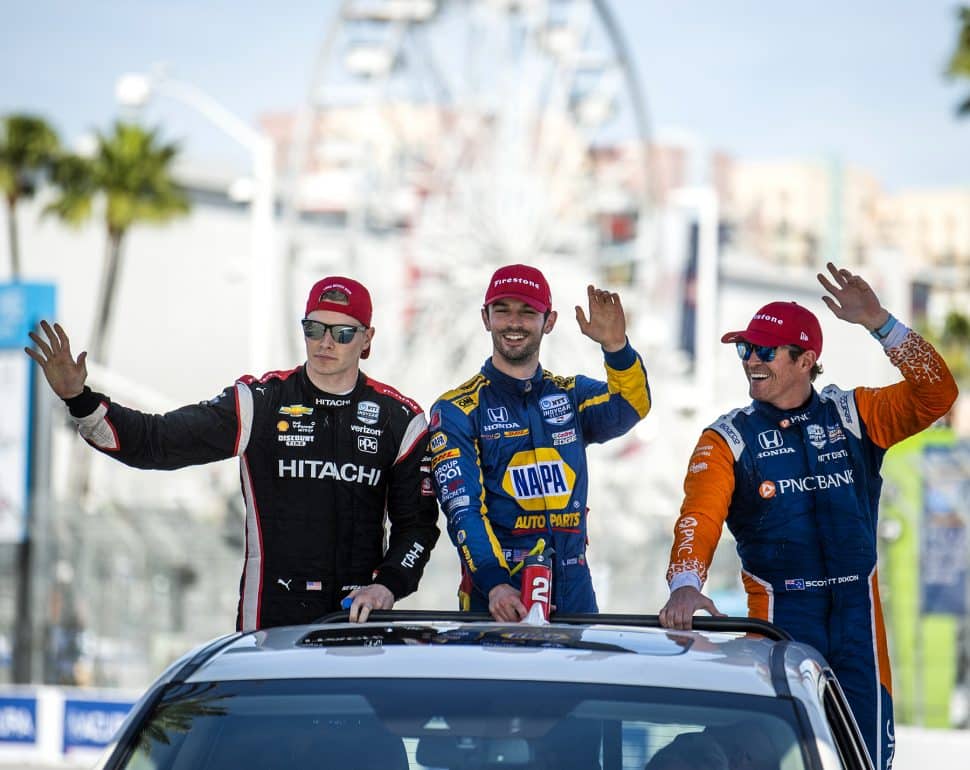 There was very little drama on Sunday, with only one full-course caution as three drivers in the back rolled up onto the vegetation around the dolphin fountain at turn two in front of the Aquarium of the Pacific in the early going. There should still be plenty of time for them to fix up the plants outside before the opening of the Aquarium's new wing, Pacific Visions, on May 24.
The most exciting moment of racing happened between third-place contenders Graham Rahal and Scott Dixon, who were battling for the podium's final spot on the back end of the final lap when Rahal moved in front of Dixon, successfully keeping him from passing. On video review, he was called for an illegal block, and Dixon was awarded third place.
The television broadcasters and the racing writers in the media room agreed that, in slow motion, it appeared that Rahal made his move before Dixon, which would make it a legal block, meaning that he should have been allowed to remain in third place. "I saw it first-hand," said Dixon when asked if he'd seen the video. "You're not meant to react and that's exactly what he did. It is what it is, we're going to be OK with it, they're not going to be happy with it."
The racing went so smoothly for Rossi that some were complaining about it. With only one minor contact at the Aquarium fountain, there weren't enough restarts to knock him off his 167-mile victory parade. Dixon referred to the Long Beach course as "bland" because it doesn't allow for enough passing, while Newgarden called it a "straightforward" race.
Michael Andretti of Andretti Autosports, the team Rossi drives for, laughed off the idea. "It may not have been the most exciting race, but I can tell you Alex loved that boring race, and he drove well all weekend," he said. "He's a great, pure racer, and I hope he can be here for many, many years."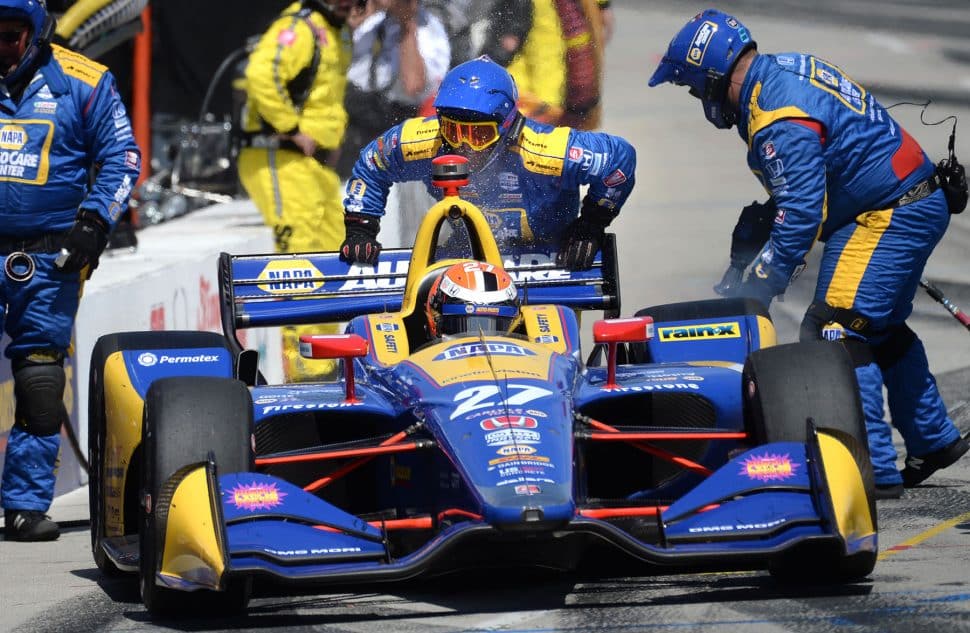 Andretti won the race himself in 1986 and 2002, and he and his father Mario (a four-time winner in Long Beach) are among the most beloved figures in the race's history. That was part of why Andretti said he was glad that Rossi gave Andretti Autosports its 200th IndyCar win this weekend.
"It's special for all of us to do it at Long Beach," he said.
The drama-free nature of the race didn't necessarily extend to the massive law enforcement presence on hand. Police had to deal with a suspicious device report at the Promenade as the IndyCar race was drawing to a close Sunday.
While it ended up not being a threat, portions of Downtown Long Beach were shut down temporarily to traffic, highlighting why Long Beach Police Department Chief Robert Luna said before the race that this is the most stressful weekend of the year for his crew.
"There's a lot of people and a lot of moving pieces for us, it can be a bit like herding cats," he said on the track after accompanying Mayor Robert Garcia to the festivities' opening. With six-figure attendance a yearly guarantee, it's the city's largest gathering and, as such, its largest security undertaking as well. "Especially in today's climate, you just want to be sure," said Luna.
The final attendance numbers won't be available until Monday, but Grand Prix Association of Long Beach president and CEO Jim Michaelian said preliminary indications were that the attendance would be up about 1% from last year.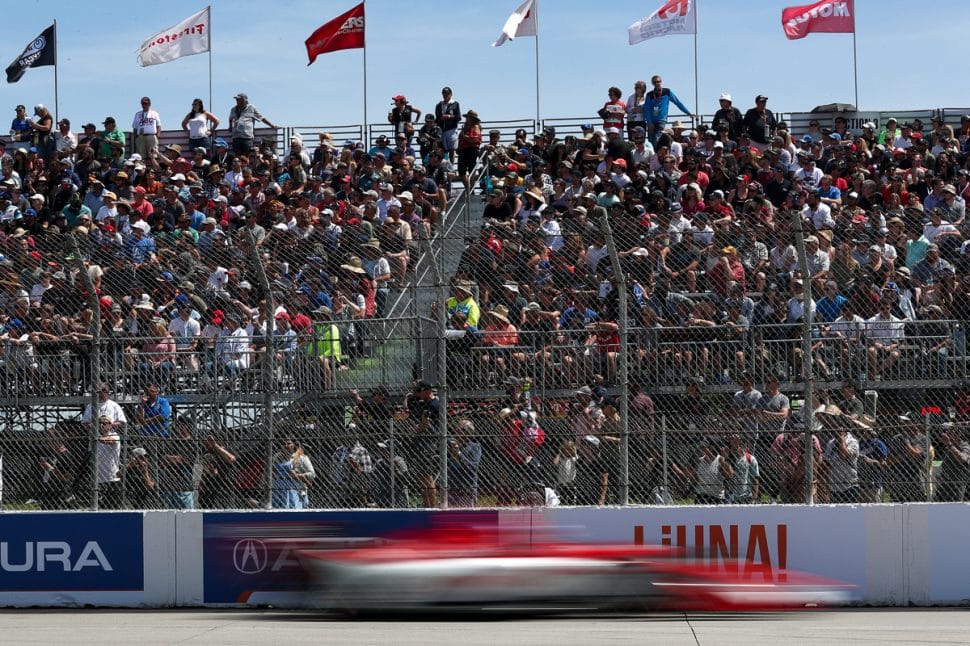 "Awaiting the final audit, it appears that this year's event exceeded last year's total of 185,300, which should put the total for this year's event at about 187,000," said Michaelian in a statement.
Rossi laughed off the idea that with his big lead he'd have time to look around and soak in the atmosphere, but he said not every driver shared that philosophy.
"Joseph said to Scott and me, 'I was looking around during the race and nobody left, it looked like they enjoyed it,'" said Rossi. "I wasn't spectating on the spectators. On our victory lap we do in the trucks it was amazing to see the kind of crowd reaction and fan turnout, though."