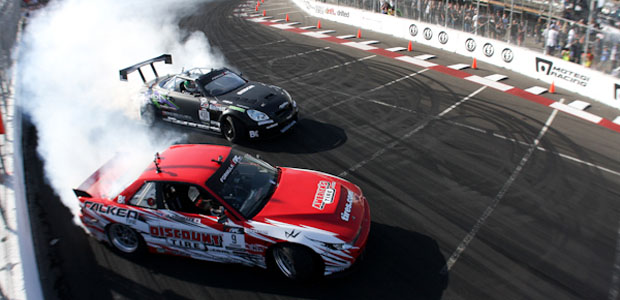 That familiar roar you heard, Tuesday, were drivers getting in some practice laps for their portion of the Acura Grand Prix of Long Beach. Formula drift racers smoked the course in preparation of the Motegi Racing Super Drift Challenge which takes place Friday, April 5, and Saturday, April 6.
This marks the 13th straight year that drifting is part of the Grand Prix and in that time it has become a fan favorite, combining not only speed but a level of car awareness and precision normally only seen when parallel parking in Belmont Shore.
Take a look at this practice round in real speed and then slow motion to appreciate the level of driver skill.  After that, check out the official pace cars getting familiar with the course.
For tickets to the Motegi Racing Super Drift Challenge, click here.
Free news isn't cheap.
We believe that everyone should have access to important local news, for free.
However, it costs money to keep a local news organization like this one—independently owned and operated here in Long Beach, without the backing of any national corporation—alive.
If independent local news is important to you, please consider supporting us with a monthly or one-time contribution. Read more.