If you ask her current clients, Liz Parr is as much a strong role model as she is a tough boxing coach. One of the most accomplished female amateur boxers of all time, Parr's focus on training others and running Guv'nors Boxing Club is taking her places that even the U.S. National Team couldn't: into the hearts and families of the soccer moms, businesspeople, and Fortnite-loving kids that she cheers, scolds and whips into shape on a regular basis.
"Liz is everything I want my daughter to be," said Krista Wilder, who originally met Parr about five years ago when she brought her son into train under her, eventually joining the gym herself. "She's fierce, strong, independent, dedicated, passionate, ambitious, and loyal. She's a role model to my kids and myself. She's taught us if we really want something, we go after it. Don't wait around for someone else to make something happen for you. You do it for yourself; no excuses."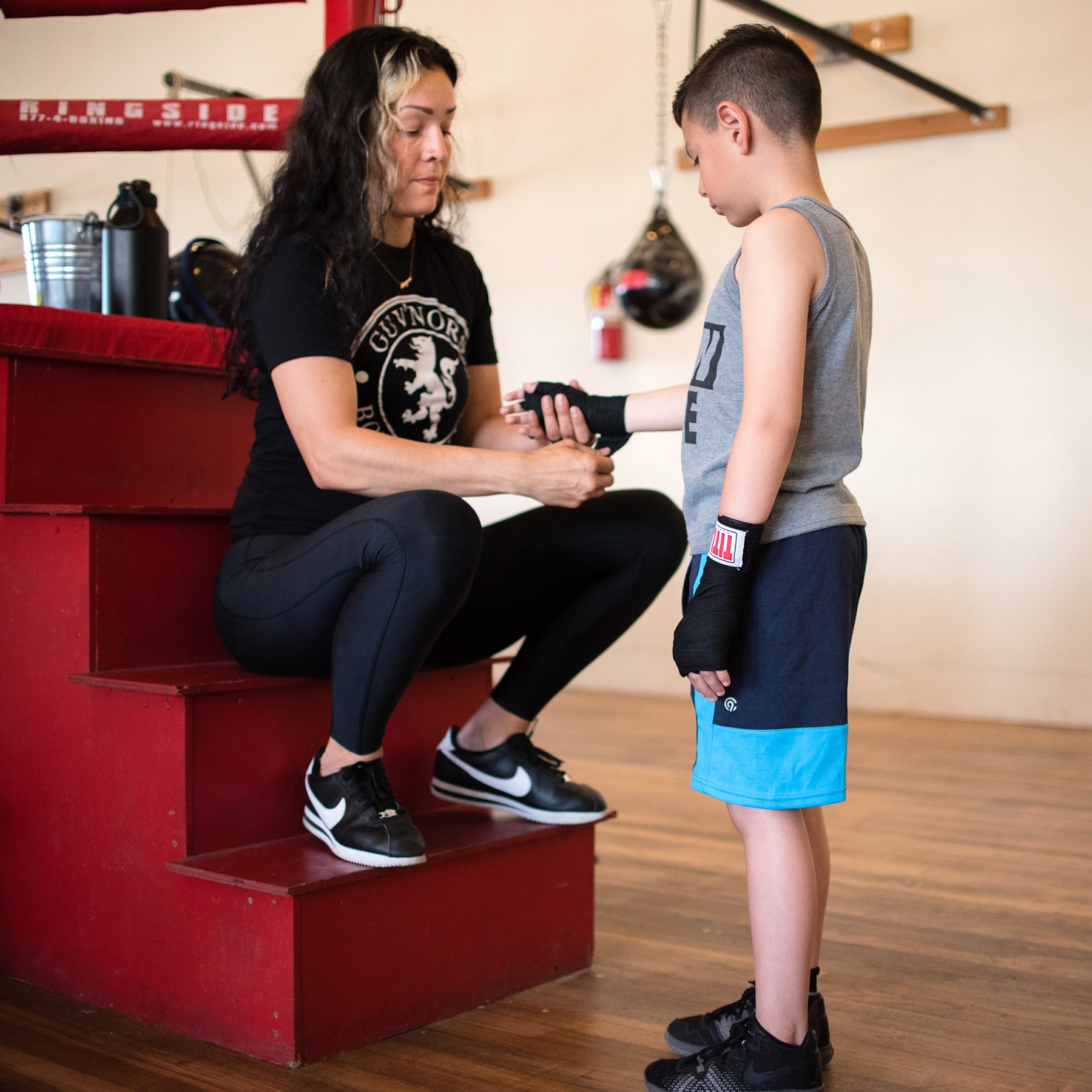 As is the case for so many of Parr's longtime clients, Wilder's admiration for her coach stretches beyond the gym. What started as an appreciation for the level of discipline and determination Parr showed while training her son became a family-wide motivation to be better people and fight harder in daily life.
"I think the thing that makes Guv'nors Boxing Club different than other gyms is the sense of family she has created among the members," Wilder said. "We look after each other, notice when someone has missed a class or two, and we're always checking in. I was recently injured and another member showed up with an arm brace and directions explaining how to properly heal. I was blown away at the kindness I received from someone I hardly knew. But that's just it: the moment you set foot through those doors, you're family."
Along with the soccer moms, 9-to-5ers, and other boxing hobbyists who make up the bulk of her clients, one of Parr's biggest focuses is her youth program. The product of effectively growing up inside of boxing gyms, the former fighter knows what kinds of values and discipline her chosen sport can offer kids of all shapes and sizes, and now it's her turn to pass those benefits on to the next generation. Regardless of whether they want to become serious about boxing, are dealing with a disability or just need to exercise on a regular basis, teaching children has become a point of passion for Parr.
"I love fighting, and I think that passion for fighting is a fire that burns so bright inside of me that I just needed to pass it on to the next generation," Parr said. "It turns out that people think I'm really good at teaching and I have a lot of patience, and I love teaching the kids. It's a really good way for somebody my age to connect with somebody their age because it's the same thing—it's getting punched in the face. I love seeing that little spark where they realize they really love it because it's like 'Me too!'"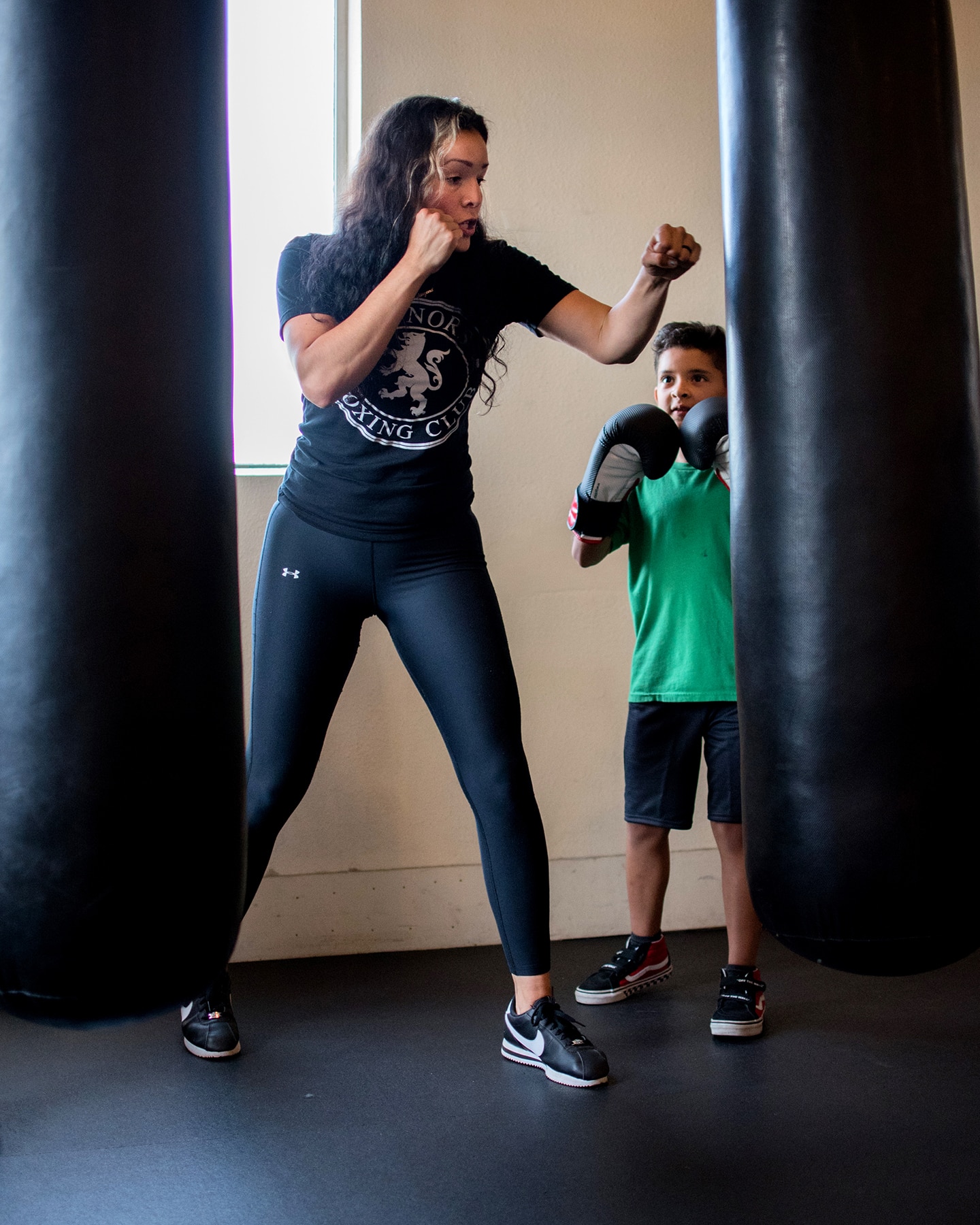 Long before she was running her own business and teaching the general public how to throw a punch, Parr was the teenage daughter of hard-working immigrants growing up in South Gate. Then Elizabeth Quevedo, Parr not only beat the odds but, beginning in 2003,  destroyed virtually every opponent in her path while a member of the U.S. National Team. The fiery fighter brought with her a swift, dangerous style of punching not often seen in the point-based, amateur boxing world as well as an unrelenting, unforgiving attitude that came with growing up just south of L.A. in the '90s.
But had her father not strictly forbidden her from continuing to be the only girl to train with the high school wrestling team, there's a good chance Parr never would have discovered her true calling. Her training at a boxing gym in the City of Commerce, located near where her dad worked and played handball, began as a compromise between her and her father. Boxing fit Parr's desire to find a sport where she could "beat people up" while also allowing her father to keep her away from a wrestling room full of sweaty high school boys.
Over the next few years, Parr's life became entirely focused around school and boxing—the former so she could continue to participate in the latter—with early morning runs and evening training sessions bookending classes. Eventually, that dedication led Parr to a young adulthood in which she traveled the world fighting with the U.S. National Team.
"I'd never traveled anywhere by myself growing up, so those first couple of trips were the biggest culture shocks I've ever had," she said. "I remember when we were in Russia, the food was so bad. I'm not saying all Russian food is bad, but we were just there traveling, so they're not going to give us their best. One of the girls asked for chicken, and everybody looked at her like they wanted to kill her because it was winter, so they didn't really have chicken. But we were only like 18 or 19 and we didn't know any better.
"Then we went to Norway, India, Argentina, just all over the place, and I loved all of it," Parr continued. "It felt powerful to invest yourself in something so fully as a young person and be conscious that if you put yourself fully into something, you can get something awesome in return. I was like 'I get to fight people and travel for free?' I was laughing at people like 'This is so great, you adults are dumb for even letting me do this!'"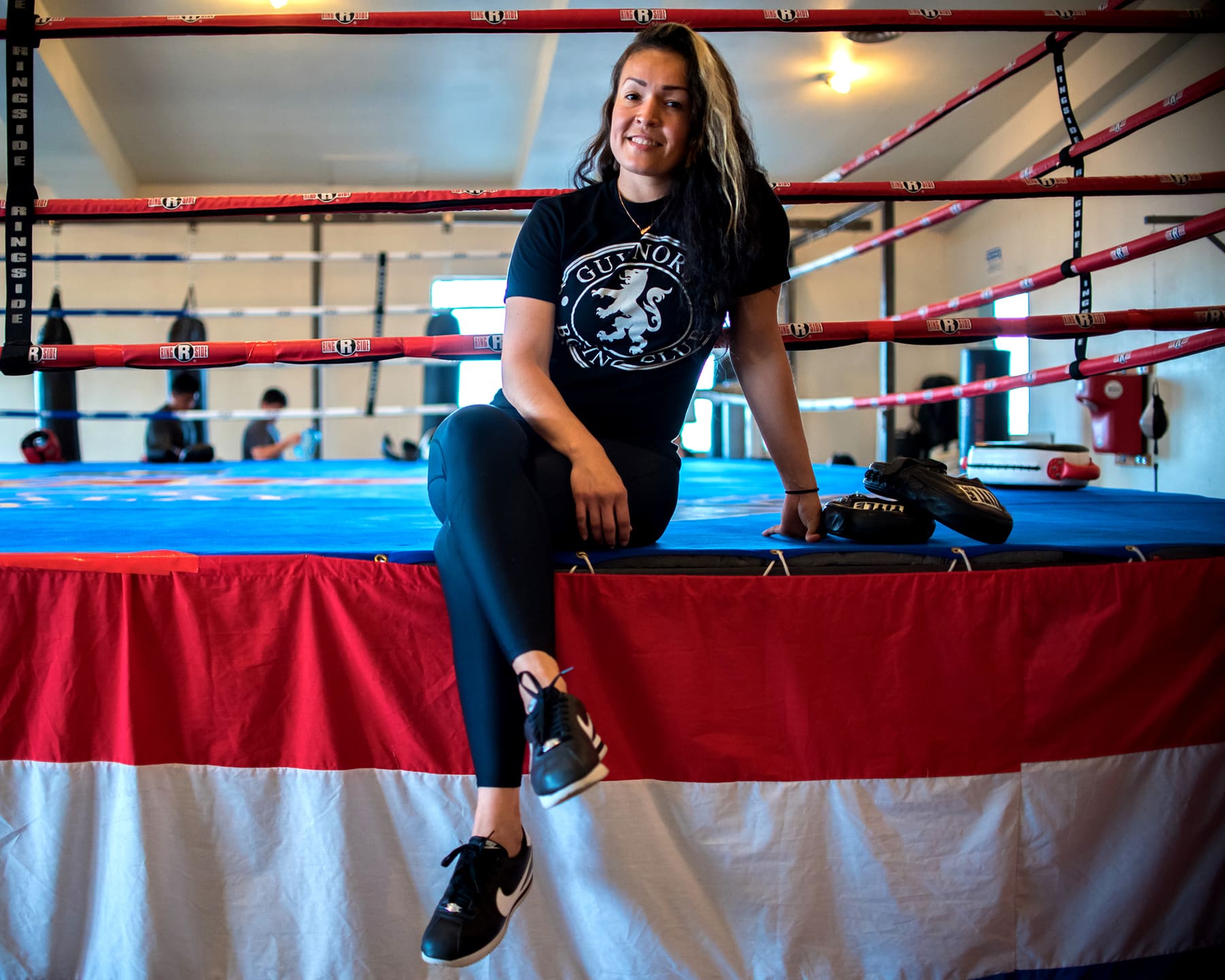 After spending over four years as the top-ranked female amateur boxer in the world,  a fact that strongly suggests she would likely have stood on an Olympic podium had women's boxing been added to the 2008 Olympics, and taking a brief, undefeated foray into the pro circuit, Parr realized that the internal flame that had fueled her fighting career, suddenly burned brighter in a different field: coaching.
Following coaching stints at boxing gyms all over the country, Parr ended up in Long Beach, most notably teaching classes and private lessons at Long Beach United. But, in May of last year, the 12-year veteran trainer decided to pursue her latest dream when she opened Guv'nors on Anaheim Street.
For anyone requiring a luxurious fitness center where instructors pamper clients, Guv'nors, and Parr, probably wouldn't be the right fit. An old school, no-frills boxing gym, the nondescript front door and uninviting staircase leading up to the lobby offer a fitting preview of what's to come. Much like the woman who owns it, the sprawling facility is all about function over fashion. Each of the training rooms offers just about everything a boxer at any level would need to partake in a top-notch workout; just don't look for any lush steam rooms or tanning beds.
"I always wanted my own gym, and I've always hated having a boss—although nobody bosses me around," Parr said. "I had to take this space as-is, and as soon as we opened the door there were used needles and condoms and trash everywhere. But I knew I could do all the work to make it what I wanted it to be: a real boxing gym. It's not UFC. It's not commercial or anything related to a commercial gym. You have to want to come and work out, and everybody who comes here is really friendly—but they also all work really hard. It's a really welcoming environment, even if it's a violent one."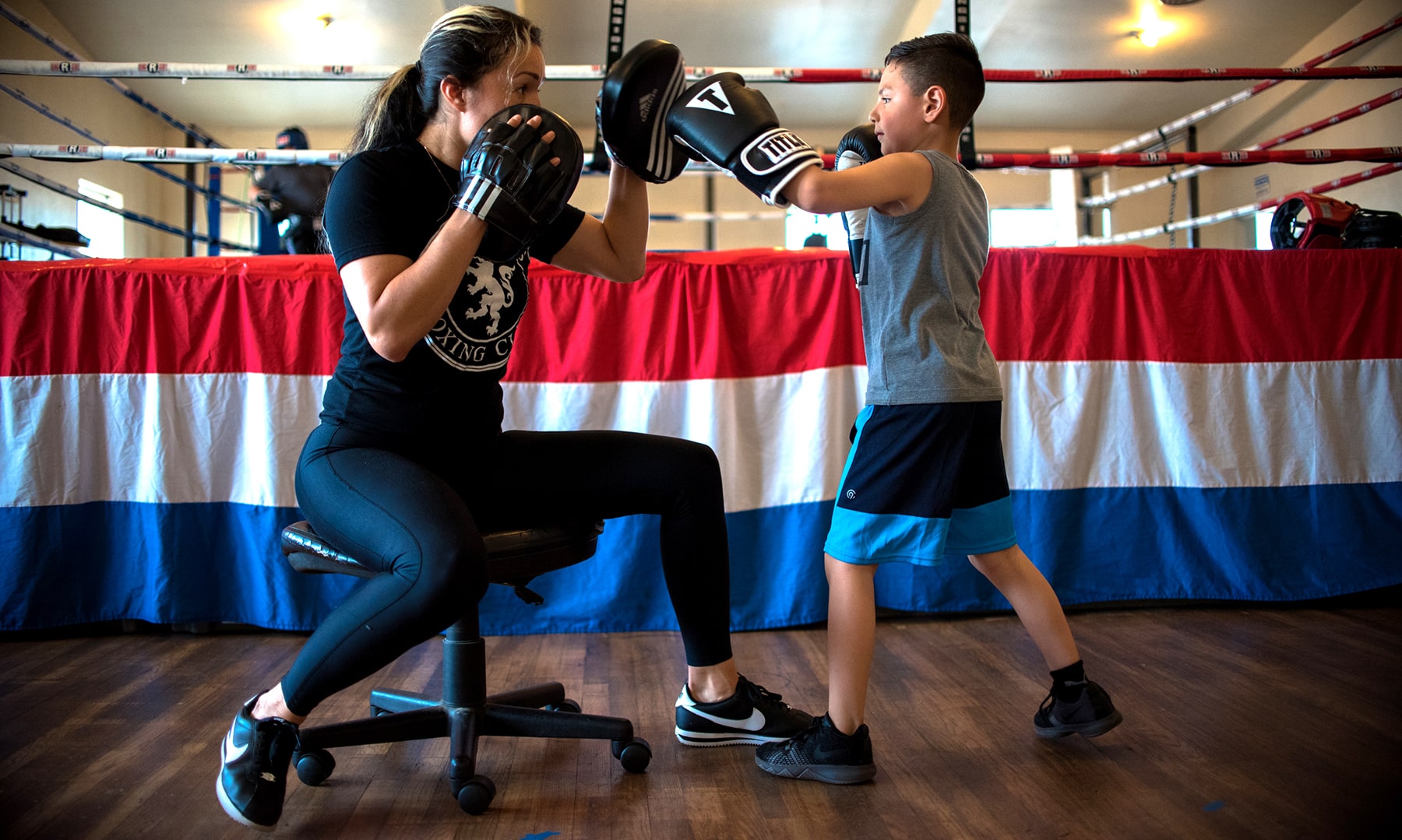 If you ask the people who train under her, welcoming and violent is a pretty accurate description of Parr as well. Her passion for boxing and knack for easily explaining her decades of knowledge clients of all levels. Although Parr doesn't shy away from showing that she can scream and curse with the best of them, the intensity of her workouts is balanced out by her warm and approachable nature.
"Right off the bat, I could tell that she really loved boxing, and I felt a sense of comfort in learning from her," said Caitlyn Marguilis, a native New Yorker who stumbled upon the boxer while she was at Long Beach United about five years ago. "I've never been able to learn from someone who knows so much about something without feeling intimidated by them. She's great at what she does because she loves it so much, and I think that's what resonated with me. I wanted someone like her to help me with everything in the fitness realm—from boxing to weightlifting—and I'm really fortunate I found her because I don't know anyone else like her."