Bluestone Lane opens at Westin, giving conventioneers an option, and free coffee, outside of Starbucks
Bluestone Lane, the cafe chain that advertises itself as the squint-inducing "Australian-life inspired" coffee shop, has officially opened at the Westin in Downtown Long Beach as part of the hotel's massive, $23-million renovation—and brings with it not just the chance for $10 worth of free stuff, but an option for conventioneers that might steer them away from the heavy dose of Starbucks offered at local hotels.
"Born in NYC with authentic Australian roots" is how Bluestone begins most of their marketing literature, but the goal is quite clear: to create a third-wave coffee brand that, unlike its independent founders and shops, can battle it out with Starbucks.
For those new to that world, the American breakdown of coffee falls into three major "waves." The first brought primarily Italian- and French-styles of coffee to our shores, introducing palates to espresso and dark roasts. This was followed by a second wave, influenced by large chains like Starbucks and Coffee Bean that not only educated the American public on European-centric coffee traditions like lattes and macchiatos, they also wildly reinterpreted them—Starbucks' popular Caramel Macchiato is not, by any stretch of tradition, a macchiato—while providing seemingly endless choices.
The third-wave is a mostly American movement that eschews dark, Euro-centric forms of roasting to focus on the more culinary aspect of the coffee bean. Besides foregoing Western roasting methods, third-wavers also leave the speediness associated with coffee—where coffee is merely a caffeine delivery service utilized before work—in favor of a more intimate exchange.
So far, third-wave coffee has remained largely local and independent—but that is quickly changing. Much like the craft beer industry, larger corporations have expressed an interest in the third-wave coffee scene: Nestlé acquired San Francisco-based Blue Bottle while Peet's Coffee acquired Portland's Stumptown and Chicago's Intelligentsia. And though Blue Bottle has seen multiple shops open, there has been nothing in the third-wave world like Bluestone.
Bluestone has been quickly expanding since the project received funding from billionaire Stephen Ross, owner of the NFL's Miami Dolphins, participated in a fundraising round that resulted in some $19.5 million in monies in order to acquire a minority stake in Bluestone. (Other investors in that same round included March Capital Partners' Jamie Montgomery, JAWS and Apax Partners.)
Since that investment in the summer of last year, Bluestone has been on an aggressive opening platform, announcing some 60 shops across the nation. Within Los Angeles, locations have already popped up in, among other placers, Venice and Santa Monica. With this being the singular option outside of Starbucks for people staying in any of the Downtown hotels, the marketing strategy could work to influence a shift toward specialty coffee nationwide.
While each shop uses Bluestone's own beans—ranging from single origin offerings to filter- or espresso-centric beans—they court the local ideology of third-wave shops by working with local vendors for pastries and other products. For example, the shop in Downtown Long Beach works with a Los Angeles-based bakery for their croissants, donuts and coffee cakes.
Hoping to bring on a following, the new shop at the Westin is offering $10 worth of free product if patrons download their app (providing the first $5) and scan a special QR code (which provides the second half of the money):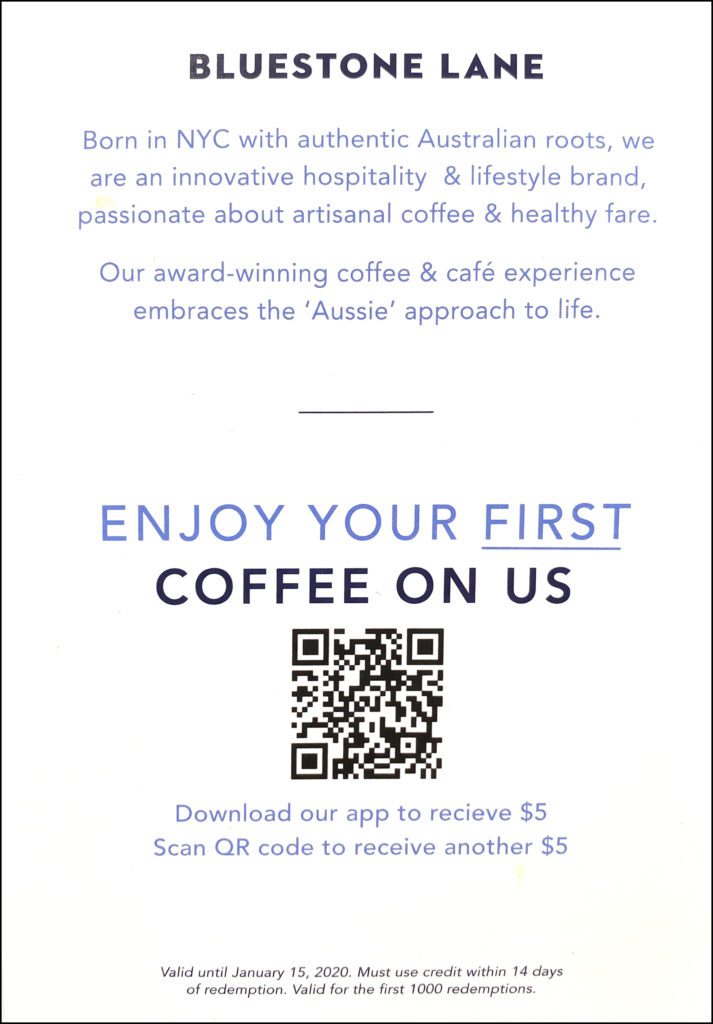 Bluestone Lane is located at 333 E. Ocean Blvd. inside the Westin hotel lobby.
Brian Addison is a columnist and editor for the Long Beach Post. Reach him at [email protected] or on social media at Facebook, Twitter, Instagram, and LinkedIn.
Support our journalism.
Hyperlocal news is an essential force in our democracy, but it costs money to keep an organization like this one alive, and we can't rely on advertiser support alone. That's why we're asking readers like you to support our independent, fact-based journalism. We know you like it—that's why you're here. Help us keep hyperlocal news alive in Long Beach.