Missed one or two of these monthly lists? Click here for the full archive of Favorite Things I'm Eating. Looking for other food listicles? Click here.
****
A few years back, I wrote an Essential Long Beach Dishes listicle. I wrote it because there's something so elemental and useful about a specific great dish at a specific place. It was less about some grander proclamation than it was about, "This is just great food."
And I wanted to return to that, but the reality of that list is that some restaurants went out of business, some ingredients aren't around, moods shift, seasons alter, food changes. Constantly. So why not just own the moment?
Without further ado, here are the favorite things I'm eating right now—and this month, I felt like going a little breakfast-centric because I've had some amazing pastries, breakfast sandwiches, and more.
And it's not like I haven't had breakfast items before—The Coffee Cup Cafe's stellar chicken chile verde I featured them back in October. And both the amazing breakfast pasta at Ellie's and the shakshuka at Ammatolí were featured in my inaugural post in the column. So here are some more awesome options.
****
Breakfast burritos at Tito's Bakery
1107 E. Fourth St., Alamitos Beach
I will never stop praising this burrito, period, because it is home to the best breakfast burrito in town. Nope, this isn't your heavy-cheese-and-egg concoction that placates the American palate preference, this is a hot-damned taqueria rolled into a tortilla for $6.
One of the few places that isn't afraid of refried beans, one gets a slather of those delicious kernels of protein (and surely lard, considering how smooth and delectable they are) paired with potatoes, eggs, onions, cilantro and your choice of chorizo, chicharrones, bacon (chopped fresh and cooked right there, so request crispy if that's your preference), shredded beef, or chicken (though the pollo is not listed).
Wrapped, tossed into a small paper bag with a grilled jalapeño and your choice of red or green salsa—get both, FYI—this is the kind of breakfast burrito that by its end will be soaked, hard to hold, and bring a sense of sadness when the last bite is consumed. But that's OK, because you can always order another if you dare—or you can just go full beached-whale status and have some pan dulce.
****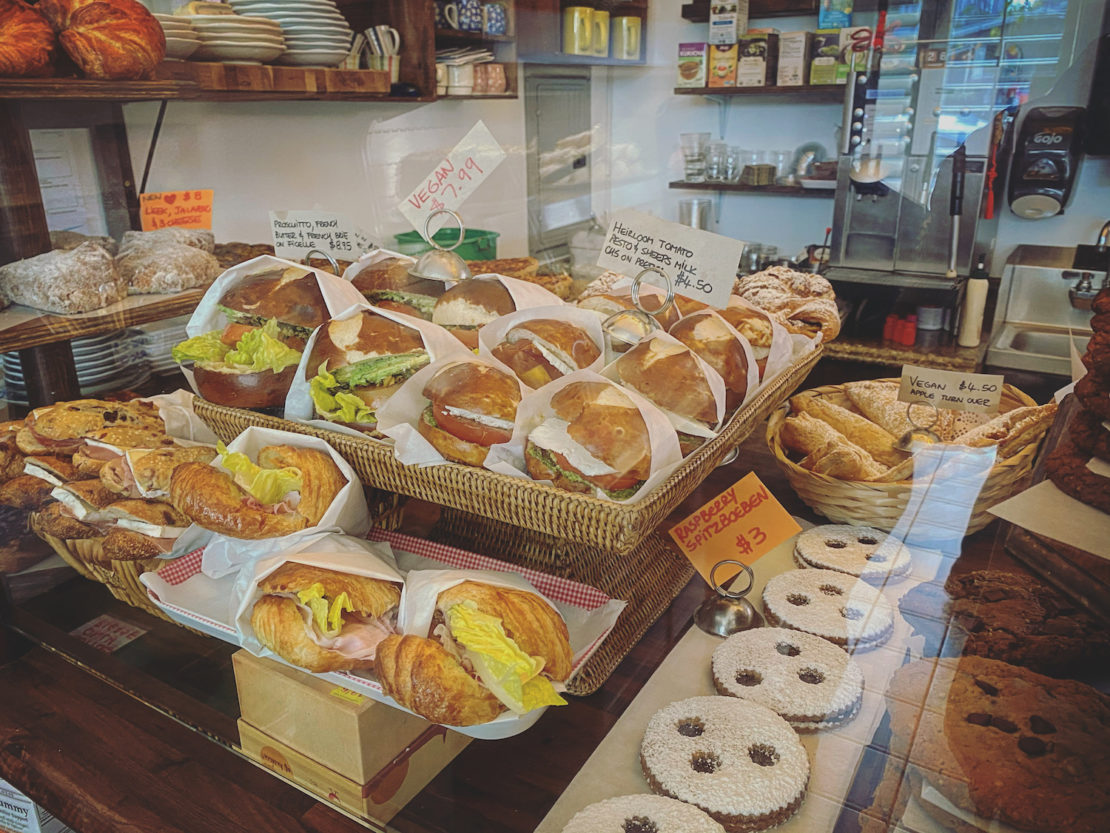 Carbs and sugar at Happy Cow Kitchen
371 Redondo Ave., Bluff Heights
Happy Cow Kitchen is trying to keep it old-school simple: no wifi, no complex menu and seemingly eschewing a hipster vibe on every level, owner and baker Claudette Pentz offers up incredible baked goods every Saturday and Sunday from 9 a.m. to 3 p.m.
You can find little wonders—her cream horns are cream cheese-y stuffed little wonders while decadent offerings like her buttery strawberry and almond croissant put most others to shame—or you can go full sit down and have a genuinely solid breakfast or lunch.
Housemade pretzel buns and brioches are stuffed with drool-worthy combinations: slices of prosciutto are paired with plum jam and brie cheese on a pretzel bun while heirloom tomatoes and pesto sit with a thick slice of sheep's milk cheese on brioche.
And then there are her quiches: open pockets of buttery crust filled with chunks of egg, cheese, bacon, and milk—arguably the city's best.
****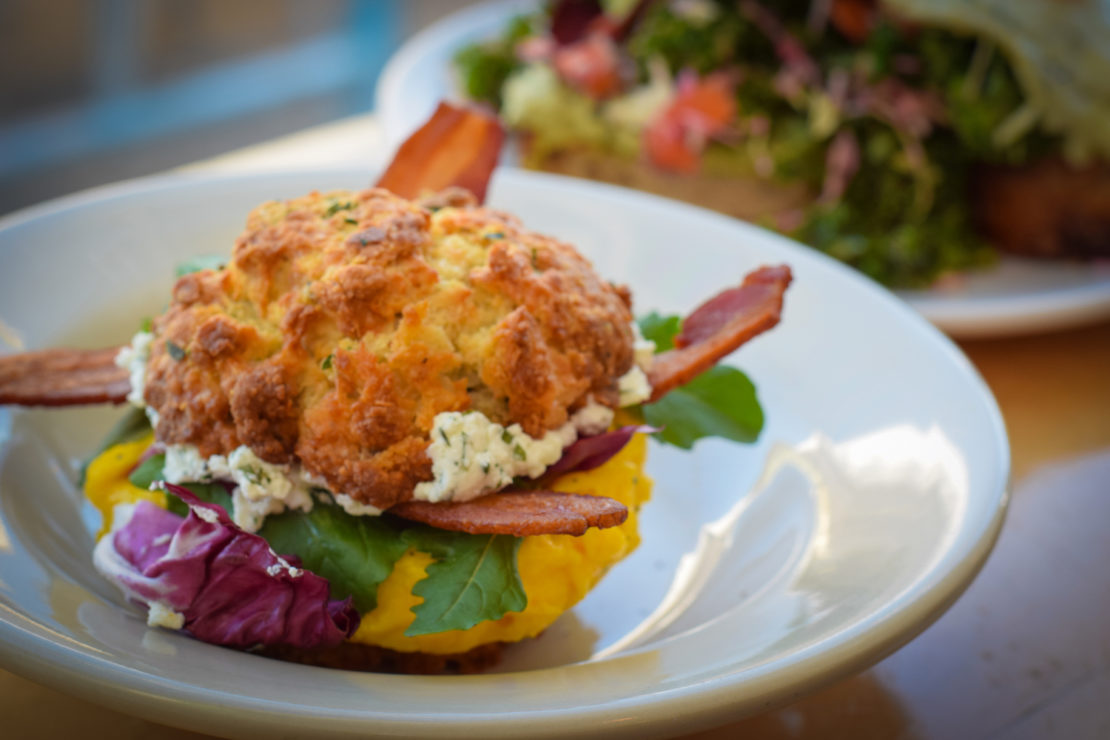 The biscuit breakfast sandwich at Wide Eyes Open Palms
416 Cherry Ave., Fourth Street Corridor
I've long said that there something special about Wide Eyes Open Palms, the cafe that has become a Retro Row staple thanks to couple/team Kat McIver and Angie Evans.
It's not only their incredibly humble origin story—beginning in the farmers markets that have both disappeared (Downtown's at the southwest corner of Third Street and Pacific Avenue) and still go strong (Alamitos Bay) only to have expanded to a full-on, brick-and-mortar—but the birth of a truly queer-centric food space that churns out consistently quality food.
And their breakfast biscuit sandwich is a prime example of how well they create morning food. A cheddar biscuit sandwich, slathered on its sides with a herbed chèvre that is paired well with a slightly bitter leaf of red radicchio, all stuffed with silky, deep-yellow scrambled eggs that, once again, makes you wonder why we ever tried to one-up the French on eggs.
****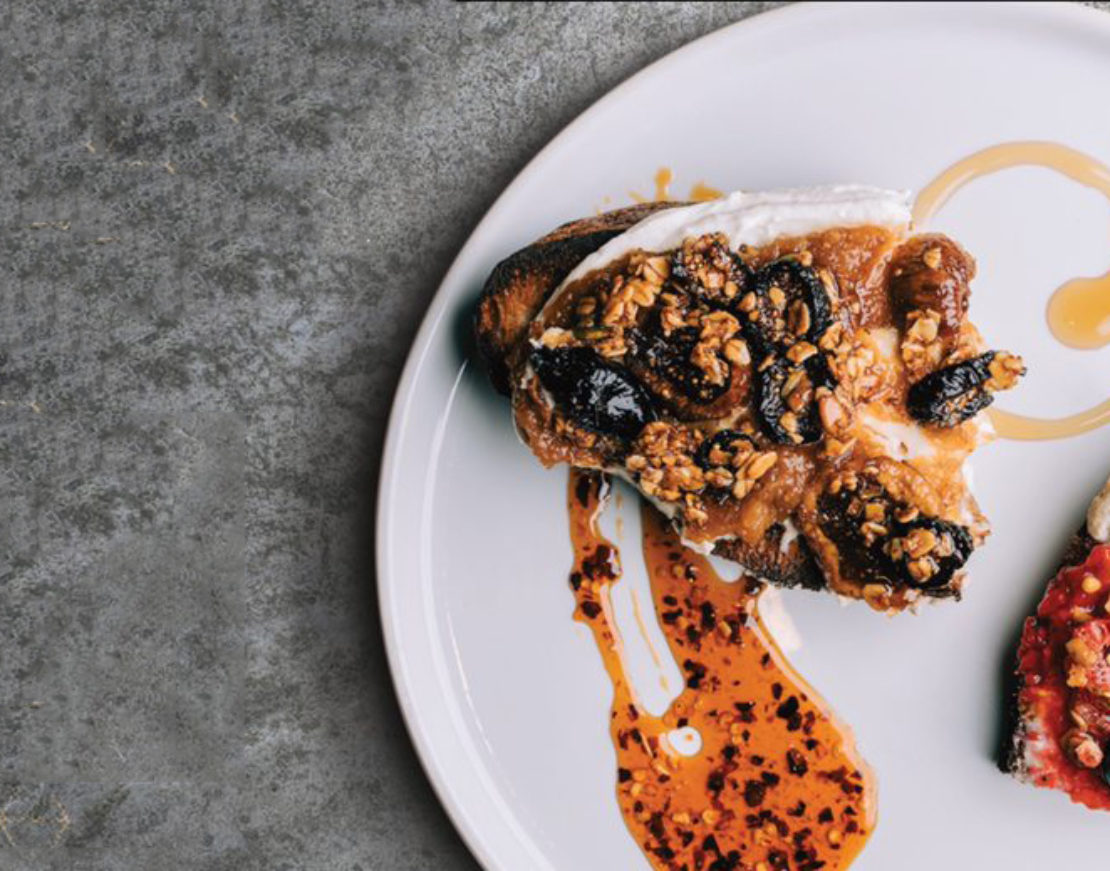 Ricotta and fig toast at the Coffee Parlor
2944 Clark Ave., East Long Beach
Situated next to golden taco-staple Baja Sonora and the mini-offshoot of L.A.'s famed Yang Chow, sits Coffee Parlor, or CoPa to its East Long Beach patrons.
The coffeeshop-meets-mini bistro is precisely what is needed for the neighborhood, one that has yet to see the specialty coffee scene that has exploded in Downtown even approach its borders. With it, they are introducing specialty coffee that focuses on medium and light roasts along with some special tricks, including a stellar caffeine-on-caffeine concoction that combines a Mexican Coke with espresso.
But perhaps the best part hidden within this little jewel is its food menu. Stellar breakfast sandwiches (and I suggest you add bacon) meet occasional specials like short rib sandwiches along with a full-on toast menu.
The avocado toast? Beautiful, but not basic. And the ricotta and fig toast? A tip-of-the-hat to the quality of ricotta toasts found at Wide Eyes Open Palms in Alamitos Beach and Republique in L.A.
****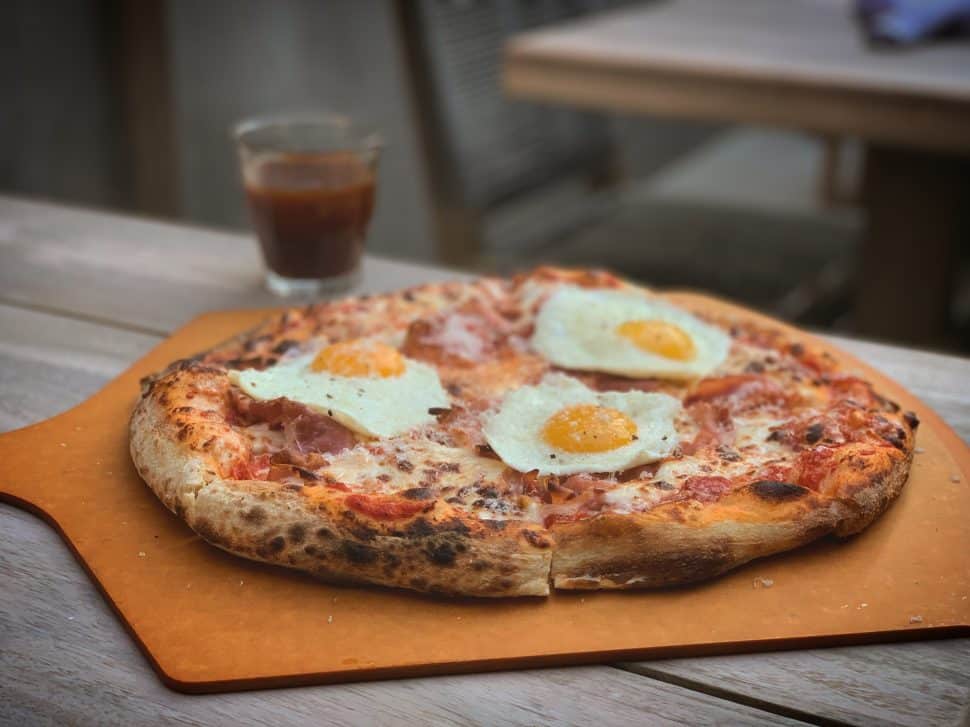 The breakfast pizza at Vibes Cafe
76 1/2 62nd Pl., Peninsula.
Vibes Cafe aims for, well, good vibes.
The space is clean and minimal, with grays and warm whites, intimate seating, and a patio that feels like a mini-bungalow with a water fountain wall that complements the serene quietness of the Peninsula. (Not to mention that the patio is the perfect place to start off your morning while sipping a long black pour.)
Fresh off celebrating its first year anniversary and given Berlin's distance all the way in Downtown, a cafe that operates more as a restaurant than a coffee shop is not only a smart move business-wise, but alleviates the lack of American bistro offerings in the city's culinary scene while connecting the rest of the city to one of its most beautiful neighborhoods.
And the food is genuinely solid—especially their breakfast pizza, layered with slices of prosciutto and cheese while being topped with eggs.
****
But, if I had to pick just one to live with for the rest of the month—just one—it would definitely be Tito's burritos like any true Californian would.
Brian Addison is a columnist and editor for the Long Beach Post. Reach him at [email protected] or on social media at Facebook, Twitter, Instagram, and LinkedIn.