Cheantay Jensen is a trusted and valued member of the Hi-lo team; a young, enthusiastic, talented woman whose writing and videos—including one for this piece—serve the greater good of Long Beach, as well as the better part of ourselves.
I hate her.
Hate, of course, is a strong word, which is why it is so appropriate as I sit here in the Allery, gazing down at the lemon and blueberry ricotta pancakes and brisket taco that I cannot eat because a young, enthusiastic, talented, sadistic woman will not allow me to eat them.
Located near Atlantic Avenue and East Burlinghall Drive, the Allery is an actual alley converted into an art space, a kind of outdoor gallery with murals and framed paintings on its walls. During non-pandemics, it gets its greatest use during Bixby Knolls' First Fridays, with people setting up tables to sell everything from paintings to jewelry to greeting cards to Hi-lo stickers—you people love stickers.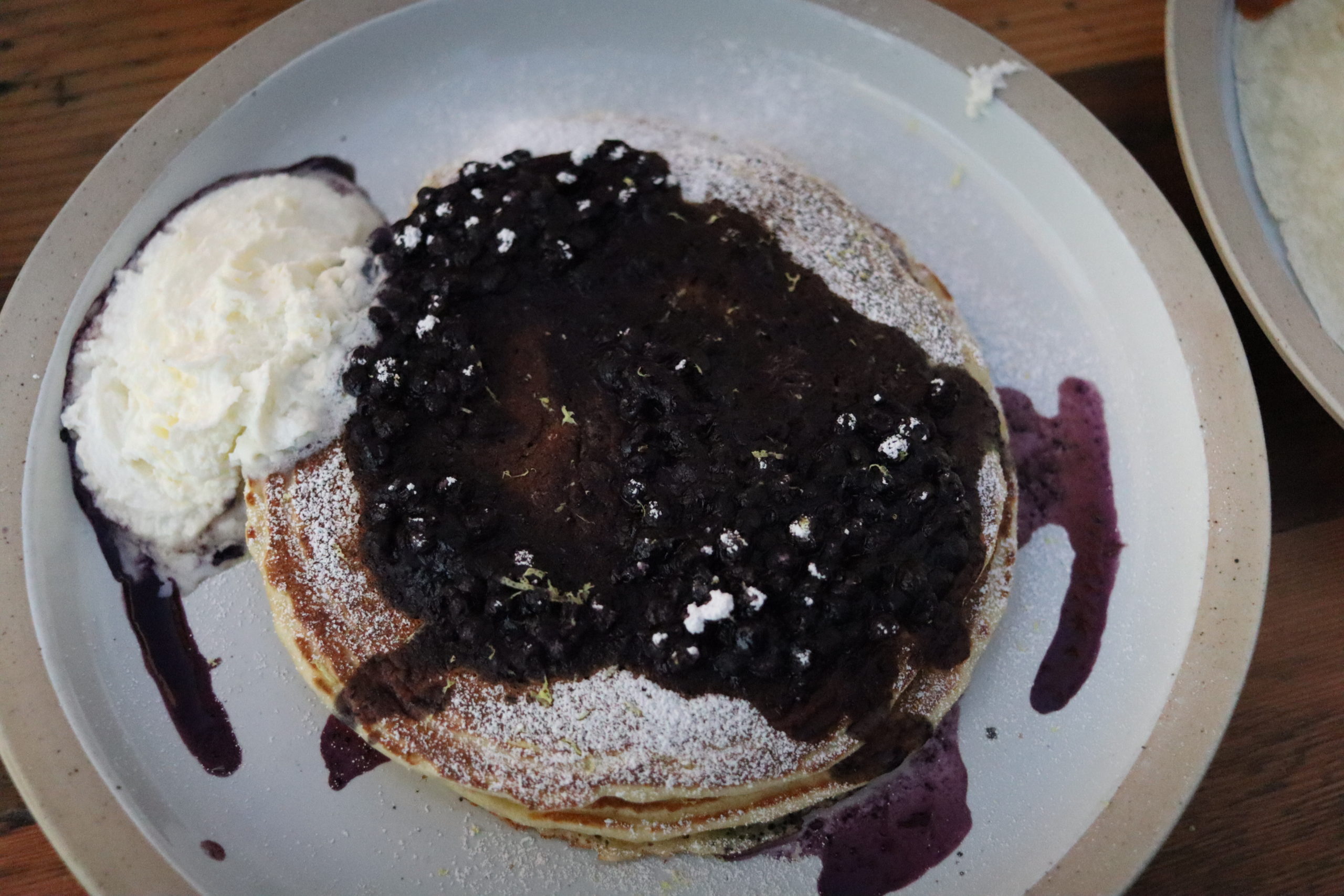 These days, it has been given over to nearby restaurants to provide additional, outdoor dining space, with wooden picnic tables lining each wall. Adhered to the wall above each table is a small, laminated piece of paper containing a QR code that allows you to not only see what some of the restaurants offer from their menus, but to order from said menus.
My colleague Asia Morris, ordered The Bixby Special from Bixby's Brooklyn Deli (4280 Atlantic Ave.), and it arrived at the table looking deliciously architectural, stacked high with layers of pastrami, Swiss cheese and coleslaw while occupying space next to the pancakes and taco I ordered in person a few doors down at breakfast/brunch/lunch haven MeeMa's (4276 Atlantic Ave.).
It all looked so good. And that's all we could do: look. Cheantay had decided to walk a few blocks down to HiroNori Craft Ramen (610 E. Carson St.) and, because she was shooting both stills and video of the food for this piece, we had to wait until she got back before we could eat. Asia, seeing that all this was wearing thin on my nerves and blood sugar, offered some affirming words of support.
I hate that.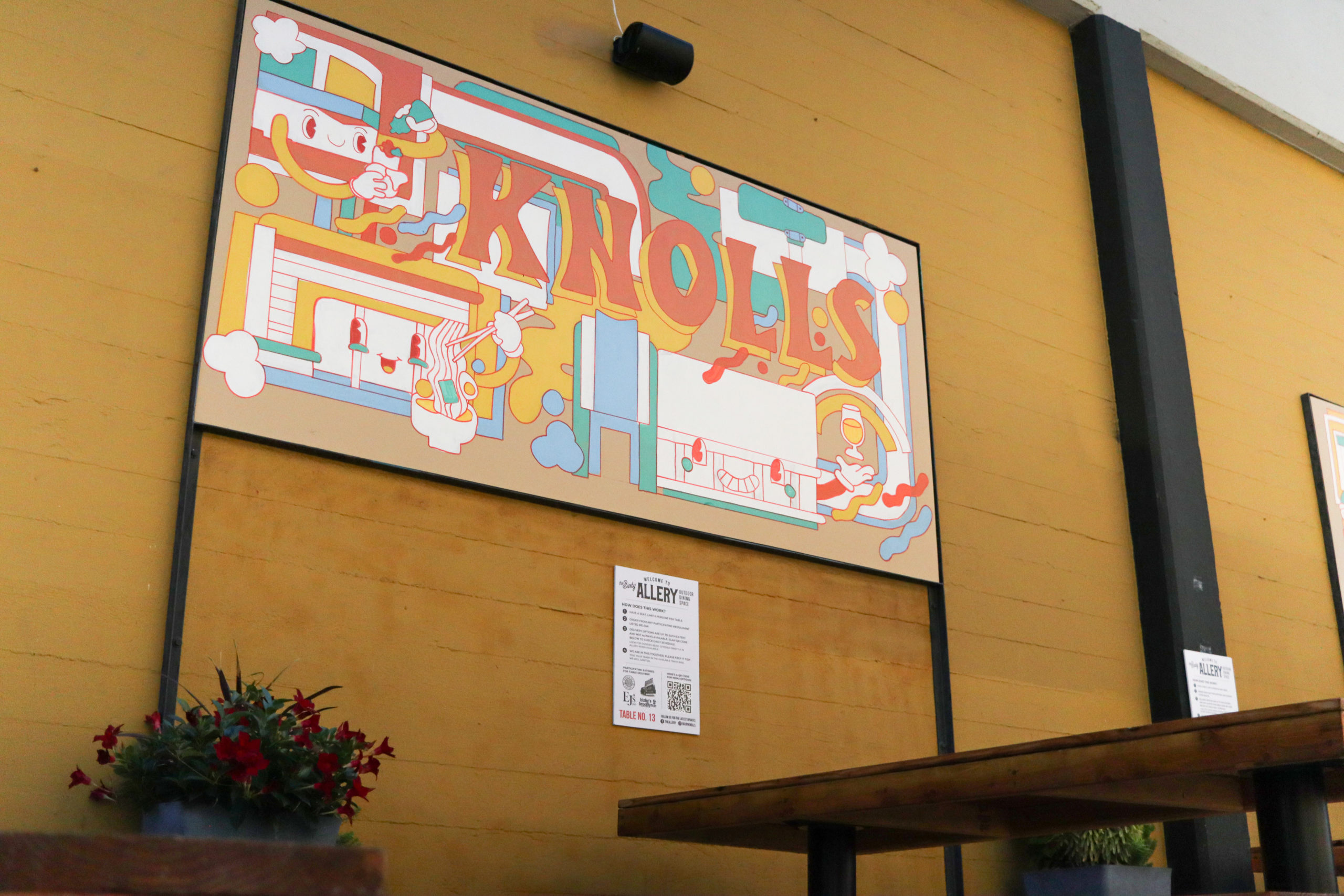 Eventually, Cheantay returned, not the least bit apologetic, put down her ramen and steamed pork buns, pouring the broth over the noodles. Her shots gotten, we tucked in.
I attacked the pancakes—no hyperbole—and though they were caked with blueberry compote, with a generous dollop of homemade whipped cream, the flavor was complex and not overwhelmed by sweetness, probably owing to the fresh lemon zest.
The brisket taco came on a flat flour tortilla, layered with mashed soy chorizo beans, bacon and a hefty slice of brisket, smoked slowly so that it was flaky, all of it finished with a sunny side up egg atop, dressed with some roasted salsa and cilantro. As you may have gleaned, it all made for a ton of flavor, the brisket, of course, doing the bulk of the work, with just the right amount of fat. Still, the egg and, surprisingly, the chorizo beans, seemed to smooth matters and I ate the thing with a fork, because I was concerned the tortilla might dull matters a bit.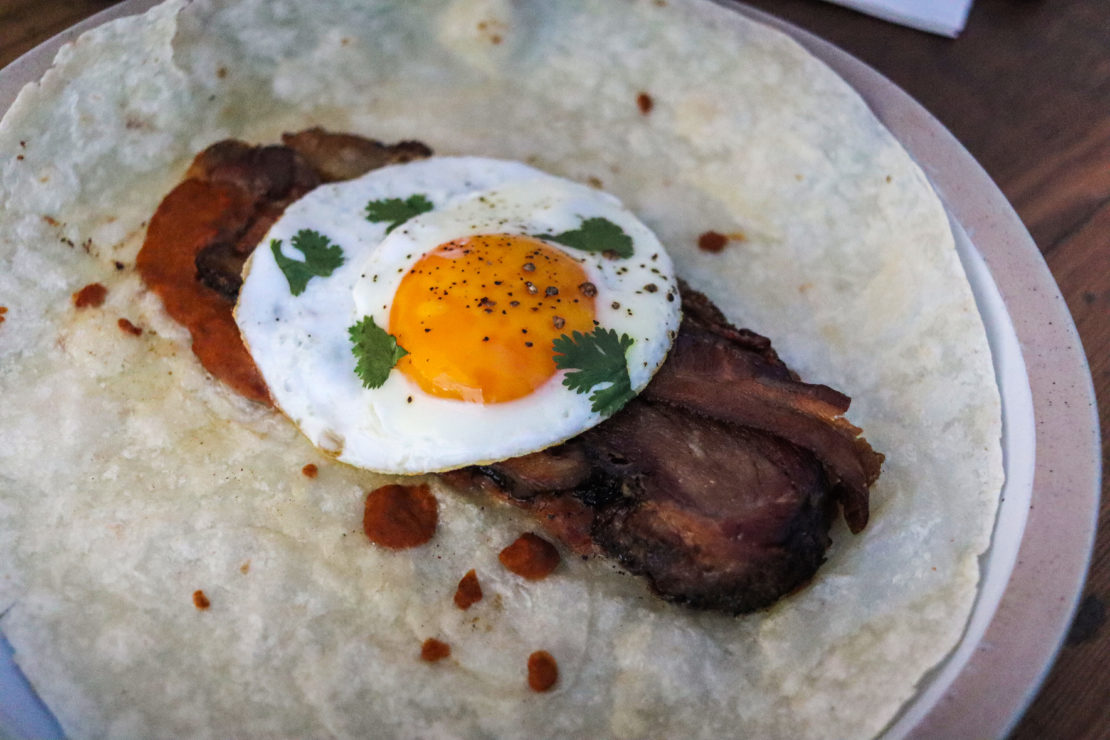 OK, I'll let Asia and Cheantay speak for themselves.
(Cheantay Jensen) In case you haven't put it together after reading the last 600 words of Steve's glorified journal entry, my dear editor doesn't handle the ol' hunger pains all too well. Nevermind that he knew we'd be taking photos and video of Tuesday's provisions and therefore planned accordingly i.e. EATEN BREAKFAST, but by now I've learned to handle my editor's "hanger" with calculated deference, as any elder ought to be treated.
But, I think the text messages speak for itself.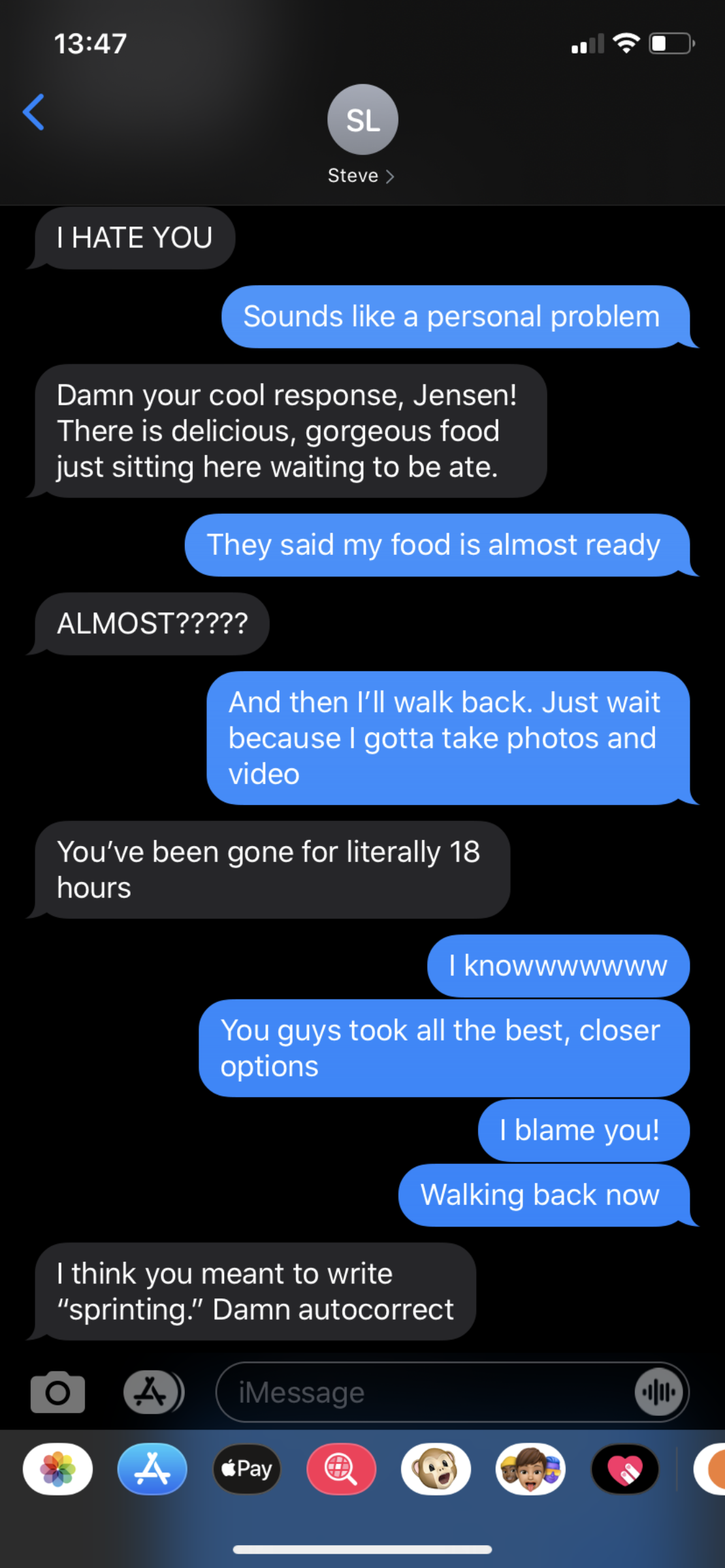 Though I wouldn't admit it to Steve, I did walk back at a slightly faster gate than I normally would—I feared for Asia's sanity, which can only take the brunt of Steve's ranting for so long—and she's a pro. I arrived to a pacing Steve and a demure "Yaaaaay" from Asia and quickly set about the task of trying to arrange our meals in a more picturesque fashion. After a few "hold on, Steve" and "just a couple more," I settled in for the feasting.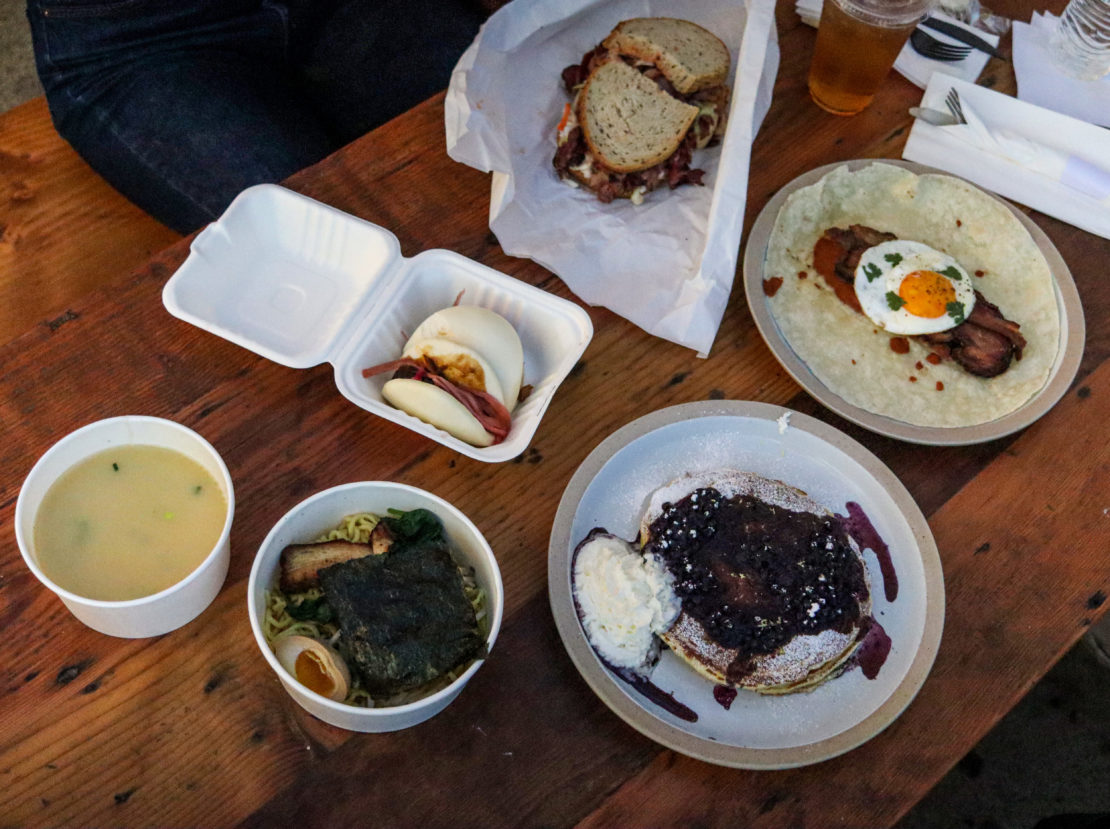 HiroNori's Tonkotsu Ramen did not disappoint. The "pork-bone" broth, with the consistency akin to miso soup, was splendidly savory and well-balanced. The pork was tender, not too salty, but was just a tad drier than I would have preferred. The noodles were just al dente enough and even retained their firmness, to my surprise, when I finished off the meal a couple hours later.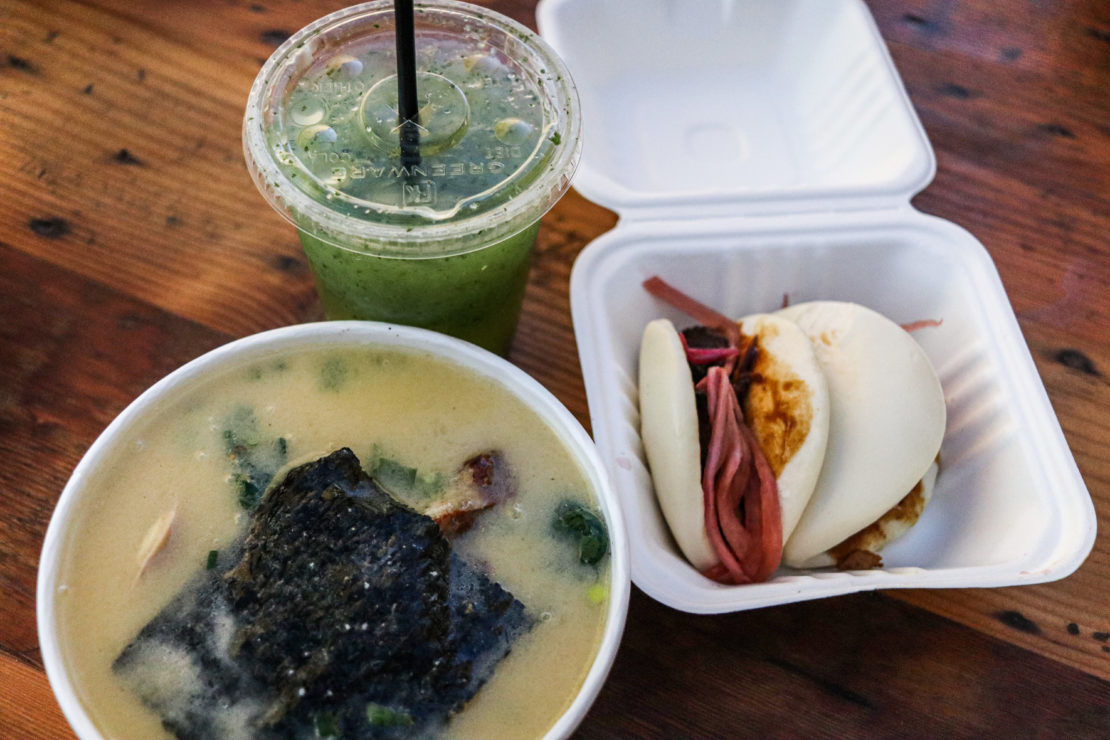 To accompany my ramen I picked up some steamed pork buns, which looked much better than they tasted—it seemed the chef had been a little too heavy handed with the soy sauce for my tastes. Oh, and that green concoction? That was their cucumber mint yuzunade—very refreshing, but watch the pulp!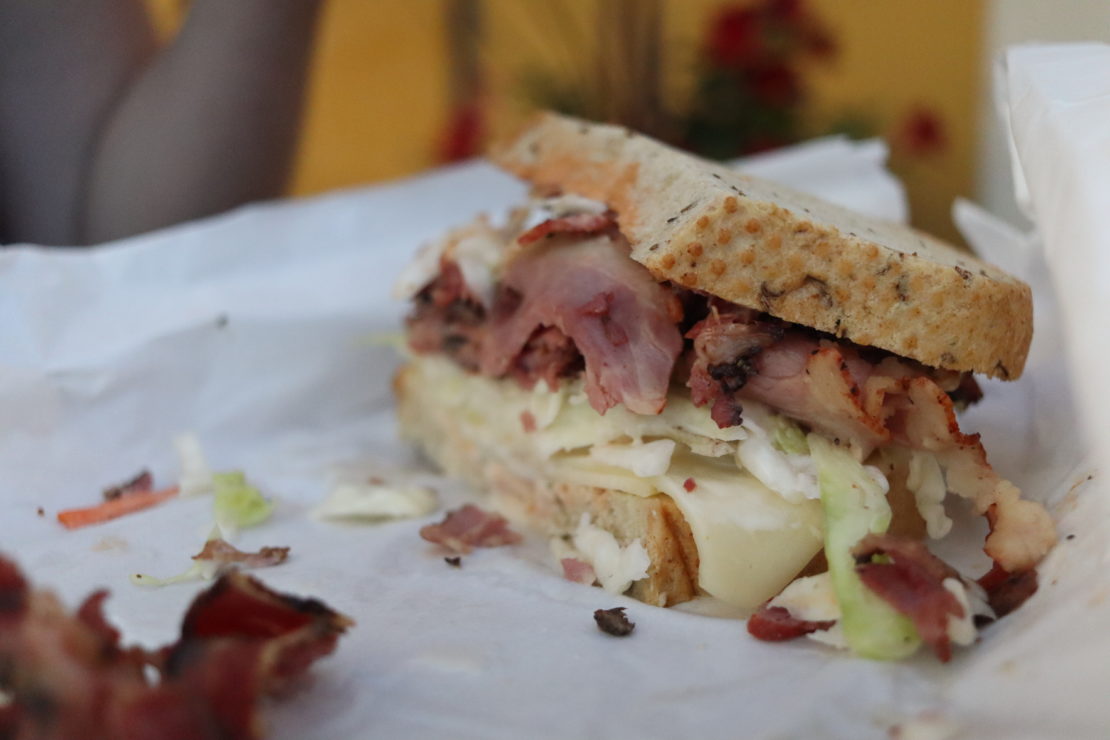 (Asia Morris) Bixby's Brooklyn Deli has saved me twice now, and both times from Steve, offering a deli meat-induced coma—and respite—from the hunger generated rants of my editor who, without fail, always puts his job above eating at a reasonable lunch hour (sorry, 4:30 p.m. is not considered lunch). I devoured The Bixby Special, a hefty stack of pastrami, Swiss cheese and coleslaw, pieces falling out and uncontained by its Russian dressing-slathered rye bread enclosure—the first time, consuming the sandwich bent over a to-go container on my lap during a First Fridays at the Allery, and the second, much more neatly this time, on one of the Allery's new picnic tables. It was so good in fact, I noticed Steve eyeing my excellent choice in food over bites from his dainty stack of pancakes.
(Back to you, Steve) Given how matters began in the Allery, they ended quite well. Though it's located just off Atlantic, it's not overly loud and the vibe while there was very reminiscent of First Fridays, kinda arty, kinda relaxed. Cheantay headed back to the office while Asia and I made the 10 minute walk to Korean ice cream shop, SomiSomi.
But that's another story.