Kim Prince, niece of André Prince Jeffries, the matriarch behind Nashville's iconic, James Beard Award-winning Prince's Hot Chicken Shack, describes Nashville hot chicken as "givin' someone a warm Southern hug."
And she wants to give Long Beach—which seems to have the legendary fried chicken on its mind with Jay Bird's opening this Friday at The Hangar foodhall inside the Long Beach Exchange complex—that very hug: She'll be hosting a two-day hot chicken popup with Hotville Chicken brand at Beer Belly come June 8 and 9 at the restaurant's Downtown Long Beach location.
"Hot chicken brings people together; it's been bringing my family together for 80 years," Kim said.
Long Beach has been mentioned to Kim repeatedly: from her fellow church members to even Mayor Robert Garcia trying to entice her to put up shop here, Kim had long ignored the invite until now.
"The farthest south I looked was El Segundo after I lost my space in Chinatown," Kim said. "And then [Beer Belly owner] Jimmy Han just kept messaging me and kept messaging me—he was persistent, to say the least. So I finally gave in and he showed me the kitchen in Long Beach and… Well, I call it my happy place now. What he does with his kitchens, what he invests in the cities he's in—Long Beach is lucky to have him."
And we're lucky to have Kim: her two-day venture will be a full takeover with a top-to-bottom Hotville menu running all day and night.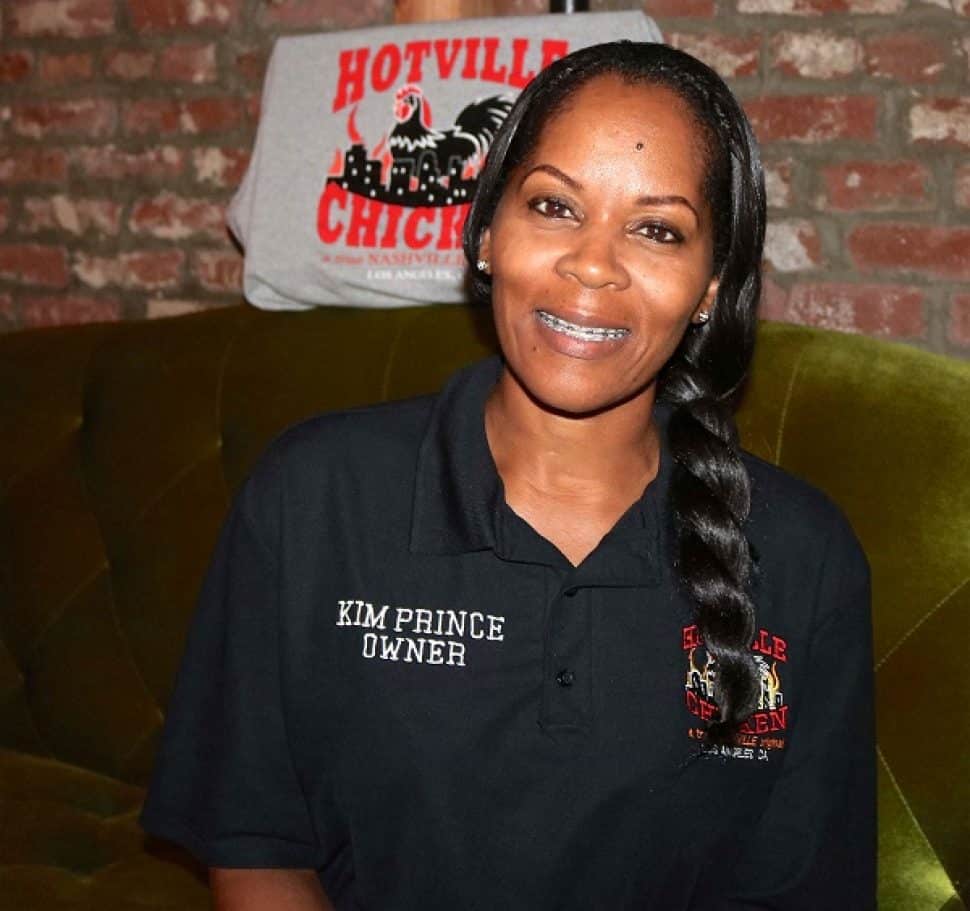 When it comes to Nashville hot chicken, most locals think their proper introduction to this fiery piece of fried chicken came by way of Howlin' Ray's, a tiny-but-mighty bird shop tucked inside a mini-mall in Downtown Los Angeles' Chinatown—a shop, mind you, that owes its existence to the Prince family. With a line that rarely, if ever, dips under 45 minutes thanks to its cult-like following, Howlin' is the closest thing you can score to the joint that invented Nashville hot chicken, the famed Prince's Hot Chicken Shack.
Kim had hoped to achieve that success in the same neighborhood: She scored a space within Michael J's Pizzeria in Chinatown, right next door to the King Hing Theater, and brought with it the same lines that Howlin' garnered. However, the now all-too-common tale of gentrification hit Kim and Hotville as developers sought to reimagine the space, soon after turning Kim into a hot chicken vagabond.
Since then, the equally legendary Greg Dulan of Dulan's Soul Food in Inglewood has taken Kim under his wing, showing her the ropes in Los Angeles—"Nashville and L.A. aren't two different beasts; they're different continents"—and giving her new hope in finding a new space.
True to her spirit and glow, Kim has little issue with Howlin's success: "It's a community, not a competition," she said. "The only thing is if you slap the name 'Nashville' on it, it better bring the heat."
What Prince's created (and, by extension, what Kim and Howlin' have brought to a West Coast crowd in their respective approaches) is an oddly addicting piece of incredibly spicy fried chicken that shouldn't be addicting, but most definitively is.
This isn't the subtle heat of Memphis fried chicken—where Long Beach can experience a prime example of thanks to Gus's on Long Beach Boulevard—but truly sweat-inducing heat, especially if you enter into the upper echelons of hot chicken's heat scale. That scale, for the most part thanks to the history of Prince's, is always on a six-figure scale when excluding the plain option: mild, medium, hot, extra hot, extra-extra hot, and the fiery extra-extra-extra hot. And true to the spirit of Nashville hot chicken, each level of heat is its own special concoction of spices: Kim's medium has a sweet subtleness to it while her extra hot is a heavy but worthy dose of cayenne and, of course, secrets.
"There's folks out there blasting their birds with ghost peppers and Carolina Reapers," Kim said. "The point isn't just to bring heat; I can throw in pepper after pepper if that's all I wanted to achieve. It's about making you sweat but making you want to keep eating."
The legend, at least according to Kim and countless family members, is that her great-great Uncle Thornton Prince got into a quarrel of sorts with a lover, causing the lover to dump what she thought was an unsavory amount of spice into his chicken rub. Come a few minutes after using it, his mouth was sweltering but his palate was forever changed.
"It's an experience—that's what I want to bring to Long Beach. I want them to have the full experience—not to mention I have a feeling that after I'm done, I'm gonna be calling everyone Cousin."
Welcome to the family, Kim.
Brian Addison is a columnist and editor for the Long Beach Post. Reach him at [email protected] or on social media at Facebook, Twitter, Instagram, and LinkedIn.