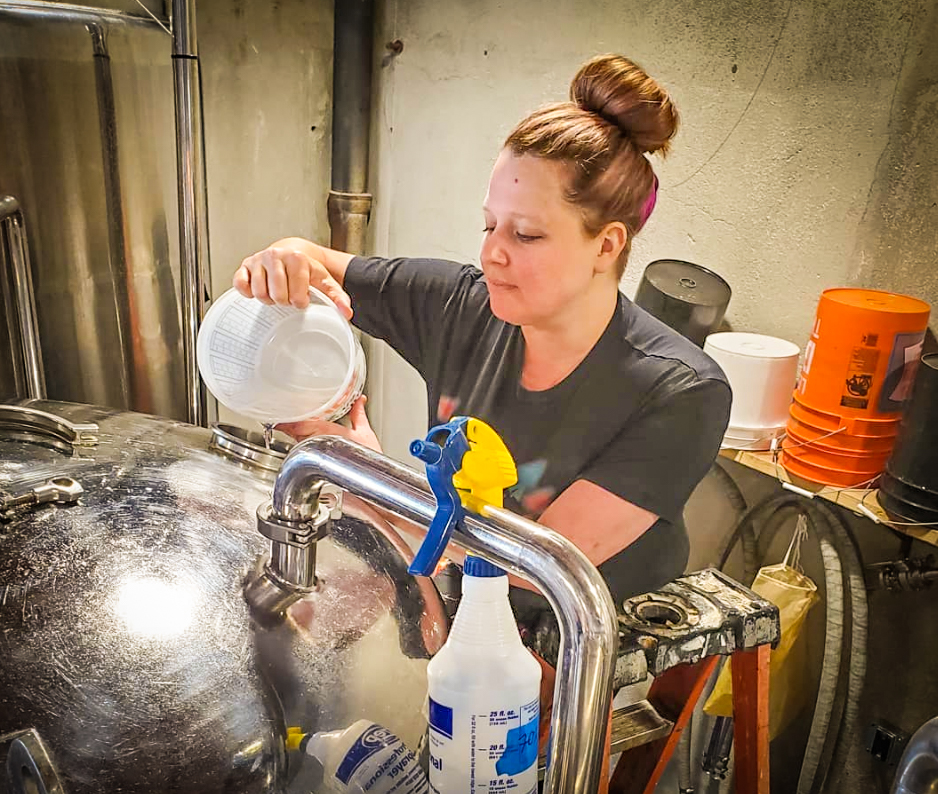 Long Beach Beer Lab to turn beer into whiskies and bourbons for 'Spirits Lab'
Mark 2019 as the official boom of Long Beach's craft distilling scene. Following in the footsteps of recently opened Portuguese Bend in Downtown and soon-to-open Willie's Tin Shop from the owner of Roxanne's in Cal Heights, the husband-and-wife team behind Wrigley's Long Beach Beer Lab will take some of its beer and turn it into various whiskeys next door in a space dubbed the Long Beach Spirits Lab, at 516 W. Willow St.
"We're very much in the infancy stages but we can say that this will be a membership-only tasting room where we will turn the Beer Lab's beers into varying types of whiskeys and bourbons," said co-owner Levi Fried. "But this is all about sustainability: We're looking for ways to decrease beer waste, fruit waste, food waste."
The project's sole proprietor and Fried's other half, master baker and chef Harmony Sage, noted that she will be "focusing on taking spoiled beers and such to make moonshine and whiskey to be aged and enjoyed by members." She noted that while retail will not be a focus as of now, that isn't being written off for the future.
"It's just a way to mitigate waste for the time being," Sage said.
The craft distilling scene is arriving in two ways: For one, something that is markedly different from the state's overall spirits production scene and, two, bringing in what other spaces in California have been experiencing already but Long Beach is lacking.
For the former, there is Portuguese Bend, Long Beach's first distillery and one of the first newer distilleries to take advantage of AB1295, or The Craft Distillers Act of 2015. Prior to this law, the policies surrounding the distillation of spirits were archaic at best and while the craft beer industry was creating powerful lobbying tactics in the capital that sparked this century's Californian craft beer boom, opening a distillery in the state was akin to entering a massive maze of red tape and closed doors.
What AB1295 creates is a new Type-74 license, which essentially allows artisanal distilleries producing less than 100,000 gallons of distillate a year, to have a restaurant on-site, host private events, serve their spirits as cocktails and sell bottles at their location. Portuguese Bend was one of the first to score this license and is the first in the state to open while exercising these newfound privileges. This uniqueness not only shines a light on Long Beach as a culinary destination that extends beyond food but also helps reach a new audience of distilling fans.
For the latter, enter Willie's; this no-tasting room type of distillery, largely functioning for bottling purposes, has long existed in California and is the easiest way to jump into the distilling scene with as little red tape along the way.
In the middle sits Long Beach Spirits Lab: a membership-only tasting room, they will be the first brewery in Long Beach to use their beer for spirit-making.
The practice of beer-into-spirits is nothing new. From Brooklyn's Arcane Distilling and California's Essential Spirtis to Germany's G. Schneider & Sohn and Japan's famed Kiuchi Brewery, the art of going from beer to booze is nothing new—but for Long Beach, it will be a first in a city whose craft beer scene shows massive potential for beer-to-spirit creation.
Long Beach Spirits Lab will be located at 516 W. Willow St.
Brian Addison is a columnist and editor for the Long Beach Post. Reach him at [email protected] or on social media at Facebook, Twitter, Instagram, and LinkedIn.
Support our journalism.
Hyperlocal news is an essential force in our democracy, but it costs money to keep an organization like this one alive, and we can't rely on advertiser support alone. That's why we're asking readers like you to support our independent, fact-based journalism. We know you like it—that's why you're here. Help us keep hyperlocal news alive in Long Beach.