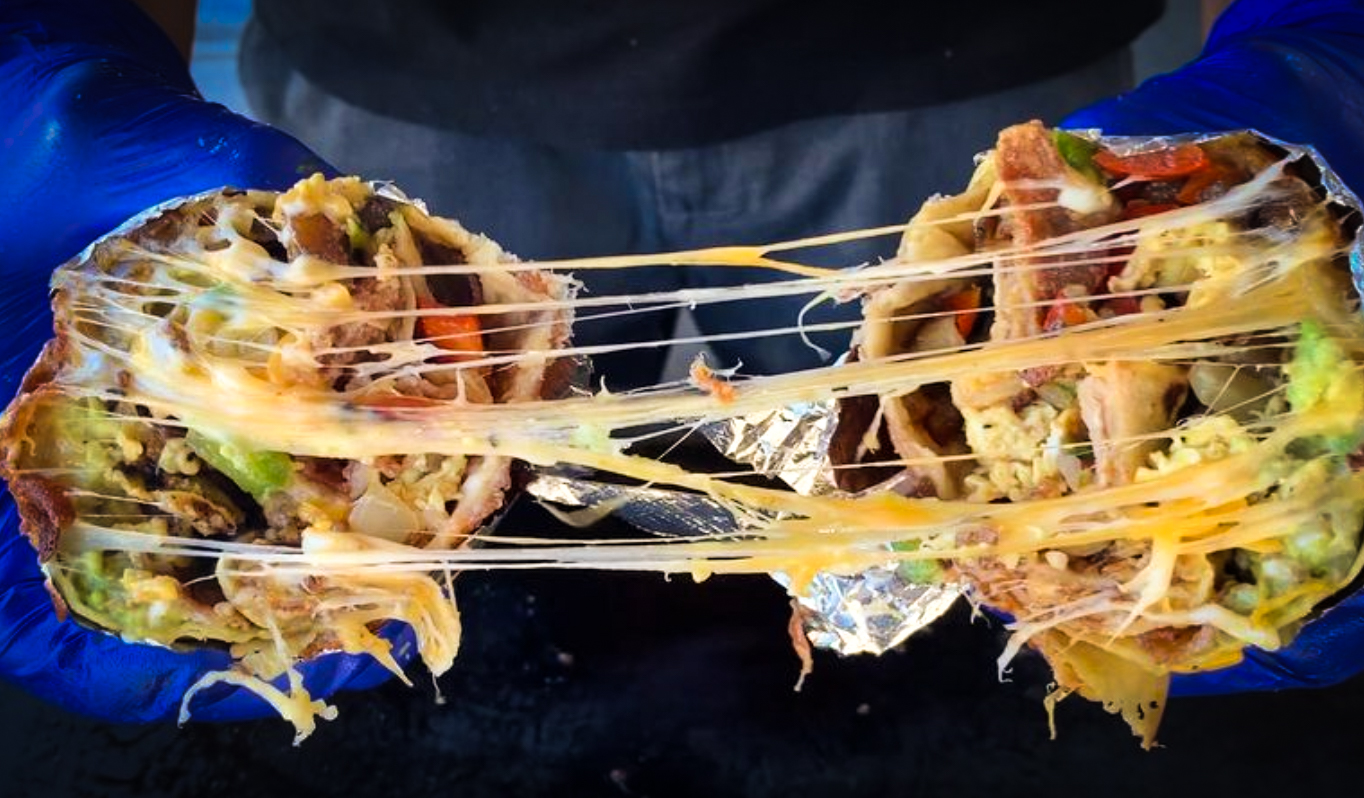 It's National Cheese Day—so let's celebrate all week, Long Beach style
National Cheese Day is no exception and yes, we know some of these options can't be celebrated on the day of but should nonetheless be celebrated in the name of cheese.
Let's get melty, Long Beach.
****
Buy a breakfast burrito from Lowkey Burritos 
Matt Stevanus is a hustler: His tiny-but-mighty burrito stand first started garnering a following when he set up shop right outside the Pico Station of the Blue Line in Downtown Los Angeles, where he would sell some 70 burritos in the span of a few hours.
And while he still parks it at the same spot up north, he's building a bigger name for himself in Long Beach where he now hosts three regular spots around the city.
Why are folks so hyped on his version of the almighty breakfast burrito? It is a shrine to cheese. Not only is the burrito itself quality—peppers, onions, and hashbrowns with add-ons that include more veggies and meats, starting at $5 a burrito—but comes with a particular accouterment that makes his burritos decadently delicious: the option to add a fried cheese crust to the outside.
The result is cheese-wrapped heaven.
Thursdays at Commodity Coffee at 1322 Coronado Ave. starting at 7 a.m.; Saturdays at Lord Windsor Coffee at 1101 E. Third St.starting at 8 a.m; every first Monday of the month at Confidential Coffee at 137 W. Sixth St.
****
Step inside the world of Cheese Addiction
Cheese shops are a true wonder to behold, especially local ones.
These small business owners develop relationships, oftentimes friendships, with dairy farms and cheese procurers, presenting cheeses that are otherwise not found at Whole Foods. Owner Lisa Albanese of Cheese Addiction is no different.
From cheese wedding cakes and a monthly Cheese Club to cheese classes and tastings, Cheese Addiction has long provided Belmont Shore and Bixby Knolls with all its cheese needs.
The Belmont Shore location just off  2nd St. on Claremont Avenue is a hole-in-the-wall wonder that has been around since 2008 when it was the San Diego-based Venissimo Cheese. Albanese worked for Venissimo for five years before buying the Venissimo location with her husband, John, and replacing it with their specialty cheese-mongering business, Cheese Addiction, in 2013.
Cheese Addiction is located at 195 Claremont Ave. and 4236 Atlantic Ave.
****
Eat a legit deep-dish pizza at 5,000 Pies (and feel good doing it)
Becky Teter and her husband John, the pastor at the Fountain of Life Covenant Church in West Long Beach, sat down with church members Michael Martinez, Sharon Im-Lee and Sara Culver one day and all of them fell into the same idea: Their church, as an organization in which supporting your neighbors was key, had to do more for West Long Beach.
5,000 Pies was birthed. According to the founders, the name comes from the Book of John, Chapter 6, where Jesus fed 5,000 people from a few loaves of bread.
Since opening in 2017, 5,000 Pies has become a place to work for former gang members, locals in need of a job and just those trying to better their lives—and with it, they have brought stellar deep-dish pizza with them.
5,000 Pies is located at 2064 Santa Fe Ave.
****
Get a quesadilla unlike any other at Los Reyes Del Taco Sabroso
Tucked into the offshoot of a building complex facing Anaheim Street at Junipero Avenue is Los Reyes Del Taco Sabroso. I extolled the virtues of their tacos de canasta a few years back for a tiny taco list but wasn't able to really talk about how solid this little hole-in-the-wall really is.
Their quesadillas, for one, are a wonder to behold.
Massive housemade corn tortillas—not flour—are filled with cheese, lettuce, cotija, and crema starting at $3.50. From there, you can add everything from huitlacoche— the corn fungus that is widely considered a delicacy—to birria or lengua.
Los Reyes Del Taco Sabroso is located at 2345 E Anaheim St., Suite D.
****
Find the Cheddr Wheel food truck
Speaking of quesadillas—and loaded nachos and loaded tots—there is the Cheddr Wheel. You might have seen it parked in front of the Convention Center in Downtown or meandering various locations throughout Long Beach, but one thing is obvious given its name: This truck is dedicated to all things cheese.
Their take on quesadillas veer from the traditional and aims to appease a variety of cravings. We're talking chimichurri steak, barbecue chicken, Philly cheese steak, pesto chicken, all loaded with cheese and dripping with stuffing and sauces.
And their Loaded Tots? Have your choice: pesto with parmesan cheese, buffalo sauce with nacho cheese, bbq sauce with cheddar cheese or a Flamin' Hot Cheeto dust with nacho cheese.
Click here to find out where the Cheddr Wheel truck will be.
Brian Addison is a columnist and editor for the Long Beach Post. Reach him at [email protected] or on social media at Facebook, Twitter, Instagram, and LinkedIn.
Support our journalism.
Hyperlocal news is an essential force in our democracy, but it costs money to keep an organization like this one alive, and we can't rely on advertiser support alone. That's why we're asking readers like you to support our independent, fact-based journalism. We know you like it—that's why you're here. Help us keep hyperlocal news alive in Long Beach.