A franchise that allows people to open a winery without the vineyard is set to make its mark in Long Beach: Water's Edge Winery will open its doors at 217 Pine Ave. in the coming months, taking over a space that has sat empty since the Mariposa nightclub closed in 2014.
Owner Collin Mitzenmacher originally had no plans of coming south: Situated in Oregon's Willamette Valley, the heart of Oregon's wine country, Mitzenmacher had both the environment and business he had always desired. However, a new chance means he could actually operate his own winery: A franchisee had already expressed interest in the space in Downtown Long Beach, set up a lease, but ultimately couldn't follow through on it. With his father Mark Mitzenmacher not only running a Rancho Cucamonga location of Water's Edge but sitting as the winery's Director of Operations, Collin was presented with easy access into a business that would have otherwise not been so easily handed over.
"I had it made up in Oregon, man, not gonna lie—there was no need to go back to California," Mitzenmacher said. "But when my pops called me up and began breaking everything down, it was just an offer I couldn't refuse."
Given this one chance at a sure-why-not-Dad? experiment, Mitzenmacher is trying to avoid cutting corners and focus on the fact that he is offering something that is distinct from the many breweries and bars that exist not just in the area but throughout the whole city.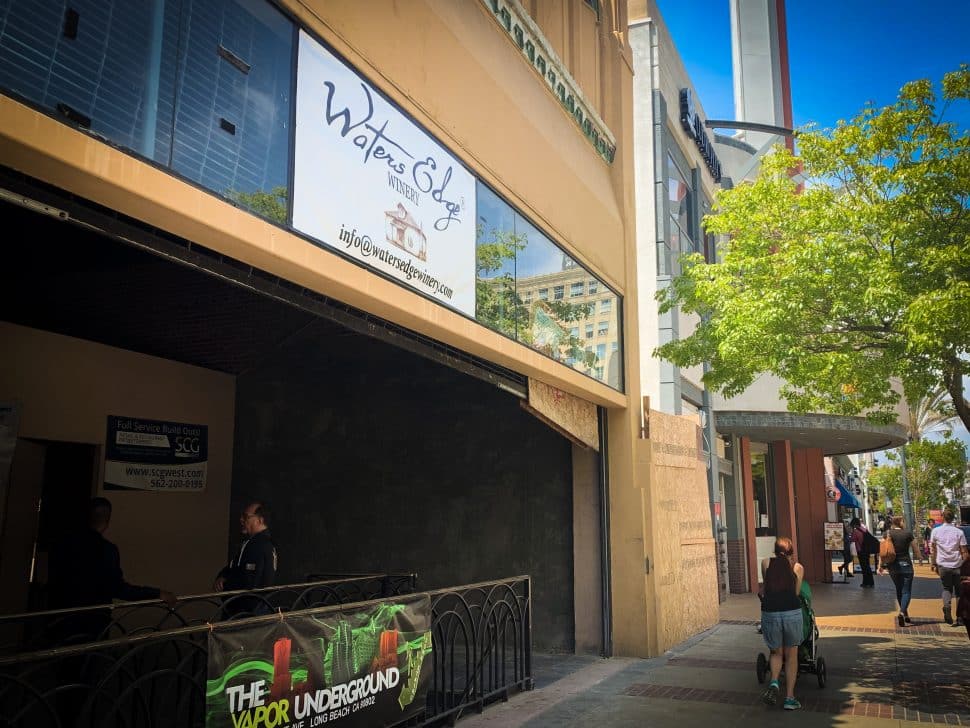 When you walk into the space, where once stood poles and cages for go-go dancers will now have visitors greeted by a stool-less wine bar that runs the length of the building's northern edge and an open-space tasting room filled with both high-top and low-top tables. Stairs will lead to a mezzanine level while the property's in-between-buildings patio space will be activated for outdoor seating, complete with a "Jurassic Park-looking winery door that will be open with each business day," Mitzenmacher noted.
So how does Mitzenmacher make wine without, well, the vineyard?
Collin and his crew pick a region they're interested in—which can be anywhere from Argentina and Australia, to Italy and  France or California—and, if the vineyard is willing to sell them grapes, send their equipment over to go through a process known as thermovinification. Think of it as the hot-press to cold-pressed juices: Before fermentation, grapes are heated to near-boiling points—hot enough to annihilate wild yeast but not hot enough to burn off its sugar—and the juice is sealed. Mitzenmacher receives that juice and, blending it on his own, ferments and creates the wines that will be offered.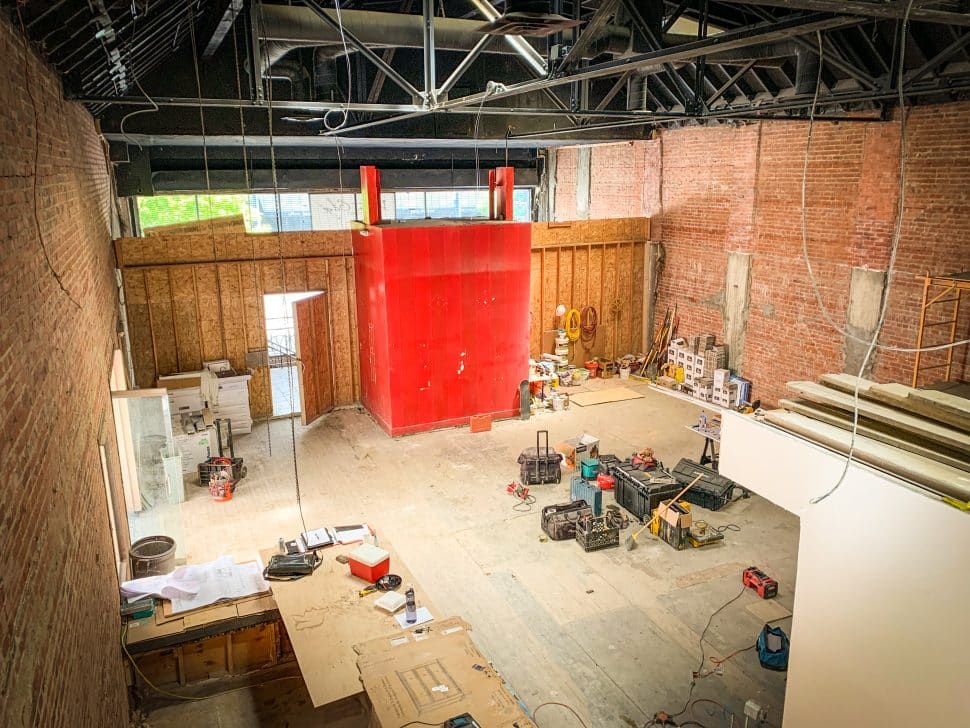 "With this type of process, I can remove 60% of the costs associated with running a winery attached to a vineyard and I can make over 50 different wines a year," he said, with a chuckle. "Yeah, I'm going to be a super busy guy."
As for food, Mitzenmacher will be taking the talents of his girlfriend and partner, Sarah, a caterer with experience in larger kitchens, before moving onto a full-time chef who will expand their menu.
"Right now, we're keeping it along a bistro vibe," he said. "A winery burger that will have a beef, vegan, and fish option. Goat cheese-stuffed figs. A mac-n-cheese platter with three different rotating macs. Paninis. Flatbreads… We're just excited, first and foremost, about the wine and the feel of the space. It will be unlike anything in Downtown."
Water's Edge Winery will be located at 217 Pine Ave.
Brian Addison is a columnist and editor for the Long Beach Post. Reach him at [email protected] or on social media at Facebook, Twitter, Instagram, and LinkedIn.