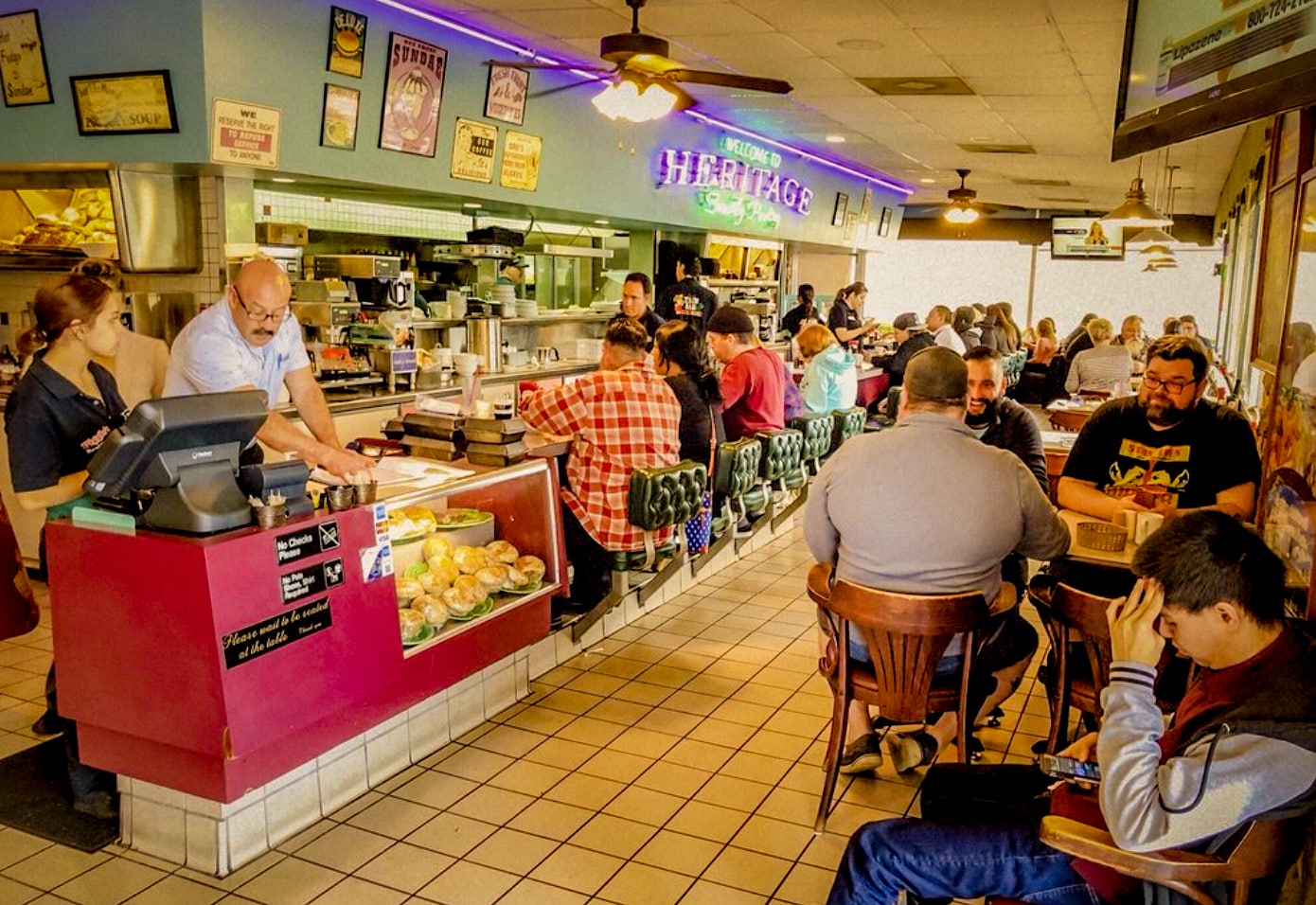 Counted on Spires for cheap eats? Here's some alternative cafes to keep both your stomach and wallet full
The closure of Spires to make way for Jack in the Box and Starbucks drive-thrus stirred up both the ire and applause of residents: applause for the fact that, well, Spires wasn't particularly good toward its end, but ire at the fact that two corporate drive-thrus aren't a much better replacement.
(There has to be a chef out there dying to take over an old diner, have a menu that includes chicken fried steak and eggs, and make it all with quality, but I digress.)
However, the far more serious conversation that needs to be had is that, despite one's opinion on the quality of the food, Spires' weekly specials catered to low- and fixed-income patrons—especially seniors—who can score a two-eggs-pancake-and-bacon breakfast special for $7.19, Monday through Friday. ($6.39 if you were a senior, who were afforded discounts on all breakfast, lunch, and dinner specials.)
These spots aren't just aging in terms of their style but are essential sustenance and social outlets for a part of the population that is easy to forget about. My grandfather's daily outing to restaurants that offered him a discount were the main times he actually socialized—and he credits those outings to his very long, healthy life.
With that in mind, here are some solid, affordable alternatives to our post-Spires world. (Reminder: This is not a Best Of list—if you want that, read my Essential Long Beach Breakfast Joints list.)
****
Heritage Family Pantry (2601 Carson St.)
Heritage Family Pantry, right on the Lakewood and Long Beach border, is actually one of the city's best diners.
But there are two specials few promote and, in all frankness, it's beyond me as to why not. For one, its Mexican-American owners offer menudo with a cup of coffee for $10.29 and—here's where the silver lining comes through—the second bowl is on the house if you're still hungry because, per the menu, "Nobody walks out of here hungry."
If you're not keen on menudo (and in that case, I feel deeply sorry for you but I will respect your lack of taste nonetheless), you can score multiple early bird specials Monday through Friday before 10:30 a.m., with every special costing $10 or less.
(Fun tip: Great mozzarella sticks for those who appreciate The Appetizer of the 1990s.)
****
Jongewaard's Bake N Broil (3697 Atlantic Ave.)
In the words of Russ Parsons, in a perfect world, every neighborhood would have a Bake-n-Broil.
Birthed in 1965 by Roger and Carol Jongewaard, it is the epitome of a classic American coffeeshop and diner—the one cringe-inducing joints like Chuck's wish they could remotely be like and the kind that spawned one-too-many offshoots and lost its quality along the way.
And while not affordable in the general sense, they do have one spectacularly valuable lunch for $11.45.
Now hear me out: You get a choice of which sandwich you want. Roasted turkey, roast beef, albacore tuna, or a classic BLT. You get a choice of your their housemade bread to shove those proteins in between: sourdough, squaw, multigrain or rye.
And you get a cup of soup or salad.
And you get a coffee, tea or soda.
And, most importantly, you get a piece of their cake or pie (arguably the best in the city for me).
****
The Potholder (various locations)
The Potholder's menu is like their cultural importance: huge. (Throngs of followers share "Eat at the Potholder" picture while on vacation—that's how much folks love 'em.)
You can score a classic, big-plate breakfast here—and not at a bad price: Almost every omelette is under $10 and comes with hulky portions. The Frankie Special is your classic American breakfast: Two eggs, two pieces of bacon or sausage, two pancakes or slices of French toast for $5.95.
****
Jerry's Place (1537 E. Fourth St.)
When Tony passed in 2012, Tony's Breakfast Place had a hole left in it—but its new owners decided, rather than carrying the weight of a legacy they felt they couldn't uphold, re-brand the tiny breakfast joint into what is now known as Jerry's Place.
Enjoy the patio, complete with a Ron Swanson painted into the mural and judging you, and enjoy what their $8 to $9 breakfast platters that all consist of three eggs, hashbrowns, and your choice of protein. You can even request the huevos rancheros platter and it'll still only be $8.
And the housemade salsas—roja and verde, of course—are delicious accouterments; I admittedly lean towards the verde, which has a hint of habañero and makes the world a better place.
****
Omelette Inn (318 Pine Ave.)
Omelette Inn has long been a staple in Downtown Long Beach, having served up eggs in every style imaginable long before the Potholder opened its second location on Broadway and The Breakfast Bar became one of the best breakfast joints in the city.
And given this maturation, Omelette Inn has something that very few places (if any) still have: A $6.99 early bird special. Before 9 a.m., you can have your choice of three specials that revolve around two eggs and two pieces bacon or sausage and your choice of home fries and toast, pancakes, or French toast.
Also, for those with kids, they have an all-day, everyday Kids Menu where every dish in $5.99.
****
5th Avenue Bagelry (247 Pine Ave.)
The best bagels in Long Beach are found at 5th Avenue Bagelry in Downtown Long Beach. Hold up, lemme re-phrase that: The best bagels in the region are found in DTLB, and people often forget that they are filling, delicious, and affordable for breakfast and lunch.
Owner Bau Tran is one of the most humble, hard-workin' folks you'll meet. His slow-rise, East Coast process to his precious creations is what makes these bagels the best thing you can get outside the East Coast.
From oddities like banana strawberry to their outright spectacular jalapeño cheddar, 5th Avenue can give you a simple creation with just good ol' Neufchâtel or you can make it a breakfast bagel to satisfy your inner New Yorker.
Brian Addison is a columnist and editor for the Long Beach Post. Reach him at [email protected] or on social media at Facebook, Twitter, Instagram, and LinkedIn.
Support our journalism.
Hyperlocal news is an essential force in our democracy, but it costs money to keep an organization like this one alive, and we can't rely on advertiser support alone. That's why we're asking readers like you to support our independent, fact-based journalism. We know you like it—that's why you're here. Help us keep hyperlocal news alive in Long Beach.