Metro will feature several portraits by Long Beach artists in a new series displayed at multiple Blue Line stations. The project, called "More People Than You Know" aims to represent the different neighborhoods along the tracks.
Metro described the stories captured by these artists as "both personal and universal."
Riders viewing the digital display boards—being installed as part of the improvements to the Blue Line—will see a cycle of Metro maps, schedules, announcements and then the artists' portraits, some of which will also appear on limited-edition TAP Cards available at TAP Vending Machines once the New Blue project is completed in the fall.
One of the local artists commissioned for the portrait series was figurative painter Eric Almanza. He photographed Maricela Vargas, a local resident who regularly rides the train, and painted her likeness in oils. Vargas is also a friend and former coworker from when they both taught at Banning High School in Wilmington.
"From the beginning I knew I wanted to paint the portrait of a woman of color, for several reasons," Almanza said. "First, when you look at the overall history of art, women of color are vastly underrepresented, which is a major theme that I tackle in my artwork. Secondly, when you look at how diverse the population of Long Beach is, it's safe to say women of color make up the majority of Metro ridership."
Almanza also wanted Blue Line riders to see the portrait, titled "The Journey Home", as someone familiar. In this case, a mother of three taking her kids home from a trip to Los Angeles.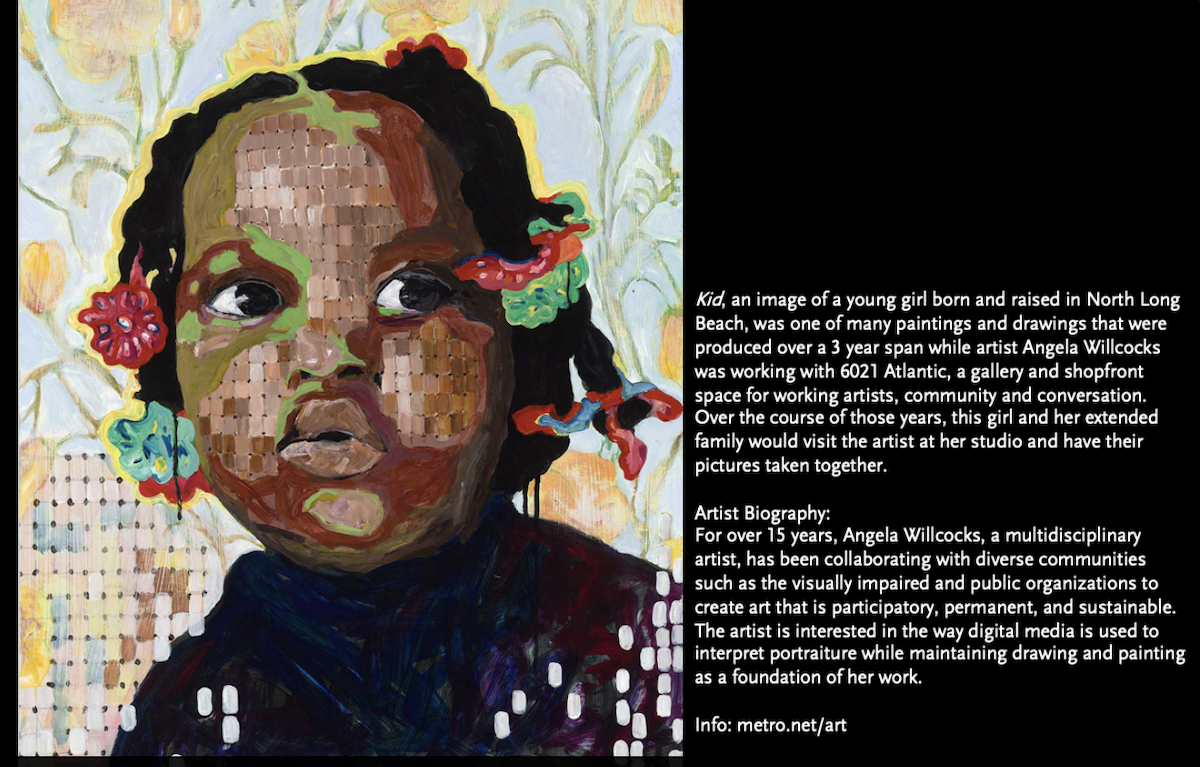 Several Long Beach artists will have their work on the new digital kiosks, including Cuernavaca-born Jose Loza, who has painted several murals through the city, up and coming artist Alepsis Hernandez who recently completed a piece at Homeland Cultural Center and Angela Willcocks, who painted an image of a girl she came to know through a three-year residency in North Long Beach for the portrait series.
"As an artist, you work hard to get your work out and seen by people," said Almanza, who also teaches fine arts in the Los Angeles Unified School District. "My painting will be at over 20 Metro stops and in countless riders' hands with the TAP cards. Phenomenal!"
The southern portion of the Blue Line has been closed for construction since January 26 but reopened on June 1 after improvements were completed. It now runs between Downtown Long Beach and the Compton station, while work begins on the northern portion of the line.
For more information on Metro Art's portrait series, "More People Than You Know," click here.