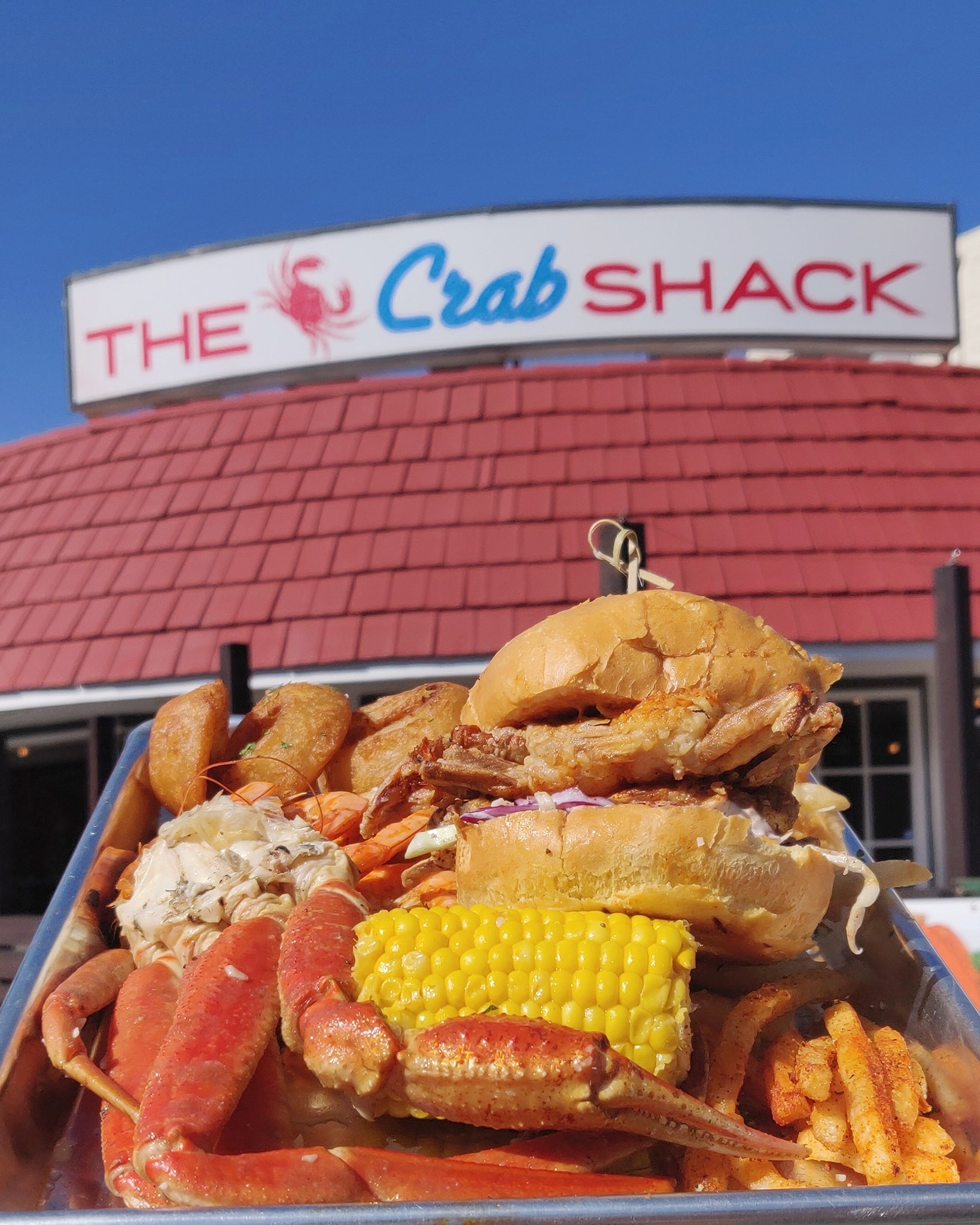 Taking over the Great Society space, The Crab Shack chain opens Downtown location
With a stunningly quick turnaround after much-missed cider bar Great Society decided to close up shop, The Crab Shack has taken over the space and officially opened in Downtown at the northeast corner of Broadway and Atlantic Avenue.
A chain that has been expanding in SoCal—two locations in Gardena along with others in Carson, La Habra…—The Crab Shack is a pseudo-Creole-style restaurant with a heavy focus on seafood. From fried oysters and soft shell crab to Po Boys and crab boils, think of the Crab Shack as a more corporatized Crab Cooker.
The seemingly ubiquitous name—there's also a Boiling Crab chain, a Kickin' Crab chain, The Crusty Crab in San Pedro, The Crab Pot in Alamitos Bay, The Cajun Crab in Lakewood…—makes it almost impossible to distinguish from its predecessors, particularly including the formerly massive chain Joe's Crab Shack. Filing for bankruptcy and abruptly shutting down 40 locations in 2017, Joe's Crab Shack rode a wave of success through the '90s and early 2000s by attempting to mimic the charm of Louisiana's original shacks, where joints like Schaefer & Rusich Seafood, Captain Sid's and Big Al's Seafood made the crawfish boil an American culinary legend.
With The Big Catch just down the street on Broadway and the much-loved and wildly popular San Pedro Fish Market opening a location in Alamitos Bay, along with Creole staples like Sal's Gumbo Shack and Crazy Creole Cafe, it will prove interesting to see how The Crab Shack holds up in its Downtown space—especially given the location has been somewhat cursed, given that it has been unable to hold on to a tenant. Great Society didn't last three years and its predecessor, the maligned Peppercorner, saw its popularity quickly drop when it faced staffing and quality issues. And this is all despite having one of the few expansive patio spaces in Downtown.
The Crab Shack is located at 601 E. Broadway.
Brian Addison is a columnist and editor for the Long Beach Post. Reach him at [email protected] or on social media at Facebook, Twitter, Instagram, and LinkedIn.
Support our journalism.
Hyperlocal news is an essential force in our democracy, but it costs money to keep an organization like this one alive, and we can't rely on advertiser support alone. That's why we're asking readers like you to support our independent, fact-based journalism. We know you like it—that's why you're here. Help us keep hyperlocal news alive in Long Beach.