The 7: Things to do this weekend including Happy Sundays and Fridays and Saturdays
Man, this is a good weekend to do stuff. How good? Tim Miller, the performance artist/icon, is only one of the things we're excited about. There is Happy Sundays and Summer Jam, each featuring all kinds and types of music and entertainment, both charging little or no money—i.e. free. There's New Japan Pro Wrestling—the thinking fan's wrestling promotion—returning to the Pyramid. There's yoga and doggies and doggies doing yoga and comedians in gondolas; watch Seinfeld try to take credit for that one, too.
1. HAPPY SUNDAYS (Sunday)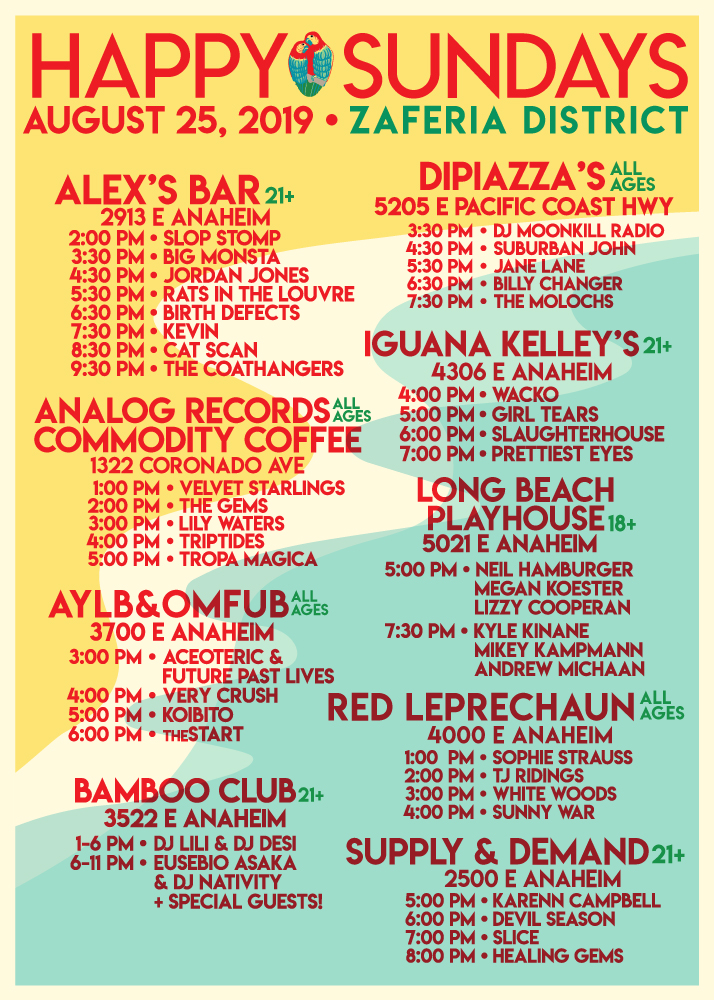 The third Happy Sundays festival takes place in the Zaferia District, on and around a relatively short stretch of Anaheim Street at nine venues ranging from all-ages to 21-plus. It features nearly 50 music and comedy acts doing their thing(s) at restaurants, clubs, bars and yoga studios. The acts? So many. Music will range from psychedelic to dark wave to post punk to blues and folk as well as DJ sets. Some of the acts include The Coathangers (Alex's Bar) and Sunny War (Red Leprechaun) and Prettiest Eyes (Iguana Kelley's) and The Molochs (DiPiazza's) and comedians Neil Hamburger and Kyle Kinane (Long Beach Playhouse) and way, way, way, way more. (Steve Lowery)
Another great thing: The whole thing is free. Well, to get in. We're imagining the places that charge for things like food and drink will still charge for that.
Giving us a moment's pause: From our understanding of the time/space continuum, it will be physically impossible to see all of it; we struggle with choices.
You should click HERE and see who is playing where and when.
1. RISE LONG BEACH'S SUMMER JAM (Friday)
RJ Strickland's blog that he once used to showcase local artists has become quite a movement offline. From RiseLongBeach.com to Rise Long Beach IRL, Strickland channels the sense of community he created online to home-grown events featuring up and coming rappers, hip hop artists and more. On Friday, Summer Jam is expected to be an end-of-summer hit, with emerging Long Beach artists HeyDeon and Saviii 3rd headlining, rounded out with a solid group of new visionaries. Expect performances on two different stages, art and food vendors and a gallery show with art by local artists. (Asia Morris)
Read all about Strickland's vision for Rise Long Beach here.
From blog to a movement, Rise Long Beach's Summer Jam elevates local hip hop artists
Another great thing: Both headliners released albums this year, HeyDeon's "Sucker for Love" and Saviii 3rd's "All Eyez on 3."
Giving us a moment's pause: Summer Jam is an all-ages event, but not all of the music is so family-friendly. "I don't censor my artists," Strickland said.
Summer Jam runs from noon to 10 p.m. at the Expo Arts Center, 4321 Atlantic Ave. Tickets are $10 pre-sale ending Thursday, which you can purchase here, and $25 at the door. Follow @RiseLBC on Twitter and Instagram for set times and other updates.
1. TIM MILLER, FOUND THEATER (Saturday)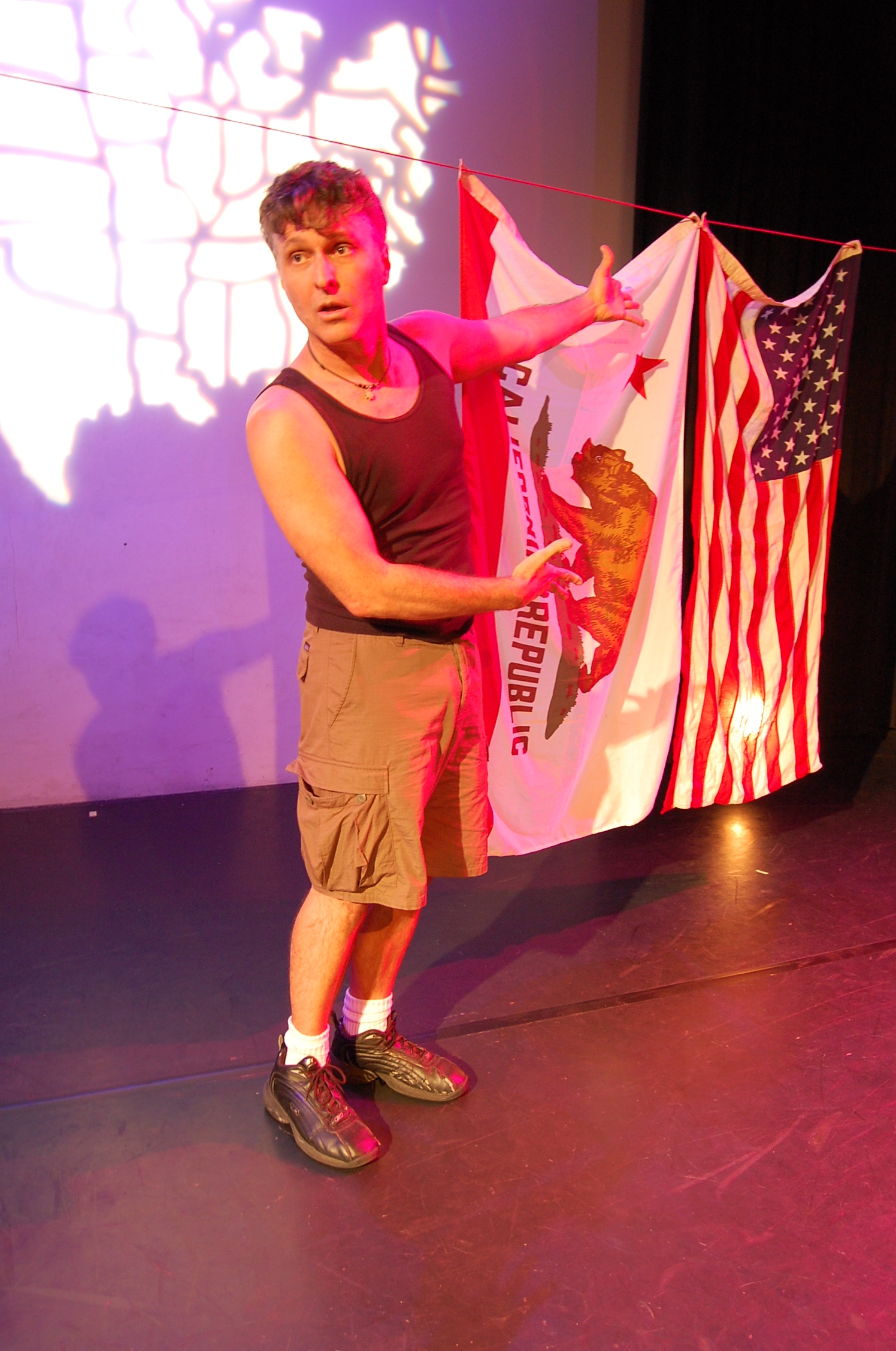 Tim Miller is one of the pillars on which American performance art has been built. Which made us do a very happy double-take when we saw that East Village Caravanserai was presenting Miller doing a performance of his "A Body in the O" at the Found Theater. The show is based on Miller's recently published book, his fifth, that provides a survey of sorts of his wide-ranging career that dates back to the early '80s and has dealt with everything ranging from gay marriage to immigration to the creative process, etc. Miller was one of the NEA Four who had their National Endowment for the Arts grants rescinded by the Bush White House; Miller's crime being he talked in his show about being gay, which he is, so he did. (With the help of the ACLU, Miller and the others successfully sued on the grounds that their First Amendment rights had been violated, so, if it seems insane that this even happened, thank Tim.) And, if you think this is a case of a big star kind of parachuting in for a night, just know that Tim Miller was born and raised in, wait for it, Whittier!
Another great thing: The show is a paltry $15. Fifteen bucks! You'd spend more getting into watch "Angry Birds 2."
Giving us a moment's pause: We still pine for the dear, departed Seafare Inn; best reason to go to Whittier.
The Found Theater is located at 599 Long Beach Blvd. For more information or tickets, click here.
4. NEW JAPAN PRO WRESTLING, SUPER J-CUP (Thursday, Saturday, Sunday)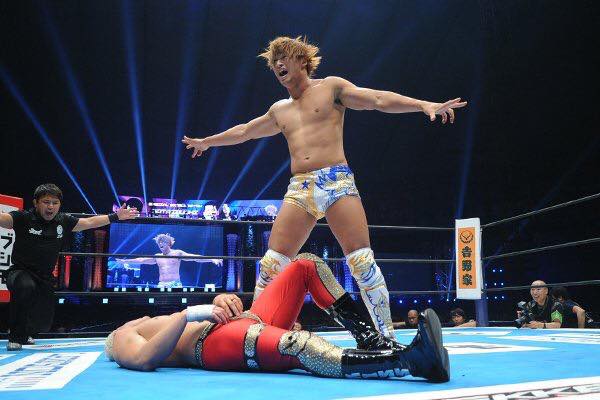 So, you ever find yourself watching some WWE, professional wrestling and amid all the pounding, beating and blood, all the chaos, gore and busted folding tables, think to yourself: "Very nice, very nice, but, oh what's the word? Ah yes, more." Well, you're in luck. Hardcore  wrestling fans—and we're related to one—know the best in-ring product these days is not the WWE but New Japan Pro-Wrestling. This is not some Suplexing-Johnny-Come-Lately organization, it's been around since 1972 and has grown to become the second-biggest wrestling promotion in the world, behind WWE. It's wrestlers are generally more creative, higher-flying and acrobatic. And that works in concert with New Japan crowds which are crazy with the energy. Not only are they attracting more fans but bigger name talent. Just this summer New Japan was home to Chris Jericho.
Another great thing: New Japan LOVES Long Beach. Any time they come to Southern California for a promotion, the Pyramid is usually their venue of choice.
Giving us a moment's pause: You don't know who Jericho is? Buddy, you just made the list!
Walter Pyramid is located on the campus of Cal State Long Beach at 1250 N Bellflower Blvd. For more information or tickets, click here.
5. GONDOLOL, COMEDY AT SEA
If you're not rocking with laughter by the end of this comedy show, it's probably the boat you're on. GondoLOL, created by award-winning poet Derrick C. Brown and comedian Kurt Braunohler, is bringing two actors and comedians, Kyle Kinane and Maggie Maye, to elicit the laughs of fellow gondola passengers along for this Saturday evening ride through Naples' picturesque canals. Described as "California's greatest, weirdest comedy show," the two 14-seater Venetian gondolas are "powered by human dudes;" it's advised you bring your own drinks and snacks. (AM)
Another great thing: The "human dudes" sing; bring cash tips.
Giving us a moment's pause: A 1.5-hour comedy show you can't leave, unless you feel like swimming. This is not for weak or small-bladdered attendees.
The gondola getaway floats from 6:30 (sharp) to 8:30 p.m. from Leeway Sailing Center, 5437 E. Ocean Blvd. Tickets are $25 and can be purchased here.
6. DRAGS FOR WAGS (Saturday)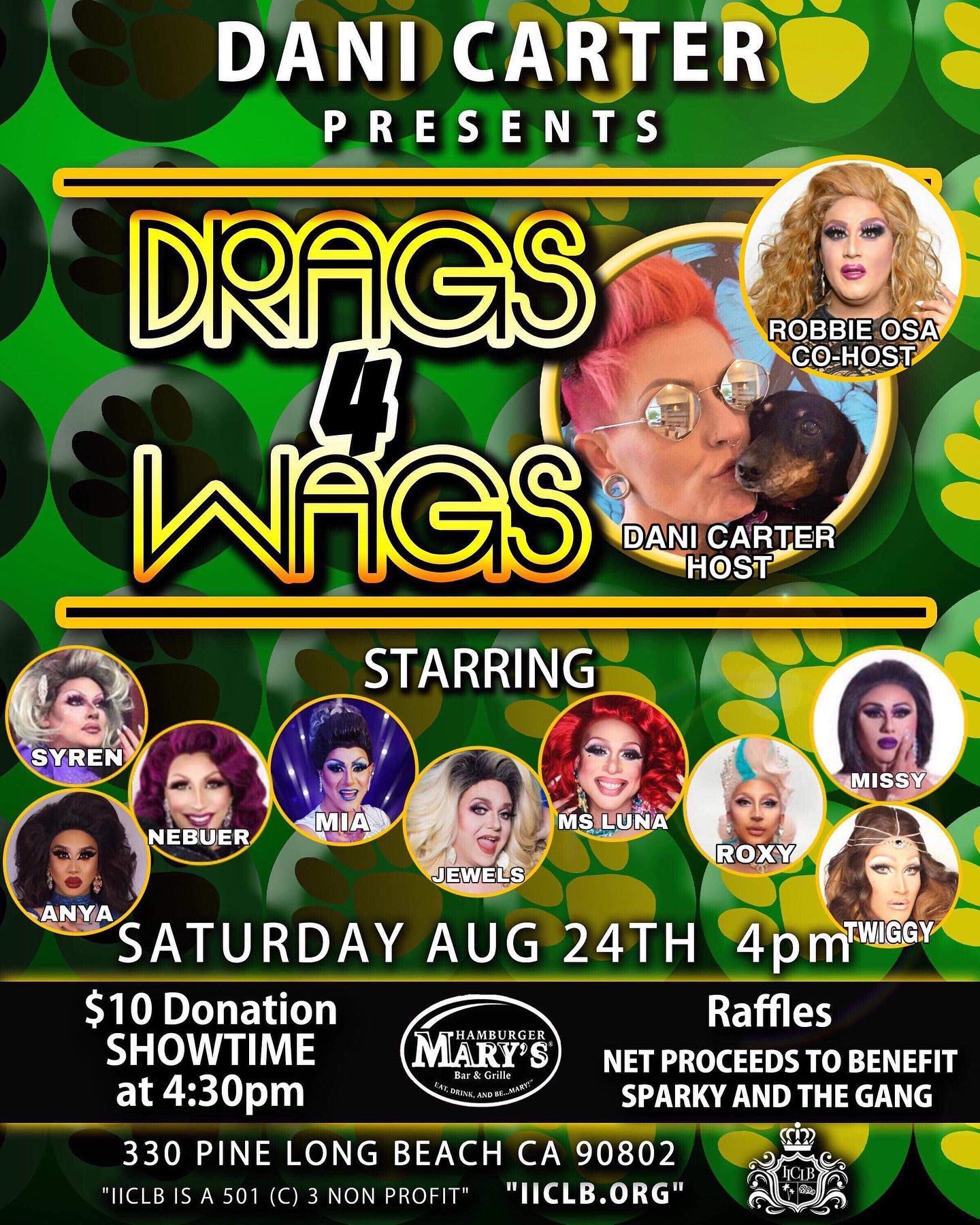 On Saturday night, Hamburger Mary's is set to serve Long Beach's canine community alongside their delicious food and glamorous performances. The 4th annual Drags for Wags will feature glitzy shows, games and raffles for your enjoyment, but mainly for the benefit of the dogs from Sparky and the Gang Animal Rescue. Some of the city's best performers are volunteering their time to raise money for the rescues dogs of Sparky and the Gang, including queens such as Roxy del Valle, Nebuer and Syren.
Another great thing: The organizers will also be collecting school supplies to help kids get their academic year off to a good start (as if helping adorable puppies isn't enough reason to attend).
Giving us a moment's pause: The realization that our current health code probably prohibits any of the dogs from attending the event.
Drags for Wags will take place at 4 p.m. at 330 Pine Ave. There is a $10 donation at the door, and to reserve a table, call Hamburger Mary's at (562) 436-7900 or make an online reservation on Yelp. To adopt any of the pups from Sparky and the Gang, email [email protected].
7. LONG BEACH YOGA FESTIVAL (Sunday)
Every last Sunday of the month yogis unite in an unlikely place, the shopping center green of the outlet mall in Downtown, making a show of taking a much-needed breather from, but still in, a fast-paced urban environment. Free and with something for everyone, this festival has yoga classes led by local studios, a Mindful Market with local vendors and artisans peddling plant-based products and health brands, as well as a concert featuring a sound healing meditation performance. (AM)
Another great thing: Kid-friendly yoga classes!
Giving us a moment's pause: Dog-friendly yoga classes.
The festival runs from 11 a.m. to 8 p.m. at The Pike Outlets, 95 S. Pine Ave. For more info, check out the event page here. RSVP for yoga classes via the website here; bring your mat to partake.
Add the "Today you should…" calendar

Subscribe through Google Calendar or your calendar app and get alerted to the best things to do in Long Beach. Updated 7 days a week.
This feature is experimental. Let us know how it's working.
Support our journalism.
Hyperlocal news is an essential force in our democracy, but it costs money to keep an organization like this one alive, and we can't rely on advertiser support alone. That's why we're asking readers like you to support our independent, fact-based journalism. We know you like it—that's why you're here. Help us keep hyperlocal news alive in Long Beach.