The 7: Things to do this weekend including Saturday!
By weekend we pretty much mean Saturday because every event mentioned either occurs exclusively or in part on Saturday. So plan wisely. Or don't. Our role is just to get you the information, what you do with it is entirely up to you. Well, not entirely. Normal rules of law and societal comportment are, we believe, implied in each "The 7." At least, that's the position we took when deposed.
Enjoy!
1. LONG BEACH VEGAN FESTIVAL (Saturday)
With more than 100 vendors expected to descend on The Pike Outlets for the fourth annual Long Beach Vegan Festival, even if you're not a committed vegan you're sure to find something to your liking. Whether you're digging into a pile of Asada Fries from Chicana Vegana or going to town on a Cocobella Creamery dairy-free ice cream cone, Vegan Fest is here to wow your taste buds with its show of cruelty-free eating, as well as shopping.
Another great thing: Live music starts at noon with an eclectic group of indie bands from San Bernardino-based outfit Unsound Sunday to Montebello-hailing ska band Matamoska, local "leprechaun warriors for the planet" Slushbox and more.
Giving us a moment's pause: Just because something is vegan, doesn't mean it's healthy.
The fest is free with VIP tix available and runs from 11 a.m. to 7 p.m. at The Pike Outlets and Green; 95 S. Pine Ave. For more info, check out the website here.
2. YELLOW LOUNGE, WE LBC (Saturday)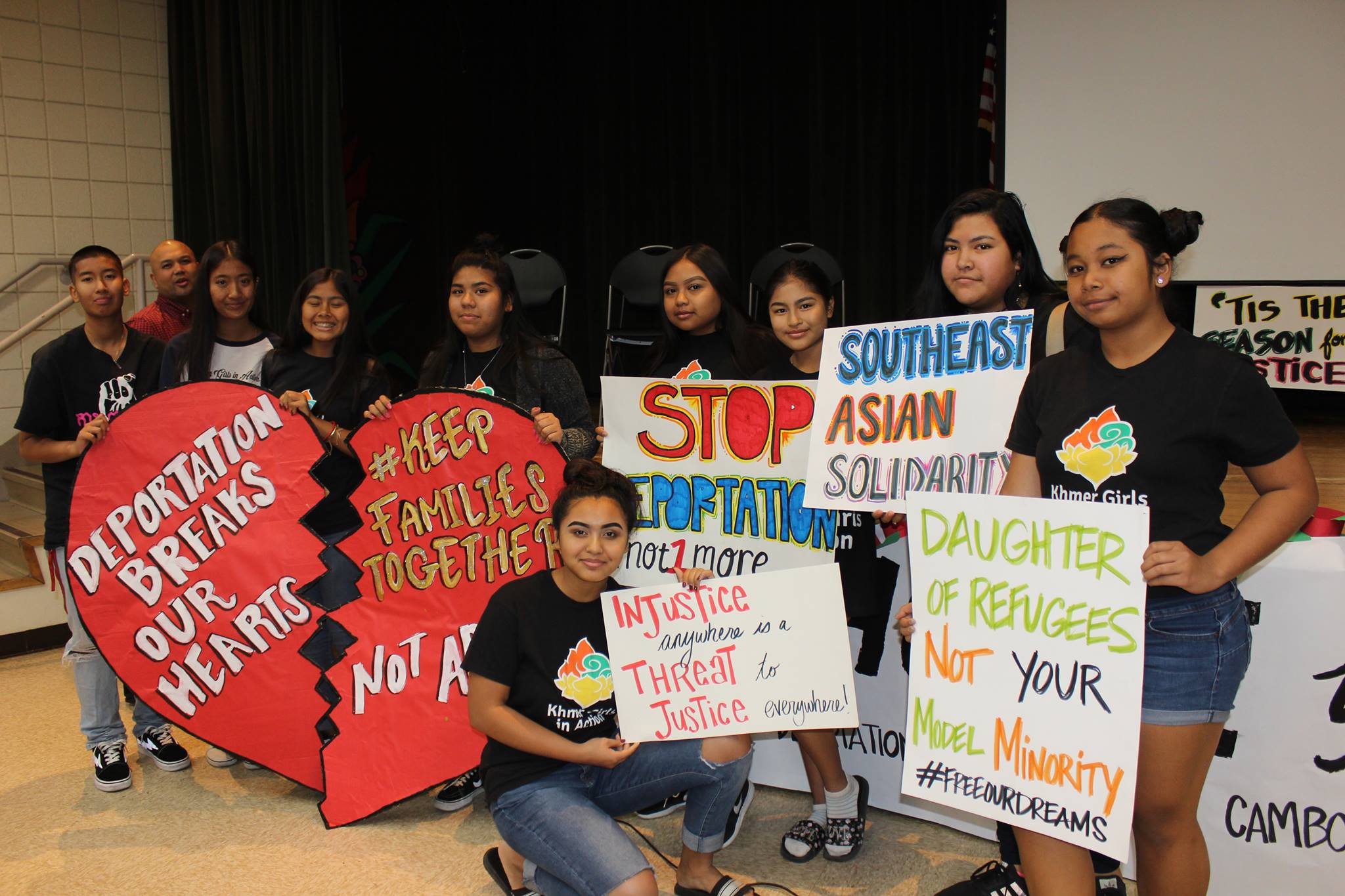 Local youth advocacy organization Khmer Girls in Action will be hosting its 13th annual Yellow Lounge event in Central Long Beach this Saturday, spotlighting local Southeast Asian youth through theater, writing, dance and art. The free event, themed "We Love, Believe & Care," will also educate the community on issues affecting their neighbors, including resources for those impacted by deportations, and provide them with opportunities to register or pre-register to vote.
We spoke with Emily Chan, a youth MC for the event and Jennefer Heng, KGA alum and community organizer, about Saturday's event.
Why does KGA use the Yellow Lounge event to encourage youth participation in the arts?
Chan: A lot of youth where we come from don't really have the space and resources to express themselves through the arts. Yellow Lounge actually started in our office. The youth just wanted to create a space to read poetry and share it with each other. Over time, Yellow Lounge grew to include theatre, dance and art as a form of expression and storytelling with our family and friends. We don't learn about our history and culture in school so Yellow Lounge is a safe space for us to do that. Also, since there isn't a lot of Southeast Asian represented in the media, in past Yellow Lounge events, we have produced publications, zines, and documentary screenings that tell our stories not based on the Asian model minority myth.
How do the performers go about developing their pieces?
Heng: Through our summer program, we hosted weekly workshops where youth leaders discussed current issues that impacted their lives such as school climate, deportations, women's reproductive health. The overarching themes pointed out a real need for city funds to be allocated to positive youth development and resources to support youth and their families. Our workshop facilitators who come from the community and our program coordinators created prompts for youth to explore these topics and how it related to their real life experience. Then, members voted on what stories they wanted to tell and what art mode they wanted to use to tell their story. For example, members who are in theater, wrote their scripts to share a day in their life in a Cambodia Town that is rapidly being gentrified. Members who joined classical Khmer Dance, often join because of an intergenerational gap. They want to understand first-generation Cambodian roots while embracing what it means to be Cambodian-American.
Another great thing: Attendees will get to learn about the Invest in Youth campaign, which KGA revealed over a year ago and aims to secure continuous funding for local youth in the city's budget. Last September, the Long Beach City Council approved $200,000 in one-time funds in the general budget for the Long Beach Children and Youth Fund to support programming.
However, campaign members have been calling to make the funding permanent since August and in April they revealed plans to potentially pursue a measure to secure long-term funding.
Giving us a moment's pause: We're good.
The 13th Annual Yellow Lounge will take place from 5 to 7 p.m. at Roosevelt Elementary School's auditorium; 1574 Linden Ave. RSVP with an optional donation at this link.
3. THE SIX-STRING SHOWDOWN (Saturday)
Last year, the New Blues Festival premiered an event that gathered nine of the most prolific guitarists in Southern California for the ultimate musical showdown. Oh yeah, and they were all 21 or younger. This Saturday, head to the PCH Blues Club to witness a second year of musical prowess from the next generation of blues legends, who range from 21-year-old Johnny Agundez to 12-year-old Austin Thomason.
Another great thing: This isn't your average guitar recital. Each competitor faces off with another randomly selected guitarist, they rock/paper/scissors to determine who solos first, then spin a wheel to select the style of blues. Once the rest of the band is cued up, they throw all of their musical might into trading off improvised solos until the winner triumphs (or a guitar string snaps).
Giving us a moment's pause: Guitar face, it's a thing: http://6stringshowdown.com/events-gallery/
The Six-String Showdown will take place from 5 to 11 p.m. at 6285 E. Pacific Coast Hwy. Tickets are available at this link.
4. MIDSUMMER SCREAM (Saturday and Sunday)
Midsummer Scream is coming back to the Long Beach Convention Center for two days of haunted attractions, terrifying cosplay and informative panels. Organizers boast over a dozen haunted houses, displays and demonstrations like a 10-minute version of Cross Roads Escape Games' "Psych Ward" or an Amazon-themed attraction called "Secrets of the Mist."
Another great thing: King of everything Americana Charles Phoenix will also be there "roasting and toasting the sweetest, scariest day of the year."
Giving us a moment's pause: If getting scared isn't your thing—why go then?—you can hear Disney legends Tony Baxter and Bob Gurr and others share stories about Disneyland's Haunted Mansion, which is celebrating its 50th anniversary.
Long Beach Convention Center is located at 300 E Ocean Blvd. For more information click here.
5. LOVE, THUNDER, AND DYNAMITE, A 'ROADHOUSE' PARODY (Thursday-Saturday)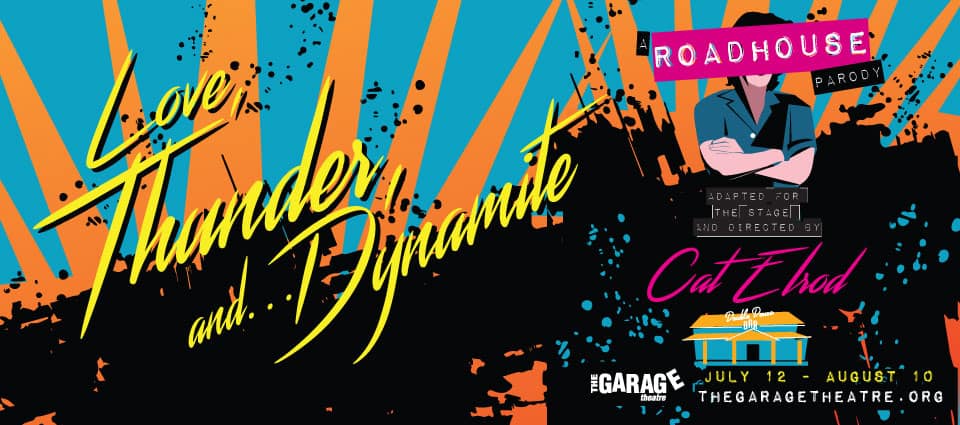 When you work at the cultural nexus that is the Post, you get to meet a lot of people doing a lot of great stuff. And, sometimes tacos are served. Such was the case when the cast of "Love, Thunder …" dropped by for our Hi-lo launch party and performed a couple scenes from the play currently at the Garage Theater. They were very funny and somewhat violent, like with guys getting thrown around and, in one case, some dude kicking a knife out of another dude's hand and then catching said knife, such a spectacular bit of combat choreography that the entire room of artsies went "Oooooooooh."
Adapted and directed by Cat Elrod, the play is a rather rollicking send-up of the Patrick Swayze film that, so rollicking that it will feature a real bar and a live band. And, since Elrod is kind of a big deal in the Hollywood makeup world, you can be assured that facet, and the wigs, will be on point. And there are lots of wigs. Trust us on this.
Another great thing: Family Guy Road House
Giving us a moment's pause: Wasn't "Roadhouse" a parody of "Roadhouse?"
The Garage Theatre is located at 251 E 7th St. For more information or tickets, click here.
6. BEACH DAY WITH BASSETS (Saturday)
If you've yet to attend a breed-specific gathering at Rosie's Dog Beach, you're not really living. We've witnessed the fierce cuteness of corgis play-fighting on the shore and the unbearable smelliness of Frenchie farts, but have you seen a basset bunch? Put on by Basset Hound Rescue, these long-eared, low-riding doggos are some of the most sociable and are sure to make any beach day a fun one, whether you're a proud basset owner or not.
Another great thing: No Frenchie farts.
Giving us a moment's pause: No corgi butts.
Basset day runs from 11 a.m. to 1 p.m. at Rosie's Dog Beach; 5000 E. Ocean Blvd. (look for the dog sculptures in the sand). Check out the Facebook event here.
7. DINE LBC (Saturday – Sunday, Aug. 11)
[SPONSORED] Dine LBC partners with local restaurants to offer affordable two- and three-course menus for nine days in Long Beach. It's one way to experience an eatery you've been meaning to try for months, or simply a great excuse to eat out at a place you already know you love. From fine dining staples like L'Opera Ristorante in Downtown to more casual locales like DOGZ Bar and Grill in the Shore, there's nearly 40 establishments participating this year with menus priced from $15 to $65 per guest, or dinner for two at more casual spots starting at $25.
Another great thing: If you post a photo of your meal or of yourself in front of a participating restaurant on Instagram and tag and follow @DineLBC and #DineLBC, you might win a two-night stay at The Westin and dinner at its new restaurant and bar, Navy Proof.
Giving us a moment's pause: The great Gilda Radner's line: "I'm so full, I can't hear."
Dine LBC starts Saturday and runs through Sunday, August 11. For more info, visit the website here.
Add the "Today you should…" calendar

Subscribe through Google Calendar or your calendar app and get alerted to the best things to do in Long Beach. Updated 7 days a week.
This feature is experimental. Let us know how it's working.
Support our journalism.
Hyperlocal news is an essential force in our democracy, but it costs money to keep an organization like this one alive, and we can't rely on advertiser support alone. That's why we're asking readers like you to support our independent, fact-based journalism. We know you like it—that's why you're here. Help us keep hyperlocal news alive in Long Beach.