For POW! WOW! Long Beach 2019, there are more than 20 artists, about half of which come from Los Angeles County, the other half from all over the world. From local artist Tidawhitney Lek, born and raised in Long Beach's Cambodia Town to Mexico City artist Hilda Palafox, you'll find info and images of what to look forward to as their murals take form Sunday, July 21 through Sunday, July 28. And, make sure to check out this map that has pin drops of all the locations.
Looking for things to do? We've got you covered with events, too.
Your complete guide to POW! WOW! Long Beach events July 21 – 28
Cynthia Lujan
https://www.instagram.com/p/BzJUseclsqP/
Cynthia Lujan's obsession with traffic signage, as in the cones, colors and wording that alert drivers, pedestrians, cyclists and more to detours, directions and hazards in the road, investigate the power dynamics between people and the urban infrastructure they live in. A Cal State Long Beach alumni and as much an advocate for artists as an artist herself, Lujan is co-founder of Flatline Gallery in North Long Beach where she and fellow alumna Elizabeth Munzen (who now leads the project) brought art to a corridor mostly deprived of creative space. If Lujan's recent mural for ICON LBC at The Icehouse Arts Complex is any indication of what the future holds, her mural for PWLB is sure to impress.
Wall: Inside the 3rd Street parking structure next to Harvey Milk Park at 185 E. 3rd St.
Instagram: @desfigurados
Website: www.cynthialujan.com
Tidawhitney Lek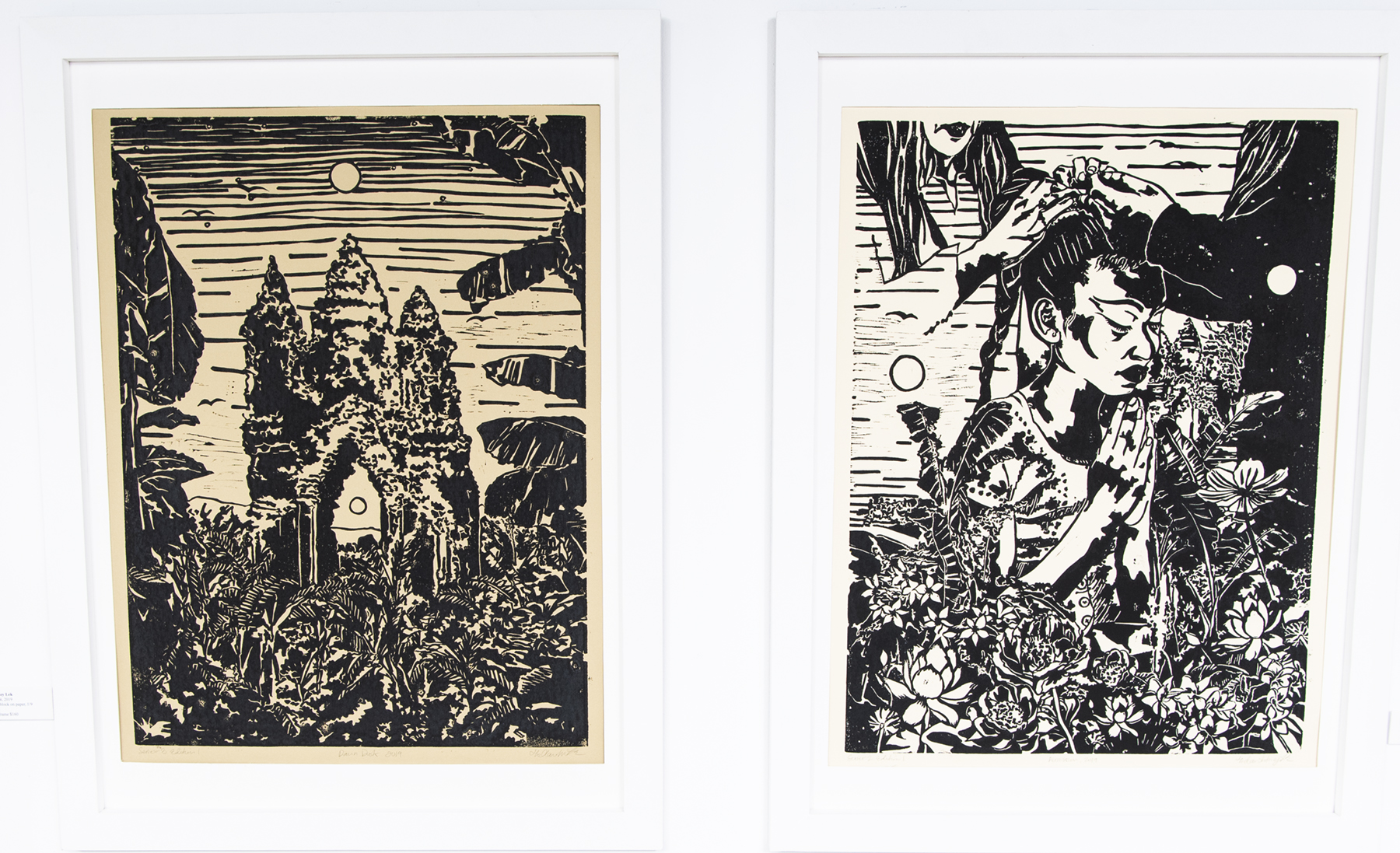 Using her own life as inspiration, Tidawhitney Lek's drawings, paintings, printwork and collages tackle themes of her upbringing—born and raised in Long Beach's Cambodia Town—and what it means to be Cambodian-American. With a studio in downtown Los Angeles and her home here in Long Beach, the Cal State Long Beach alumna's paintings read like fading memories with sharp details butting up against Photoshop-like edits and surprising geographical elements.
Wall: Guv'nors Boxing Gym at 1630 E. Anaheim St.
Instagram: @tidawhitney  
Woes Martin
https://www.facebook.com/GraphaidsLB/photos/a.402086279458/10156701671969459/?type=3&theater
Oahu-born Aaron "Woes" Martin's famous, growling, red-eyed pandas can be found just about anywhere, painted on cutting boards, as murals behind art supply stores, on t-shirts, pins and shoes and as collectible resin sculptures. Raised back and forth between Southern California and Nevada and following a near-fatal car accident, Woes started leaving emotional images of the vulnerable species everywhere he could. With a background in hip hop the prolific painter often DJs for Long Beach-based drawing meetup, Ink n' Drink (don't miss the next one on Tuesday, July 23) and has painted works behind Graphaids art supply and with the Hello, Welcome art collective.
Wall: The Lab Learning Space at 927 Pine Ave.
Instagram: @woes
Website: http://www.woeskimartin.com/
Crisselle Mendiola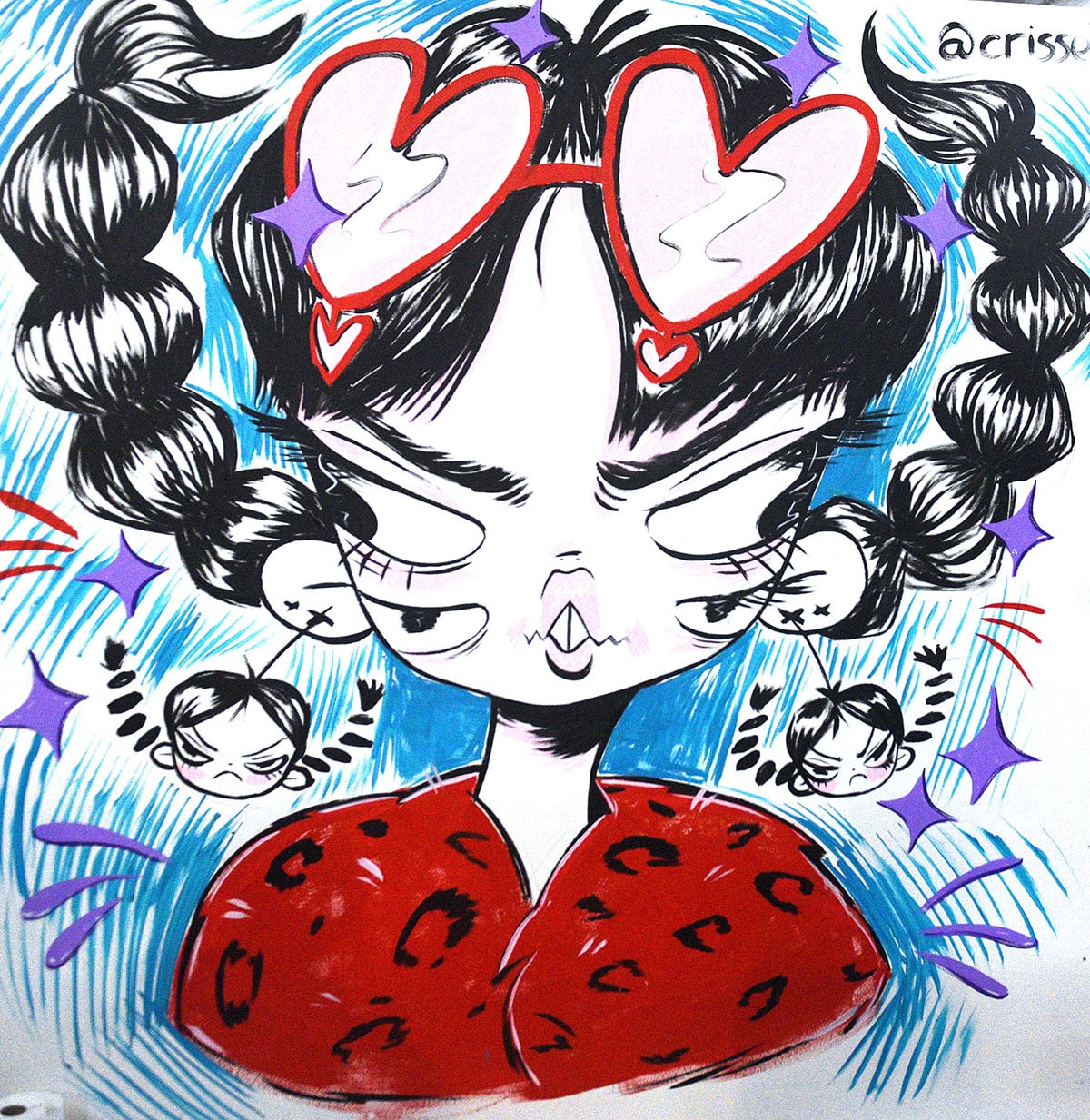 With her character-driven work reminiscent of French artist FAFI's "fafinettes" with their unapologetic femininity, Crisselle Mendiola made her mark in Long Beach this year when, in under 90 minutes, she threw up one of her own expressive characters on a wall at the Icehouse Arts Complex to the delight of all who watched. The all-female live art battle, "Tooth & Nail" set the stage for this up and coming artist, illustrator and muralist to take on some major new projects, including unofficially designing a Grand Prix of Long Beach poster, completing multiple murals at the Icehouse and recently showing work for a sex-positive exhibition at Chewing Foil gallery in Koreatown. She may say she's tired sometimes, but Mendiola is just getting started.
Wall: Drake Park at 951 Maine Ave.
Instagram: @crissellem
Website: www.etsy.com/shop/crissellemart
ABCNT
https://www.facebook.com/abcnt/photos/a.60826150910/10156044788255911/?type=3&theater
ABCNT's alias in the mid-90s was "Absent," an acronym for Always Be Successful Entering New Terrain, but his DJ name was "AbcntMnded." The Los Angeles-based street artist merged the two to simplify his work into one main idea, not to be confused with any kind of branding, he told The Status Faction. ABCNT's work is often political; recently confronting environmental issues with his "Alice in Wasteland," where a saddened version of the beloved Disney character sits in front of a polluted landscape.
Wall: The Green Room at 1741 E. 7th St.
Instagram: @abcnt
Website: http://abcnt.info/
Allison Bamcat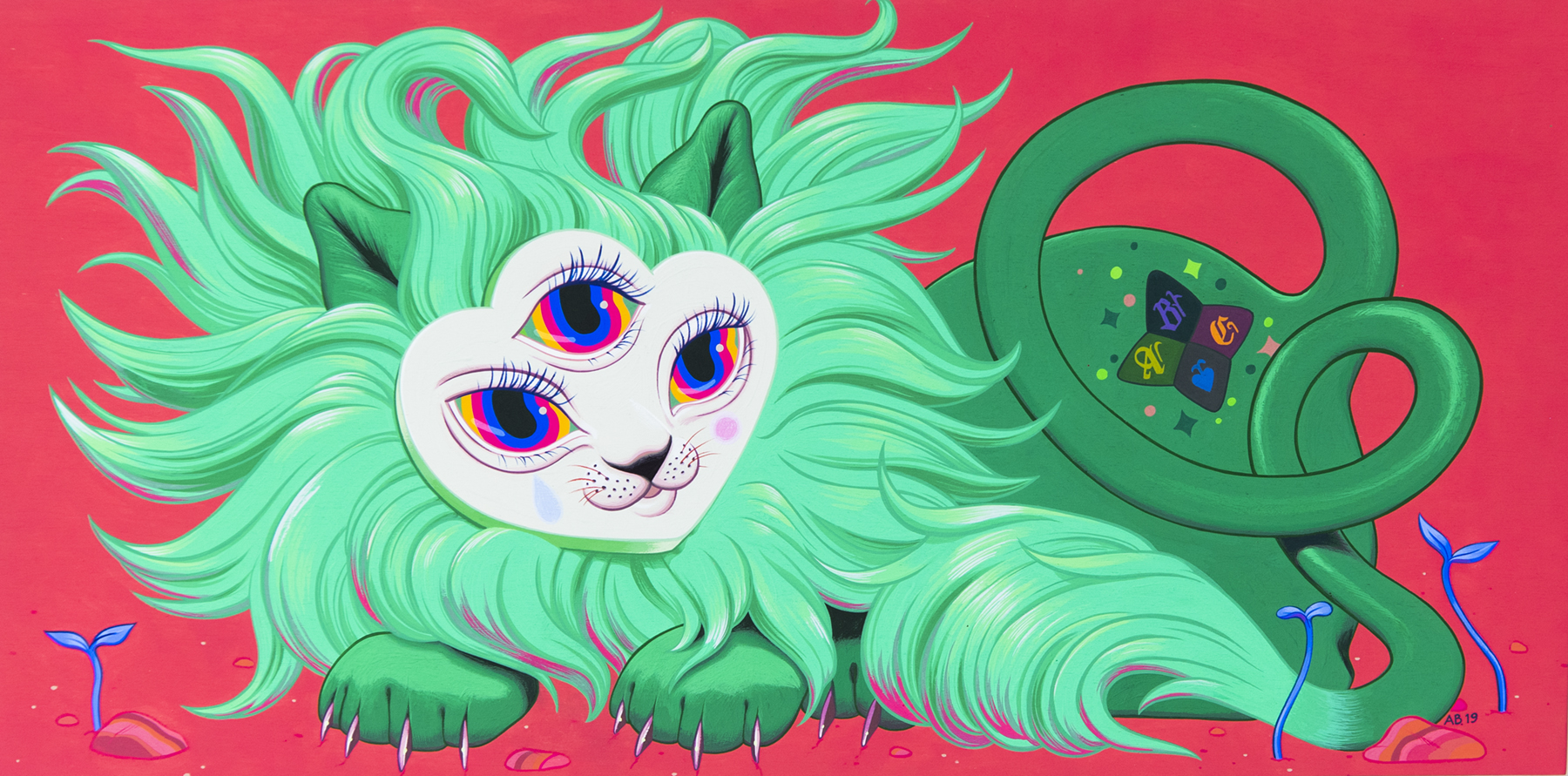 Sometimes creepy, sometimes cute, always colorful, Los Angeles-based artist Allison Bamcat's surreal floating islands and jelly-drooling, candy-colored creatures resemble our domesticated furry friends but there's always something delightfully off. From dogs and cats to hummingbirds and alligators, Bamcat's zoo of wild things captured on wood represent her own wild journey through life. Bamcat's first mural in Long Beach was inside the Ice House Arts Complex in Long Beach, while she has finished nearly 20 large-scale works and installations throughout Los Angeles County. Bamcat, whose work as a designer speaks for itself (just look at these Converse) has recently stepped it up a notch and is now working as an independent artist full time.
Wall: Crux Financial at 3444 E. Anaheim St.
Instagram: @allisonbamcat
Website: http://www.bamcatart.com/
Jason Keam
Keam's larger-than-life work exemplifies the POW! of this event, furthering his self-proclaimed mission to spread empowerment and joy through vibrancy and unhindered expression. His style is perfectly encapsulated by one of his go-to characters: a long-snouted dog, its tongue lolling in an unabashed smile. He's pulled this joy into his work as a social media animator for Cartoon Network, Fox, and Disney, but the Cambodian-American has also maintained a local focus. In 2016, he opened 'The People's Studio' in North Long Beach, a summer residency described as a space to gather to discuss art and local issues and to showcase the work of local artists. This goal to unite the city through art has also been furthered by his collaborations with locally-based brands such as Long Beach Creamery, and we can confidently testify that if anyone's art is meant to adorn a pint of ice cream, it's Jason Keam's.
Wall: Drake Park at 951 Maine Ave.
Instagram: @jason_keam
Website: www.jasonkeam.com
Bodeck Luna Hernandez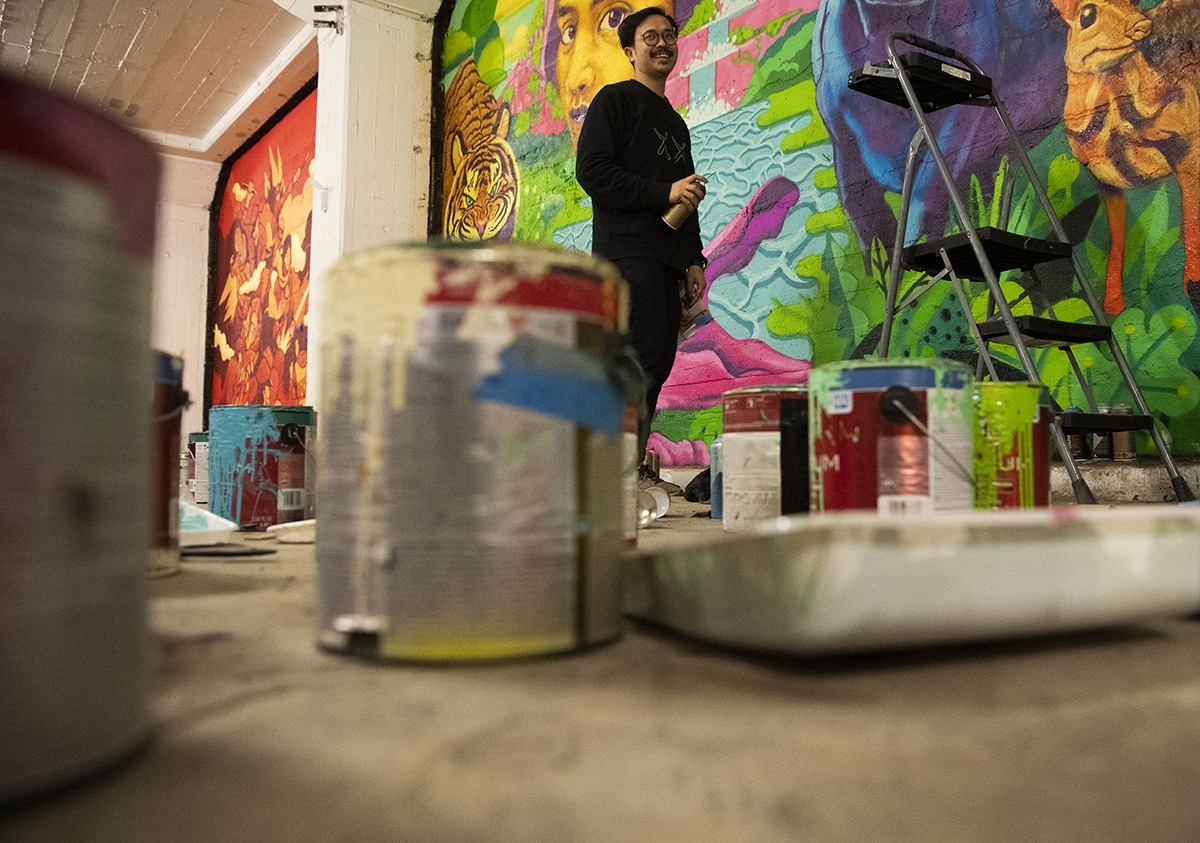 Born in the Philippines, Hernandez' paintings, illustrations and murals throughout Long Beach and neighboring cities explore the clash of distant memories with society's reliance on technology and consumerism. His portraits, oftentimes of local residents, animals and landscapes make up a world neither real nor fake, with highly saturated colors and floating pixels, offering viewers a chance to step into another dimension. Hernandez is also exceptionally active in elevating Long Beach's community of artists, as one of the founders of Hello, Welcome art collective and as art director of the inaugural Long Beach Filipino Festival in 2018.
Wall: Drake Park at 951 Maine Ave.
nstagram: @bodeckluna
Website: www.bodeckluna.com
Steve Martinez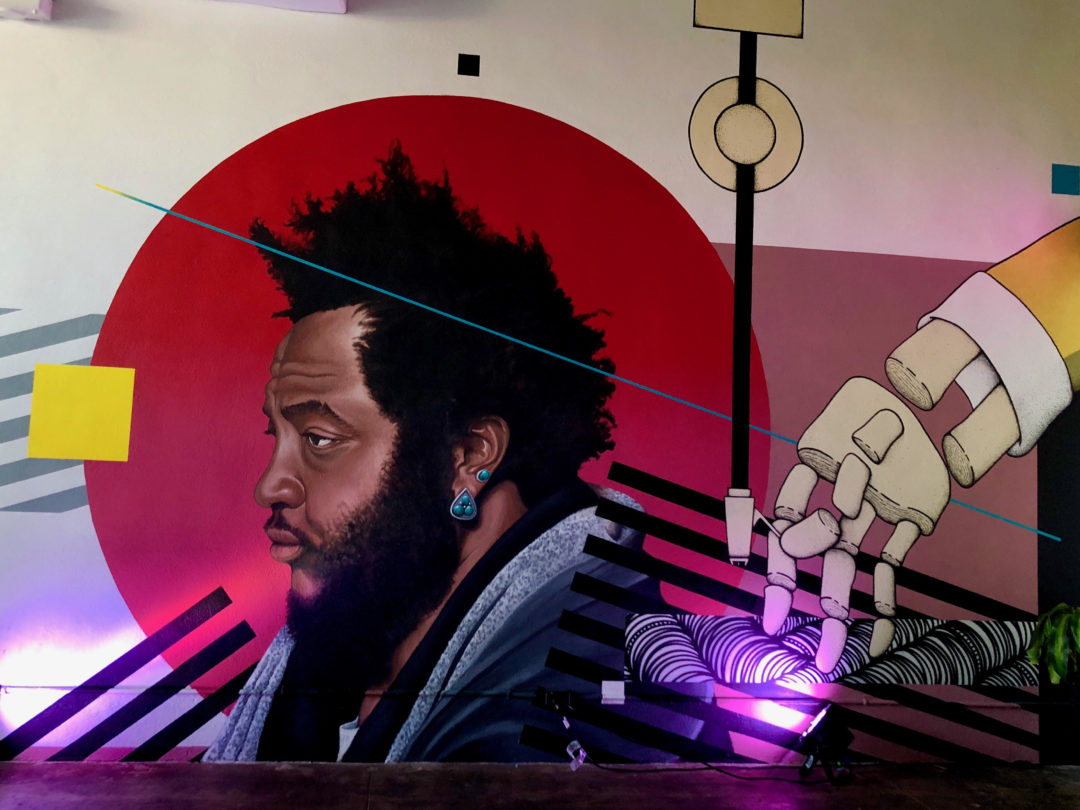 Born in Compton and surrounded by gangs in the 90s, Martinez chose graffiti over what could have been a life of drugs and violence. Practicing the urban art led him to pursue a degree in graphic design. Now a fine artist, muralist, photographer and graphic designer, Martinez' work combines bold graphic elements contrasted with a softness and realism in the portraits he renders of people and creative icons, including Frida Kahlo and Thundercat. Martinez often includes Mayan symbols in his work as celebrations of his culture, layered against popping colors and his signature monochromatic coils.
Wall: The Packard at 205 E. Anaheim St. on Locust Ave.
Instagram: @stevemartinezart
Website: http://stvmartinezart.com/
Never Made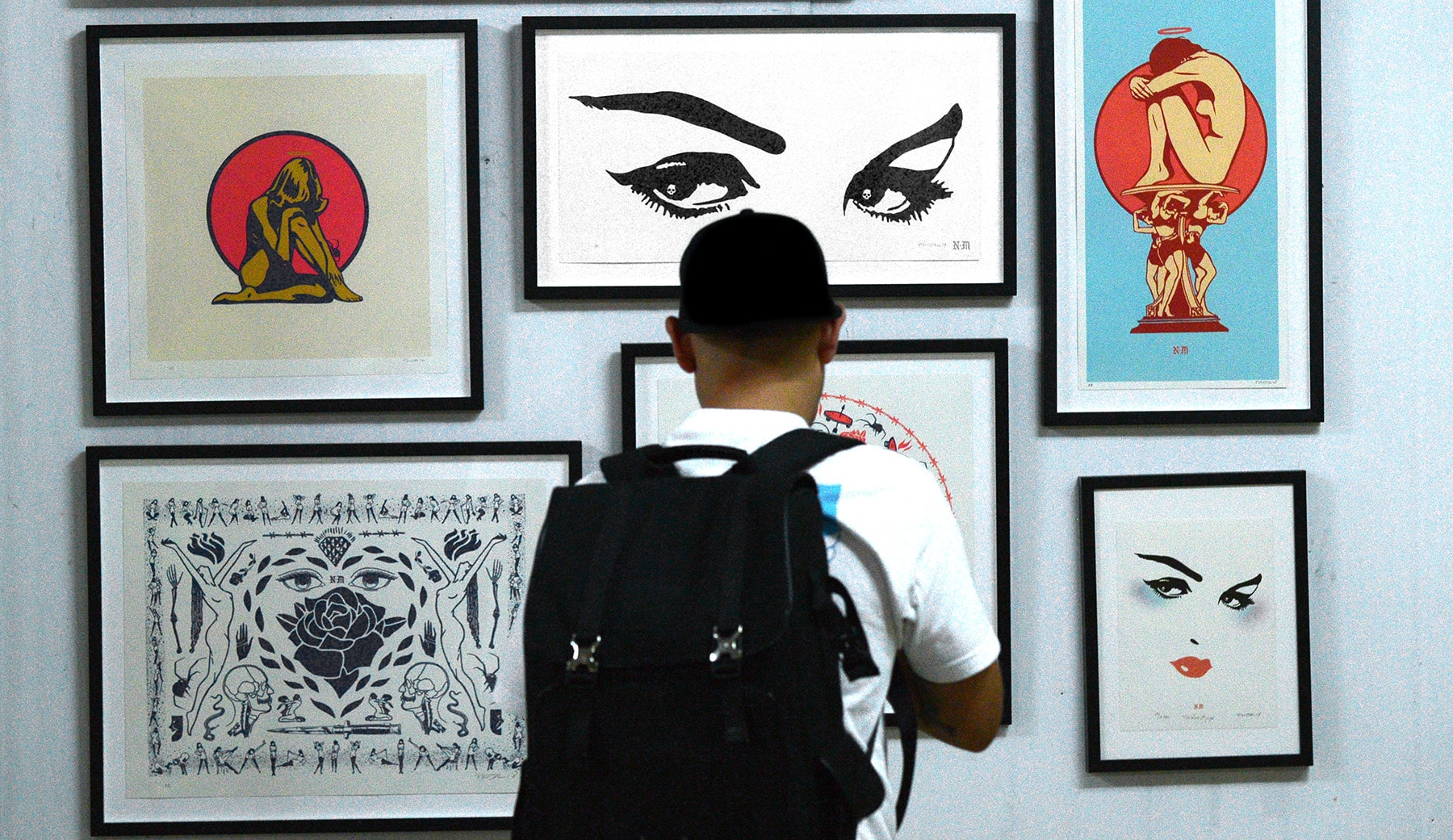 Francisco Reyes Jr.'s work is striking in both message and color scheme, oftentimes embodying the act of patriotism through dissent. The clean lines, bold hues, and distinct imagery of his work are designed to be impactful in a subversive manner, engaging his audience with different interpretations of his work. After graduating from college with a graphic design degree, his eye-catching style caught the attention of Shepard Fairey. During Reyes' time as a mentee at Studio Number One, he took inspiration from Fairey as well as his own roots in LA's punk and skate scenes to craft his style under the alias of Never Made. His work doesn't just adorn walls; he's actively pushing his streetwear brand forward, with recent collaborations with brands including The Hundreds, Rebel 8, and Hurley. Reyes's innovation and message continue to progress through his ethos that "Things are never made, they're earned through hard work and persistence."
Wall: Hoonigan at 621 Golden Ave.
Instagram: @nevermade
Website: www.nevermade.com
Balloonski
https://www.instagram.com/p/Bw3fD-6A9XR/
Not your typical balloon artist, Los Angeles-based Balloonski takes more than a few steps outside of the expected dog and sword at your 2-year-old's birthday party kinda thing and instead pushes the art of blowing up plastic shapes into "time-sensitive art" on the streets, and large-scale installations inside galleries and nightclubs (Balloonski says when you get a balloon of your own, you're transported to the party zone), all the while combining traditional, street and yes, dog and sword art, into a mashup of forms sure to put a smile on anyone's face.
Wall: Various installations throughout the city
Instagram: @balloonski
Website: https://balloonski.com/
Nat Iosbaker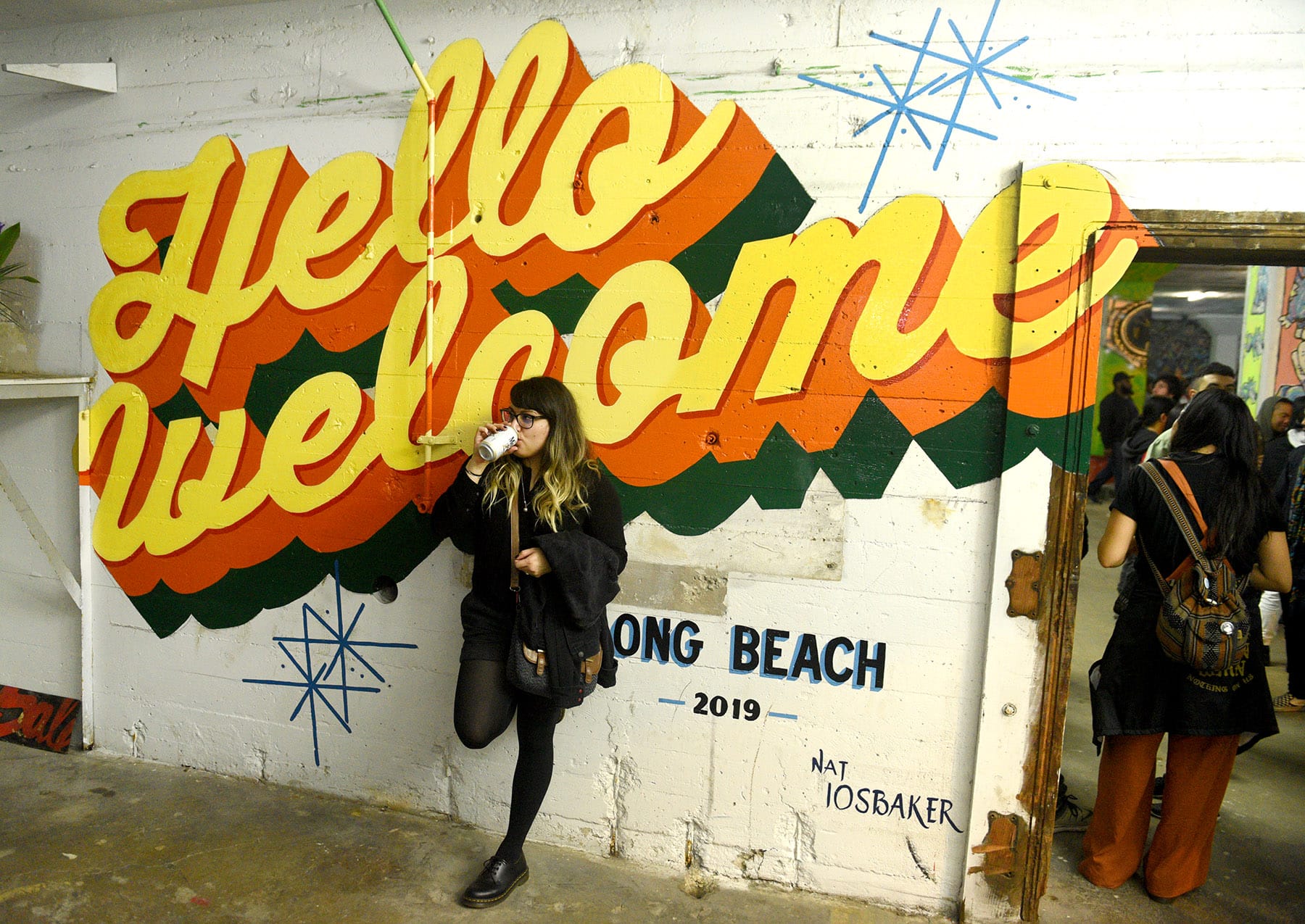 It will certainly be difficult to pin this artist to one particular wall. Instead, you'll find expert sign-painter "pinky up, tongue out" hand-lettering all the POW! WOW! signage throughout Long Beach. As a stencil artist, Iosbaker generally hand-paints signs for local businesses, from sandwich boards to window announcements, you can find his work at Hops & Vines, Lord Windsor Coffee and Burke Mercantile, to name just a few.
Wall: Lettering, stencils and signage at just about every event and mural location, as well as at POW! WOW! headquarters at 475 The Promenade N.
Instagram: @natiosbaker
Website: www.natiosbaker.com
Luise Ono
https://www.facebook.com/photo.php?fbid=1675060035923995&set=a.111903175573030&type=3&theater
Floral and dreamy, the work of artist Luise Ono combines two of nature's most colorful motifs—plants and flowers—and then submerges them into a comic-like precision, where bold outlines are met with detailed, saturated interiors. Growing up in Hiratsuka, a coast city inside the Kanagawa Prefecture just south of Tokyo, Ono was constantly surrounded by nature's presence, be it in the oceans just beyond her front yard or the mountainscape behind her. On top of this, POW! WOW! alumni Shizentomotel and HITOTZUKI have long had murals in Hiratsuka, laying the groundwork of inspiration for Ono.
Wall: Rose Park Roasters at 800 Pine Ave.
Instagram: @luiseono
Website: http://luiseono.com/
Caratoes
https://www.instagram.com/p/Bywkl7vigag/
Under the working name of Caratoes, Hong Kong-by-way-of-Belgium-based artist Cara To has created a surreal world with her art. Dipping into inspirations ranging from Dalí and graphic design to biochemistry and gaming, Caratoes's work blends hypnotically saturated neon colors and abstract shapes with human faces and features. Even more, her canvases range as much as her influences: Whether it is a wall on a new corporate building in Hong Kong or a small wall falling apart atop a mountain village in Brazil, Caratoes is constantly searching for new spaces to showcase her art.
Wall: Underpass at 49th Street and Del Amo
Instagram: @caratoes
Tran Nguyen
https://www.instagram.com/p/BuxH6j_AUmS/
Born in Vietnam and raised in Georgia, Tran Nguyen's work is dreamy, feminine, and emotionally-imbued—which makes sense given her fascination with exploring the human mind's landscapes. In particular, you'll find that interview after interview with Nguyen mentioned the therapeutic aspects of art and, in particular, her interest in how visual arts calm the inner frustrations of day-to-day living.
Wall: Shaun Lumachi Innovation Center at 309 Pine Ave.
Instagram: @mynameistran
Website: www.mynameistran.com/
Kayla Mahaffey
https://www.instagram.com/p/ByfXjrjFqDZ/?utm_source=ig_web_copy_link
Chicago-based artist Kayla Mahaffey's scope of work typically includes hyper-realistic portraits of men, women, and children of color amidst a dazzling array of saturated, whimsical pops of color and amusement. The result is a front-facing examination of race, imagination, and American identity in a world that is under constant exposure thanks to social media.
Wall: Stevenson Elementary at 515 Lime Ave.
Instagram: @kaylamay_art
Website: www.kaylamay.art
Dina Saadi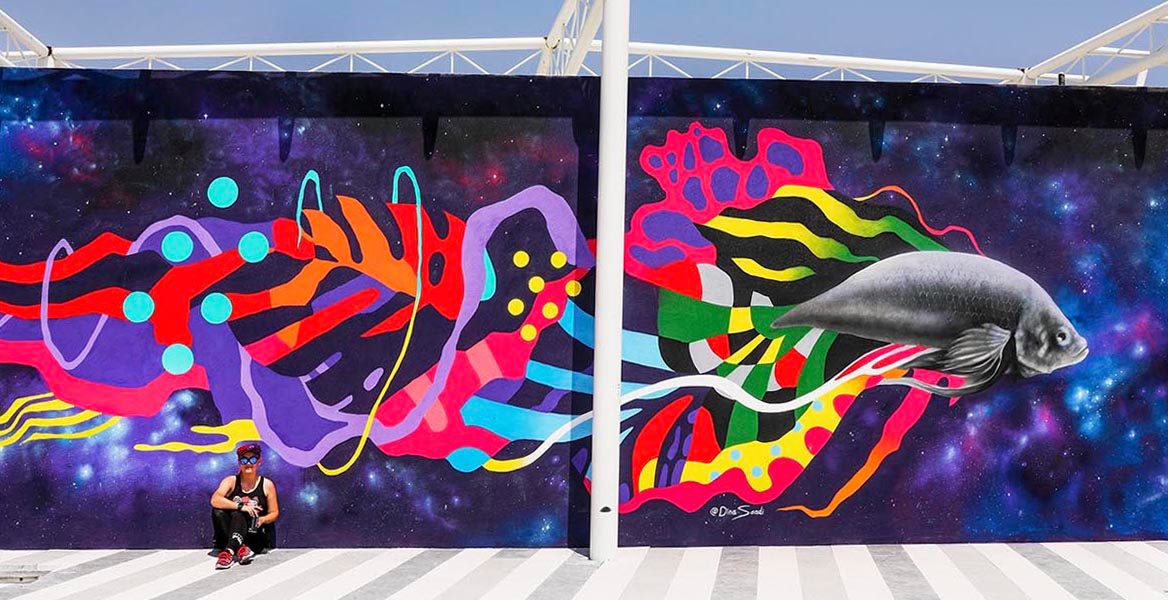 No stranger to street art festivals, this Dubai-based artist's multicultural upbringing is apparent in the bold colors, patterns and symbols in her oftentimes nature-inspired work. Born in Russia and raised in Syria, Saadi has traveled the world to paint walls in the Middle East, Europe, Asia, Africa and the United States and, with an entrepreneurial spirit and skills as a graphic designer, has collaborated with major brands from Apple to Nike. In Long Beach, Saadi will be hard to miss. Just look for the spray can-wielding muralist with the hot pink hair on the lift.
Wall: City Hall parking structure at 332 W. Broadway
Instagram: @dinasaadi
Website: www.dinasaadi.com
Fortoul Bros
https://www.instagram.com/p/BuovIn0F5qU/?utm_source=ig_web_copy_link
Human figures. Flowers. Trees. Vegetables. Water. The sun. Brothers Gabriel and Isaac Fortoul, known artistically as the Fortoul Brothers, examine "the interaction between humans and animals and Mother Nature," as Isaac puts it. Often creating large-scale works in strictly black and white, their flattened perspectives are combined with evocative themes that are intended to prompt the viewer to delve into the "many, many layers behind each painting and much more meaning—if you want to see it."
Wall: City Hall parking structure at 332 W. Broadway
Instagram: @fortoulbrothers
Website: http://fortoulbrothers.com/
Max Sansing
https://www.instagram.com/p/BklBbbHghLb/?utm_source=ig_web_copy_link
Chicago native Max Sansing and his art were birthed out of the graffiti scene in the Midwest's largest city–and further refined and honed into the spectacularly precise work of faces, heads, and facades he creates today. Mixing bright, saturated colors that harken to his graffiti-driven past with unapologetically Black culture references, his work evokes both the deeply personal and the ubiquitous human connection.
Wall: 501 Pine Ave.
Instagram: @maxsansing
Website: www.maxsansing.com/
Hilda Palafox
https://www.instagram.com/p/BrNv5xdAzLo/
Mexico City artist Hilda Palafox, known as "Poni," has a body of work that is largely considered poetic: colors stand amid black and white, the mixture of mediums and textures is more common than not, and her unabashed ability to mix the image of the physical body with interpretations of its underlying emotions. Her "wistful feminism"—a female body adorned with clouds, flowers, abstract shapes, and more—showcase her ability to be both graphic and emotional.
Wall: Pabst, Kinney & Associates at 230 Redondo Ave.
Instagram: @poni
Website: https://hildapalafox.com/
Debe
https://www.instagram.com/p/Bjgq8JFH-Uj/?utm_source=ig_web_copy_link
Taiwanese artist Tsai Yi-Chang, commonly known as Debe or DebeTwoMuch, consistently plays between the junction of abstract futurism and organic symbols: lotus blossoms and images of galaxies are paired with sharp, graphic lines and shapes that feel both surreal and charmingly familiar. Add into this his subtle use of humor—you'll find little nods that lead toward criticisms of consumerism to simply the word "Fuck" becoming the highlight of a piece—and you have an artist whose work is as enjoyable to look at as it is to dissect.
Wall: Long Beach Convention Center Parking Garage off 300 Ocean Blvd.
Instagram: @debetwomuch
Website: https://www.debetwomuch.com/
CRASH ONE
https://www.instagram.com/p/Bt6qSw_gEvG/
Predominantly a street artist, Bronx-born John Matos was a teenager when he began "writing" in train yards with a group of older kids. In the 80s, he became one of the first graffiti artists to transition to canvas, and curated Graffiti Art Success for America at Fashion MODA, bridging the streets with fine art. His colorful, comic-book style, pop art-inspired walls and pieces are full of explosive movement; many of his works sit in major museum collections around the globe.
Wall: Supply & Demand at 2500 E. Anaheim St.
Instagram: @crashone
Website: https://www.crashone.com/
Spenser Little
Spenser Little is obsessed with wire and creates artworks that straddle the line between sculpture, installation and street art. Sarcastic and dry-humored, his work is often filled with harsh tinges of social critique: one piece depicted an iPhone above a woman's vagina with the sentence, "If your clit had a touchscreen, he'd caress it more," while another, installed overlooking a serene ocean, depicted a smartphone being held and read, "Authenticity is everything." In short, Spenser Little challenges the ideas of space and art itself.
Wall: Various locations throughout the city
Instagram: @spenserlittleart