City sells vacant lot to make way for more senior affordable housing
Making way for more affordable housing for seniors, the Long Beach City Council has formally approved the sale of a 15,795-square-foot lot in Central Long Beach to affordable housing developer Mercy Housing California of Los Angeles.
Originally sold to Wood Investments in 2016 as part of the city's state-required selling of its redevelopment properties, the sale didn't close escrow, re-opening the lot's availability for a new developer. Approved for $750,000, the sale will give Mercy two combined lots—925 and 945 E. Pacific Coast Highway—in order to develop its project.
Mercy will combine this with the adjacent property they own just west of the city property they purchased.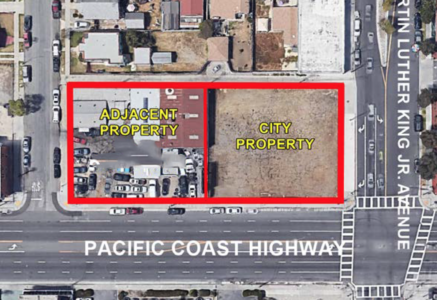 Details on the project remain slim but attached to the sale was a proposal from Mercy: 68 senior affordable apartments, a portion of which will be reserved for seniors who have experienced homelessness. Amenities will include a community room, a courtyard and recreation area, as well as a community resource center that will cater to both those who have experienced homelessness as well as those who need access to day-to-day services.
According to Mercy, the project will create an estimated 140 temporary and five permanent jobs.
Brian Addison is a columnist and editor for the Long Beach Post. Reach him at [email protected] or on social media at Facebook, Twitter, Instagram, and LinkedIn.
Support our journalism.
Hyperlocal news is an essential force in our democracy, but it costs money to keep an organization like this one alive, and we can't rely on advertiser support alone. That's why we're asking readers like you to support our independent, fact-based journalism. We know you like it—that's why you're here. Help us keep hyperlocal news alive in Long Beach.