Facing Port of L.A. commissioners, San Pedro Public Market construction likely to move forward
Developers of the 42-acre San Pedro Public Market, the project taking over the area's famed waterfront, are likely to finally receive their construction permit to break ground should the Port of Los Angeles harbor commission approve the permit at Thursday's meeting.
The arduous battle to get the project going has been a seven-year long endeavor and, most recently, included yet another return to the drawing board for designs, the third in the project's existence.
After plans were revealed in March 2016 for the $100 million renovation of the San Pedro's famed, 30-acre waterfront area known as Ports O' Call, not many were impressed—including the large portion of Long Beach fisherman and sailors who bounce back and forth between Ports O' Call and Long Beach.
The initial proposals, marked by saturated colors and nods to the berths of the 1950s and 60s, were eventually replaced by the current renderings below that offer a more warehouse, earth tone-centric aesthetic.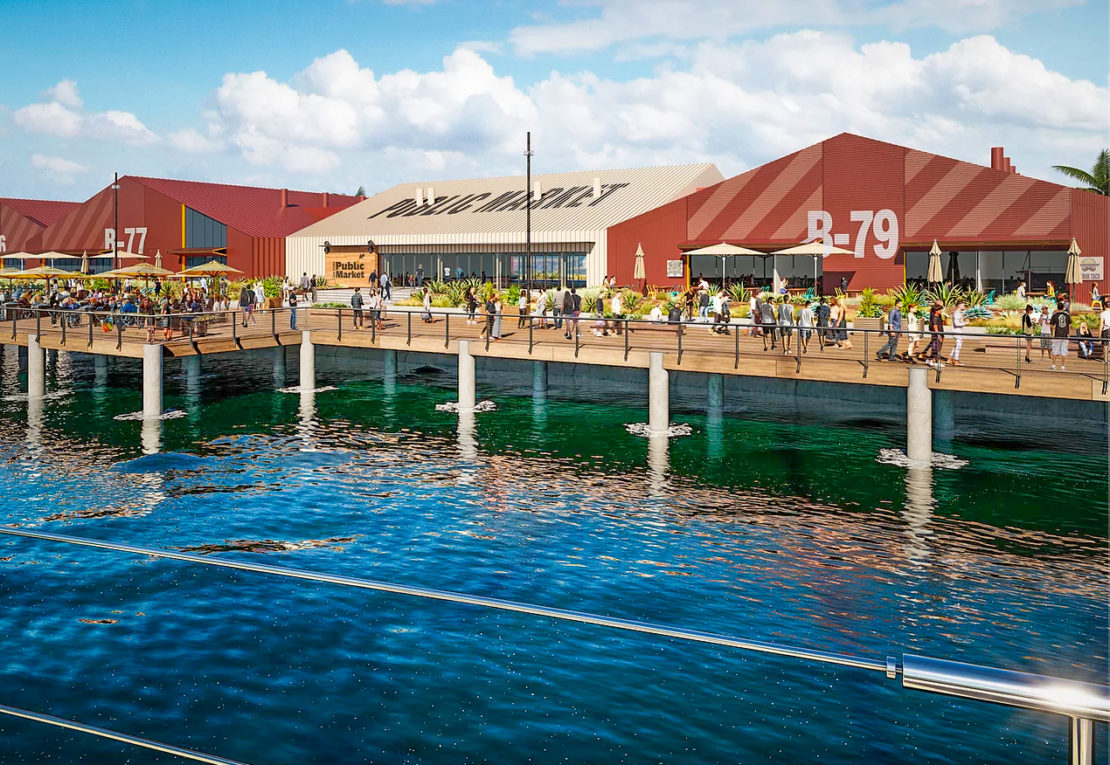 Those then-new plans were unveiled last year by the Ratkovich Company and Jerico Development, the partnership forming the L.A. Waterfront Alliance overseeing the project, as the Ports O' Call area was undergoing demolition to make way for the project. Shown at the Warner Theatre in San Pedro, the designs drew both applause and raised eyebrows from the design. (Those designs included Rapt Studio as its design architect, James Cornfield Field Operations overseeing landscaping, and Adamson & Assoc. serving as Executive Architect.)
The unveiling revealed stark contrasts to initial proposals, entirely eschewing homage to the area's nautical past and instead aiming for a glass-and-metal look with large, steel A-frames that encase massive expanses of retail and restaurant space.
The latest batch of renderings—set to a price tag of $150 million—seem to be a mixture of the previous, hyper-contemporary iteration and a return to a more rustic look, with corrugated metals, earth tones, and large logos being paired with an expanded patio section, more outdoor dining space and container kitchens, and play areas for those with children and dogs.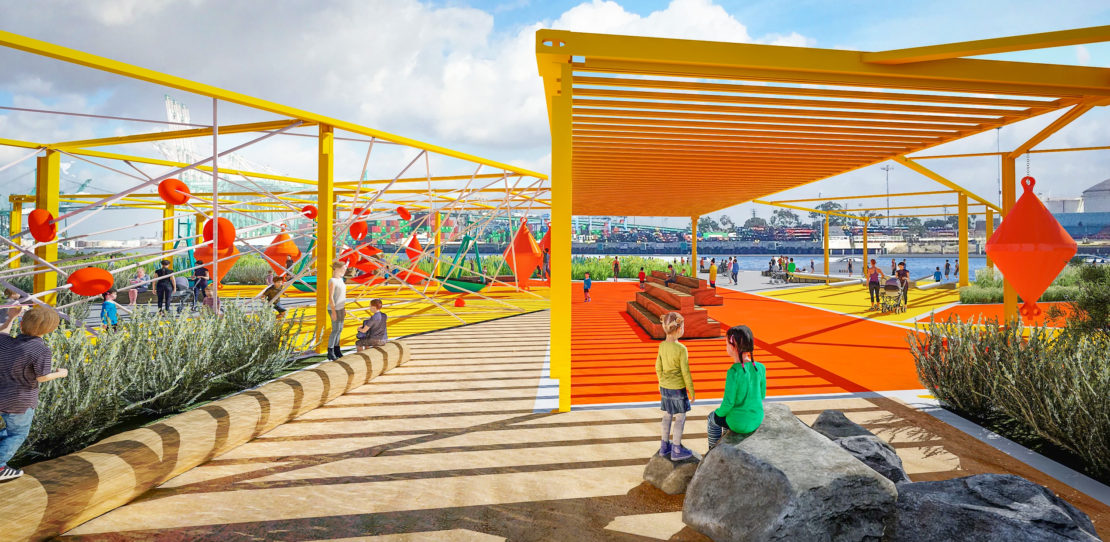 "The design is going to feel new, but still like it's been part of this community forever," said Sam Farhang, an architect with Rapt Studios. "It's true to the site as a working port and true to the heritage of San Pedro as an industrial location."
The project's highlights include:
Fisherman's Park, a 3-acre pedestrian promenade that includes trails, bicycle paths, water features, and more.
There will be 600 feet of continuous courtesy slips, bike and scooter paths, along with pedestrian and jogging paths providing direct waterfront access along the Market Walk.
An open-air amphitheater to be operated by Nederlander Concerts, the music giant that heads up some of L.A.'s stellar venues, including the El Rey, the Greek, and the Forum.
The possible moving of the USS Iowa away from its northern docking slip and into the market space, acting as a direct attraction while also freeing up its former space to attract another cruise line.
The possible incorporation of the famed Red Trolley depending on the initial economic performance of the market.
As far as tenants go, the only original tenants will be the San Pedro Fish Market, which will remain open during construction of the Public Market as well as opening their first location in Long Beach, and the Ports O' Call restaurant.
New tenants could not be immediately unveiled given the newness of the project, but one staple tenant will be a new restaurant by Chef Dustin J. Trani, whose family has owned and operated the 90-year-old J. Trani's establishment in San Pedro.
Brian Addison is a columnist and editor for the Long Beach Post. Reach him at [email protected] or on social media at Facebook, Twitter, Instagram, and LinkedIn.
Editor's note: The original quote from Mr. Johnson has been removed.
Support our journalism.
Hyperlocal news is an essential force in our democracy, but it costs money to keep an organization like this one alive, and we can't rely on advertiser support alone. That's why we're asking readers like you to support our independent, fact-based journalism. We know you like it—that's why you're here. Help us keep hyperlocal news alive in Long Beach.