This week's The Backroom introduced readers who haven't been privy to the public comment session at City Council meetings and the protests both live and cyber to the dustup over a banner hung at the entrance to the shelter area of The P.D. Pitchford Companion Animal Village, 7700 E. Spring St., Long Beach. The Village houses two pet-sheltering entities: Long Beach Animal Care Services, whose function is animal intake; and spcaLA, a privately funded rescue that provides such programs as animal-cruelty investigation and humane education. Both agencies offer pet adoptions.
Ever since the Village was built, there's been confusion over the partnership between spcaLA and the shelter. Simply put, spcaLA leases the building from the city and sublets part of it back to the shelter for an annual $5 fee. Most confusing, and most essential to saving lives of pets who may be on a time limit and are certainly in a crowded situation, is which door leads to which entity. And once you're in there, it's difficult to figure out how you get from one section to the other if you want to see animals in both. The spcaLA area seems to wrap itself around the shelter area as if it were a mama bear hiding a cub, which boggles the mind further. Alice had an easier time in Wonderland trying to figure out which way she ought to go.
Confusing signage at the Village has long been a bone—pun intended, of course—of contention for everyone from the most strident animal activists to shelter visitors who think that they're in one and finding out that they're in the other—or even that there are two separate jurisdictions.
Recently, a local group of animal advocates had stood outside the Village for several days with a banner of their own that pointed the way to the shelter entrance. After an attempt to hang the sign above the entrance, spcaLA directed shelter manager Staycee Dains to remove it.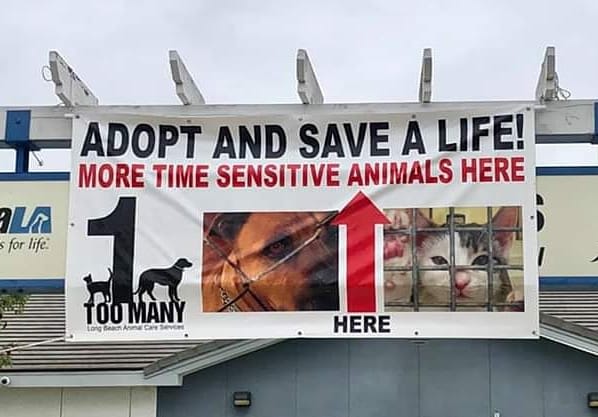 But the controversy over this particular sign more effectively called attention to the confusing entry doors. Dains and the city subsequently provided a banner that was more subdued and, better yet, the spcaLA permitted it to be displayed. Whether it gets the point across that the animals are in a shelter responsible for intake from five cities and that these pets may be on a time limit depending on crowded conditions, it at least points a way to the door through which a person who wants to save a life can pass.
Well, be fuddled no more where entryways are concerned. This way to the shelter—you can't miss this banner.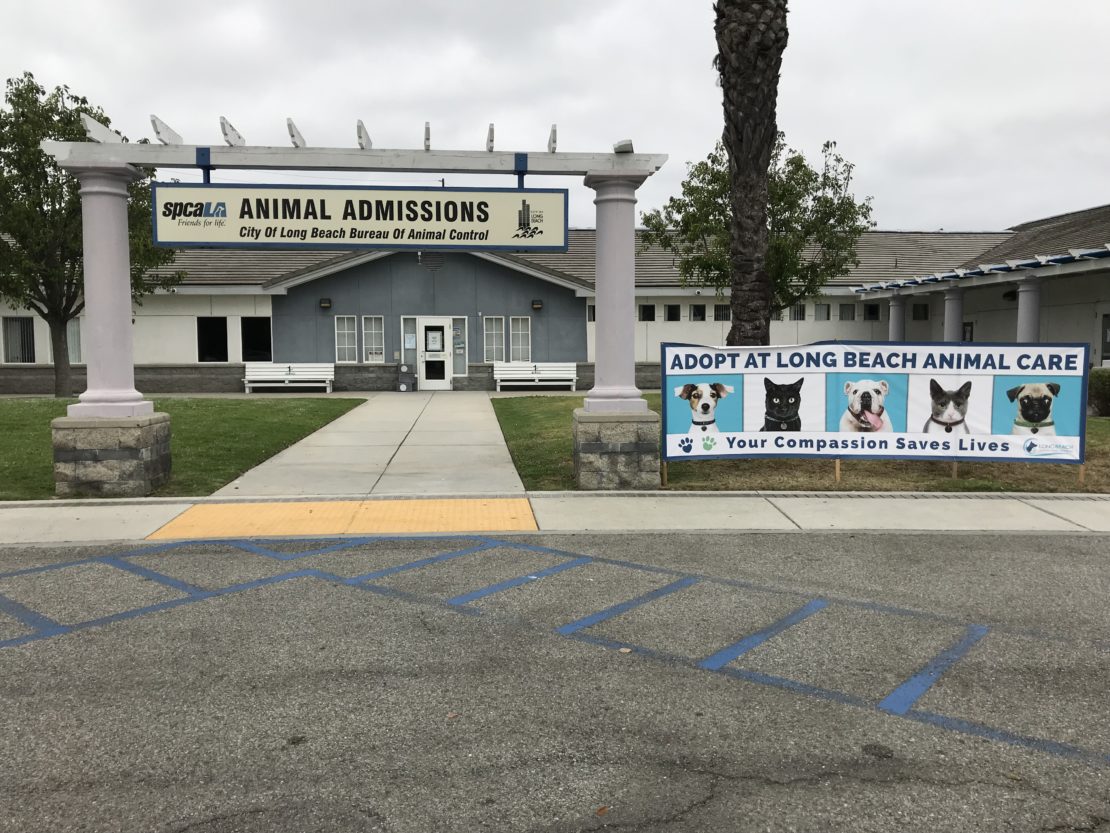 Of course, spcaLA pets also deserve good homes. Many of the pets in the kennels there were pulled from the cages at the shelter, and they'll have more time to twiddle their paws and wait for a home. You'll also know which door takes you to the Saturday, June 29 Foster the Fourth mandatory orientation (see Things to do, pets to support). Plenty of dogs, cats and rabbits to foster and adopt, and one fewer rabbit hole to fall into.
Want to foster a dog for Foster the Fourth and maybe form a lasting relationship? Here are a couple: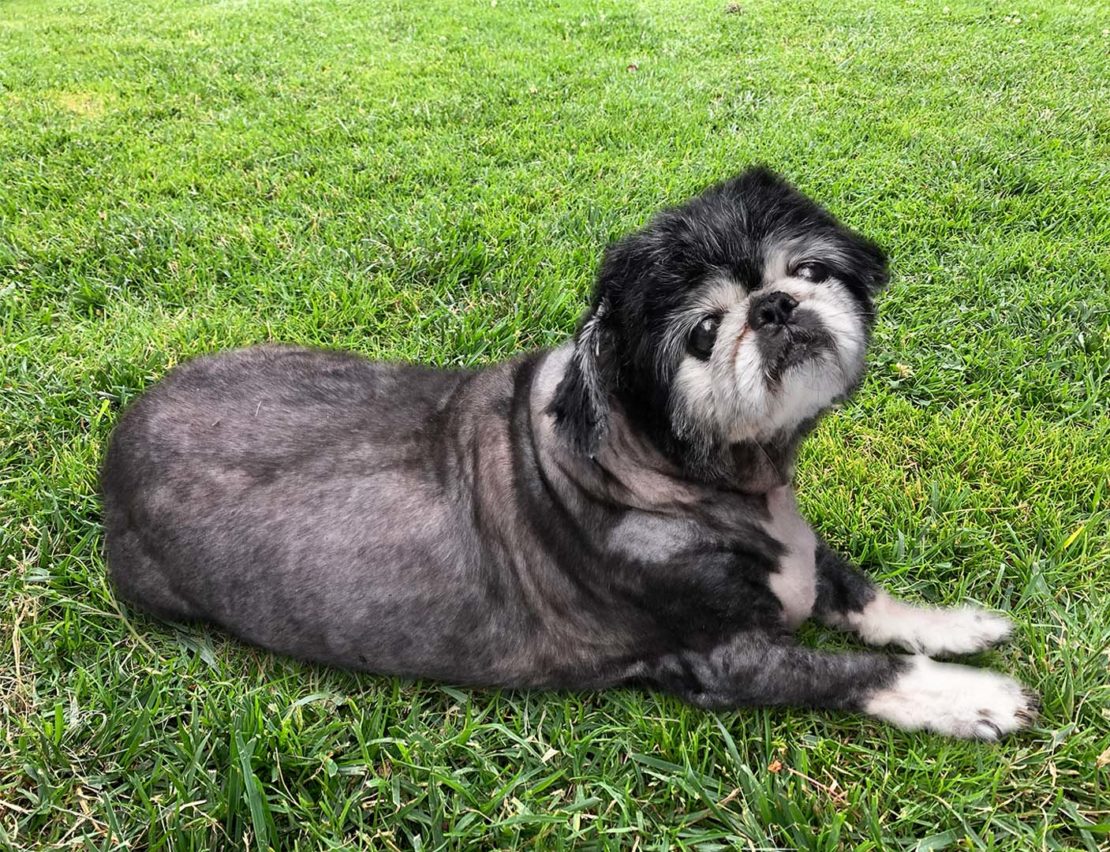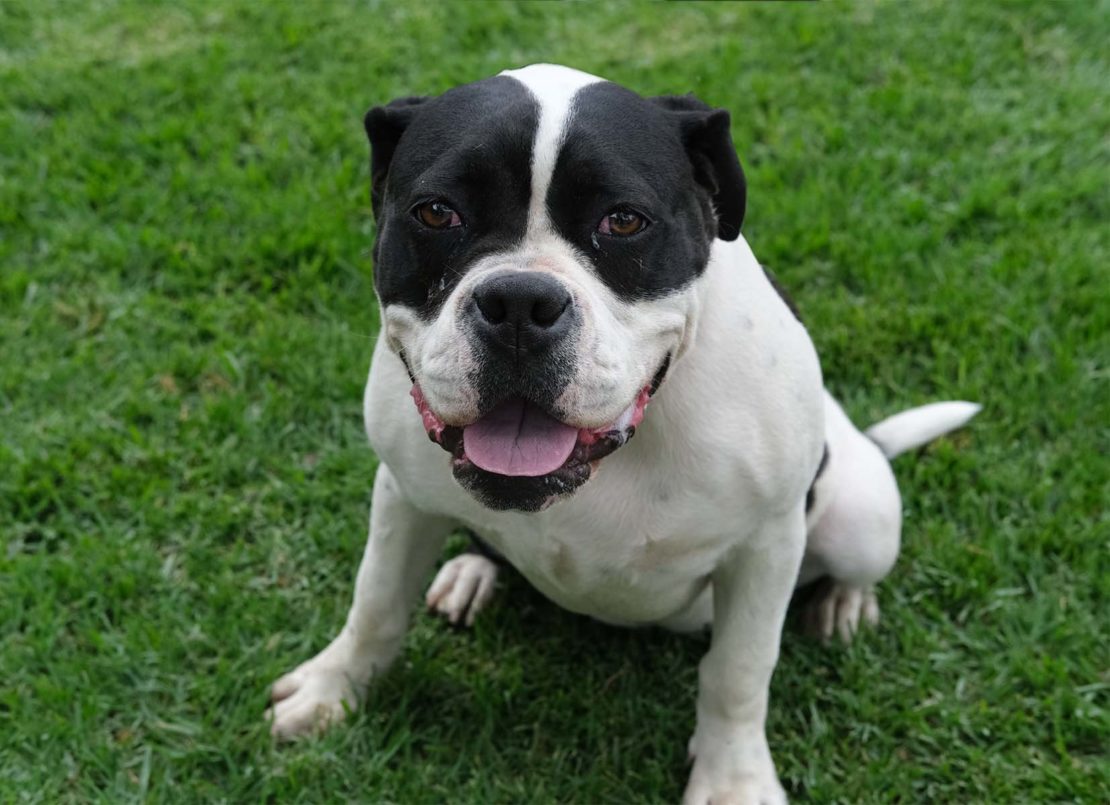 Even after Melissa Evans, Valerie Osier, a teacher who'd dropped by, and I collectively fostered six kittens, there are a couple of roomfuls left. Check out this page to see a few and then keep going. Mine, at least, will be going back for adoption—I have four of my own of various ages who'll be gladder than a roomful of catnip sock toys to see them go. But it's the older cats who need attention. Sometimes, the stories are sad enough to win anyone's heart.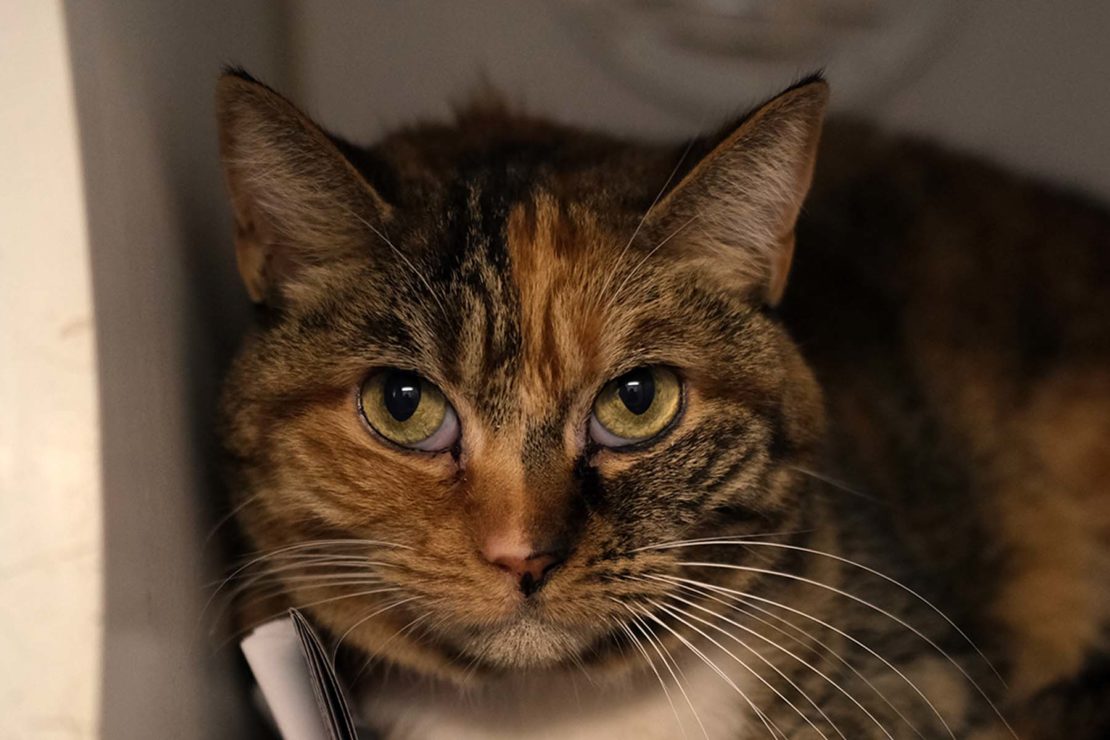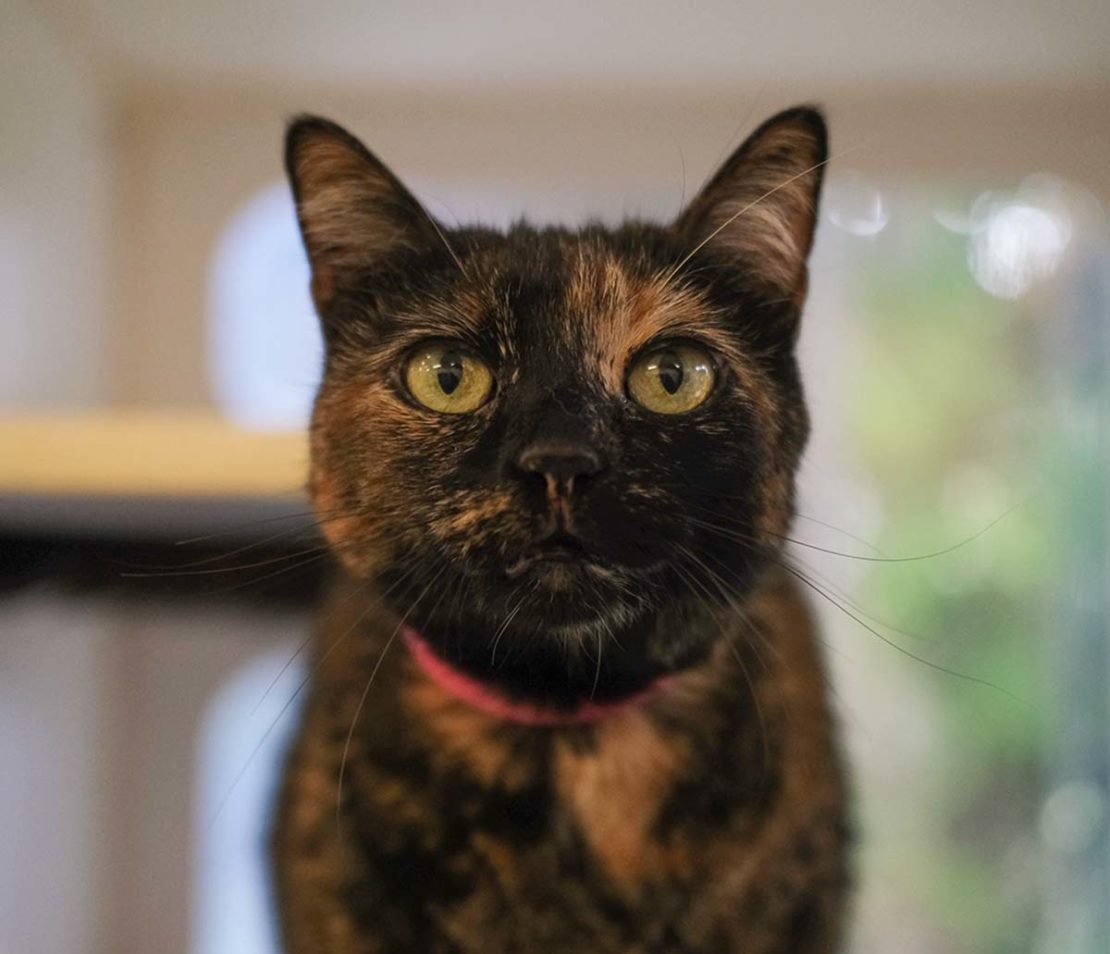 Please send any local pet-related events or projects to [email protected]. Posting subject to approval.
 Things to do, pets to support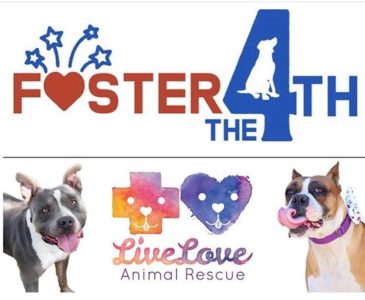 Foster the Fourth orientation for dog fosters: Saturday, June 29, noon, Long Beach Animal Care Services, 7700 E. Spring St., Long Beach, free
Fourth of July is not a pet's favorite holiday. Loud crashes and booms from pyrotechnics, "safe," legal or otherwise, sends them hiding and often fleeing in terror. It's also not a great time for the shelters—they fill up with lost cats and dogs, some of them injured, and there's a threat to the other pets already in the shelter because of space constraints. Want to help out? You'd take a shelter dog into your house for only two to four weeks while the shelter locates the owners of the errant animals. This is the third year that Live Love Pets has organized this worthwhile project—it's dogs only, so we hope to see you at the orientation.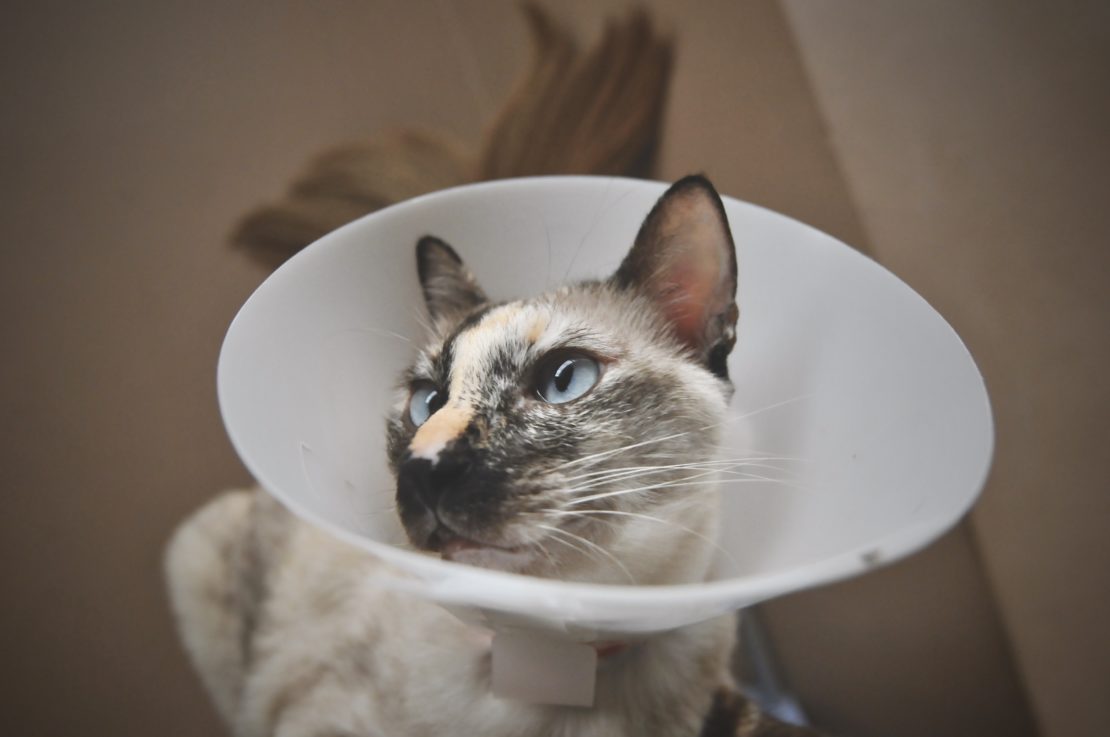 Fix Long Beach Free CAT Spay/Neuter Clinic: Sunday, June 30, 8:30 a.m.–2 p.m., Ramona Park, 3301 E. 65th St., Long Beach, free spay/neuter for qualifying Long Beach residents, with appointment; free microchips, shots, flea-med doses, dewormers and nail trimmings $10 each—no appointment necessary.
Newborn kittens are the most euthanized pets in shelters, ours included. The best way to stop a flood is to tamp the source, and that's why we're here. Our appointments are fully booked, but you can come for standby at 10:30 a.m. Appointments are available for future clinics—come make one. Full details are available here.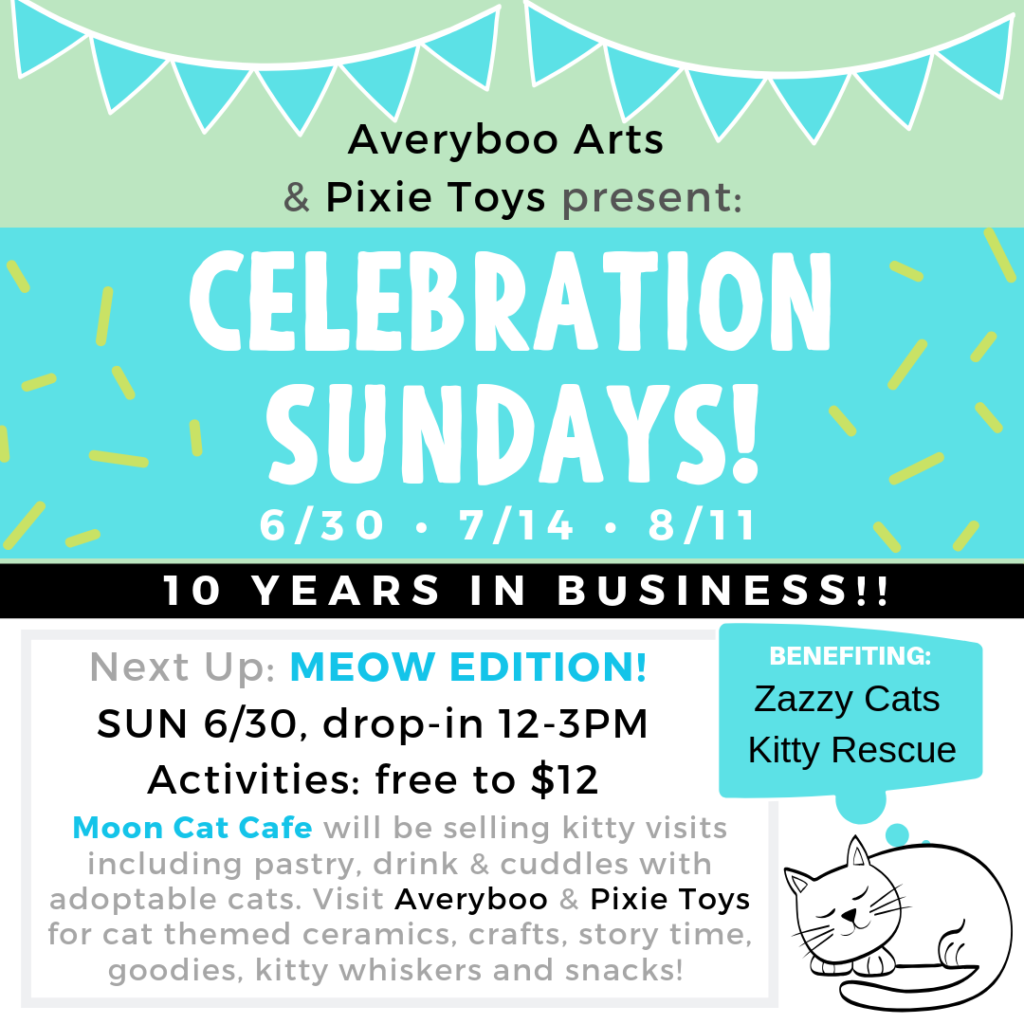 Celebration Sunday, Meow Edition: Sunday, June 30, noon–3 p.m., Pixie Toys, 3914 Atlantic Ave.; and Averyboo Art Studios, 3908 Atlantic Ave., Long Beach, crafts from free to $12; Moon Cat Café visits, $12
"Childhood buddies" Averyboo Arts and Pixie Toys celebrate 10 years in Bixby Knolls with Sunday Celebrations, this one all about cats. Averyboo Arts will feature cat-themed cats and ceramics and an open-studio visit; Pixie Toys will offer kitty storytime, whisker face painting, and party favors and snacks; and Moon Cat Café will introduce playtime with real-live adoptable cats along with a locally sourced pastry and coffee that only the cats exceed in quality. A portion of the café's door fee will benefit rescues.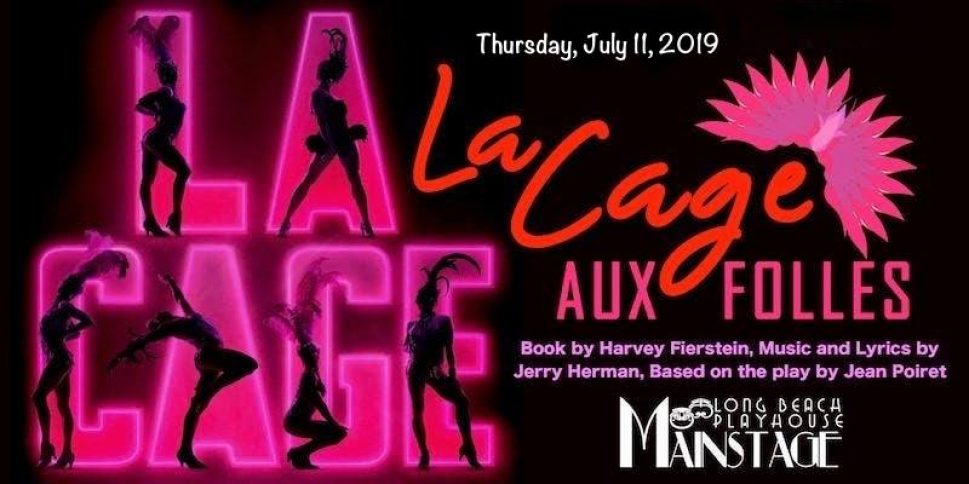 Friends of Long Beach Animals 25th anniversary theater benefit: Thursday, July 11, 6:30–10 p.m., Long Beach Playhouse, 5021 Anaheim St., Long Beach, tickets $30
Don your boas and make sure that they're not crafted with feathers or fur! Then, sashay on down to the Long Beach Playhouse for one of the most enjoyable benefits you'll ever attend: divine piano playing, faaabulous finger food, ravishing raffle prizes and a production of "La Cage aux Folles," which will set you on fire! Tickets, which include it all, my dears, are available here.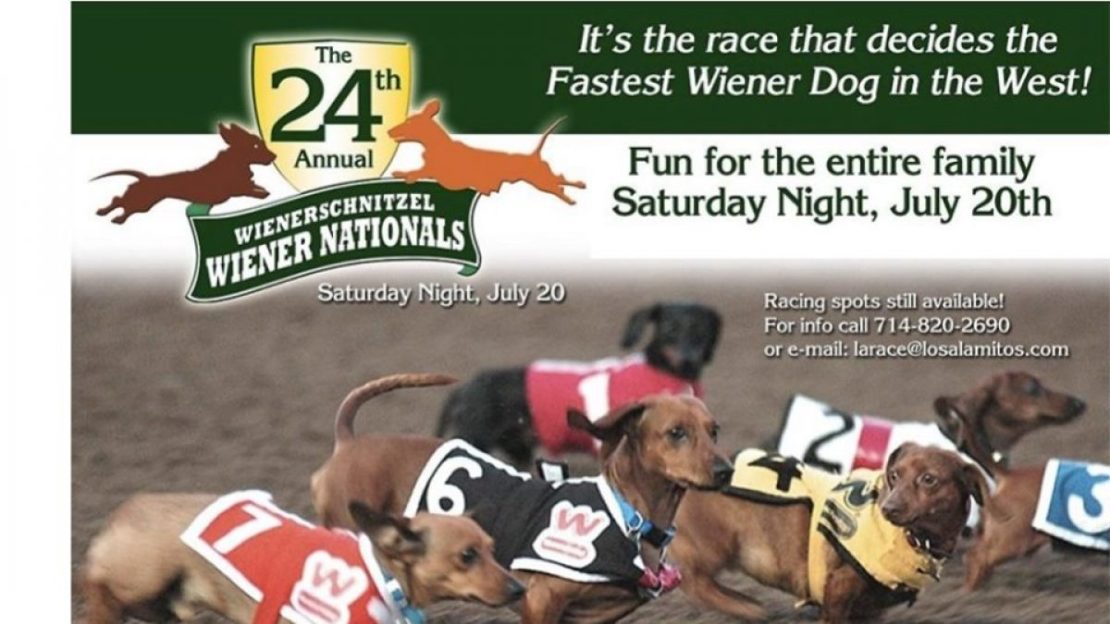 24th annual Wienerschnitzel Wiener Nationals to benefit Seal Beach Animal Care Center: Saturday, July 20, 6–9:30 p.m., Los Alamitos Racing, 4961 Katella Ave, Cypress, $3 for general, free for kids under 17, $85 for VIP dinner packages, parking free
Enjoy the most, if not the only, humane dog race anywhere! Los Al will be wriggling with wiener dogs, i.e., dachshunds, at this whimsical event that has raised over $275,000 for the Seal Beach Animal Care Center since 1996, with $12,000 earned last year through ticket and T-shirt sales. The dogs will win prizes for themselves, and the nonprofit animal care center will get goodies for their animals, too! Purchase tickets at the Care Center in advance of the event or at the door the day of. For safety reasons, please do not bring your own dog. Call the Vessels Club at (714) 820-2821 for information about the VIP package. If you have a long little doggie—dachshunds only—and want to enter him or her, call (714) 820-2690—there are a few spots left.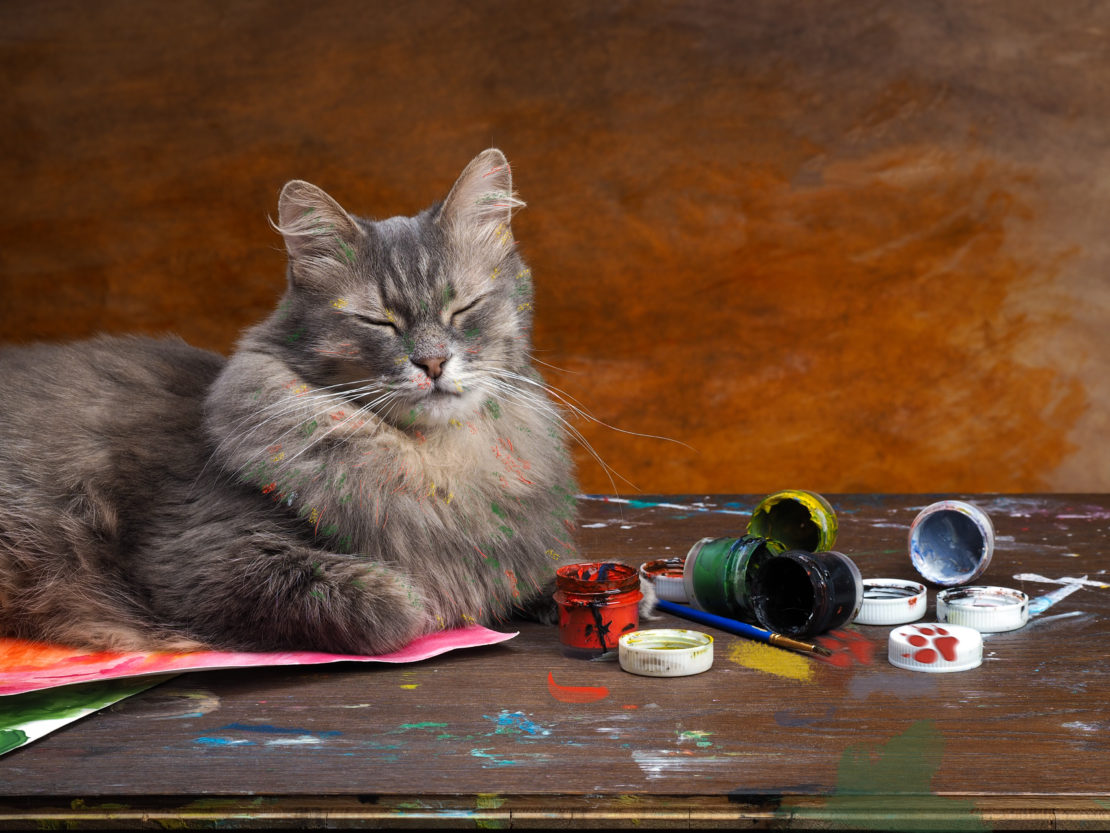 Pinot's Palette Fundraiser for Fix Long Beach: Sunday, July 21, 2:30–5 p.m., 470 Pine Ave., Long Beach, $35 per artist
Remember that silly book titled When Cats Paint? After a couple of glasses, you're sure to do as well as any of the kitty Kandinskys and Kahlos in this ridiculous book. You'll have a great time slapping the colors on the canvas—or whatever they use while sipping a good glass of wine and helping Fix Long Beach make sure that cats—and dogs too, of course—can still paint on paper but not paint the town red breeding kittens. Doors open at 2:30, so get your pawr of wine ready. Tickets are available here.
Ongoing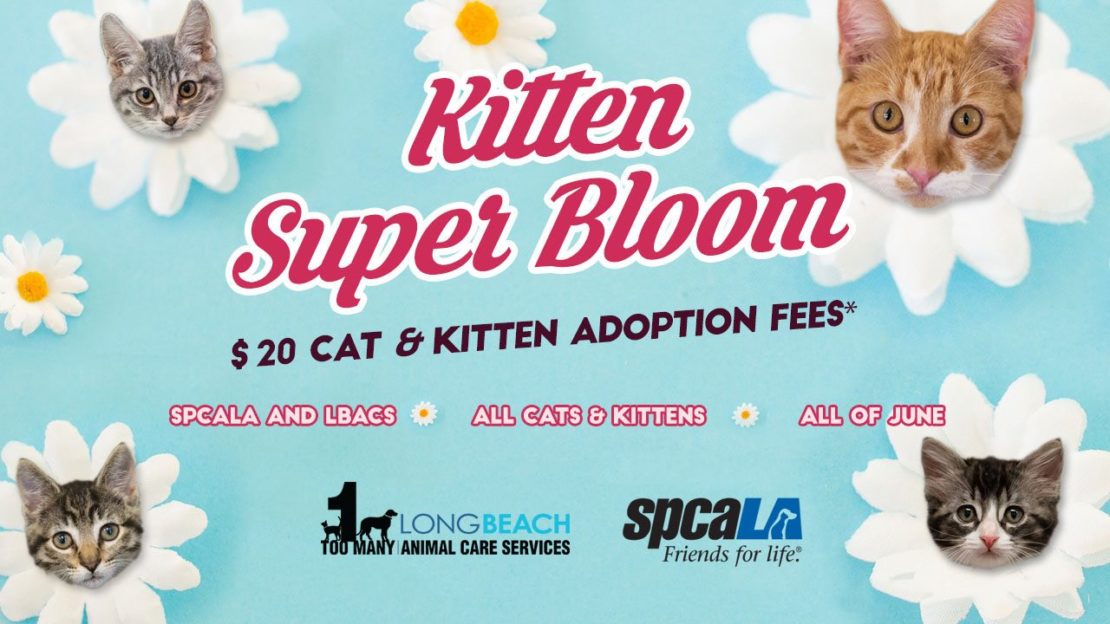 Kitten Super-Bloom: to June 30, P.D. Pitchford Companion Animal Village, 7700 E. Spring St., Long Beach, $20 adoption feline fee
Kitten season has seeded the pet gardens at the shelter at Long Beach Animal Care Services and spcaLA with beautiful little blossoms, big and little. Oh, enough with the flowery talk. Both facilities are bulging with cats, and they need to go home. This is the only time that you can pick a flower and have it thrive instead of wilt and die. Until the end of June, you'll have the opportunity to pay a $20 fee as long as you meet the adoption requirements.
Ongoing
Bottle feeders needed desperately at shelter
This year's kitten season has been a downpour. Last Saturday, about 40 pets (in one day!) were brought to Long Beach Animal Care Services, and over 30 of them were kittens, many just born. Our shelter and the Long Beach Little Paws Project kitten nursery need help badly and immediately, whether you are an experienced bottle feeder or have never had a cat before. Compassion happens when the rescuing begins—private-message the shelter on its Facebook page with your contact info to help kittens in our shelter. Please share the post on that page widely. If you're not in our area, your local shelter kittens need your help, too.
Adopt, adopt, adopt
The following pet-related businesses regularly feature cat, dog and rabbit adoptions. If you're a Long Beach-area rescue and don't see your adoption event listed here, please email [email protected]. Click on the links for each rescue in case of updates or changes.
Chase Bank, 5200 East Second St., Long Beach
 Gelson's Market, 6255 E. 2nd St.
Kahoots Pet Store, 18681 Main St. #102, Huntington Beach
Petco Animal Supplies, Marina Shores, 6500 Pacific Coast Highway, Long Beach
Pet Food Express, 4220 Long Beach Blvd., Long Beach:
PetSmart Cerritos, 12741 Towne Center Dr, Cerritos
PetSmart Compton, 1775 South Alameda St., Compton
PetSmart Garden Grove, 9835 Chapman Ave, Garden Grove
PetSmart, Long Beach Exchange, 3871 N Lakewood Blvd., Long Beach
PetSmart Signal Hill, 2550 Cherry Ave., Signal Hill
PetSmart Seal Beach, 12341 Seal Beach Blvd., Seal Beach.
Unleashed by Petco, 600 Redondo Ave.
Donations accepted for Pets of the Homeless
Pets of the Homeless' home page gives a self-description as the only organization focusing only on providing food and care for pets belonging to homeless people. Businesses and other organizations across the country receive in-kind donations of food and other needs that the dogs and cats' human families can pick up at outreach locations. The following Long Beach businesses will accept your donations:
Trendi Pawz, 255 Redondo Ave., Long Beach
Belmont Heights Animal Hospital, 255 Redondo Ave., Long Beach
Paw Shoppe Pet Center, Inc., 6416 E. Spring St., Long Beach
Food and supplies are available at Beacon for Him Ministries, 1535 Gundry Ave. Long Beach, Mondays from 9 a.m. to noon and Saturdays from noon to 3 p.m.; and at Christian Outreach in Action, 515 E. Third St., Long Beach,Thursday from 9 to 11 a.m. Donations will be gratefully accepted at these locations as well.
Shelter-enrichment supplies requested for ACS's cats, dogs and rabbits: drop-off Wednesdays through Fridays, 10–4 p.m., shelter side of P.D. Pitchford Companion Animal Village, 7700 E. Spring St., Long Beach
Canned kitten food (Royal Canin), yogurt, beef and chicken broth, pipe cleaners, toilet-paper and paper-towel rolls, catnip, canned pet food, wine-bottle corks (for cat toys) and ice cube