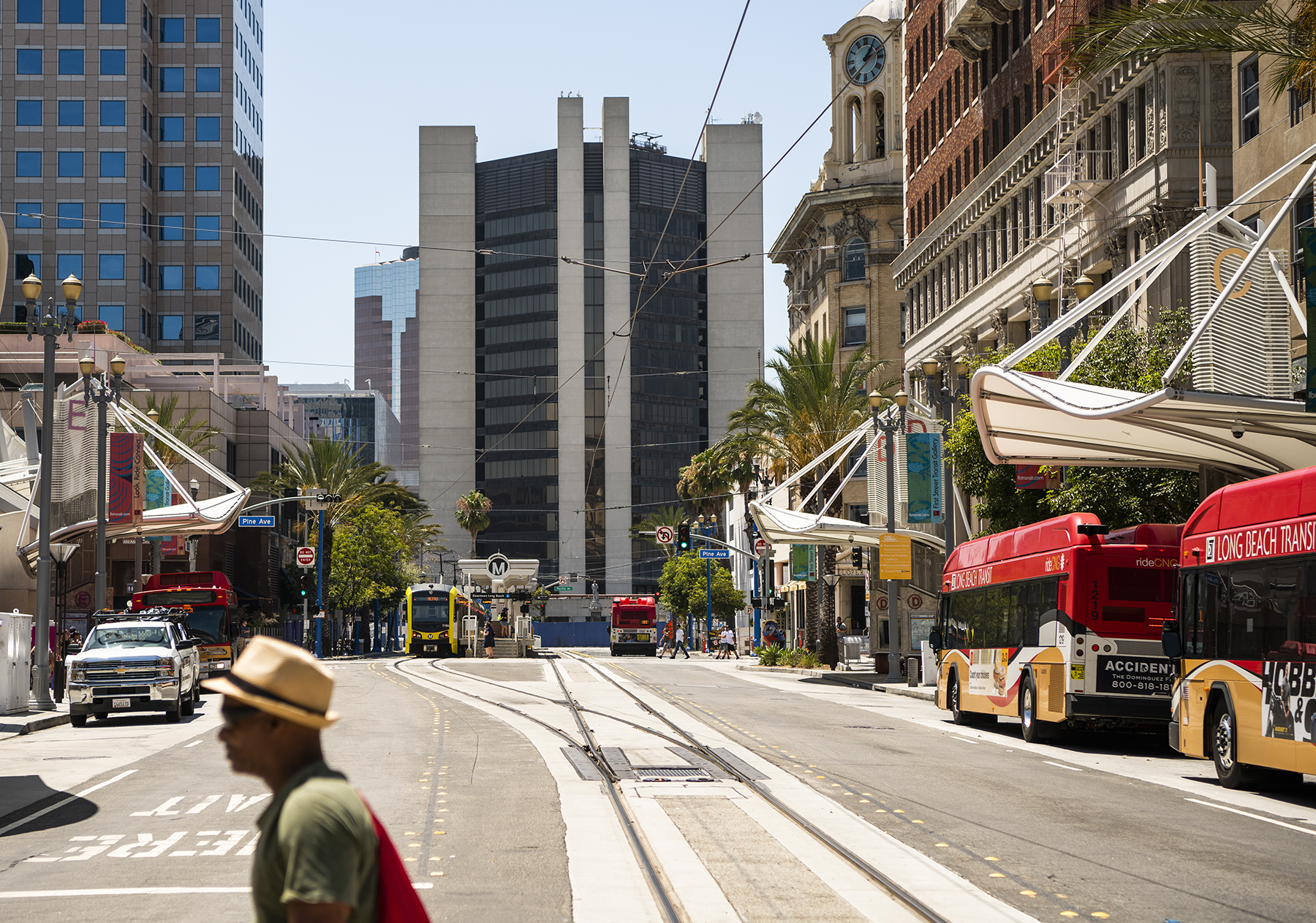 R.I.P., Old City Hall—a belated appreciation
I don't know. It might be a little late for some clear-headed thought, but now that the new Civic Center is a reality, I'm up for launching a bold preservationist movement to keep the now-old City Hall. I'm having second thoughts about it. Anyone around who's good at getting toothpaste back in the tube?
As an extraordinarily young reporter in Long Beach, I was around for the Civic Center's grand opening in 1976, a year that was already crowded with civic and national celebrations. It doesn't seem right to have a career that has outlasted a City Hall and a Main Library. Either I've lived too long, or the old City Hall was too young to die.
And it's easier (and less personally damaging) to argue for the latter being the case. At 42, it was just beginning to hit its stride and didn't warrant being termed outdated, ugly, cold and dangerous.
If a town is ever going to make a sturdy building, it's got to be its City Hall. Sturdiness is a political statement.
Take a look at the buildings that are now mourning the loss of a compatriot structure that died at a tragically young age: The City Hall of New York, the oldest of all working City Halls in the U.S., having opened in 1812, more than half a century before Long Beach was a city. Philadelphia's sprawling and elegant City Hall, more than 30 years in the making, opened in 1901. San Francisco, which lost its first City Hall in the 1906 earthquake, bounced back with its current one in 1915. Milwaukee didn't trash its 1895 City Hall just because it was old, but rather renovated it in 2008. Los Angeles's 1928 Art Deco still stands as does, even, Boston's 1968 City Hall, which was as frequently and enthusiastically maligned by critics as Long Beach's own 1976 model for its Brutalist architecture, though some of that Brutalism has been softened a bit in Boston thanks to a remodel.
"But it was much more Brutalist than Long Beach's," says Jonathon Glasgow, the noted principal architect for Interstices, which handled the repurposing of the Walker, Kress and Insurance Exchange buildings among other projects.
In fact, Glasgow says Long Beach's City Hall wasn't even Brutalist. "It's late modernism, not Brutalism," he maintains. "Just because the pillars and panels are board-formed concrete doesn't make it Brutalism. I think the city used the term 'Brutalism' as part of its excuse to tear it down."
Glasgow almost takes a bit of glee in being an apologist for the old City Hall and the Civic Center.
"The library was a beautiful building all by itself," he says. It won all these design awards when it was built, and the landscape artist Peter Walker, who did the landscaping on the roof of the library, went on to work on the 9/11 Memorial. And certainly the architects who built City Hall, Ed Killingsworth and Kennth Wing were our best and brightest."
What would Glasgow have done?
"You know the Police Building?" he said.
Do I!
"They reskinned that whole building and it's beautiful again. They could have done that with City Hall and it would be a beautiful building. Another big excuse for demolishing it is they found it too cold. Now they have two glass buildings (the other housing the Port of Long Beach), and I love the new buildings, but they're certainly not warm and fuzzy. If anything, it's the same or colder than the old plaza. But it's too late to do anything about it now."
Well, are we going to be preservationists or weak-willed sheep? I say we get a gang of people who love the old City Hall and put lofts in it or turn it into a hotel. Keep it alive! Come on, let's chain ourselves to the building to protect it from the wrecking ball. Who's with me?
Support our journalism.
Hyperlocal news is an essential force in our democracy, but it costs money to keep an organization like this one alive, and we can't rely on advertiser support alone. That's why we're asking readers like you to support our independent, fact-based journalism. We know you like it—that's why you're here. Help us keep hyperlocal news alive in Long Beach.