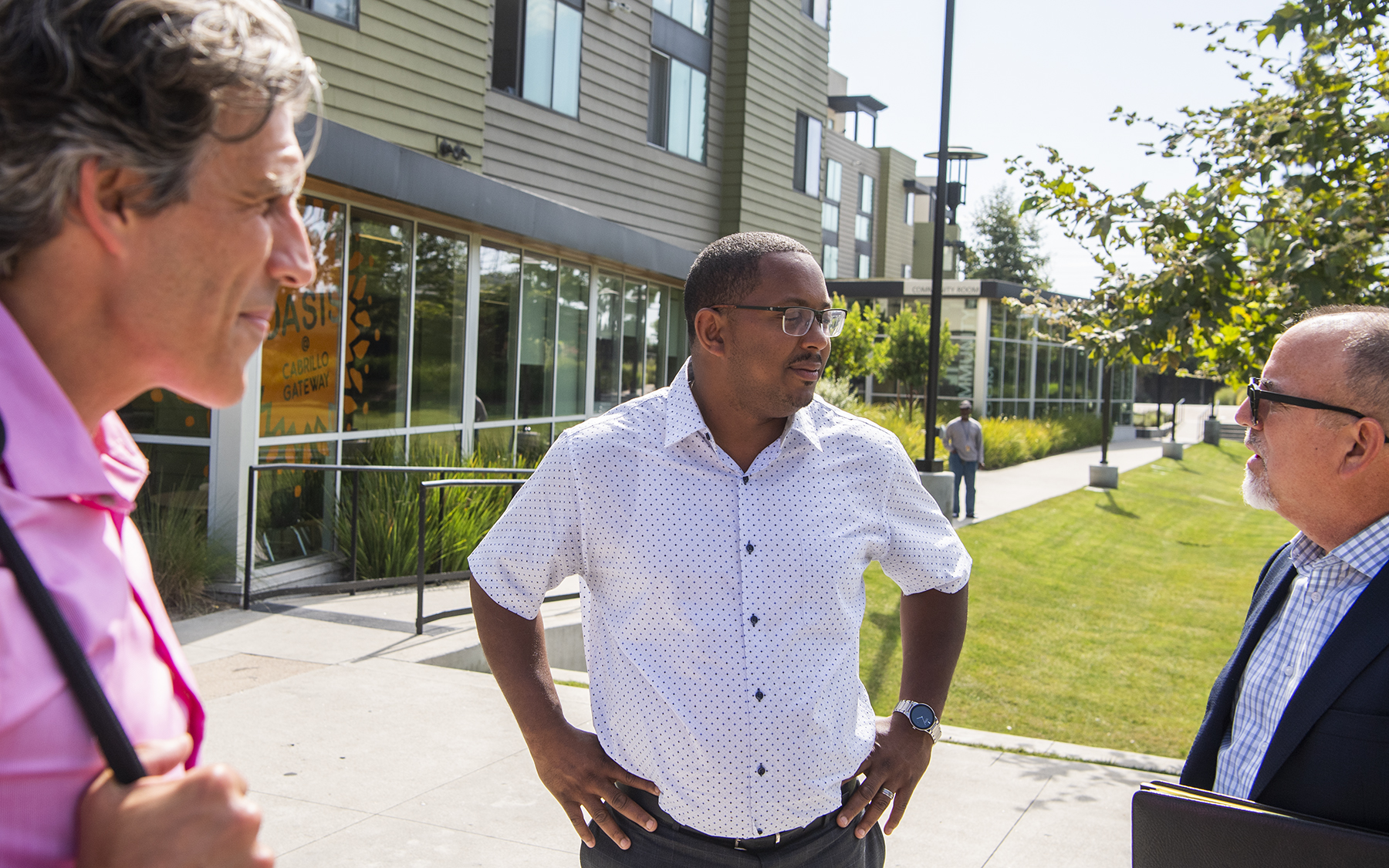 Councilman Rex Richardson mulls 2020 ballot measure to tackle affordable housing crisis
Would Long Beach voters support a tax increase or bond measure to fund affordable housing initiatives? Councilman Rex Richardson wants to find out.
The 9th District councilman has launched a campaign called Lift Up Long Beach Families to explore a possible November 2020 ballot measure that would fund affordable housing across the city.
The campaign has so far raise more than $200,000 from a variety of groups and independent donors.
Affordable housing has become a top issue in Long Beach as many renters continue to be priced out of their homes. In the past decade, the city has seen an overall 28% increase in rent, with neighborhoods including Downtown, Bixby Knolls and California Heights seeing some of the highest hikes, according to a city report. Downtown's newest luxury building, for example, is asking $2,380 for a 600-square-foot studio.
Richardson, in an interview Wednesday, said Long Beach has launched many new initiatives, but the city will need a dedicated source of local revenue if it truly wants to tackle the problem.
"We've been doing lots of work on this issue, from our Everyone Home initiative to all the work we're doing around tenant protection," he said. "But the one piece that's missing is revenue. We have to put everything on the table to make this happen."
Richardson said he's aiming for some type of measure on the November 2020 ballot, but it's still too early to tell whether that would take the form of a possible tax increase or bond measure.
The money raised so far for the campaign will go to research and polling to test the waters with Long Beach voters, he said.
On Wednesday, Richardson walked through the quiet campus of Century Villages at Cabrillo to show how the model could work in other Long Beach neighborhoods.
Converted from a former 26-acre Naval housing site on the city's westside, Cabrillo provides shelter, transitional and permanent housing to more than 1,500 people on any given night. The center is planning to build more affordable housing over the next decade.
"We want to normalize affordable housing and show that it's something that can be obtained in any neighborhood," Richardson said.
A report last year from the city's Everyone Home Long Beach Taskforce, said Long Beach would need an additional $220 million in funding to fight homeless and the affordable housing crisis. The report set the goal of having 2,000 low-income units built or in the pipeline by 2023.
Richardson said he'd like to see a local funding source to replace the loss of Redevelopment Agencies, which designated some money for the city's affordable housing programs.
The local dollars could fund subsidized housing for working families, students and seniors, he said. Also on the table is possibly converting blighted motels into housing for the homeless, which the city of Santa Ana did last year.
He's hopeful that voters will lend their support.
"I think there's an appetite to do something modest that will go a long way," he said.
A 35-year-old father of two, Richardson said he was fortunate to have bought his North Long Beach home 10 years ago when the housing bubble burst. But in a city where an estimated 60% are renters, many people haven't been as lucky, he said, adding that millennials have been hit especially hard.
"It's tough for everyone right now," he said. "There's just not that opportunity for our generation."
Support our journalism.
Hyperlocal news is an essential force in our democracy, but it costs money to keep an organization like this one alive, and we can't rely on advertiser support alone. That's why we're asking readers like you to support our independent, fact-based journalism. We know you like it—that's why you're here. Help us keep hyperlocal news alive in Long Beach.