Eugene Martindale's mother sobbed as a judge sentenced him to jail for forcefully resisting two Long Beach police officers.
The 24-year-old mouthed, "I love you," back in her direction before bailiffs led him away in handcuffs Thursday morning.
Martindale, according to his parents, is mentally ill. He has previous criminal convictions for burglary and battery. A period of heavy drug use led to some of his problems with the law, his father said.
"His issues are of his own doing, unfortunately," his father said.
Earlier this month, police arrested Martindale again, this time on suspicion of trying to carjack several people near Downtown Long Beach.
The incident likely wouldn't have gained much attention if not for a video that shows one of the police officers hitting Martindale's legs with a baton while they try to handcuff him. Police said Martindale was thrashing his body to resist officers, prompting the blows.
https://www.instagram.com/p/B8sSJDWpU9y
Groups like the Long Beach Anarchist Collective and the Democratic Socialists of America in Long Beach quickly spread the video. On Sunday, they protested. A few dozen people marched through Downtown, calling for an end to the Long Beach Police Department and the entire existence of policing.
Thursday, about a dozen members of the protest groups, wearing black, watched from the courtroom audience as Martindale pleaded no contest to two felony counts of resisting arrest.
It was part of a plea deal his public defender negotiated with prosecutors. Instead of facing a case that could put him in prison for almost nine years, Martindale would be sentenced to one year in jail and three years of probation. As part of the deal, he'll have to get mental health counseling as required by the probation department.
In exchange for his plea, prosecutors also dropped two more charges: false imprisonment and interfering with a business. The circumstances of what led to those charges weren't immediately available, but a judge ordered him to stay away from a 7-Eleven at the intersection of Atlantic Avenue and Fourth Street where he was arrested Feb. 15.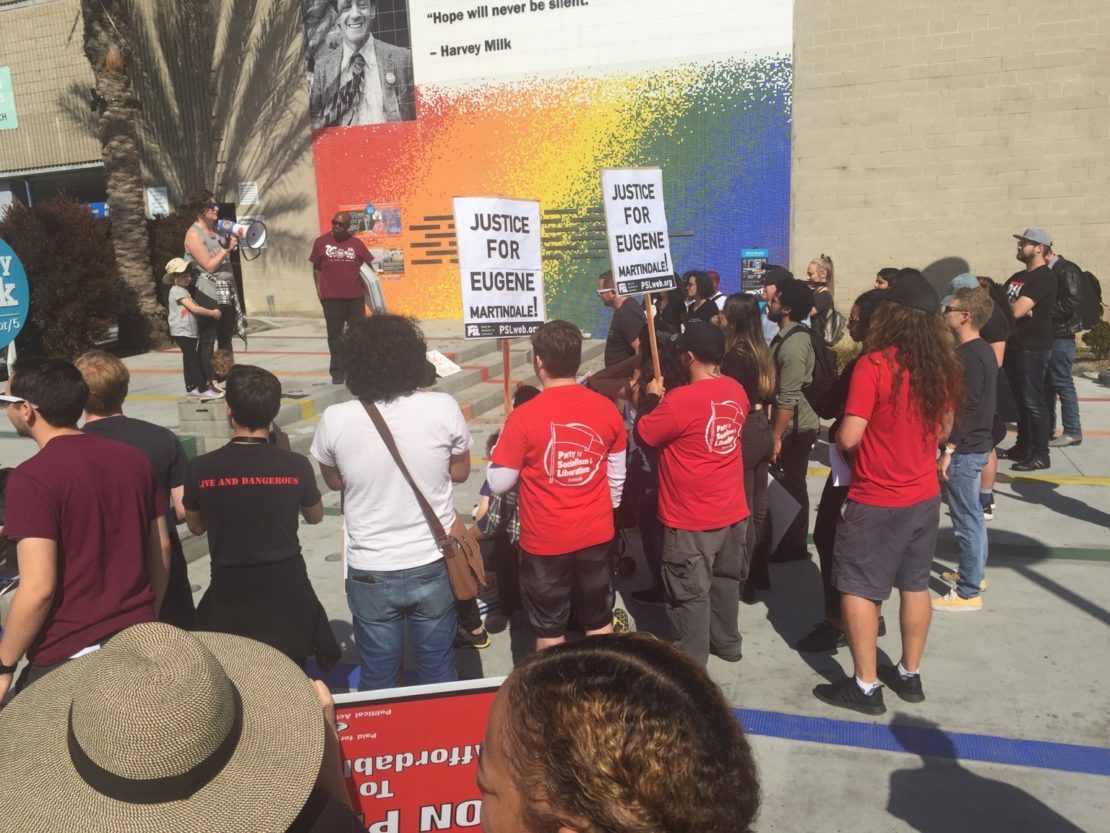 Martindale never ended up charged with attempted carjacking. His father contends Martindale's actions were misinterpreted. His son, he said, was having a mental health episode, trying to get help from drivers—including a parking enforcement worker—who saw his actions as aggression.
"If he's in the middle of one of these episodes, he doesn't have logic," said Martindale's father, who is also named Eugene Martindale. He's a junior. His son is Eugene Martindale III.
The elder Martindale said he's been trying to help with the mental health struggles. His son's been off drugs for three years and living with his father for two, Martindale Jr. said.
"What happened today, I feel good about," he said after his son's no-contest plea. "I just didn't want him to get railroaded."
After the hearings, he thanked the protestors who sat in court supporting his son.
Next, the father said, he'll do his best to make sure his son gets the proper medication in jail and treatment once he's out.
"It's an ongoing battle," he said.