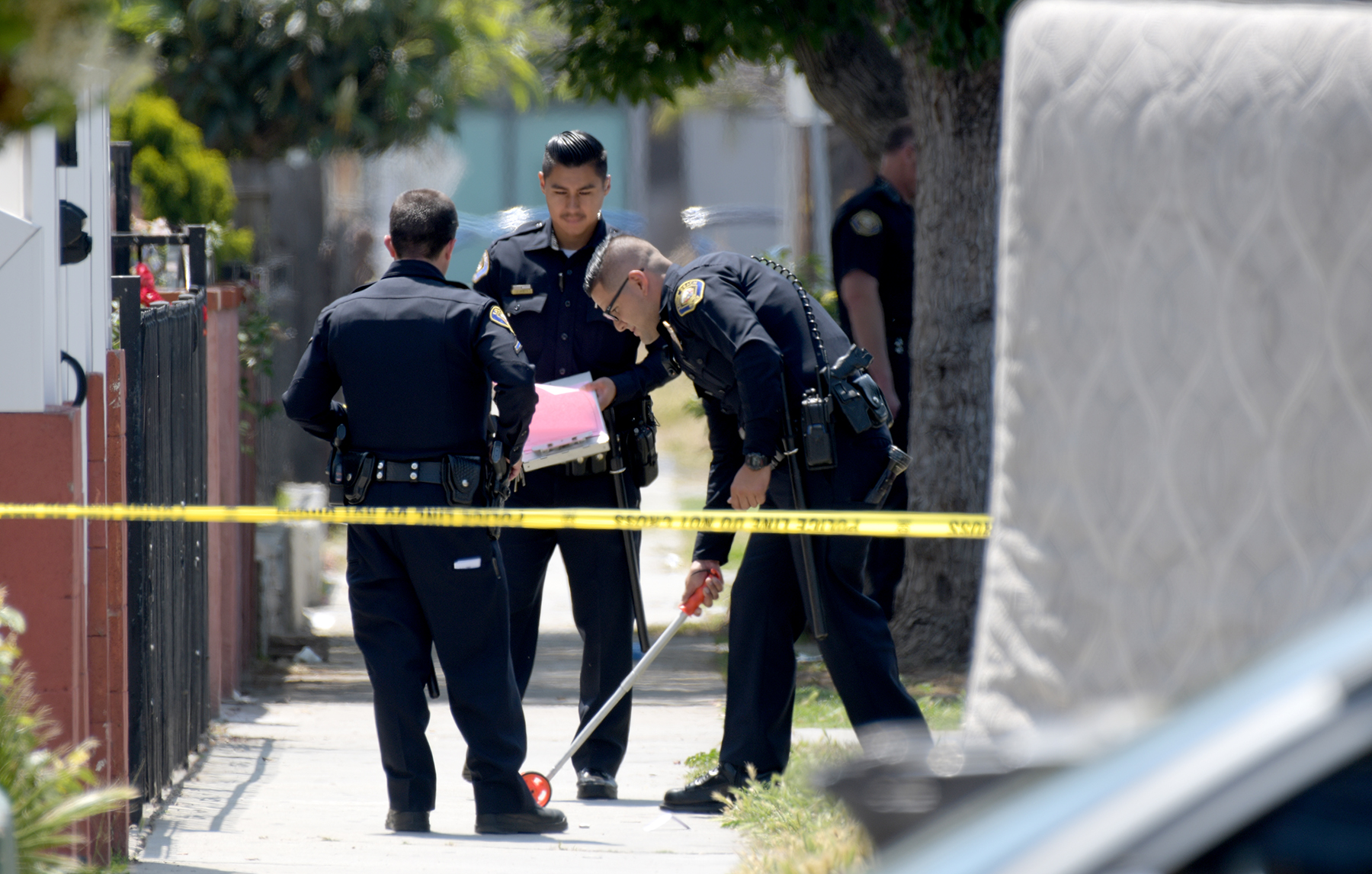 1 shot near Poly High days after parents sounded alarms about safety
A young adult was shot and wounded near Poly High School Friday afternoon, police said.
The shooting happened shortly after 1 p.m. on 17th Street near Linden Avenue. Police confirmed one person was wounded and officers were looking for a juvenile suspect, but few details were immediately available. Later on, LBPD tweeted that two male suspects approached a group of three men and opened fire.
Both Poly High and Roosevelt Elementary School were not locked down, but students were diverted away from the crime scene as they left the campuses, LBPD spokeswoman Jennifer De Prez said.
Neighbor Katherine Mendoza said the victim was shot in the leg. Three of his friends took him to the hospital, she said.
Everyone involved in the situation looked to be a teenager, she said.
While police said they're still investigating the motive of the shooting and it happened near Poly High School, they said in the tweet that there is so far "no indication" that there's a connection to the school.
However, the shooting comes in the wake of weeks of racial and gang tensions around Poly High School, according to parents and neighbors.
"It's been going on all week," Mendoza said.
The department said in the tweet Friday that they will be increasing patrols in the area before, during and after school.
Recently, parents believed the situation was so dangerous that they staged a small protest and started their own safety patrols intended to watch over students as they walked to and from campus.
Videos posted to social media have showed brawls between Latino and black teenagers.
One parent, Rasheena Mccord, said her son was attacked May 15 by a group of teenagers who asked him where he was from, a common gang challenge.
She and others have said gang tensions have spilled over into race-based attacks sometimes ensnaring innocent bystanders.
Her son was jumped near 16th Street and Long Beach Boulevard, just a block or so away from today's shooting, according to Mccord.
Less than a week after the attack on Mccord's son, police arrested three teenagers they said were responsible, but the tensions have apparently continued.
Rumors and threats have swirled on social media that black men and boys will be targeted if they're seen dating Latinas.
Others have tried to cut through the vitriol.
Poly High violence just made news, but parents say it's a decades-old problem; they want solutions
Last week, Los Angeles-based rapper The Game posted on Instagram in response to the violence in Long Beach. He urged "any Black or Hispanic kid or adult" to stand up against the cycle of violence.
"In Compton, we have a few Hispanic gangs, which to them if you were Black period, it was a green light to kill you & vice versa," he said. "For me it was hard to grasp because I grew up in a foster home & I had brothers who were Hispanic so I always got a pass as they did because everyone knew we were family."
The LBPD asks that anyone with information about this incident to call gang detectives at 562-570-7370.
Staff Writer Stephanie Rivera contributed to this report.
Valerie Osier is a breaking news reporter for the Long Beach Post. Reach her at [email protected] or on Twitter @ValerieOsier
Support our journalism.
It's been one year since the Long Beach Post began asking you, our readers, to contribute to keeping local journalism alive in the city.
Thousands have contributed over the past year giving an average contribution of $12.39 a month.
Please consider what the news and information you get every day from the Post means to you, and start a recurring monthly contribution now. READ MORE.