Jessie Bingaman had just pulled away from a stop sign when a large van plowed into the driver's side of her Ford Escape.
The van was stolen, according to police, who'd just started chasing it around 11:30 a.m. Tuesday.
Two minutes later, the driver blew through a stop sign at Temple Avenue and Third Street, killing Bingaman and five dogs she was taking care of as part of her pet-daycare business, police said.
The outpouring of grief was immediate and intense.
More than 100 people showed up at a vigil the next day where some in the crowd questioned why police were chasing the driver as he sped through the quiet neighborhood.
Bingaman's death is tragic but not unique.
Hundreds of innocent civilians are hurt every year in police pursuits across California.
"These are very risky to the public," said Jim Bueermann, a former Redlands police chief who now runs the Future Policing Institute.
In Long Beach, 14 uninvolved bystanders were injured from 2016 to 2018, according to numbers from the CHP.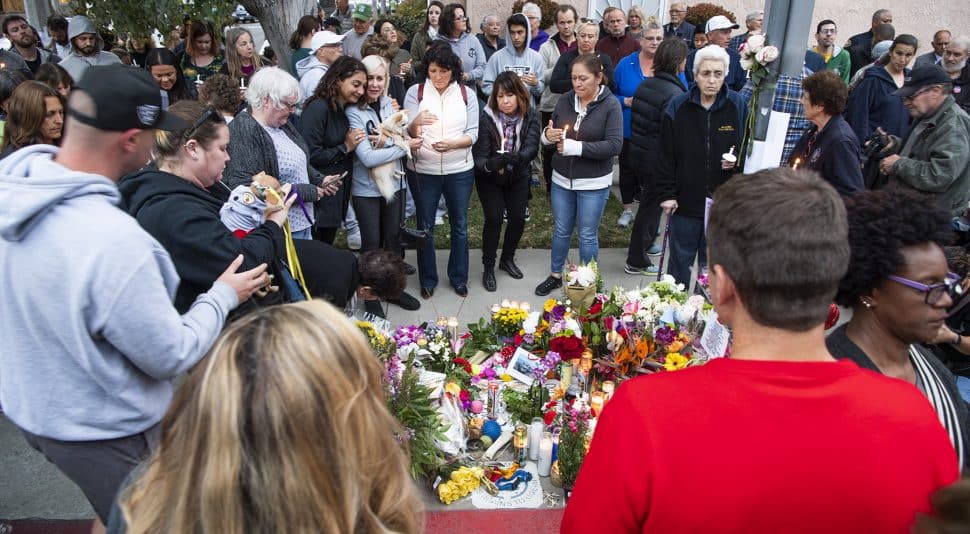 Across the state, five bystanders were killed and 419 were injured in the 9,343 pursuits during 2017, the CHP said.
In the country as a whole, an average of 355 people—bystanders or otherwise—were killed every year in police chases between 1996 and 2015, according to the Department of Justice.
Bingaman's case in particular is one that should cause Long Beach police and other departments to take a hard look at their rules about pursuits, according to Bueermann.
"Hindsight," he said, "is 20/20."
How does a pursuit start?
There are few hard-and-fast rules about when officers can and can't start chasing someone.
Usually it comes down to a split-second, subjective decision where police weigh the risks against their desire to catch a suspect, according to experts.
Most departments in California have a list of factors officers must take into account, Bueermann said.
Long Beach has 15 factors that range from objective—traffic conditions, the presence of pedestrians, whether the pursuit is in a residential area or near a school—to more subjective: the recklessness of the suspect, the officer's familiarity with the area, and the likelihood of police catching the suspect later if they back off.
"It's a very difficult situation," Long Beach Police Department spokeswoman Arantxa Chavarria said. "Do we let someone just run away?"
That decision is usually left in the hands of a supervisor overseeing the pursuit from afar. You don't want an officer who may be focused solely on the car in front of him making that call, according to Bueermann.
"Cops have a real bias for action," he said.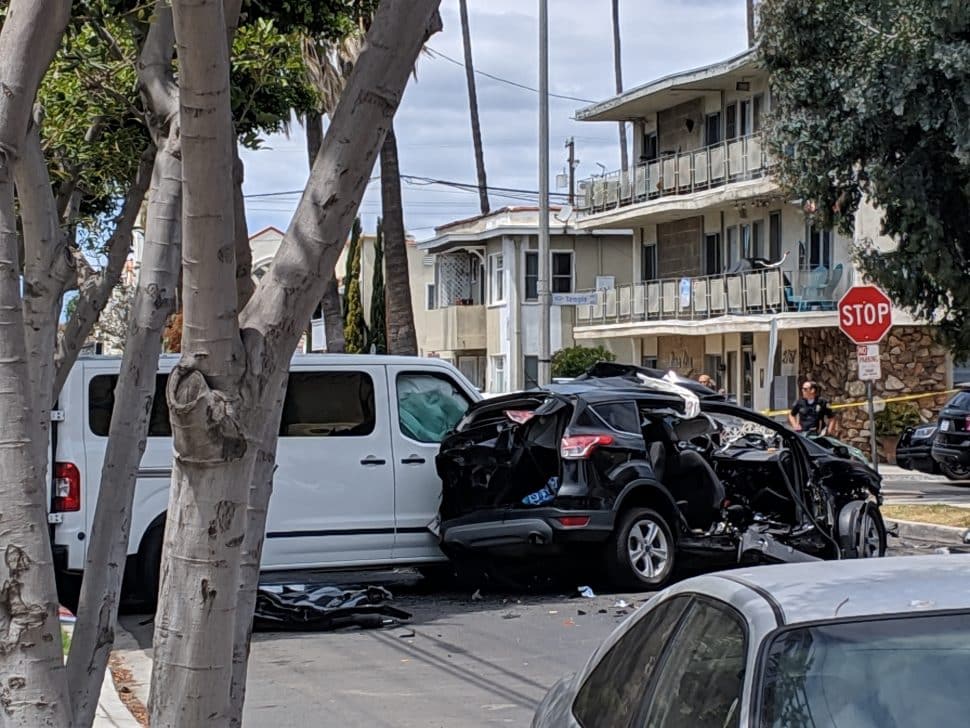 In Bingaman's death, a supervisor had authorized the pursuit, according to Chavarria.
Police were continually evaluating the risks, but the chase was short, she said, lasting only about two minutes.
It looked like the van was slowing down before the crash, she added. It had almost come to a stop before speeding off again and slamming into Bingaman's SUV, she said.
Police said they learned after the chase that the van was being driven by Javier Oliverez, a 43-year-old from Los Angeles who's been arrested 20 times in his life and was wanted on a robbery warrant. He was taken into custody after Tuesday's crash on suspicion of evading a police officer, felony DUI and vehicular manslaughter.
Officers must make a very complicated calculation about whether to follow someone like Oliverez into a residential area, Chavarria said. But, she added, the department is open to examining its policies if needed.
"The sanctity of life is, obviously, always our guiding principal in policy development," she said.
How often is someone hurt?
Compared to the rest of the state, Long Beach has historically fewer innocent civilians hurt in pursuits, according to an L.A. Times analysis in 2015 that looked at almost a decade of data.
Bystanders were injured at a rate of just fewer than three for every 100 pursuits, the Times found. That was slightly fewer than the statewide average of just under four for every 100.
The LAPD topped the lists with one bystander injured for every 10 pursuits, according to the Time's data.
In 2017, a Los Angeles County Civil Grand Jury report questioned whether the potentially deadly consequences of chases were worth the risk.
The report cited CHP stats that showed only 67% of chases in Los Angeles County ended with an arrest, but 17% resulted in a crash.
"Is this the best balance that can be realized between law enforcement goals and the risk of unintended consequences?" the grand jury asked.
The percentage of crashes is even worse in Long Beach, according to CHP data. It showed 37% of LBPD pursuits ended with collisions from 2016 to 2018.
Nobody died in any of those wrecks, but 32 people were hurt, according to the CHP. Most of the people injured were in the car police were chasing, the data showed.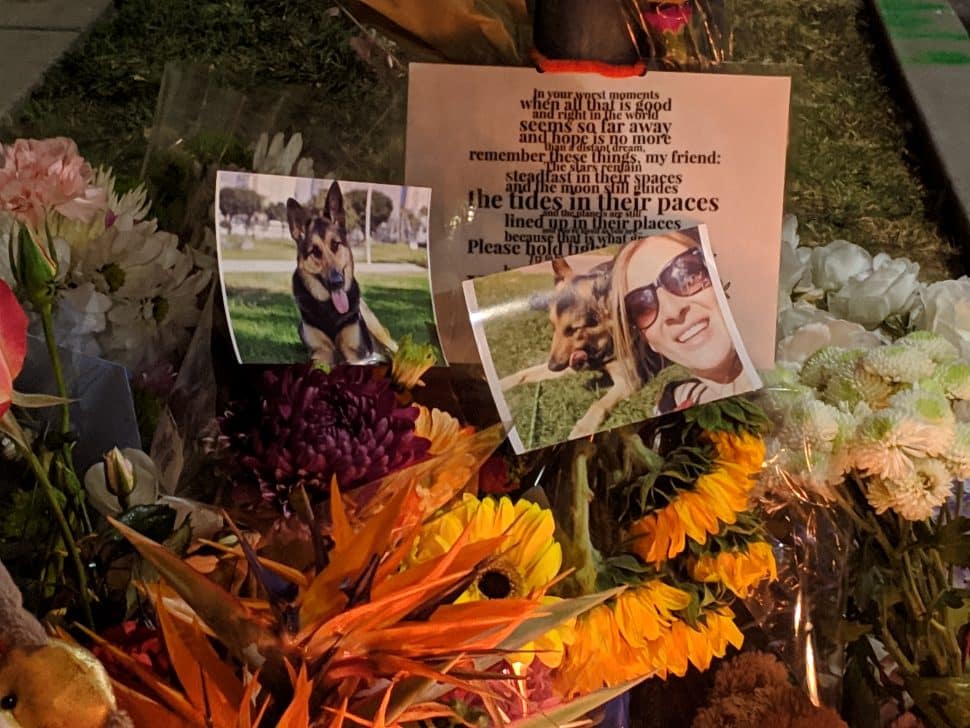 Bingaman was the first person hurt in a Long Beach police pursuit this year, Chavarria said.
Police, more than likely, will not bear any financial responsibility for her death.
If police departments meet certain training standards, California law immunizes them from liability "even when officers do not follow the vehicle pursuit policy their agency has adopted," the 2017 grand jury report noted.
California is the only state with such an exemption, the report says.
What are the solutions?
Bingaman likely had no warning that her car was about to be crumpled beyond recognition.
Drivers fleeing from police usually get far enough ahead of the sirens trailing them that bystanders never hear it coming, said Tim Morgan, a retired assistant sheriff from South Carolina who is now working to reduce deaths from pursuits.
"That's the danger," he said.
On a personal level, officers are keenly aware of this, according to Morgan.
He's known officers to call their families and warn them when a high-speed chase is nearby.
"I did it and I know I'm not the only one who did it," he said.
Morgan is now selling PursuitAlert, a service that lets police departments notify the public about chases. When officers chasing someone hit a button in their car, it warns anyone within 2 miles who has the PursuitAlert app.
Police departments have also experimented with other high-tech solutions like a GPS tracking dart that can be fired at a fleeing vehicle, according to Bueermann.
But police must also consider how these chases begin, he said.
In Bingaman's death, the questions will likely revolve around what strategy officers used to start chasing the van, according to Bueermann.
"Could they have followed it to a safer area?" he said. "Could they have used plain cars or a helicopter until he stopped? Could they have boxed him in?"
A big question, he said, is whether officers should even be chasing stolen cars in light of recent criminal justice reforms that have reduced the penalty for some thefts.
"You used to go to prison if you stole car," Bueermann said. "That is not the case now necessarily."
Staff Writer Valerie Osier contributed to this report.