Dates, numbers, figures roll easily off the tongue of Long Beach Unified Superintendent Chris Steinhauser, who delivers the information with the patient, slightly sing-songy cadence of a longtime educator.
The size of his Long Beach Unified School District? Some 3,200 teachers and 72,000 students.
His first day as a full-time educator (at Roosevelt Elementary)? Jan. 4, 1982.
The number of children on his East Long Beach street? Twenty-two.
One figure that has eluded Steinhauser is the date of his retirement. It's coming, he says publicly and privately. But he will reveal no date, no year. Not even to his wife.
In fact, the 60-year-old who has been the dependable, data-driven presence in the district for so long is quite vague on the matter: "I have an idea when I might retire, but I might change my mind," he said.  The average retirement age for educators is 58.
"I love my job and there's a lot of good things to do here. I got a great education here, my kids got a great education … kids are getting a great education, but there is still a lot of work to do."
Steinhauser, appointed in 2002, is the longest-serving big-city school superintendent in the state and one of the longest serving in the nation. Most large-school superintendents last five years, tops. Steinhauser is starting his 18th.
About 65 percent of students in the state's fourth largest district are on free and reduced lunches. At the same time, Long Beach Unified has accumulated a long list of accomplishments under Steinhauser's watch—comparably high graduation rates and test scores for a big-city district (helped by subsidized SAT test and test prep as well as the Long Beach College Promise, which Steinhauser helped foster).
Teachers, who signed a new contract in June, earn about $100,000 annually on average, including salary and benefits.
With just a scattering of private and charter schools to compete with, the majority-Hispanic district enjoys local education hegemony. Steinhauser has gotten high marks for continuing strides made by his predecessor Carl Kohn, who instituted school uniforms, among other initiatives, from 1992-2002.
"He's one helluva superintendent," longtime school board member Felton Williams said of Steinhauser. "The main person he cares about is each and every kid; no matter what color or creed, he cares about them."
There are challenges, too, that include steeply declining enrollment that has affected many California districts, a still-persistent achievement gap between whites and students of color as well as ongoing concerns about campus safety, including shootings outside Cabrillo High and threats at other schools, such as Jordan and Millikan.
As the district prepares for a new school year, there are some twinges of uncertainty over who will lead when Steinhauser finally decides to call it quits. The imminent retirement of two board members, Williams and Jon Meyer, adds to that feeling.
"When you have a superintendent who has been here almost two decades … his exit is going to create some uneasiness around the community," said Teachers Association of Long Beach Executive Director Chris Callopy.
Two board seats are open for elections in March. "My personal hope is (Steinhauser) will allow the present board to choose his successor," said longtime board member Jon Meyer. He says the board is made up of "sensible, well-centered people."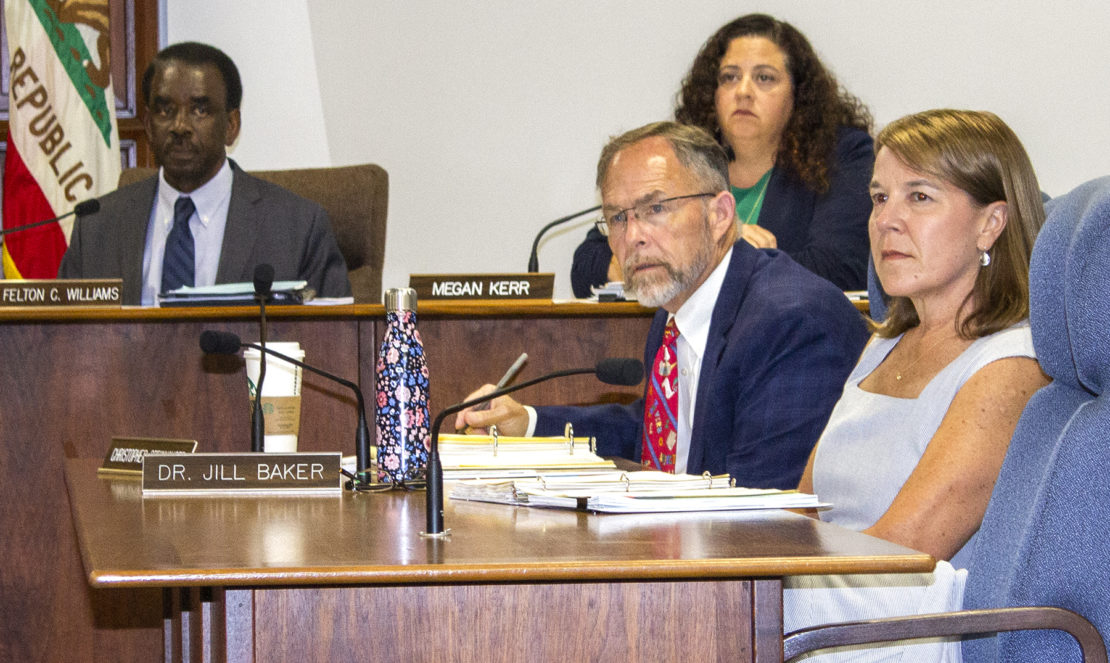 A public introvert
Chris Steinhauser may be the face of public education in Long Beach, but he is also an introvert who'd rather sit home reading policy papers.
"When I have to speak in public, I die a thousand deaths every time," he said.
Steinhauser does not command a room. He's 5-foot-7, with an unshaven look, an unassuming manner and he routinely redirects compliments from himself to staff and teachers. His office is modest; he sits at the desk used by former superintendent W. Odie Wright in the early 1960s.
An enigma wrapped in a good governance manual, he's not much for hobbies. For fun he walks — as many as 25,000 steps a day, according to his Fitbit. No music, just thoughts. Most of them about schools.
"If you told me 30 years ago I was gonna be the superintendent, I would have told you, you've lost your mind."
Steinhauser's father was a baker in San Pedro and both his parents dropped out of high school. However, the six Steinhauser boys—the family lived in Long Beach and went to Bryant elementary, Jefferson middle and Wilson high school—were expected to go to bed early, do their chores and study hard.
At Wilson, he played football for Jon Meyer, who would later join the LBUSD Board of Education. Meyer remembers Steinhauser, who graduated in 1977, as a serious, "bright and well-liked" student. Not flamboyant, but a determined 165-pound offensive guard/defensive tackle "who could quickly discern weakness and vulnerability even if the other guy was bigger."  The team won the Moore league championship and beat perennial powerhouse Poly high during Steinhauser's senior year.
Steinhauser loved school and wanted to be a coach and history teacher. He never was. However, he tutored at Signal Hill Elementary as part of a high school class and thought, "I could do this."
Steinhauser went to Long Beach City College and then Cal State Long Beach. He started as an aide and got his own class in 1982 as a fifth-grade (and, later, third-grade) teacher at Roosevelt Elementary. He met and married the woman teaching in the neighboring classroom. Alida Steinhauser since retired from teaching.
He also started questioning how things were run. A colleague told him if he wanted to make changes, he'd have to be an administrator.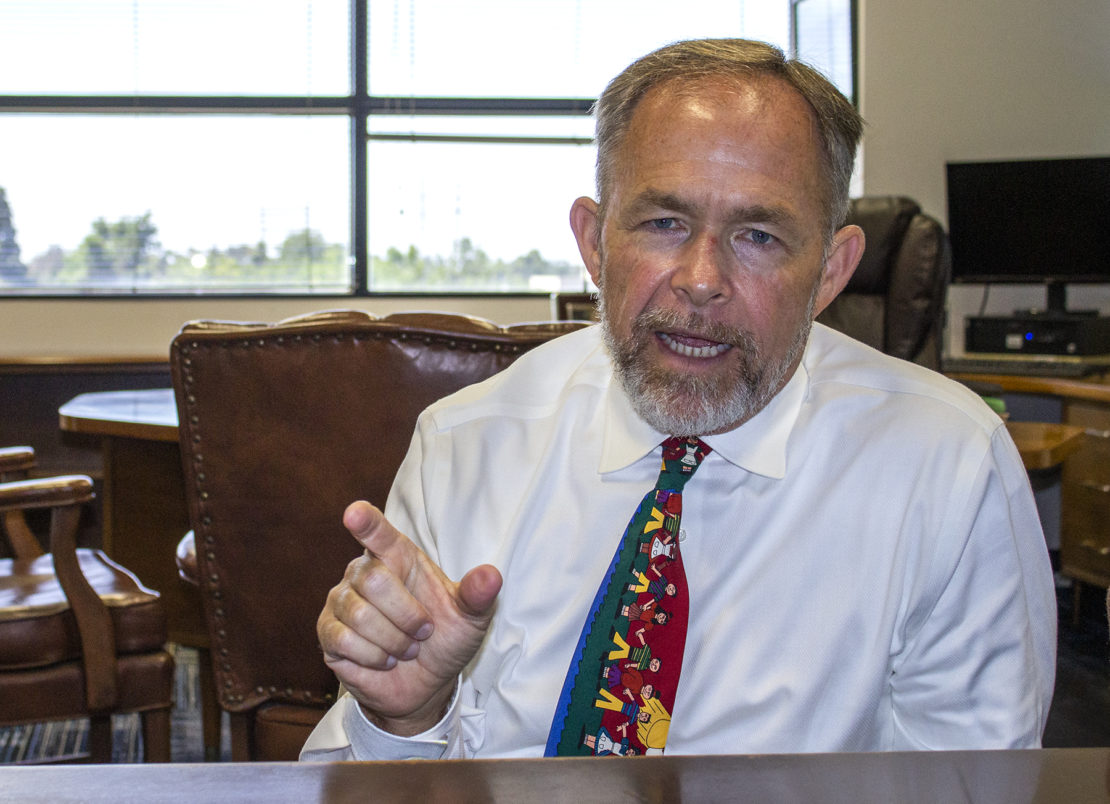 'Serious about reform'
Eventually, he took over as principal at Signal Hill Elementary, which at the time had the second lowest reading scores in the district. He preached that the school had to be good enough for their kids and worked to fortify the modest parent volunteer ranks. "Mr. Steinhauser," one of them said, "your kids are at Minnie Gant," Steinhauser's neighborhood school.
So he pulled his kids out of the school with the highest test scores in the district, and put them in struggling Signal Hill. "People thought we lost our minds," Steinhauser said.
"You know what, it doesn't matter where your kid goes to school. My son went there five years, my daughter went there from kindergarten. It sent a message that we're serious about reform. Both kids got into the college of their choice."
Both his children now work in the schools. His daughter is a teacher and his son, Edward was named assistant principal of Wilson High in June, which raised some eyebrows. Steinhauser said the recommendation came from staff.
Cal State Long Beach President Jane Close Conoley said Steinhauser walks the walk when it comes to motivating students.
"He's always trying to give his low-income students the chance for the same opportunities higher income students have," she said. "I just admire that tremendously. He's turned that district to be a model for the use of data. He calls kids. And I know this because he had me on a call. He'll say, 'you're two points away from being eligible for a CSU. I want you to come to summer school.'"
The Long Beach Way
Steinhauser is product of, and a strong believer in, a home-grown approach to promotion. Between 65-70 percent of teachers live in the district. Steinhauser was unanimously voted in as superintendent in 2002 without a national search. The district tends to promote from within. As Callopy puts it, only half-jokingly: "We are pretty incestuous here."
One could argue that Long Beach's homegrown ways have brought well-performing schools and labor peace for the most part. Long Beach has never had a teacher's strike. Superintendents average about 10 years of service here. Compare that to Los Angeles Unified, which has seen eight interim and permanent superintendents during Steinhauser's time.
The district has enjoyed community support. The most recent school bond measure, Measure E, passed with 74 percent of the vote.
Still, some wonder if the Long Beach Way can continue in a changing community with ever-increasing home prices. And others who wonder if the district, despite its success, could use some fresh ideas.
"The Long Beach Way has been what people fall back on," said Tonia Reyes Uranga, who is running for a seat on the school board. "There's a comfort level. It does stifle change I believe."
Board member Jon Meyer said that before he ran for his last term he made an agreement with Steinhauser that he'd only do it if the longtime superintendent would stick around. "We shook hands on it," Meyer said. Meyer's term ends next year.
The Long Beach Way can also mean short, efficient board meetings held one or two days a month at 5 p.m. at the board offices at 1515 Hughes Way in West Long Beach. Meetings have averaged one hour and 18 minutes the past year, with closed sessions that routinely run two-to-three hours.
"There's that weird balance: Who's really in charge, the school board or the superintendent?" said Callopy. "I went to school board meetings in Orange County that started at 7 and ended at 10. Do you need to have someone in there throwing bombs? No. But the fact is you are having them early in a remote part of town, you are opening up concerns about transparency."
Steinhauser said he meets routinely with teachers, as well as parents and other groups and holds day-long workshops to address concerns.
"The board meeting is a meeting of the board in public," Steinhauser said. He said when the district changed its policy on social promotion in 2008, teachers, parents as well as board members worked together.
"If I bring up something and there's a big blowup, then I haven't been doing my job."
Said Meyer: "We have the workshops and staff members bring us new ideas. It's a pretty functional operation. We are visited by so many districts who want to know what we do that works so well. We do a pretty darn good job, I think."
Callopy feels the board defers to the superintendent who has been there so long, and developed so many close relationships.
"I consider him a benevolent dictator," Callopy said. "We're fortunate he's benevolent. I've told him he can sell ice cream to eskimos. He has this sincerity to him and it lends him credibility. It's going to be hard to replace that."
Uranga, a former Long Beach councilwoman, said that while she feels Steinhauser has done "a good job for Long Beach," she said she hears from special needs and low-income parents who feel left out.
"This district is great, but is it great for someone who doesn't speak the language or has a special needs kid?" Uranga asked. She feels the "small group" meeting format can make some concerned parents feel their problems are isolated ones.
In 2018, the district agreed to steer more mental health and other services to 30 of the district's poorest schools. The agreement came out of a 2017 administrative complaint against LBUSD by Public Advocates, a California non-profit advocacy law firm, parents and the Children's Defense Fund.
'Going quietly'
Steinhauser will be a tough act to follow.
"His real success is growing up and being in this community," Callopy said. "More and more, because of the cost of housing, we're not going to see that, multigenerational families are not able to live in this community."
Steinhauser agrees that the area's lack of affordability is a concern. Still, he's bullish on Long Beach. "The district has such talent at all levels," Steinhauser said. "If the next superintendent came in and said 'I don't want to do the Long Beach Promise anymore,' they'd be run out of town."
What will Steinhauser do after he finally walks out of that office on Hughes Way? "I won't be a stay-at-home husband. I'm not good at that stuff." He says he'll work in the education field, what exactly, he's not saying.
Clearly it's just as it's hard for the Long Beach born-and-bred schools chief to quit Long Beach, the only school community he's known for 55 of his 60 years.
"If you see him around town, he's not the one taking credit," Callopy said. "He's very good about sharing success. It's not about him.
"Maybe that's why he's not saying 'this is the date I'll retire.' He strikes me as someone who would rather go quietly in the night."
On that, Steinhauser agrees. "There will be no party, no celebration, nothing. The beauty here is, I could just walk out the door. I have a ton of vacation time, a year of sick leave.
"It's gonna be really hard."